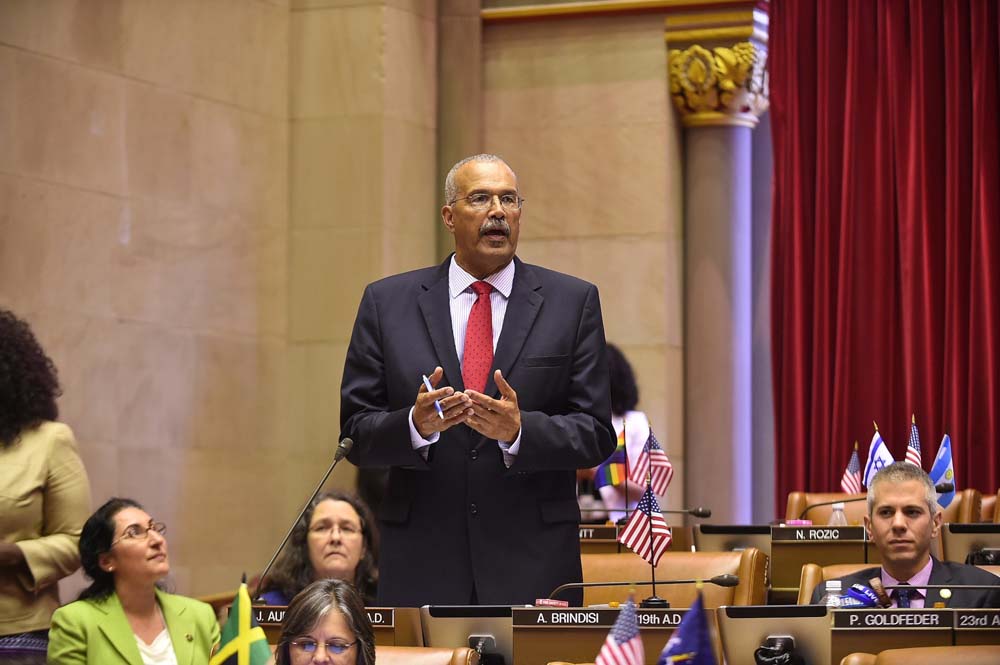 Assemblymember Jeff Aubry (photo: State Assembly )
---
This story was first published by the Queens Daily Eagle
Eleven years have passed since Queens Assemblymember Jeff Aubry led the successful effort to repeal the state's Rockefeller drug laws and address the brutal impact of the War on Drugs on communities of color. Since that fight, Aubry has sponsored legislation to ensure inmates have access to mental health treatment behind bars, introduced a bill to curtail the use of solitary confinement, and called for a special prosecutor to investigate prison deaths and complaints made against correction officers.
The 14-term incumbent, who once taught at a New Mexico prison in the early 1970s, championed criminal justice reform long before criminal justice reform became a hot issue among his Democratic colleagues.
"I'm proud of the way young people in the Senate and Assembly have come to this battle," Aubry told the Eagle June 10, a day after he voted to eliminate 50-a, the state law that shielded police personnel records. "Once we're on a roll with justice, you try to keep that ball rolling." But the ball may keep rolling while he watches from the sidelines.
Aubry, 72, is facing the toughest primary challenge of his 28-year career. Perhaps fittingly, it's the tenets of criminal justice reform — second chances for the formerly incarcerated, a complex life beyond the superficial label of 'convicted felon' — that inform the viability of his opponent, Hiram Monserrate. Or at very least, it's what enables some supporters to justify their votes for an extremely polarizing politician convicted of cutting his girlfriend and stealing public funds.
In November 2019, Monserrate, a former state senator and City Council member, declared that he would challenge Aubry in Assembly District 35, which covers much of Elmhurst, East Elmhurst, Corona, and LeFrak City. To many voters, the name "Hiram Monserrate" is synonymous with a recent era of political corruption that saw numerous state elected officials charged, convicted and sentenced for bribery, kickbacks and steering schemes.
Monserrate, who did not respond to multiple phone calls, emails, and Twitter messages for this story was sentenced to two years in federal prison in 2012 after he funneled City Council money to a nonprofit and used the cash to boost his Senate campaign. He was ordered to pay nearly $80,000 in restitution, but by February 2020, he had paid less than $9,000.
He told the New York Times he would pay the rest leading up to the primary. It remains unclear whether he actually has paid the money back. The U.S. Attorney's Office in Manhattan, to whom he owes the money, did not immediately respond to emails and phone calls.
Monserrate was also convicted of a separate domestic violence-related misdemeanor in 2009 after he cut his then-girlfriend in the face with a glass, dragged her to a car, and drove her to a far-away hospital. He and his then-girlfriend said the gash she suffered was the result of an accident.
If that wasn't enough baggage, Monserrate is known for grinding the Senate to a halt by briefly siding with Republicans and nullifying the slim and, at the time extremely rare, Democratic majority.
"The rise and fall of Hiram Monserrate is like a movie," Aubry said. "He robbed, he stole, he beat his girlfriend and still he rises. It's a sexy story and any darn writer can make a novel about that. And I think he sees himself that way."
On the Ground in Elmhurst and Corona
New York City will soon find out how voters see Hiram Monserrate.
His campaign signs adorn the walls of various shops and businesses around Elmhurst and Corona, though that does not necessarily mean that passersby — or even the store owners themselves — know who he is.
At a bus stop near the corner of Grand Avenue and Queens Boulevard, not far from the Queens Place mall on June 18, five people who said they were registered to vote in the area said they had never heard of Monserrate, whose sign hung in the window of a doctor's office behind them.
Across the street, a man named M.D. stood outside a bodega and counted himself a Monserrate supporter. "He's a gentleman. I've known him for years," M.D. said as he scratched off lottery tickets against a railing. A Monserrate sign hung from the window of an Indian restaurant next door.
"Somebody just came and pasted it on the wall," said the restaurant owner. "I said, 'OK.' I don't know him."
The same thing happened at a discount store a few blocks away, the store clerk said.
"Some kids just came by and asked if they could put the signs up. We said, 'Yes,' but I don't know who he is," she said.
The demographics have shifted significantly in District 35, with Latino residents now accounting for more than 60 percent of the population — up from 52 percent in 2012. At the same time, the district's Black population has decreased. The demographics could help Monserrate, a Latino candidate who connects with many voters in their native language, said political strategist Martha Ayon, who lives in District 35 and has endorsed Aubry.
"From November, all the way until February they could have been doing articles and going on TV in Spanish to criticize Hiram," Ayon said. "They didn't take the time before this to reach the Spanish audiences. "You need it to be in El Diario and some of the other Spanish publications in Queens."
In recent weeks, Aubry's campaign has circulated Spanish-language literature, but Ayon said it was already too late to reach many voters.
"They weren't persuading them in the language that they understand," Ayon said. "Why don't people care about his criminal history? Because you've been saying it in English," she added.
Younger voters, meanwhile, may not recall his past misdeeds — or Aubry's achievements
"My story is longer and maybe not so flashy," said Aubry, who is Black. "You get a younger population where Rockefeller is like the First World War."
Monserrate has already been elected to a party post during his post-prison comeback. Assembly District 35 Democrats chose him as a district leader in 2018.
During that election, Monserrate helped carry three other other members of his East Elmhurst Corona Democratic Club to district leader victories as well. The four officials are gadflys among the borough's 72 elected district leaders — two men and two women in every Assembly district. They refuse to support the county party's endorsed candidates and Monserrate has been an outspoken opponent of the organization, which has long backed Aubry.
Though Monserrate did not respond for this story, loyal surrogates have repeatedly come to his defense.
"If we speak about reform and forgiveness and giving people a second chance then we speak to people who are critical of Hiram," said Monserrate's friend and ally Anthony Miranda, a retired police sergeant running for Queens borough president. Ten years ago, Miranda lost to Aubry in the Democratic primary for Assembly District 35. He has received campaign contributions from Monserrate during his bid for borough president.
"I don't agree with any of the things he's been accused of, but he was found guilty, he served his time, he came back to the community. And the community residents voted him in," Miranda said, referring to the district leader election.
Monserrate, a gifted retail politician, has remained active in the community, developing relationships and laying the groundwork for his campaign through his political club.
"Hiram has been physically working and getting out the vote for months, doing mutual aid, handing out PPE, door-knocking and that's not something that should be taken for granted," Ayon said.
Monserrate has advised the anti-displacement coalitions Nos Quedamos and East Elmhurst Alliance, which advocate for affordable housing in Willets Point. After the Eagle referenced Monserrate's criminal history in a 2018 article about those efforts, an East Elmhurst Alliance representative wrote a message explaining why the members value and support Monserrate.
"We believe in fully re-integrating our returning citizens. He has done lots of great things in our community and quite frankly our Coalition has gotten more than a full semester of Willets Point knowledge from him," the representative wrote.
"His past errors have nothing to do with our fight at Willets Point and our Nos Quedamos Queens coalition stands by him because quite frankly he is the only Leader who is independent of the machine with the knowledge and force to stand up for us when other politicians cut deals with developers etc.," they continued.
The East Elmhurst Corona Democratic Club has also served as a sort of power broker in the area, running a slate of candidates for elected office in the past few election cycles and hosting higher-office hopefuls like Brooklyn Borough President Eric Adams and four candidates for Queens borough president: Donovan Richards, Elizabeth Crowley, Costa Constantinides and Miranda, who the club endorsed.
Last year, the club's pick for Civil Court judge, Lumarie Maldonado Cruz, defeated the candidate endorsed by the county organization in Queens' first contested Democratic primary for a judgeship in decades.
The club, one of the most active in Queens, features an effective petitioning operation and has organized a get-out-the-vote initiative in the district as well. Two Corona residents said East Elmhurst Corona Democratic club members even visited their home to help their older relatives apply for absentee ballots and then returned a few weeks later with the ballots, which they had picked up from the Board of Election office in Forest Hills.
One resident, Natalia Guzman, said she answered the door and spoke with the campaign worker to prevent the woman from pressuring her mother.
"She asked if she is going to vote for Hiram Monserrate and I said, 'She's not going to declare that right now,'" Guzman said. "She was reluctant to let go of the ballot."
Election attorney Sarah Steiner said that picking up blank ballots is not prohibited, but verges on illegal when a campaign worker pressures a voter while they fill out a ballot — or fills out the ballot themselves.
"There's a fine line about what's legal and what's not," Steiner said. "You can deliver absentee ballots, you can pick up absentee ballots, but if you help the voter fill out that ballot you could be breaking the law."
Antagonists Unite for Aubry
On June 18, Aubry — far from an active social media user — tweeted a major development in the race: U.S. Rep. Alexandria Ocasio-Cortez was endorsing him for reelection. On Sunday, she even canvassed with Aubry in LeFrak City.
The endorsement was also unique in Queens politics because it united two influential antagonists — Ocasio-Cortez and U.S. Rep. Gregory Meeks, the chair of the Queens County Democratic Party, a position he won after Ocasio-Cortez defeated then party chair Joe Crowley.
"Aubry's going to win. Here's a man of distinction, character who has served his community with grace and decency," Meeks told the Eagle Friday. "People in his district are recognizing that."
Some colleagues and Queens leaders were slow to provide that sort of aggressive support for Aubry earlier in the campaign, however. While elected officials have focused on their own races and the impact of COVID-19, they have also weighed the political risks of alienating Monserrate supporters.
Aubry said he does not fault his allies for showing up late to rally behind his candidacy given the impact of COVID-19 and current political realities.
"Some folks were under pressure from outside forces in their district," he said. "I've been doing this for 28 years. I watch and know politics as best as anybody else, and I know the things that people have to watch out for in their own world and have to take into consideration."
Others spoke out early on. City Council Member Francisco Moya called Monserrate a "disgraced politician" and a "joke" when Monserrate first filed a campaign committee in November 2019. Assemblymember Catalina Cruz from the neighboring 39th Assembly District sponsored a failed bill that would prevent people convicted of public corruption from serving in the state Legislature.
In March, Assemblymember Aravella Simotas vowed to leave the Democratic conference if Monserrate were invited to join after potentially defeating Aubry.
"I will not sit in the Democratic conference if he is sitting there with me," Simotas said during an appearance on WBAI radio's City Watch show.
"I'm very passionate about this because I've spent years talking with domestic abuse survivors and survivors of sexual assault and women and men who've had this violence," she added. Simotas is facing a tough primary challenge of her own from Democratic Socialist of America-backed organizer Zohran Mamdani.
Yet, it's more than just tweets and bromides. Support for Aubry has surged in recent weeks based on financial disclosure reports.
Aubry began the year with $114,000 in his campaign account but raised just under $21,000 between Jan. 11 and May 18, according to financial disclosure reports filed with the state Board of Election.
But over the next two weeks, Aubry raised more than $40,000, including a $4,700 contribution from ex-Rep. Joe Crowley's campaign account, according to Aubry's 11-day pre primary report.
In contrast, Monserrate raised $68,772.02 between July 15, 2019 and Jan. 11 of this year but just over $4,800 between Jan. 11 and May 18, according to financial disclosure reports. He raised another $7,150 in late May and early June, according to his latest filing.
Ayon, the Queens political strategist, said the race remains wide open a day ahead of the primary.
"That's why I endorsed Aubry, because I'm extremely concerned," she said.
Whatever voters think of the candidates and their pasts, there's a practical reason to vote for Aubry, she said.
"Anyone can be an advocate, but if I'm paying someone to go to Albany and pass legislation, that is not something Hiram will do," Ayon said. "The governor, Carl Heastie, they won't let his legislation get to the floor. That's my argument for Hiram and Aubry: Who can physically do the job? Hiram cannot."
***
by David Brand of the Queens Daily Eagle
@DavidFBrand @QueensEagle
@GothamGazette