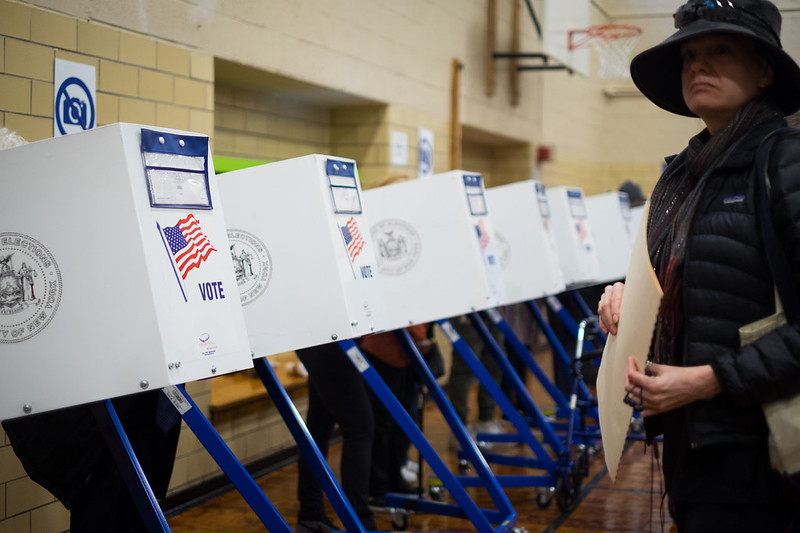 Voting was again challenging in New York City (photo: Edwin J Torres/Mayor's Office)
---
When Imani Clenance didn't receive her absentee ballot to vote in the recent June primaries she, like many others, went to vote in person. But at her polling site in Harlem, she realized that her struggle to vote had only just started.
After being given her ballot, she only received one page with Democratic presidential primary candidates on it, but no mention of the Congressional race in her district, District 13, that she knew from the Board of Elections' website was also going on. Confused, she asked poll workers why the Congressional race was missing from the ballot. Rather than being given the second page of the ballot, Clenance said poll workers proceeded to give her what she described as a condescending explanation of the difference between the President and Congress, as they were seemingly under the impression that Congressional races would be held in November.
Although she had started to doubt herself, Clenance "wasn't going to leave until [she] was sure," and spoke with the poll site coordinator, who was also unable to help. She was then given the Board of Elections' number to call herself, and asked by poll workers to let them know what the BOE said.
Once Clenance finally confirmed with a BOE employee that there should be two ballots, a supervisor was sent to the site, and in the meantime poll workers were able to find the second page of ballots they had not been handing out before. When asked what happens to the voters who had come before her and not given the second page, Clenance said poll workers shrugged and told her that at least they figured it out before lunch.
"This is an unacceptable failing of our electoral process," Clenance said in her testimony at this past week's hearing of the New York City Voter Assistance Advisory Committee (VAAC), an annual public hearing to hear from voters about their experiences. "It is bewildering, sad, and, quite frankly, scary, that I should have to explain the difference between a primary and general election to poll workers. That the people running the election site don't know what elections they're running."
Clenance was one of many at the hearing who gave testimony about problems they had while trying to vote in the June primaries, which were held via June 13-21 early voting, June 23 primary day, and vastly expanded absentee balloting as a result of the coronavirus pandemic. The VAAC is part of the New York City Campaign Finance Board and its NYC Votes voter engagement arm.
For months, BOE officials had known this year would be different given that the pandemic would make in-person voting dangerous, especially for more vulnerable populations such as older voters or those with pre-existing conditions. Governor Andrew Cuomo had extended eligibility of absentee ballots for the June primary so that the "temporary illness" excuse could include the possibility of contracting COVID-19, and ordered local elections boards to mail all eligible voters an absentee ballot application. The governor has yet to extend that option to the fall general election, which is expected to see massive voter turnout given the presidential election.
The expansion of absentee voting created new difficulties for candidates and voting rights advocates as the widespread use of absentee ballots meant more voter education was needed. And although the decision was reversed by a federal judge, the BOE's initial cancelation of the Democratic presidential primary created further confusion, with several candidates for state offices telling Gotham Gazette that voters seemed to be unaware that down-ballot races would not be affected even if the presidential primary was canceled, and that the presidential primary was later reinstated.
Problems leading up to the primaries aside, both the members of the VAAC, which advises the New York City Campaign Finance Board on what improvements to elections it should recommend, and private citizens who participated in the public hearing pointed out key issues that prevented people from being able to vote. People not receiving absentee ballots on-time or only receiving one out of two ballots, like what happened with Clenance at her polling site, were the top two issues, according to Deputy Director of Public Affairs at the New York City Campaign Finance Board Amanda Melillo.
"The headline news that we are seeing on election day was just that a number of people didn't receive their absentee ballots on-time. This is what we were seeing over and over again throughout the day," Melillo said, going on to list other problems such as technical difficulties, polling sites opening late, long lines, and inaccurate poll books.
On primary day, 30,000 of the over 700,000 people who had requested absentee ballots were still waiting for their request to be processed, according to Gothamist. At the hearing, VAAC members provided updated numbers that had been posted by the New York City Board of Elections of how many people were mailed absentee ballots, but not how many people requested them. The BOE reported more than 750,000 voters had absentee ballots distributed to them, which is 33 times the number from 2016.
Because the Board of Elections is not reporting the number of absentee ballots requested it is unclear how many voters requested but did not receive a ballot. The number of voters who did not receive the absentee ballots they requested or who received them too late to return them in time for their votes to count will be a measure of voter disenfranchisement, if the number is ever known.
Melillo said to improve the BOE should use existing software to allow voters to log-in to a portal and track their absentee ballots throughout the mailing process. She also said the process for dropping off absentee ballots at poll sites, a lesser-known option that was available this cycle, needs to be streamlined, as does the process for counting absentee ballots.
Still, many voters, like Brooklyn resident "TM," who testified at the hearing, did not receive their absentee ballots. When TM went to vote in person at 6:30 a.m., one of the two ballot scanners at her poll site was already broken, and she was told she was in the wrong polling site despite having looked it up beforehand. She, like others who testified, was given an affidavit ballot. Also like others who testified, TM faced further issues while trying to vote.
"And when I went into the booth, I noticed that I had only received one page of the ballot and the presidential and the delegate ballot was missing," TM said. "And I asked the volunteers if I could get an extra page, and no one seemed to know anything about another page."
TM said she ended up receiving her absentee ballot later that day, and eventually went through a process to replace her initial ballot with that one. This required her to plead her case as to why she wanted to override her vote in front of a judge through a Zoom call. She received approval from the judge and was able to vote.
Some who testified at the hearing were the very confused poll workers described by others, like Juliana Pesavento who worked at an Atlantic Ave. polling site in Brooklyn. Pesavento said she took a class several months prior and received her assigned location a week in advance.
"My experience was a scary, shocking inside look at our poll working system," Pesavento said. "We can register as many people to vote as possible, but if the actual poll system fails there is truly no point."
Pesavento said although she and other workers showed up on-time at 6 a.m., the poll site coordinator did not arrive until an hour later. She said she received no overview of what ballots there were or guidance on what to do for people who wished to drop off their absentee ballots in person. She also did not receive information on what safety precautions should or would be taken due to the pandemic, she said, something another poll worker who testified at the hearing mentioned as deterring people from volunteering for the job.
VAAC members cited the need for improved poll worker training and encouraging more people to utilize early voting as potential solutions to these problems.
Laura Mueller-Soppart, who also testified at the hearing, was unable to obtain an absentee ballot and could not vote in-person because she was in Chicago, she said. Like many who spoke at the hearing, Mueller-Soppart said she was happy to hear that the VAAC would be recommending ways to improve voter experiences for the fall, but was still disappointed with the recent elections.
"We talk a lot about how to do it better," Mueller-Soppart said. "But the baseline has to be that voters can vote."