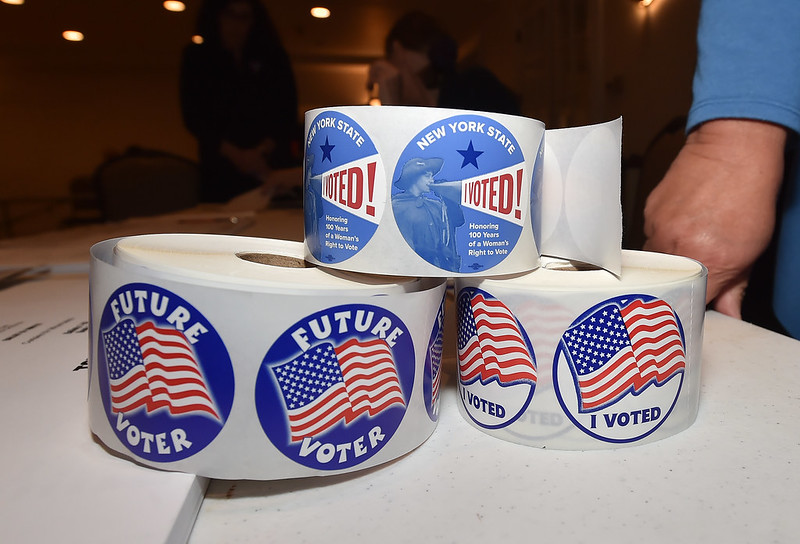 Voting has changed dramatically in New York (photo: Kevin P. Coughlin/Office of the Governor)
---
As hundreds of thousands of absentee ballots are being counted more than two weeks after the June 23 primary elections, state lawmakers are pushing a bill that would allow absentee voters to track their ballots and would require election administrators to provide an individual explanation when a ballot is disqualified.
The latest effort to pass the legislation, which was first introduced in 2013, comes amid an unprecedented increase in absentee voting due to the coronavirus pandemic and changes to the eligibility criteria for receiving them. The bill sponsors, Assembly Member Dan Quart and Senator Brad Hoylman, two Manhattan Democrats, say they want to see it signed into law in time for the general election, but it faces a number of legislative and technical hurdles.
"I think the current situation with so many thousands of voters voting by absentee demonstrates how critical this legislation is," Quart said in an interview. "I've heard from many constituents that they have deep concerns that their vote, something so critical, will be counted this year."
"In the age of pandemic democracy, we've got to take into account the fact that voters need to know whether their absentee ballot was counted or not," Hoylman said.
In April, Governor Andrew Cuomo signed an executive order expanding the eligibility for an absentee ballot to include anyone with COVID-19 or at risk of contracting the virus, effectively encompassing all registered voters, in order to prevent the virus from spreading at poll sites. Cuomo also ordered boards of elections to distribute absentee ballot applications to all eligible voters, with state lawyers asserting that he could not constitutionally order ballots themselves sent.
As the process unfolded, hundreds of thousands of registered New York City voters requested an absentee ballot through the New York City Board of Elections, with roughly 765,000 ballots sent out by the BOE and 384,000 returned by voters to the BOE, which is now just beginning the process of tallying up those votes.
But, the rapidly expanded absentee system was marred by confusion with some voters not receiving their requested ballot in time to vote absentee. Many others did mail their ballot but have no way of knowing if their vote was received and counted. The BOE will undoubtedly throw out a number of those votes on technicalities as part of the review process, as it does with affidavit ballots.
The lawmakers' proposal would require county boards of elections to provide written or online confirmation when an absentee ballot has been received. If the ballot is rejected, which can happen on a number of technical grounds like failure to provide a signature or including an extraneous piece of paper in the ballot envelope, the board would have to explain why, and how it can be corrected.
Many other states have online systems for voters to track ballots cast by mail. At least 19 states require some kind of tracking system by statute, and another 14 (including the District of Columbia) have voluntarily established websites to serve that function, according to the National Conference of State Legislature website.
"It's time for New York to conform to the absentee ballot standards in other states," Hoylman said. The bill has not moved out of committee since it was first introduced, even after 2019 when Democrats took control of both houses of the State Legislature and passed a number of voting reforms. The 2020 primaries have been the first elections with widespread absentee voting, but it has often been used by people who are older and who have health and mobility impairments, as well as people who travel or live elsewhere temporarily.
The legislation leaves it up to elections administrators to implement the system and come up with the rules and regulations governing it.
Federal law already requires New York State to allow overseas residents and military voters to track their ballots, which the State Board of Elections does via an online portal, and Hoylman thinks local boards can take a similar approach.
Through the state's current website, military and overseas voters can see when their ballot is sent to them and when it is received by the board of elections, according to John Conklin, a spokesperson for the State Board of Elections. But the system has limitations: it does not allow those voters to see whether their vote was counted.
"It would be local boards of elections but they would work in conjunction with the state to implement it," Hoylman said. This is not atypical of state legislation dealing with elections, which are administered in New York State at the county level by local boards of elections under the oversight and regulatory framework of the State Board of Elections.
Quart suggested that the bill would not only create a system to track whether an absentee ballot was received by the board of elections, but whether it was sent out to the voter in the first place. "So they are not waiting until the last minute for an absentee ballot that's not going to come," he said. Voters are currently responsible for applying for an absentee ballot, even under the broadened eligibility, and many have reported not receiving a requested ballot in time for the primary or at all. But the bill language and accompanying sponsor's memo do not make explicit mention of the ballot application, only saying that the ballots themselves would be tracked (and the explanation of rejection appears to only apply to the ballot, not to applications for a ballot).
Questions remain whether the legislation will be passed and if in time for this year's fall general election, when even greater numbers of absentee ballots are expected to be cast, pending an extension of the governor's executive order or legislation that would keep all voters eligible to vote absentee.
"As more is revealed about absentee ballots and voters who may not have had their ballots received in time or their votes counted, I think there is going to be a public call for this type of action," Hoylman said, without indicating whether the bill had support from Senate Majority Leader Andrea Stewart-Cousins and the majority of the Democratic conference.
Quart did not say whether he had spoken with Assembly Speaker Carl Heastie either but both said they believed it should be in place for the fall presidential election, which will coincide with the general election for all seats in the State Legislature and House of Representatives, among others.
Spokespeople for the Democratic majorities in both chambers of the State Legislature did not return requests for comment on the bill.
"I'm more optimistic of the chance of success, especially in advance of November -- such a critical election not just in New York State but in the history of this country." Quart said. "Thousands upon thousands of people will be casting their vote by absentee ballot."
Even if it is signed into law before November, whether New York's decentralized and notoriously error-prone election boards will be able to successfully implement the brand new system is a big unknown.
"We have to demand that they do or nothing is going to get done," Hoylman said. "The fact that so many voters have reported not receiving their requested ballot in time to vote by absentee remotely is a scandal in and of itself. But those that did receive a ballot and were able to vote by mail never got any confirmation that it was received and counted." (Voters can eventually check with their local board of elections office whether their vote was counted.)
A spokesperson for the New York City Board of Elections said the agency had no comment on the bill.
"The State Board does not comment on legislation unless the Commissioners have formally voted to support it," Conklin wrote in an email.
Both sponsors of the bill had primary challengers in their districts this June, and while Hoylman is leading his race by a wide margin, Quart's contest is much closer as the BOE is starting to count the absentee ballots. According to the latest figures from the New York City Board of Elections, as of July 2 the board received almost 31,000 ballots in Hoylman's race (22,000 fewer ballots than the BOE distributed in the district), and roughly 11,000 in Quart's race (9,000 fewer than the BOE distributed). These figures include in-person and mailed-in ballot.
The issue of widespread absentee voting may remain with or without a pandemic. Five states allow voting by mail in all elections and 12 other states allow vote-by-mail in certain elections. In New York, a state constitutional amendment to allow no-excuse absentee voting (which allows all voters to qualify for an absentee ballot, similar in effect to the current executive order) was passed by both houses of the State Legislature. But it still needs to pass both houses again in the next legislative session before it goes before voters in a referendum.
"Voters are going to need to have the confidence in the integrity of our elections," Hoylman said. "And again, New York is an outlier state for not having this in place already."