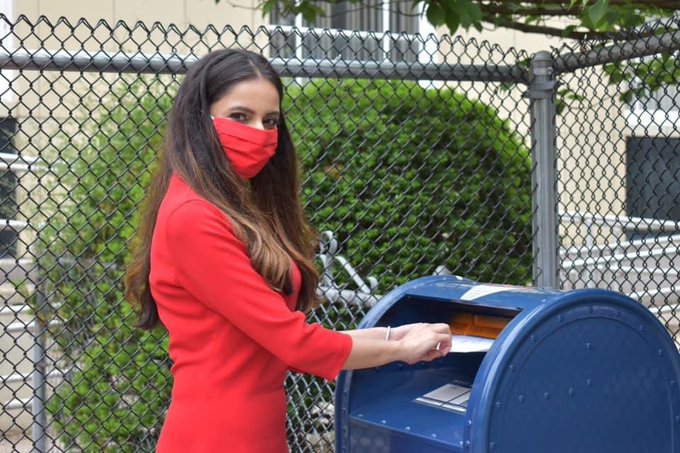 Jenifer Rajkumar mails her absentee ballot (photo: @JeniferRajkumar)
---
Primary elections in New York looked much different in 2020 than in previous years. This was the first time that primaries for the State Legislature and Congress were consolidated into one day, but more importantly, the ongoing COVID-19 pandemic and the universal accessibility of absentee ballots meant that those mail-in votes could prove decisive in several hotly-contested races in New York this year. (The pandemic also meant that the Democratic presidential primary was postponed to also coincide with the June primaries for state and federal legislative seats, among others.)
Absentee ballot counting by the New York City Board of Elections begins this week, two weeks after primary day (June 23), and several races are still in play. With a total of just under 500,000 in-person votes across the primaries in the city, almost all of which were Democratic contests, through early voting and primary day, attention now turns to the absentee ballots, roughly 384,000 of which were returned by voters (out of more than 765,000 sent out by the Board of Elections after completed applications were turned in by voters).
When the votes came in on primary night challenger Jamaal Bowman had such a convincing lead over Rep. Eliot Engel of the Bronx and Westchester in New York's 16th Congressional District that some prognosticators were comfortable calling the race for him.
Brooklyn Rep. Yvette Clarke appears likely to hold on to her seat in the 9th Congressional District, and she has declared victory based on an AP projection, though her closest opponent, Adem Bunkeddeko, has not conceded. Other incumbents have far smaller margins after the in-person votes, including Rep. Carolyn Maloney of the 12th Congressional District, which spans parts of Manhattan, Brooklyn, and Queens.
In the Bronx, a crowded primary for the "open" seat of retiring Rep. Jose Serrano yielded a strong margin for City Council Member Ritchie Torres, but with thousands of absentee ballots to be counted in the 15th Congressional District, Assemblymember Michael Blake, currently in second place, had not conceded.
Absentee ballots could also significantly impact several state legislative races. In the 25th State Senate District in Brooklyn, Jabari Brisport appeared on the verge of an upset win over Assemblymember Tremaine Wright and Jason Salmon in another "open" race.
Incumbent Queens Assemblymembers Michael DenDekker, Aravella Simotas, and Michael Miller currently trail after in-person ballots were counted and their fellow incumbents Walter Mosley and Joe Lentol of Brooklyn are holding on to very to fairly narrow leads. Three open seats, Assembly Districts 31, 56, and 79, also have margins that could be overturned once absentee ballots are counted.
A closer look at a number of races to watch:
NY-9
Rep. Clarke holds a 26,459-vote lead over second-time challenger Adem Bunkeddeko, who came within 2,000 votes of beating Clarke back in 2018. Clarke took 62.2% of the vote compared to Bunkeddeko's 17.9%, while other candidates Council Member Chaim Deutsch and Isiah James each took about 9% of the vote.
The Board of Elections lists 40,686 absentee ballots returned in NY-9 out of 75,915 sent out, for a return rate of 53.6%.
Bunkeddeko would need to win about 65% of absentee ballots to reverse Clarke's in-person vote lead, after receiving just under 18% of in-person votes.
NY-12
Longtime Rep. Carolyn Maloney, who chairs the powerful House Oversight Committee, holds a narrow 648-vote (1.6%) lead over second-time challenger Suraj Patel after in-person votes were counted in New York's 12th Congressional District, which is anchored in Manhattan's Upper East Side, but also extends to western portions of Brooklyn and Queens. Another challenger, Lauren Ashcraft, placed third with about 13.3% of the vote.
Maloney received 16,473 votes to Patel's 15,825 to Ashcraft's 5,268.
According to the BOE, 61,828 absentee ballots have been returned for the district.
That includes 44,687 (72.3%) from Manhattan, where Maloney bested Patel 46.9% to 37.1% in the in-person vote. Patel won both the Queens and Brooklyn portions of the district, by 6.3% and 22.1%, respectively, but those boroughs only accounted for 14.9% and 12.8% of the district's returned absentee ballots, respectively.
NY-15
In a crowded, 12-candidate race to succeed Rep. Serrano in the South Bronx, Torres emerged with a lead of 4,516 votes over his nearest opponent, Blake. After Torres' 30.4% of the vote and Blake's 19.3% of the vote, the next four vote-getters were Council Member Ruben Diaz Sr. (14.7%), Samelys Lopez (13.2%), Council Member Ydanis Rodriguez (11.4%), and former City Council Speaker Melissa Mark-Viverito (3.8%).
There were 39,865 total in-person ballots cast in the race, while there are 18,632 absentee ballots returned (out of 47,046 sent out for the district, for a 39.6% return rate). Blake would need to do extremely well in the absentee ballots in order to overcome Torres' lead. Torres has 12,421 votes to Blake's 7,905 after in-person voting, while Diaz Sr. has 6,032.
NY-16
Rep. Engel, a 30-plus-year incumbent who chairs the House Foreign Affairs Committee, trails Bowman by 10,183 votes in NY-16 after the in-person vote spanning parts of the Bronx and Westchester. Bowman won 61.7% in the Bronx section of the district and 56.5% in the Westchester section.
According to the New York City BOE, there have been 12,197 returned absentee ballots from the Bronx portion of the district (49.0% of the 24,907 sent out there), while there were 19,249 returned in the Westchester portion as of primary day (53.0% of 36,323 distributed), for a total of 31,446 absentee ballots.
SD-25
With State Senator Velmanette Montgomery retiring, a three-candidate race emerged in Brooklyn's 25th State Senate District. After in-person votes were tallied, Democratic Socialist of America activist and math teacher Jabari Brisport leads Assemblymember Tremaine Wright by 3,812 votes and a 52.25% to 40.61% margin, with activist Jason Salmon in third with about 7%.
Brisport received 17,113 votes to Wright's 13,301 during in-person voting.
There were 26,183 absentee ballots returned by voters, of the 50,023 requested (a 52.3% return rate), according to the BOE.
In the two Assembly districts that comprise most of the Senate district (ADs 56 and 57), 46.5% of absentee ballots (6,222 of 13,395) have been returned in the 56th AD, which Wright represents and won 52.7% to 43.6% over Brisport during in-person voting; while 58.8% (14,238 of 25,990) absentee ballots were returned in the 57th AD, which Brisport won 58.9% to 31.2% during in-person voting.
AD-31
In Assembly District 31 in Queens, an "open" seat race is led after in-person voting by Khaleel Anderson with 2,888 votes (good for 38.1%), over Rich David with 2,113 (27.9%), and Lisa George with 1,404 votes (18.5%). There were 2,790 absentee ballots returned in the district.
AD-34
In the Queens-based 34th Assembly District, six-term incumbent Assemblymember Michael DenDekker trails opponent Jessica Gonzalez-Rojas by 1,097 votes, after he received 22.8% of the in-person vote and she got 40.4%. Two other candidates, Joy Chowdhury and Nuala O'Doherty-Naranjo, received 13.7% and 12% of the in-person votes, respectively.
Gonzalez-Rojas received 2,514 in-person votes, while DenDekker received 1,417.
According to the BOE tally, there are 4,884 returned absentee ballots in the district out of 12,958 sent out (a return rate of 37.7%).
AD-36
In Queens' 36th Assembly District, five-term Assemblymember Aravella Simotas trails Democratic Socialists of America-backed tenant counselor Zohran Mamdani 46.2% to 53.6%, a total of just 589 votes. Mamdani received 4,228 votes to Simotas' 3,639.
There were 8,424 in-person ballots cast in this district, while the Board of Elections reported receiving 9,676 absentee ballots out of 16,433 distributed (a return rate of 58.9%). Simotas would need to win absentee ballots by 6.1% to win the nomination.
AD-38
Six-term Assemblymember Michael Miller currently trails challenger Jenifer Rajkumar by 1,324 votes, or 25.8% to 52%, in Queens' 38th Assembly District. A third candidate, Joseph De Jesus, received 22% of the in-person vote. Rajkumar received 2,624 votes, Miller received 1,300, and DeJesus 1,108.
The BOE received 3,077 absentee ballot returns from this district. Miller would have to do far better than winning a quarter of those votes to overcome what is a daunting deficit.
AD-50
48-year incumbent Assemblymember Joe Lentol holds a 1,763-vote lead over challenger Emily Gallagher after receiving 57.3% of the 11,986 in-person votes to her 42%. Lentol received 6,608 votes to Gallagher's 4,845.
According to the BOE, there have been 9,299 absentee ballots returned for this district out of 17,023 sent out (a return rate of 54.6%). Gallagher would have to win the absentee ballots by 19% to unseat Lentol.
AD-51
Félix Ortiz, the Assembly's Assistant Speaker, faced challenges from Democratic Socialists of America-backed activist Marcela Mitaynes and two other opponents. After in-person ballots were counted, Ortiz holds a 464-vote lead over Mitaynes. He took 38.6% of the vote, compared to Mitaynes's 31.1%, while Katherine Walsh took 20.7% and Genesis Aquino received 9.1%.
Ortiz received 2,391 votes to Mitaynes' 1,927 and Walsh's 1,282.
The BOE has received 4,872 absentee ballots returns from this district out of 8,863 distributed (a return rate of 55%), compared to 6,314 in-person votes.
AD-56
With incumbent Assemblymember Tremaine Wright seeking election to the State Senate, there was an open race for the 56th Assembly District, located primarily in Bedford-Stuyvesant, between Stefani Zinerman and Justin Cohen. With in-person ballots counted, Zinerman received 56.2% of those votes to Cohen's 43.1% and she holds a 1,623-vote lead as of primary day.
The BOE lists 6,222 absentee ballots returned from this district out of 13,395 distributed (a return rate of 46.5%).
AD-57
Four-term incumbent Assemblymember Walter Mosley faces a primary challenge from Democratic Socialists of America-backed nurse Phara Souffrant Forrest in the Brooklyn-based 57th Assembly District. When in-person ballots were counted, Mosley held a narrow lead of 588 votes, with 51.9% to Forrest's 47.8%. Mosely tallied 7,482 votes to Souffrant Forrest's 6,894.
There were 14,238 absentee ballots returned in this district of the 25,990 distributed (a 54.8% return rate). Forrest would have to win absentee ballots by just over 4.1% to overcome Mosley's current lead.
AD-79
With the district's current incumbent, Assemblymember Michale Blake, running in the 15th Congressional District primary, there was an "open" race for the South Bronx-based 79th Assembly District. Chantel Jackson, who has the backing of Blake and much of the Bronx Democratic Party, narrowly leads her closest opponent, Cynthia Cox, by 240 votes after in-person ballots were counted. Cox is backed by Blake's congressional primary opponent, Council Member Ritchie Torres.
Jackson received 27.1% of the vote to Cox's 24.2%, with George Alvarez receiving 18.2%, former Assemblymember Eric Stevenson taking 13.5%, and Elvis Santana receiving just under 13%.
Jackson received 2,222 votes to Cox's 1,982 and Alvarez's 1,493.
There were 3,741 absentee ballots returned in this district out of 10,321 sent out (a return rate of 36.2%).
Sy Schimberg contributed to this article.
This article has been updated with additional numbers.