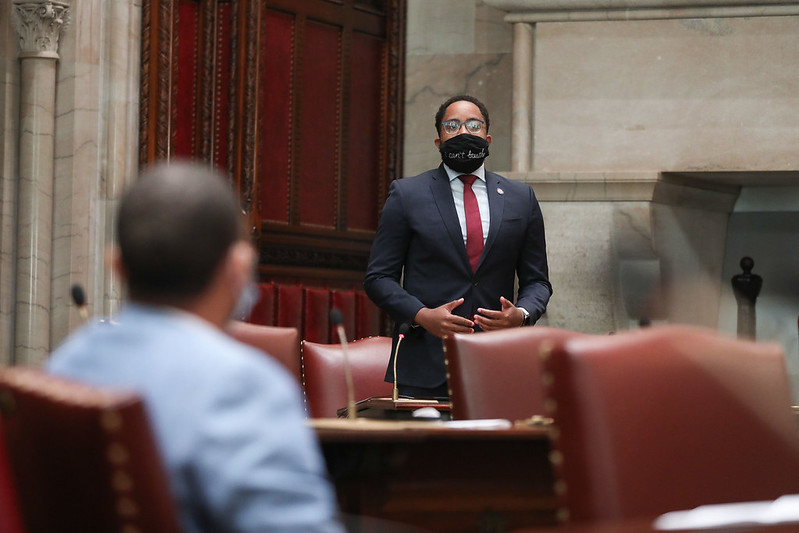 State Senator Myrie in the Senate chamber (photo: State Senate)
---
After June saw drastic shifts in how voting in New York is conducted, elections administrators, state legislators, and watchdogs have a long list of changes they want to see enacted before the general election this fall. But above all they want clarity from Governor Andrew Cuomo.
Many of the key players in New York City and State elections testified Tuesday at an oversight hearing held by both houses of the Democrat-controlled Legislature examining the June primary, its successes and failures, and solutions for a safe and efficient general election.
"For many New Yorkers...democracy was functional," said State Senator Zellnor Myrie, a Brooklyn Democrat and chair of the Senate elections committee, in his opening remarks at the hearing. "But too many New Yorkers saw their democracy fail them during this pandemic."
"This hearing today is about finding solutions for the voters of the State of New York," Myrie said.
As their remarks showed, administrators are looking at a logistical nightmare unfolding at the feet of a notoriously antiquated and byzantine elections system, which typically conducts 95 percent of voting in person, during a pandemic and with the anticipation of record-breaking turnout.
"We have run elections in times of turmoil," said State Board of Elections (SBOE) co-executive director Robert Brehm, in his testimony Tuesday. "In my lifetime, we've had natural disasters...We've had Hurricanes Irene, Lee, and Sandy on the cusp of elections. And public safety issues -- September 11th is certainly a date that impacted elections."
"But the COVID-19 pandemic has turned out to be longer, more sustained, and much more complicated a world crisis than any of those," he added.
As the coronavirus outbreak unfolded in New York, elections administrators throughout the state contended with a host of issues leading up to the June primaries. Facing a dramatic increase in absentee voting because of the governor's executive order extending eligibility, they still had to ensure that poll sites were safely run as more than half of voters still cast ballots in person.
In New York State, 1,027,234 voters cast a ballot in person on primary day, June 23, and 731,131 voted absentee (38 percent), according to testimony provided by the State Board of Elections. Another 118,108 New Yorkers voted in person during the early voting period, fewer than half the roughly 256,000 voters who did in 2019, despite there being 17 more early voting poll sites.
With over half of voters opting to vote in person in June and the surge in turnout expected for the general election, which will include the presidential race, elections commissioners throughout the state are looking for ways to ensure proper staffing amidst a pandemic that is keeping people home -- especially older New Yorkers who make up a bulk of the state's poll workers.
The additional bureaucratic hurdles of shifting to a more mail-oriented election system -- including the sudden prominence of the U.S. Postal Service, which is beyond the authority of state regulators -- meant tens of thousands of ballots were thrown out on technical grounds and thousands more were sent out late by the New York City Board of Elections or never got delivered.
Yet despite recognizing a host of repeat and new challenges for the general election, the executive orders that altered the primaries have all expired, and election administrators are proceeding as though its business as usual as the clock ticks.
"Presently we're running this November election based on the laws we have on the book," Brehm told the committees. "I believe some [recently passed bills] have gone to the governor last night, but they are not in place yet."
"So we're basing our planning on the laws we have on the books and certainly we will have to adapt as much as we can for what comes our way," he said. Early voting for the general election is just over two months away, and preparations for mailing millions of absentee ballot applications and ballots must begin relatively soon to be executed well.
Cuomo has yet to sign legislation or orders that would expand absentee eligibility again, or proposals that could help voters but also place additional burdens on the state and county boards of elections, like one that would require local boards to notify a voter when their ballot is rejected and offer a way to remedy it.
"The Legislature already passed a bill that is awaiting signature by the governor giving voters the right to cure defects," said SBOE Co-Chair Douglas Kellner. "That will create more work for the boards of elections but will reduce the number of ballots that are invalidated for inadvertent reasons."
There's a long list of voting and election reform bills that have either passed both houses of the Legislature and await gubernatorial action; have passed one house and await action in the other; or have been introduced but not yet moved in either the Assembly or the State Senate.
Invalidating Ballots
The main reason more than 80,000 absentee ballots were invalidated in New York City alone, according to Kellner, was because of a missing signature. While lawmakers and advocates are pushing for the ballot curing bill to be signed into law, Kellner said the SBOE is also looking into ways to redesign the ballot envelope to ensure that voters provide the required signature, which they say is the only method they have of seeing that the right person cast a particular ballot.
Envelopes missing postmarks was another key reason absentee ballots were thrown out. But the USPS did not testify in person at Tuesday's hearing, held jointly by the elections committees and local governments committees of the Senate and Assembly, leaving a number of unanswered questions about whether postmarking would be a problem in the general election.
"There was consultation [with the USPS] on that," Kellner told lawmakers.
"The postal service guidelines and procedures require postmarking for election materials and the odds of not getting a postmark are just as great if you put a stamp on an envelope as they are by using the pre-paid postage system," he said, referring to reports that the missing postmarks were an error caused by the state's use of pre-paid envelopes.
Ballot Logistics
One of the biggest logistical issues boards of elections face is that law sets the deadline to apply for an absentee ballot at seven days before the election, which leaves very little time to process them and send a ballot, much less have the voter then return the ballot in time to be counted. USPS guidelines released in July advise states to leave a 15-day window for election mail, Kellner said. With the anticipation of a high volume of absentee ballot applications, the SBOE is seeking a 15-day deadline to apply before Election Day, which is November 3 this year.
"I think there is agreement that the current timeframe is unrealistic and has led to some of the disenfranchisement that we've seen this year," said SBOE Co-Chair Peter Kosinski.
Michael Ryan, executive director of the New York City Board of Elections, the state's largest election jurisdiction, told lawmakers Tuesday that he agreed with the need to adjust the timeline. "To be clear, the present calendar didn't work under regular circumstances, when we just had the normal number of absentee ballot applications," Ryan said. "Now you have a twelve-fold increase, it becomes an impossibility."
In New York City, about 53 percent of the applications for absentee ballots came through the city's newly-established online portal, Ryan said.
Jennifer Wilson, deputy director of the League of Women Voters of New York State, urged the Legislature to provide funding to county boards "so that all voters can be sent an absentee ballot application form, and that both the request form and absentee ballot return envelopes include pre-paid postage."
Additional costs include staffing at poll sites and messaging to promote early voting, which was expanded in June but under-utilized. PPE and additional poll-site precautions to mitigate the transmission of COVID-19 are likely to be other significant expenses. County boards are also exploring new technologies to sort and canvass votes. For instance, last week, the New York City Board of Elections approved the purchase of five mail-ballot sorting and scanning machines, at the cost of roughly $1.5 million.
With the primary results taking six weeks to fully count and certify, many are also worried about how long it could be before the general election results are tabulated.
County boards are exploring staffing increases and new technologies to sort and canvass votes. For instance, the new machines the city BOE ordered are capable of sorting up to 15,000 ballots per hour.
Funding
Funding is another big source of uncertainty ahead of the general election.
The federal Coronavirus Aid, Relief, and Economic Security (CARES) Act allocated $400 million to states for elections, with states required to provide a 20 percent match. New York State received roughly $20.5 million in CARES Act funding and state lawmakers allocated an additional $4.1 million to local election boards, according to the SBOE. Of the total available, county boards have already spent $12 million -- roughly half -- with three country boards having spent all of their additional funding. A majority of that spending went towards the postage on pre-paid absentee ballot envelopes, according to the SBOE.
A typical election in New York State costs roughly $25 million. But with precautions and extenuating provisions being made around the coronavirus pandemic the costs this year are much higher.
SBOE Co-Executive Director Todd Valentine said with 6 to 7 million pieces of mail sent out for the primaries, when Cuomo's executive order required election material be sent with pre-paid return envelopes. With the possibility of mailing postage-paid absentee ballot applications in the general election to roughly 12.6 million registered voters statewide, the state is looking at a $26 million price tag just for absentee ballot applications, according to Valentine's estimate.
"We've certainly asked the governor's office whether they had any intentions repeatedly…of making those changes," he said, referring to a possible requirement to mail absentee ballot applications to every registered voter. "They have not given us an answer."