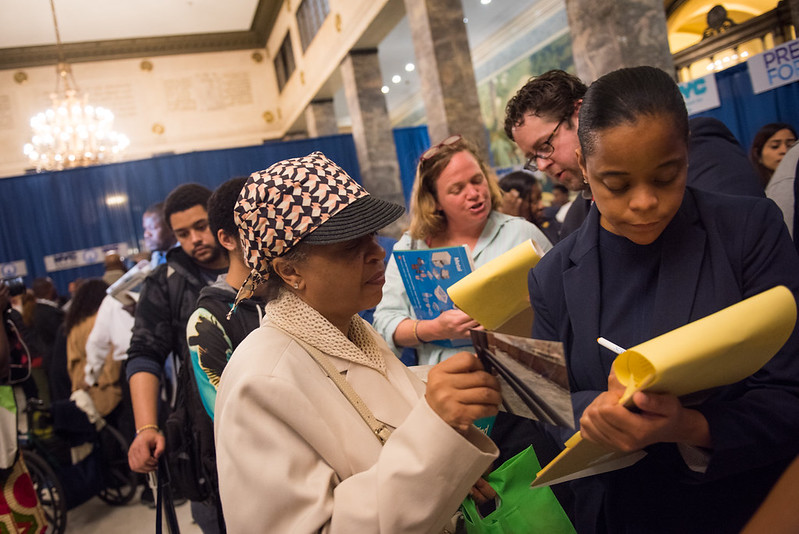 New. Yorkers seeking help (photo: Edwin J. Torres/Mayor's Office)
---
As a new report indicates unemployment in New York City may be as high as 33%, the state's labor commissioner testified at a Thursday legislative hearing that since early March, the New York Department of Labor (DOL) has paid almost $40 billion in unemployment benefits to more than 3.3 million New Yorkers, compared to $2.1 billion in all of 2019.
The impact of the COVID-19 outbreak and its fallout on the state's workforce was the subject of an oversight hearing held by both houses of the State Legislature Thursday.
Key discussion points included the DOL's struggles to meet the staggering needs of so many suddenly unemployed New Yorkers as the economy was abruptly shut down to slow the virus' spread; the failures on the federal level to provide sufficient aid and guidance in the wake of unprecedented unemployment; actions New York state government could take to address workplace safety, worker's compensation, the plights of gig economy and undocumented workers, and other issues.
According to the DOL, the ongoing COVID-19 crisis resulted in 15.7% unemployment across the state, and 20.4% In New York City as of June. The real unemployment situation among New Yorkers is likely even worse, though, with a report from The New School's Center for New York Affairs finding that the percent of the pre-pandemic workforce receiving unemployment benefits is closer to 27.6% for the state and a staggering 32.7%, just about one-third, for the city in June.
That report also found that in the months of June and July, when the city began reopening, 50,000 workers a week lost their jobs, "a pace of initial unemployment claims four times higher than during the worst of the 2008-09 Great Recession," according to the report, written by James Parrott and Lina Moe. And although the current economic downturn is often compared to the Great Recession, it comes with unique challenges not present a decade ago, as even while people return to work and businesses reopen, they must take precautions to prevent the spread of COVID-19 and workers, especially those in vulnerable populations, must consider the risk of contracting the virus when deciding whether or not to return to the workforce. Not to mention the fact that certain industries, like film and entertainment, may not be able to reopen at all due to social distancing restrictions.
Making matters worse, according to DOL Commissioner Roberta Reardon at Thursday's hearing, the federal government has provided insufficient resources and been unhelpful in providing guidance on how to implement some of the few programs it has created to address the crisis.
Reardon said that of the nearly $40 billion the state has allocated in unemployment benefits, about three quarters is federal money, including some stemming from the $600 weekly unemployment supplement granted through the federal CARES Act, which expired at the end of July. Some of the other 25% came from the State's Unemployment Insurance trust fund created after the Great Recession, which had about $2.7 billion at the start of 2020, according to the U.S. Department of Labor — although New York still needed to take out a $5 billion interest-free federal loan to meet the need, Reardon said.
Reardon added that if there is not an influx of federal funds the state will likely have to take out a larger loan, although there is hope that some of the loan will be forgiven by the federal government. She said other states are in a similar position due to the pandemic.
"I can say that if we had to pay an extra $100 for every claimant, currently, between now and the end of December it would be something like $4-plus billion in cost to New York State, it would be completely intolerable, we couldn't do it," Reardon said, referring to a proposal put forth by President Trump that includes a state match to new federal unemployment money.
Although talks of another stimulus bill were taking place on Capitol Hill, recent reports have suggested it is unlikely another relief bill will be passed soon and, instead, Trump is attempting action through executive orders. While Democrats who control the House of Representatives passed another enormous relief bill in mid-May, Republicans who control the Senate dismissed it and have put forward a sketch of their own proposal, leaving the two sides at an impasse thus far and Trump unwilling or unable to broker a deal.
Given that New York has thus far been the hardest hit state by the pandemic and has been more cautious than other states in its economic reopening, the state could be in significant trouble if no additional federal aid shows up (the governor and other state and local officials are also lobbying for tens of billions of dollars in federal funding to plug tax revenue gaps). New York "had the second-sharpest February-to-June payroll job loss of any state, and its official June unemployment rate was third-highest among all states," the New School report says.
But a lack of funding was only one issue Reardon mentioned with the federal government's response. She also highlighted speed, which affected New York's ability to give out aid, as it was not until after the CARES Act was passed in late March that programs such as the Pandemic Unemployment Assistance (PUA) program — which provides aid to those experiencing loss of work due to covid who weren't covered by normal unemployment — were created, and even then the state "did not get federal guidance on how to administer it, which meant we couldn't do anything, until April 5," Reardon said.
PUA essentially expanded unemployment assistance to self-employed, freelance, or gig workers, as well as those who are not working due to concerns around covid, although in the latter case there has to be additional substance to their fear such as a medical condition, elderly loved one they live with, or something along those lines.
When PUA was initially rolled out, there was some confusion as to how to get it, something Queens State Senator John Liu brought up during the hearing. Reardon said this was because "originally the federal government had a regulation that said they had to apply for unemployment, be denied and then apply for PUA. People thought that they were denied for benefits," an extra step that was removed on April 20.
This was among the challenges New Yorkers faced in trying to access unemployment insurance during the current crisis, with almost every State Senator and Assembly member who attended Thursday's hearing citing the work they put in to help constituents who faced extensive problems filing for and receiving unemployment. Reardon defended DOL's response, saying New York moved "faster and more aggressively" than any other state and that, currently, there is no backlog on unemployment claims besides the normal one-to-three-week period it takes to process them and those that are involved in litigation.
With DOL's call center receiving over 8.2 million calls in one week at the height of the pandemic, compared to an average of 60,000 pre-covid, Reardon noted DOL's work to address the crush, which brought its systems down, by building and launching an unemployment application in partnership with Google on April 10, increasing DOL representatives to over 7,000 people — many from other state agencies — at the peak, and creating a chatbot to help during the application process. Reardon said that during the pandemic it was like DOL "rebuilt the plane while flying it," when it comes to unemployment claims, and that the agency has been using data gained during the time to add to their existing work on a new unemployment system that is still yet to be implemented.
As DOL scales down to about 4,500 representatives and as New York faces new challenges in reopening the economy and schools, that new system is a focus, Reardon said.
Meanwhile, Labor Bureau Chief Karen Cacace at the state Attorney General's office added another key issue with the state's reopening: a lack of safety guidelines for reopening businesses by the U.S. Occupational Safety and Health Administration, which creates and enforces rules about workplace safety for private industries.
"Regarding safety standards, because OSHA has failed to create standards to protect workers from COVID-19 specifically, and airborne illnesses generally, the state can and should create specific, enforceable standards for all industries," Cacace said at Thursday's hearing. "It is imperative that employers be required to provide safe working conditions for their employees. This is true at any time, but particularly during this pandemic."
Cacace suggested the State Legislature pass a bill that outlines clear safety regulations.
"Legislation really would be important to address the pandemic going forward," she said. "As we all know, as people are going to be back to work, there are more and more concerns about what is a safe workplace. And I think there is room for the State Legislature to fill the void that the federal government has left and to create those safety standards so that we'll be able to enforce them."
President of the New York State AFL-CIO Mario Cilento, who also provided testimony at the hearing, said in addition to passing legislation to establish safety standards in the private sector, the punishment for not adhering to safety plans should be significant.
"We all know that countless workers continue to risk their lives and their physical well-being to serve all of us, and they deal with the mental toll because they're constantly worried about the continued risk of getting sick on the job and they're constantly questioning the safety plans or the inadequate adherence to those plans," Cilento said. "Fines for inadequate safety plans and adherence to those plans must be steep."
"I'm afraid that people will be afraid to put a complaint in if they have to provide any type of information, such as their name," said Long Island State Senator Monica Martinez.
This fear may be justified, as Cacace said the Attorney General's office has received many inquiries, "Most concerning to our office, allegations of retaliation against workers who complain about unsafe working conditions in workplaces that remain open."
Brooklyn Assemblymember Jo Anne Simon mentioned that there are currently two bills that would address this issue and expand the definition of retaliation in current whistleblower laws to better protect employees.
The New School report also says state action is needed to ensure those who are forced to work in unsafe conditions can take action in other ways, stating, "state law needs to be clarified to allow workers to refuse offers to return to work and retain their UI benefits where the worker is justifiably concerned of serious health risks. Several states are extending such protections to older workers and others with health conditions that put them at high-risk."
Although DOL does not share a complainant's information with their employer, many legislators at Thursday's hearing expressed concerns about employees fearing retaliation if they report dangerous conditions.
What happens when an employee does contract COVID-19, no matter the precautions taken in the workplace, was another somewhat vexing topic at the hearing. Cilento said he sees an issue in the fact that, currently, the worker must be able to prove they contracted the disease through their work in order to qualify for workers' compensation.
"If you're working at a grocery store and you're working at the checkout counter, in the course of an eight-hour day you might see 200 or 300 customers come by your lane. If you are a nurse and you are seeing a couple of hundred patients…right now, you would have to point out which particular customer who came by on that line in that grocery store, that supermarket, gave you the virus," Cilento said. "What we are saying is there should be a presumption that if you are in that line of work, if you are in that situation, that if you contracted the virus you contracted it at work."
Such a change to the law would still leave the option for an employer to dispute said assumption throughout the workers' compensation hearing process.
Assemblymember Brian Manktelow of Wayne County expressed concerns about such a change, saying, "You got to think about the employer as well, because I want these jobs to stay here, we need the jobs, we need the employers to do this. So, how does that work, how do we know that individual didn't get it on the way in on the bus?"
Queens State Senator Jessica Ramos, a co-chair of the hearing as the Senate labor committee chair, repeatedly highlighted the need to better serve communities of color, including those who don't speak English as their first language and undocumented workers. She noted that individuals "still can't actually apply for PUA in Spanish, let alone other languages," and that, instead, they "need to call to receive language access and yet people haven't heard from" DOL in months. Given that undocumented workers are not eligible for unemployment benefits, their struggles were mentioned by a number of Democratic lawmakers. Sanders asked if there was any way for the New York Attorney General to sue for undocumented workers, saying their needs are "by and large not being met in this economy, and that's so dangerous." Cacace said the office could represent them in cases involving any labor laws aside from unemployment, which does not cover them, something she acknowledged is "an enormous gap." Sanders asked the office to continue to look for other ways the state could assist undocumented workers.
Additional legislation that may put strain on employers, but also help employees, was discussed: expanding partial unemployment insurance, which provides assistance to those who are working but have gotten their hours significantly reduced.
Cacace said the way partial UI works currently is confusing for employees and DOL, and mentioned that if you work even one hour on a day, you are disqualified from receiving benefits for that day, even if you aren't paid for that work because, say, you are self-employed.
"There's a much simpler way, is just to actually subtract the amount of wages that you earn," Cacace said, explaining that wages could simply be taken out of an individual's current unemployment benefits.
The New School report also highlights partial UI, recommending, "New York should modify its partial UI system to increase the number of part-time hours that a UI recipient can work without jeopardizing the receipt of all benefits."
The group of legislators also honed in on a specific area of part-time workers, those who work in the gig economy, such as Uber and Lyft drivers. For years, these workers have attempted to gain recognition as employees rather than contractors, to be able to gain benefits such as health care, unemployment, retirement funds, and others. A major step toward that goal was made when a New York judge ruled in late March that Postmates drivers are, in fact, employees.
"State administrative agencies and the courts have begun to reaffirm what we all know: these workers are employees," Cilento said. "The pandemic has highlighted the disparities between the rights of gig workers and employees and if there ever was a time for the Legislature to pass a comprehensive law to protect these workers, it is now."
Cilento said app companies should be compelled by the state to contribute to the unemployment insurance trust fund, like other employers are required to do, with the amount based on the number of workers they employ and their hours.
Such a move could increase the amount of unemployment funds the state has to distribute, something Queens State Senator James Sanders said New York generally has to look to do with federal funding running out.
"I have no idea why anybody was looking to the White House for aid to the states and cities, I have absolutely no idea, there's no history of this. And why anybody thought we would get anything from that, I have no idea," Sanders said at the hearing.
He went on to question some reluctance from New York state officials, most notably Governor Andrew Cuomo (although he did not name him) to instituting a new tax on the wealthy, "Why is there a hesitation in some of the upper realms of New York State government in dealing with…any of the 1% taxes?" Sanders said.
"I am very concerned about the lack of federal money, and I'm so happy that our leaders Andrea Stewart-Cousins and Carl Heastie have come together to say that we need to raise revenue in order to save jobs and maintain the status for people to survive the pandemic," said Manhattan State Senator Robert Jackson, noting a projected 20% state cut to education, healthcare, municipality, and agency funding.
Cilento voiced support for any methods of raising funds, and noted that proposed cuts to services would disproportionately hurt low-wage workers already struggling due to the economic effects of the pandemic. He said investing in infrastructure, including renewable energy products, could create jobs and that legalizing adult use of marijuana could also "can bring in a new industry with solid wages for workers that could be invested right back into local economies."
Looking at what is likely to be a long road back to a healthy economy, legislators like Assemblymember Thomas Abinanti made similar suggestions.
"We have seen so many people lose their jobs, we have seen so many sectors of the economy that have been badly damaged, and we may be losing them permanently, or at least it's going to be a long time before they come back," Abinanti said. "So, we need to find a way to restore parts of our economy or substitute new ones. We need to find ways to support the green economy and move towards sustainable jobs that are not going to damage the environment and which are going to be there if there's a second round of covid."
He went on to ask if the minimum wage needed to be increased, perhaps, as State Senator George Borrello previously brought up the notion that increased unemployment benefits at times resulted in people making more money than when they were working, something Borrello said was a problem for already struggling small businesses that could not provide wages that compete with unemployment benefits. Abinanti said, in that case, raising the minimum wage may solve the issue of some workers making more on unemployment.
Whether it be raising the minimum wage, instituting higher taxes on the wealthy, or something else, if no action is taken legislators seem to predict a bleak outlook for low-wage workers and low-income New Yorkers as the economic impact of the pandemic rages on.
"I'm just scared that the essential workers today will become the furloughed and fired workers tomorrow," Sanders said.