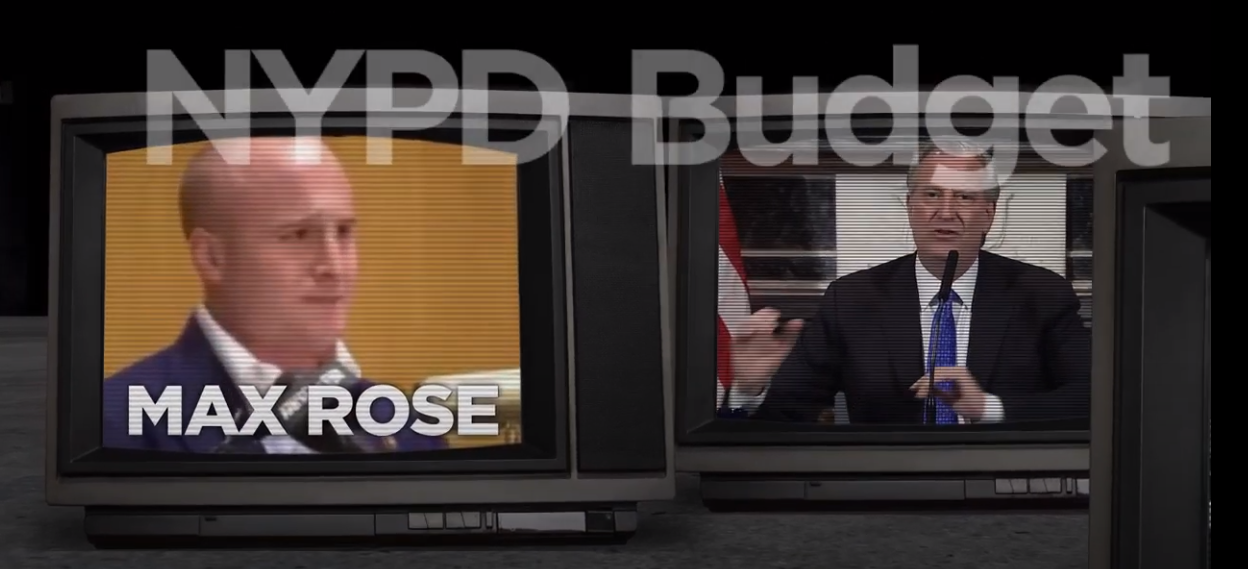 An image from a Malliotakis attack ad
---
It's been clear for quite some time that the race between Democratic Congressional Rep. Max Rose and his Republican challenger, Assemblymember Nicole Malliotakis, would be highly competitive and full of mud-slinging. The campaign in New York's 11th Congressional District, spanning all of Staten Island and a slice of Southern Brooklyn, is among the most-watched nationally, and the attack ads have been flying for months.
Now with under three months until Election Day, the Rose and Malliotakis campaigns both recently released negative ads that stretch the truth — though the challenger's is significantly more misleading than the incumbent's.
Rose, an Army veteran who is still part of the National Guard, was able to flip the seat in 2018, winning 50% of the vote against incumbent Dan Donovan's 46%. The Democratic win was among several red-to-blue flips in New York, which contributed to the party's seizure of the House majority. It also ensured that New York City had an all-Democratic congressional delegation.
Malliotakis, who represents a significantly overlapping district in the State Legislature and was the Republican nominee for mayor in 2017, now hopes to flip the seat back. Rose's successful 2018 approach was based on a moderate brand of Democratic politics, focusing on less partisan issues like infrastructure, criticizing de Blasio, and mostly avoiding the often polarizing topic of President Donald Trump, who carried the district and won Staten Island overwhelmingly in 2016, though Rose did eventually vote for Trump's impeachment.
But you wouldn't know that Rose has staked out a moderate, law enforcement-friendly path after seeing Malliotakis' recent ad titled, "Thin Blue Line," which groups Rose in with de Blasio — who the Congressmember has recently called "not only the worst mayor in the history of New York City, he's the worst mayor in the history of this great country" — and, despite evidence to the contrary, says Rose's positions on the New York Police Department "aren't just radically liberal…they're radically dangerous."
Rose's own ad, "When the Virus Hit," goes after Malliotakis for her actions related to the coronavirus pandemic, although points of criticism it raises are on policies or votes shared with her Democratic colleagues in the Assembly.
"Thin Blue Line"
In her ad, Malliotakis says that Rose "joined de Blasio and the defund the police crowd" in "calling to dismantle the NYPD," referencing the "defund the NYPD" protest movement spurred by the police killing of George Floyd in Minnesota, which calls for resources to be redistributed from the NYPD to youth and social services.
But Rose has made multiple public comments stating that he does not support the "defund the NYPD" movement. In early June, Rose tweeted "I don't support defunding or abolishing the NYPD," while criticizing Republicans for their role in not funding police. A month later, Rose wrote an op-ed in the Staten Island Advance titled, "Defunding the police is shortsighted and wrong," in which he said, "I oppose #DefundThePolice and spoke out against efforts to cut funding to our District Attorney's office because doing so will undermine the most critical goal of the moment: to build a city and country where relationships between law enforcement and the communities they serve are based on trust and mutual respect."
Rose serves on the Committee on Homeland Security and Committee on Veteran's Affairs in Congress, and has worked to increase Homeland Security funding for New York and co-sponsored a bill to increase mental health programs for law enforcement.
When asked why Malliotakis' ad suggested Rose supports defunding the NYPD, a spokesperson for Malliotakis' campaign pointed to his attendance of a peaceful Black Lives Matter march where some protestors held "defund NYPD" and other signs as evidence of his support for the movement.
"On issue after issue Max Rose tries to play both sides," Malliotakis' spokesperson, Rob Ryan, said. "He takes part in an anti-NYPD demonstration where his fellow marchers chant 'defund the police' and carry signs saying 'Blue Lives Murder" and then he claims he supports the NYPD; he can't have it both ways."
Rose previously responded to Malliotakis in a tweet by alleging she was insincere in her remarks for criticizing his attendance of the march despite having expressed support of recent peaceful demonstrations in Bay Ridge and Staten Island in her own tweet two days prior. Meanwhile, Malliotakis attended a pro-NYPD rally at which demonstrators used sexist, misogynistic language against Black Lives Matter supporters, something Rose condemned in a statement the next day.
In her ad, Malliotakis also said Rose had joined calls to "end cash bail." Rose voiced support for bail reform generally in a 2018 Lambda Independent Democrats of Brooklyn candidate questionnaire, which cited a proposal by Governor Andrew Cuomo that included legislation to "Eliminate monetary bail for people facing misdemeanor and non-violent felony charges."
However, when New York State's initial bail reform laws passed in 2019, Rose joined Republicans and some Democrats, including de Blasio, in criticizing them and said the reforms "went too far, too fast." He also called for changes to prevent major drug dealers from being released along with Special Narcotics Prosecutor Bridget Brennan and Staten Island District Attorney Michael McMahon.
"Unlike Nicole Malliotakis, I know what it means to risk everything to keep this country and those I love safe," Rose said in a statement to the Gotham Gazette. "That's why I opposed defunding the police, secured millions of dollars for the NYPD to keep NYC safe from terrorists, and have taken on my party no matter the consequences. Nicole lies as if her very life depends on it and flip flopped on everything from support to President Trump, to sanctuary cities, and even the Black Lives Matter protests. After this election, hopefully she'll finally understand you can't lie to the people you're trying to lead."
Rose was referring to how Malliotakis previously said she "was never really a supporter of his" in reference to Trump and had tried to distance herself from him while running for mayor in 2017, as well as how she voiced support in 2017 for a type of sanctuary city policy put in place by former Mayor Ed Koch but in January 2019 wrote an op-ed saying New York should no longer be a sanctuary city.
"When the Virus Hit"
Rose's ad focuses on the pandemic and Malliotakis' response as a member of the State Assembly, where she is in the minority. The ad mentions three main points: that Malliotakis photoshopped herself into a picture to make it appear as if she were providing covid-related relief to New Yorkers, that she voted to cut hospitals funding by $400 million; and that she voted for a law that "protects shady nursing homes that put seniors at risk," as the ad says.
Although it is true that Malliotakis was photoshopped into a picture in early April as part of an Instagram post that said she was delivering PPE and other supplies to nursing homes, sanitation workers, and first responders, the photoshopping was done by the Brooklyn Conservative Party, which posted the image. Her campaign noted that although the particular photo was not genuine, Malliotakis had done a significant amount of work to distribute PPE and help her constituents in other ways during the pandemic.
The two other allegations made in the ad are also broadly correct — Malliotakis did vote to cut hospital funding and pass a law that protects nursing homes from litigation, but those votes were part of the State budget that passed in late March. For it to pass, many Assembly members — mostly Democrats — voted in favor of the same motions, even though many later said they were unhappy with the end result, rammed through by Governor Cuomo while legislators argued the budget needed to be passed to prevent a government shutdown or delay in services or aid to New Yorkers.
"The real fraud in this race is Max Rose; he cynically attacks Assemblywoman Malliotakis on issues that were part of the state budget process, all the time knowing that the vast majority of legislators voted the same way including his Democrat colleagues," Ryan said in a statement. "It's another example of how he twists the truth."