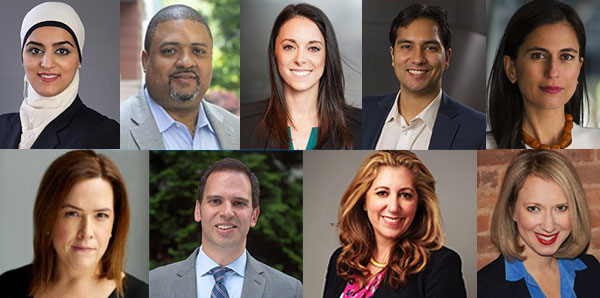 Top (l-r): Tahanie Aboushi, Alvin Bragg, Eliza Orlins, Janos Marton, Tali Farhadian Weinstein
Bottom (l-r): Liz Crotty, Dan Quart, Diana Florence, Lucy Lang
---
The nine Democratic candidates currently running for Manhattan District Attorney in next year's June primary shared the Zoom debate stage for the first time Tuesday night at a three-hour forum hosted by the Jim Owles Liberal Democratic Club, an LGBTQ-focused political organization. Each candidate was asked questions individually on a wide range of issues relating to LGBTQ rights, police accountability, and more, but there were some instances in which candidates challenged each other.
The forum came a month after the NYC Program Council hosted the first five declared candidates for the inaugural forum of the 2021 Manhattan District Attorney race, which is unfolding amid uncertainty about whether incumbent Democratic District Attorney Cy Vance will seek another term.
The nine candidates participating Tuesday night were Assemblymember Dan Quart; former Chief Deputy State Attorney General Alvin Bragg; former ACLU attorney Janos Marton; former Assistant District Attorney and criminal defense lawyer Liz Crotty; Tali Farhadian Weinstein, the former general counsel in Brooklyn DA Eric Gonzalez's office; former Assistant District Attorney Diana Florence; public defender Eliza Orlins; civil rights attorney Tahanie Aboushi; and, Lucy Lang, a former Assistant District Attorney and the director of John Jay College's Institute for Innovative Prosecution.
Quart has made his name in the Assembly sponsoring criminal justice reform laws like reducing the use of cash bail. Bragg touts his work in the State Attorney General's office, investigating Donald Trump, Harvey Weinstein, and others. Marton helped lead the Close Rikers campaign and organized decarceral efforts nationally with the ACLU. As an ADA, Crotty prosecuted street crime, among other offenses, and represented families of 9/11 victims in private practice.
In the Brooklyn DA's office, Weinstein created the Post-Conviction Justice Bureau to review previous convictions for possible exonerations. Florence, who left the Manhattan DA's office earlier this year over allegations of prosecutorial misconduct, touts her leadership of that office's Construction Fraud Task Force. Orlins says her decade defending low-income New Yorkers makes her the best candidate to lead the office in a new, more progressive direction. Aboushi has sued the NYPD over misconduct allegations. Lang touts her leadership in developing data-driven criminal justice reform.
District Attorney Vance did not participate in the forum and has not stated whether he will run for reelection. The entry of Lang, a Vance ally, into the race last week and Vance's paltry fundraising numbers in the first six months of the year are believed to signal that Vance is unlikely to run, especially given the all-important Democratc primary is now less than 10 months away. Lang's Institute for Innovative Prosecution is funded in part by grants from Vance's office, which funds many causes, mostly through massive settlements it has reached with financial institutions.
The Jim Owles Club, the forum host, advocates for the decriminalization of sex work and repeal of the "walking while trans" law, among other criminal justice reforms, as well as LGBTQ rights, universal healthcare, and reproductive rights, among other progressive causes. The club is one of New York's two major citywide progressive LGBTQ political clubs affiliated with the Democratic Party, along with the Stonewall Democrats.
The club's president, Allen Roskoff, said in a statement that the forum was "a historic opportunity to get an early look at the candidates for one of the most important offices in the country." The forum had about 100 digital attendees throughout the three-hour event.
"We consider this one of the most important races of 2021," Roskoff told attendees at the start of the forum. He noted that the club distributed over 50,000 pieces of literature in support of candidates during the 2020 state primaries and would be making its endorsement in the Manhattan District Attorney primary coming months.
"We don't want a district attorney who is just qualified…and continues to do the status quo. We want a district attorney that people across the country will take note of," Roskoff said, pointing to San Francisco DA Chesa Boudin, Philadelphia DA Larry Krasner, and Brooklyn DA Eric Gonzalez as models. "We want a district attorney who's going to get people out of prison and not spend all their time locking people up."
There was widespread agreement on many of the issues brought up during the forum. All nine candidates voiced support for Manhattan State Senator Brad Hoylman's elder parole bill and for repeal of the "walking while trans" law, and promised to visit constituents serving prison terms and to at minimum continue the current sanctuary city policies in the borough.
All but one candidate, Weinstein, expressed support for sex work decriminalization and were against the Nordic model. Florence said that the state "needs to be mindful of the way we draft the bill," voicing concerns about human trafficking, and said she would "tread lightly" on the issue. Weinstein said she "was not there yet" on sex work decriminalization but that she was "open to revisiting her position" and supports the Nordic model, which maintains the criminalization of buyers of sex while decriminilizing sex workers themselves.
On police funding, several candidates called for the city to reduce the NYPD budget. Florence said that the police department's nearly $6 billion annual operating budget "makes no sense" when other agencies are underfunded. Aboushi said that "the city has come to rely on the NYPD to enforce social inequities and make them crimes." Lang called for "community-coordinated responses to conduct that doesn't need police involvement." Bragg said he'd advocate to "undo Bill de Blasio's bloating of the NYPD budget" and denounced the "funny budget math" on moving school safety officers to the Department of Education.
The District Attorneys Association of the State of New York (DAASNY) was a contentious issue at the forum, with several candidates promising not to join the organization, which has come under scrutiny by criminal justice reformers. Orlins, Aboushi, and Quart said they would not join the association. Quart said "it's a fallacy to believe anyone can join that organization and reform it." Aboushi called it "the antithesis of what I stand for."
Lang said she would join the DAASNY because a "diversity of voices makes a difference" and she would try to change others' minds. Bragg said that he would have an "adversarial relationship" with the group while joining it. Florence said she would join, but said she had "brought other DAs to more progressive stances" and would do the same at the DAASNY.
When asked whether they would support the abolition of mandatory minimum sentences, all the candidates in attendance at the time (Weinstein was not yet present) said they would, except Crotty, who said "jails exist for a reason" and that mandatory minimums "only exist for violent crimes."
Lang called for more "judicial discretion" in the sentencing process, to which Aboushi pushed back, saying that "guardrails" were necessary to ensure that judges did not impose overly punitive sentences. Marton promised not to seek sentences longer than 20 years, except under extraordinary circumstances. Marton has also pledged to reduce Manhattan's prison population by 80% during his tenure.
"I'm running for district attorney against some very good lawyers who would all make a better district attorney than Cy Vance," Quart said at one point during the forum, an acknowledgement that many of the candidates running had similarly-progressive answers to most questions asked Tuesday night.
With his 80% decarceration goal and other proposals, Marton has tried to establish himself as the furthest left, most radical candidate in the race, while Quart repeatedly pointed to his legislative record as evidence of his own progressive bona fides, as well as his calls for Vance and Police Commissioner Dermot Shea to resign. Bragg, the lone Black candidate in the race, often cites his lived and prosecutorial experiences as reasons that he would make an effective DA. Similarly, Aboushi noted that she would be the first woman and person of color to hold the position. Other candidates, notably Crotty, dissented from the consensus progressive stances on issues like mandatory minimums and cautioned against defunding the NYPD budget.
Each candidate was asked to fill out a lengthier questionnaire and return it to the club before they make their endorsement in the race before petitioning starts for the primary.