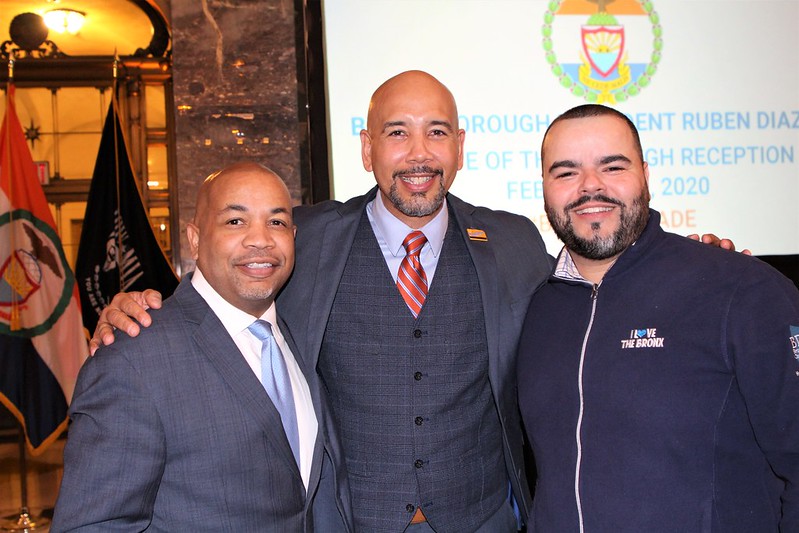 Bronx political leaders Heastie, Diaz Jr., Crespo (photo: Bronx Borough President's Office)
---
To say the Bronx political landscape is changing is simultaneously both a trite observation and a vast understatement. The once-vaunted Democratic machine in the borough is currently leaderless and has lost many of its longtime fixtures in recent years, with more on their way off the political stage. This comes at a time when progressive and anti-establishment forces are gaining momentum across the city, though in some ways less so in the Bronx than other boroughs. But, there have been signs that such shifts are underway in the Bronx, and it's unclear how much power what's left of the older guard can hang onto.
What's at stake is power, representation, and reform, as well as the public policy outcomes that can come from all three. Many of those challenging longtime power brokers are offering more inclusive democracy, more attention to people of color in districts that have been represented by white elected officials, a louder voice for younger Bronxites, and a fight for more progressive policies.
Several electoral newcomers embodying major change in New York City politics shot to victory in June's primaries, some by defeating longtime, party-backed incumbents or the political establishment's chosen candidate. From Khaleel Anderson and Zohran Mamdani in Queens to Jabari Brisport, Phara Souffrant Forrest, Emily Gallagher, and Marcela Mitaynes in Brooklyn, there were a series of Democratic primaries for state legislative seats that made for a youthful, leftist wave.
It also extended to the Bronx, where Jamaal Bowman defeated longtime incumbent Rep. Eliot Engel in their congressional primary (the district also includes part of Westchester), and Amanda Septimo is set to replace 26-year incumbent Assemblymember Carmen Arroyo, who lost her primary ballot spot due to campaign errors. Septimo will join other young progressives, such as Assemblymember Karines Reyes and State Senators Alessandra Biaggi and Gustavo Rivera, in the Bronx's state legislative delegation.
Along with Engel and Arroyo, many other longtime pillars of Bronx politics have bowed out, or been kicked out by challengers and voters, in recent years -- and others won't be around soon given announced plans to leave politics. Meanwhile, still others are in the sights of progressives who see blood in the water and an electorate interested in change, with voters apparently more open to giving pink slips to incumbents and welcoming to candidates who both better represent them demographically and champion policies meant to meet their acute needs, which include challenges due to poverty, poor health, crumbling public housing, and more.
Between 2018 and this year, Joe Crowley (whose former district covered parts of the Bronx, in addition to Queens), Jeff Klein, and Engel were all felled by young primary challengers from their left. Jose Serrano, who's been in Congress for three decades, is retiring. Their replacements -- Alexandria Ocasio-Cortez, Biaggi, Bowman, and Ritchie Torres, respectively -- represent generational, racial, ethnic, gender, ideological, and LGBTQ-status shifts.
Controversial City Council Member Ruben Diaz Sr. announced that he would be retiring from politics after coming in third in the race to replace Serrano, which was won by his current Council colleague, Torres, and is also pushing out of elected office Assemblymember Michael Blake, who forewent a reelection bid to pursue the seat in Congress and came in second.
Ruben Diaz Jr., who's been the Borough President for over a decade, surprisingly dropped out of the 2021 mayoral race earlier this year (term limits prevent him from running again for his current post) and said he is leaving politics altogether. A few months later, Marcos Crespo, a longtime ally of both Diaz Jr. and Sr., resigned as both an Assembly member and as chair of the county party.
Chantel Jackson will replace Blake in the Assembly. Amanda Farias, who lost in the 2017 primary as Diaz Sr. moved from the State Senate to the City Council, had already announced her intention to run again in 2021 before Diaz Sr. said he wouldn't seek another term. Another young progressive who ran in 2017, Michael Beltzer, is also considering running for the seat again. Marjorie Velázquez, also a young progressive, has announced her intention to challenge Council Member Mark Gjonaj, whom she narrowly lost to in 2017 as Gjonaj moved from the Assembly to the Council.
The field to replace Diaz Jr. as Borough President is still developing, with City Council Members Vanessa Gibson and Fernando Carbera and Assemblymember Nathalia Fernandez in the race already.
The Bronx political machine, which has perhaps been the strongest Democratic county party in the five boroughs in recent years, still has power. Before being elected Assembly Speaker, Carl Heastie reigned as Bronx county party leader for over seven years, then passed the baton to Crespo, an ally, and still wields tremendous influence over the party, as well as the entire city and state given his perch in Albany.
Many current elected officials in the borough have ties to the party apparatus, as do candidates for City Council running in the 2021 elections that will see all of city government on the ballot. The party was influential in selecting and electing Darcel Clarke to become Bronx District Attorney as her predecessor left the post for a judgeship in a move orchestrated by county leaders, who continue to have strong influence over judicial appointments and patronage jobs at various government offices, like the Board of Elections.
But given recent losses, departures, and planned departures, the future of the county party's power is very much unknown. A lot depends on Heastie, as well as the next county party chair, and the machinations and outcomes of the 2021 election cycle, which will then be followed by a state and federal election year in 2022.
Other examples of change in Bronx politics -- dominated by Democrats who enjoy an overwhelming voter registration advantage in the borough, which currently has not one Republican elected official (other than President Trump, whom Bronx voters opposed but for 9.5% of the 2016 vote) -- are developing.
State Senator Biaggi recently left the Benjamin Franklin Reform Democratic Club (BFRDC), a local powerbroker, to form her own political club in the area. She told the Riverdale Press that "My values are not aligned with what the club's leadership is representing."
Longtime Assemblymember Jeffrey Dinowitz, a member of the BFRDC, received only 63.5% of the vote in his 81st Assembly District (Riverdale, Kingsbridge) primary against what one person familiar with Bronx politics described as "token opposition." Dinowitz's district partially overlaps with Biaggi's 34th Senate District. He could face difficult reelection prospects in 2022 if a well-resourced candidate emerges. The Assemblymember's son, Eric Dinowitz, is currently running in City Council District 11, which will likely have a special election early next year after incumbent Council Member Andrew Cohen was nominated for a Supreme Court judgeship at last month's judicial convention, a process heavily controlled by county party leadership.
"I am elated about what's happening in the Bronx right now and I'm looking forward to working with whoever the City Council brings us next year, because it will be a better batch than before," said State Senator Rivera, who won his seat in 2010 as an independent reformer without county party support.
"We're in a state of transition and it gives new people the opportunity to be tried out and step into the void," said Bronx Assemblymember Victor Pichardo, who told Gotham Gazette he is considering a run for county party chair.
Although Heastie wields tremendous political power as Assembly Speaker, the county party's ability to run candidates for open seats (with no incumbent) and win or to protect incumbents appears significantly diminished. Given the city is on the eve of the 2021 municipal elections, those many races are likely to be more wide open and competitive than in past cycles.
"The county organization's purpose for the last decade has really been, how do we best organize ourselves so we provide the best base so that Ruben [Diaz Jr.] can run for mayor," said Rivera. "As you saw, as soon as Diaz Jr. dropped out, then all of a sudden the county chair [Marcos Crespo] said 'alright, then I'm out, deuces.' He didn't even wait until the year was done!"
With Diaz Jr. out of the mayoral race, the Bronx county party's support is up for grabs among the remaining candidates, as will potentially be the backing of the Bronx's new delegation of Council members in the race to succeed Corey Johnson as speaker, which will unfold in late 2021 and January 2022. But as shifts in borough politics indicate, it's unclear how much weight a county party endorsement for mayor will carry, and whether there will be a cohesive block of county votes for the next Council speaker.
"Overall, there's a sentiment where people have felt like they've been excluded politically and now they want a voice," said Assemblymember Reyes, noting that this is a phenomena citywide, not just in the Bronx. Combined with many incumbent officeholders leaving public life, "it's made the Bronx a hotbed for progressive change. People just want change and history has shown us that happens all the time. We're in the middle of that right now."
"The problem I have [with the county party]," Rivera said, using a Game of Thrones reference, "is that I don't 'bend the knee.' Ultimately, for me, there are so many people that are more about the intrigue than the policy." Rivera and others Gotham Gazette spoke with for this article believe that the county party has been slow to adapt to the contemporary reality in the Bronx and slow to include newer demographic groups and progressives in its processes.
These changes come at a time of acute pressure for the Bronx, on top of longstanding systemic problems. The Bronx is home to the highest poverty rates in the city and the country, is where a disproportionate share of the city's "essential workers" live, and is the borough hardest hit by the coronavirus pandemic, both in terms of fatalities and economic consequences.
Since Ruben Diaz Jr. assumed the borough presidency, the borough's unemployment rate fell from 14.1% in January 2010 to 4.6% in February 2020, an all-time low for the Bronx. But amid the coronavirus fallout, the unemployment rate in the Bronx jumped to 19.8% as of July. At the same time, the Bronx has languished as the unhealthiest county in the state, while also placing last in several other quality-of-life metrics.
"We're the unhealthiest borough, we're the poorest borough, and there's a lot of scrutiny now," John Doyle, a former City Council candidate and Bronx political reformer, told Gotham Gazette. "The Bronx machine was caught resting on its laurels, because until Trump got elected, people were never really opening the hood and kicking the tires on their Democratic incumbents."
Several elected officials and others interviewed by Gotham Gazette pointed to the 2016 presidential election as the spark for many Bronxites to get involved in local politics for the first time. Groups like Bronx Progressives and the Bronx/Upper Manhattan Democratic Socialists of America branch were created in the wake of Trump's election. That helped encourage several insurgent candidates like Farias, Beltzer, Velázquez, and Doyle to run in 2017, and led to two of the most consequential and stunning upsets in modern New York political history in Ocasio-Cortez's and Biaggi's 2018 wins. Now, Bowman followed suit in 2020.
County Party Chair Race
While there is little overt campaigning going on for Bronx Democratic Party chair, there are several candidates maneuvering largely behind the scenes to replace Crespo in the top job in the borough's political apparatus. The party convention, where the next party chair will be elected, will likely take place in September, although this is not definite due to the pandemic.
The county chair is elected by a simple majority of the district leaders. The executive committee (which includes Assemblymembers Latoya Joyner, Jeffrey Dinowitz, and Michael Bendetto, among others) can exercise a role in the process, but act like "super-delegates" and traditionally within the Bronx county committee, the executive committee would not overturn the decision of the district leaders.
As Gothamist reported last month, nine of the 24 district leaders in the Bronx were elected without county party support. However, according to Beltzer, a cofounder of the group Local Democrats, the nine aren't necessarily anti-establishment progressives. "It's a good sign, but I'm not sure if it's necessarily a progressive sign. I don't know that the nine people who ran would call themselves progressive. They could just be community- and politically-minded folks who just work outside the machine."
Assemblymembers Victor Pichardo, Latoya Joyner, and Karines Reyes, among others, have all been touted as potential next county party bosses. Pichardo and Reyes would both be the first Dominican to hold the position; Joyner and Reyes would be the first woman in the position.
"I see myself as a bridge-builder," said Pichardo, who has made public his intention to run for county party chair, in an interview with Gotham Gazette, highlighting a desire to focus on "solutions that benefit the people we serve" over "political wrangling and bickering."
As county party chair, Pichardo says he would "bring all the stakeholders together and try to hash out the differences among members and community leaders. People really need to understand what the Bronx Democratic Party is about and we need to define it for ourselves. The new Democratic Party is a big tent party. We can harness all that energy for the greater good."
Pichardo sees the recent success of progressive organizations and candidates in the Bronx as "nothing new. The left-wing movement has existed in the Bronx since at least the 1960s," with the growth of the Puerto Rican community in the borough at the time. "It's a cyclical thing that happens and now there's a new wave with change that's hopefully for the better."
"For me, it's about bringing everybody together because the more that we fight internally and politically, the less focus we have on the real issues here in the borough," Pichardo said.
While Reyes told Gotham Gazette she's "not actively campaigning" for the post, she does have ideas on what the next county party chair should do once elected and said she'd consider vying for the position if the support is there.
"There's a lot of uncertainty within the body of the party to determine how this will go," Reyes said in an interview. "The person who is going to take this seat is not just going to have to campaign in the old sense of getting people in line, but whoever's vying for this seat needs to talk to these new district leaders about how to make the party different and more inclusive."
Reyes wants to make the county party's endorsement process more transparent, saying "the purpose of the party is to inform and educate the electorate and that requires a lot of organizing and getting people involved, which hasn't been the case. The party has been good at engaging those folks who've always been engaged, but they haven't been good at the new base of the Democratic electorate."
"The next chair of the party is in for a big headache," Reyes continued."I anticipate that elected officials in the Bronx will always have primaries going forward." Reyes said this is a positive change.
Generational & Demographic Shifts
"We're seeing a generational shift," said Eli Valentin, a political analyst, professor, and Democratic consultant. "The electorate is tending to be more in line with the progressive values of the younger generation, because we're also seeing a generational shift with the voting population."
The Bronx has the youngest median age of any of the city's boroughs at 34, compared to the citywide median of 36.6.
In 2016, the average age of the four members of the House of Representatives representing at least part of the Bronx was 70.5 years, but come next year the average age of the Bronx's four House representatives will be 43.3, a shift catalyzed by the ascension of City Council Member Torres to replace retiring Rep. Serrano, Rep. Ocasio-Cortez defeating Crowley, and Bowman defeating Engel. Rep. Adriano Espaillat also represents parts of the borough, taking the post after Charles Rangel's retirement.
Additionally, out of those four, two -- Ocasio-Cortez and Bowman -- are members of the Democratic Socialists of America.
The Bronx's 15-person state legislative delegation had an average age of 54.4 in 2016, but the average age will be 42.8 in the new year, with younger legislators like Septimo, Reyes, Biaggi, and Jamaal Bailey replacing older predecessors in recent years.
"The Bronx is changing in a way I haven't seen in my lifetime," said J.C. Polanco, a Republican consultant from the Bronx and former Board of Elections commissioner. "Politicians used to get elected with only a couple thousand votes, so a well-oiled insurgent campaign can end up winning." Polanco said he doesn't always think that's a good thing.
The borough also has more women as a share of the population than any other borough (89.2 men for every 100 women, compared to 91.2 for every 100 citywide). In 2014, three of the 15 members of the Bronx's state legislative delegation were women, but that number will increase to five of 15 in the new year.
In the City Council, only two of the nine districts that cover at least part of the Bronx are represented by women (Diana Ayala and Vanessa Gibson). As the 2021 city election cycle heats up, there is currently at least one woman running in all nine districts. Meanwhile, Gibson and Fernandez are seeking the borough presidency.
"We're no longer waiting for permission to run," Reyes said, when asked about the recent surge in women candidates seeking office in the borough.
The Bronx has long been the least-white borough in New York City, but the white population has declined by more than a third in recent decades, making up 14.5% of residents in 2000 but only 9% as of 2019. There are only two white state Assemblymembers left from the Bronx (longtime Assemblymembers Jeffrey Dinowitz and Michael Benedetto), while there were three earlier this decade.
The decline in the borough's white population, which has traditionally been predominant in northern Bronx neighborhoods such as Riverdale, can be attributed to older white residents moving or dying, and an increase in the number of immigrants and Bronxites of color throughout the borough. So far at least, a recent influx of new white residents in the South Bronx, enticed by relatively cheaper rent than nearby Manhattan, has not offset this change. Additionally, many Dominican New Yorkers have been priced out of Upper Manhattan and many have moved to the Bronx.
"I don't think gentrification will be as pronounced [in the South Bronx] as it is in other parts of the city," Valentin said. He attributes this to one key difference between the South Bronx and areas of the city that are currently experiencing gentrification, such as western Queens and northwest Brooklyn, which is that there is a higher concentration of public housing developments in the South Bronx than those places, which will make gentrification of the South Bronx a slower process than what has taken place elsewhere.
While Bronx politics has been dominated for decades by the Puerto Rican community (including Serrano, Diaz Jr., Diaz Sr., Crespo, Torres, and others now and in the past), several newer elected officials, such as Reyes and Pichardo, hail from the growing Dominican community in the borough (Espaillat is also Dominican). While the two communities share some similarities and common issues (such as language access), immigration is a key concern for Dominican Americans in a way that it is not for Puerto Rican Americans, who are American citizens from birth.
"We as a Dominican community, as an immigrant community, can no longer be ignored," said Reyes. "People want representation that looks like them, understands their culture, and speaks to them, because there are nuances."
This is just one nuance that differentiates this ascendant community from the entrenched political powers in the borough. Furthermore, the Dominican diaspora is often politically divided internally along party lines in the Dominican Republic. Last month, the Dominican Republic held its presidential election and, in the period leading up to it, Bronxites in some neighborhoods were more likely to see posters for Dominican presidential candidates than New York primary candidates.
"In the primaries, when I was out campaigning, there were folks campaigning for an election in another country. It seems like they were even more active for those campaigns than the campaigns here. There's a bit of apathy for American politics," Reyes told Gotham Gazette.
Dominican Americans "are very much entrenched in Dominican politics and that divides them even here in the Bronx. That makes it very hard to organize them as a Dominican community, because they're fragmented within themselves," said Reyes.
Rise of Progressive Groups in the Bronx
"The Bronx is definitely changing for the better, politically. We have more people engaged, more people holding electeds accountable, and electing people that represent their values," said Amanda Farias, who is running again in City Council District 18 in 2021 after competing against Diaz Sr. in 2017. "I can only see it getting more progressive and democracy moving more left in the Bronx."
"Progressive organizations are getting better and better at identifying and working with young, progressive people of color in those districts who relate to their communities" said Camille Rivera, a consultant at New Deal Strategies. "It's not the same-old, same-old lefty, DSA brand. They've created a space where energetic community organizers can run and make a difference."
"The Bronx Democratic Party feels less invincible than it did a year ago, but we still have hints of their power," said Jazz Hooks, of the Bronx/Uptown Manhattan branch of the New York City branch of the Democratic Socialists of America (DSA). "We have a lot of potential. Our message can reach far beyond who the conventional wisdom says it can reach."
"The racial dynamics [within the DSA] are something that we need to address and we are seeing progress," said Hooks, who co-founded the NYC-DSA's Afro-Socialist Caucus, noting the better-than-expected performance of Samelys López in the Democratic Primary for the 15th Congressional District, in the South Bronx, shows that the DSA's message appeals to communities of color.
While not a citywide group, the Bronx Progressives are a new group with similar objectives (López is a co-founder). According to Beltzer, the Bronx Progressives "came out of the Bernie Sanders movement in 2016 and we wanted to make sure that we continued to organize the community. We wanted to make sure that people had a political home that might not exist in the county organization."
Beltzer says "a lot of progressives in the Bronx are still in their own silos, but it's definitely something that's building."
Ben Max contributed to this story.
Note - this article has been updated.