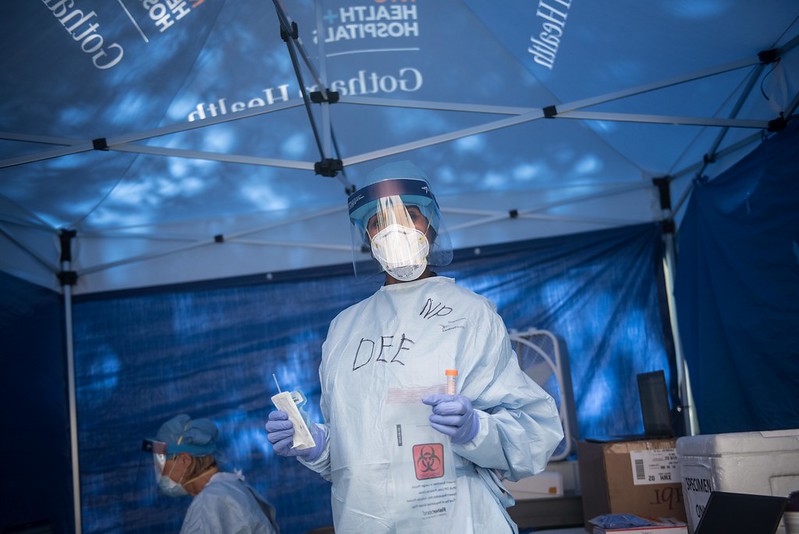 Coronavirus testing (photo: Michael Appleton/Mayoral Photography Office)
---
As coronavirus cases continue to spike across the country, Governor Andrew Cuomo has touted 38 days straight in New York with a statewide covid-positivity rate below 1 percent. The metrics hold center stage in conversations about reopening New York City's schools and dining rooms, two of the biggest and most uncertain next frontiers in the region's socioeconomic restart.
"Testing is a cornerstone of our efforts to keep New Yorkers safe from COVID-19," the governor said in a statement Saturday, the 36th day of positivity rates registering under one percent. "The more testing you do, the more accurate a picture of the virus' spread you have."
But New York State and City coronavirus testing doesn't paint a complete picture of the infection rate across the population, only the infection rate among people who choose to get tested. Access and the decision to be tested depend on a number of factors that could bias the results and bely the true reach of COVID-19, a largely unspoken reality with implications not only for reopening plans but also for how precious resources are allocated and care provided in communities coping with the pandemic. The current mass testing regime, which included an average of roughly 30,000 tests per day during the first week of September, has still been showing hundreds of new covid-positive cases in New York City each day.
In the spring, while contending with a largely absentee federal government, it took public health officials months to roll out COVID-19 and antibody testing for the general population in New York City, initially providing it only for people who met a narrow set of criteria -- like having recently visited China and showed symptoms -- later expanding it to certain frontline workers and at-risk populations, and then to people who may have been exposed and people who protested in public, until June 1 when Mayor Bill de Blasio began encouraging all New Yorkers to get tested. Even after testing was opened to all, the placement of temporary testing sites and existing labs targeted certain populations.
The city's and state's reported positivity rates are currently a percentage of those who self-select to be tested. The rates, which have been a staple of Cuomo's and de Blasio's daily updates since the state of emergency began in March, have been key to helping public health officials map the contours of the virus outbreak and measure their approach to mitigating it.
Under Cuomo's indoor dining plan, the latest major reopening announcement, the state's covid-positivity rate in October and early November will determine whether he will allow New York City restaurants to expand from 25 percent to 50 percent indoor capacity. De Blasio said the city, itself, would revisit the plan if the positivity rate hits 2 percent. Other reopening plans, like for in-person schooling, also depend on positivity thresholds.
But the metric officials are using, while improving regularly with the growing number of daily tests, is subject to biases based on who has the means to be tested and who decides to get one. People who are unable to get to a testing facility, either because of work, child- or elder-care responsibilities, or because of a disability, will be underrepresented in positivity rates. So will people who are asymptomatic, those disinclined to expose themselves at a medical center or testing facility, or people who are misinformed about who should get tested, especially due to language barriers or living in communities where lines of engagement with the government are corroded. Testing in a number of places throughout the state is done at a drive-through and requires a car.
All of these factors are likely to lead to gaps in the data falling along racial and ethnic lines. New York City continues to see higher positivity rates in lower-income areas and communities of color, rates that on their own would trigger an indoor dining or school shutdown, but are pulled down in the citywide data by lower, less alarming rates elsewhere.
Epidemiologists warn that misunderstanding the level of undocumented COVID-19 cases within a particular community could drive up rates of illness and death.
"There is going to likely be all manner of different racial and ethnic disparities that are going to go on with this, which is only contributing to what is already a larger, what I call, 'syndemic,'" said Dr. Charles Branas, chair of the Department of Epidemiology at Columbia University's Mailman School of Public Health, over the phone in August, referring to the dovetailing plagues of COVID-19 and racial inequality.
But there is another testing method -- the random survey -- that has fewer of the built-in biases of self-selection, and members of the scientific community are wondering why it isn't being discussed.
Self-selected testing "means we have data in hand and decisions can be made with it. And there is nothing wrong with that," Branas said. "But I do think we need to fully embrace the potential bias and the direction of that bias that these data are posing."
"My concern is I don't hear that from public health officials, from leadership. I hear them giving cutoffs for test positivity and for incidence rates that are without concern for the biases of the data that are going into them. I think we need to perhaps think about that a little more," Branas said.
The city's school reopening plan -- in which hundreds of thousands of students are currently slated to return to classrooms -- hinges on the city's COVID-19 transmission rate remaining below 3 percent. In June, after initially resisting demands by teachers' unions for more robust testing, de Blasio said the reopening would also include randomized testing of between 10 and 20 percent of people entering school buildings.
One of the primary challenges of city and state officials over the last six months has been rapidly scaling up COVID-19 testing capacity, not only to catch and treat cases, but to get a more accurate glimpse of what they are up against and where hotspots may be.
That degree of accuracy depends on the testing methodology. Limited, self-selected testing like what New York City was doing in the early days of the outbreak, while important for individual diagnoses, is the least accurate for predicting a virus' total spread, especially one where so many carriers are believed to be asymptomatic. A policy of opening self-selected testing to the entire population is far more likely to produce meaningful results because the sample size is larger and more diverse. A complete census -- in which every member of the population is tested, as has been the case in a few jurisdictions throughout the world -- is the most total view.
Randomized testing, like random polls, is a way to estimate the virus' total spread by extrapolating a representative subset of the population into a model of the entire population.
Short of a full census, random sampling "is the best way to estimate what the general population is doing," according to Branas. "This is a denominator problem of who falls into that general denominator that's driving test positivity rate. And it's of concern."
"It's why we do it in elections, for instance," he continued. "If we want to figure out who is going to win an election, we don't go asking our friends who they are going to vote for, or friends of friends. That's like an internet poll...That's completely biased."
No major city in the country has used randomized testing to map the novel coronavirus.
Public health officials in New York have taken a reactive, rather than predictive, approach to coronavirus testing. The state and city have each employed "SWAT" or "hyperlocal" contact-tracing deployments to areas experiencing an uptick in cases to slow the spread. In May, the state partnered with Northwell Health to set up temporary testing sites at churches in low-income neighborhoods and communities of color, which had been most devastated by the pandemic.
City and State public health officials have confirmed that, besides testing city public school students, there is no randomized testing taking place or planned, and thus no way of presenting a true picture of COVID-19's prevalence in society, including those who don't get tested.
"The true underlying infection rate will vary across different populations residing in different geographic areas of the state," wrote Jonah Bruno, a spokesperson for the state Department of Health, in an email to Gotham Gazette. "Serosurveys detect the presence of antibody at a specific point in time in the population of individuals tested."
"We are not currently conducting any random testing surveys," Bruno wrote late last month.
The city is currently conducting a random telephone survey asking people about any symptoms they may have, officials say, but it does not capture the vast majority of infected people who are asymptomatic. "This allows us to estimate how many people had COVID-19 including those who didn't get tested or seek healthcare," wrote Stephanie Buhle, then-spokesperson for the New York City Department of Health and Mental Hygiene, in an email in August.
"This telephone survey, however, cannot capture the number of people who had asymptomatic infections," she wrote, adding that the results would be available later this fall.
The city is also working on a randomized antibody survey that would "reflect the general population of NYC." The survey results, which are expected later this year, will provide better information on the number of people who were at some point infected -- with or without symptoms -- but they cannot provide a snapshot of the virus' reach at any given time.
Epidemiologists say that to be effective the random surveys would have to be conducted frequently.
"You want to document the course of the undocumented cases and that will change. You can do one and then you would wait a month and things might alter dramatically and you wouldn't know," Branas said.
Frequent randomized testing could be costly and logistically challenging. The randomized testing in New York City schools, for example, where between 60,000 and 120,000 students and staff could be tested per month, will cost the city between $70 to $90 per test through a company called Fulgent Genetics, which the city hired to conduct the testing. Random testing also means the public has to buy in, which can require teams of researchers skilled enough to convince people to take the test.
Shortly after the school testing plan announcement, a group of Republican elected officials from Staten Island criticized the randomized testing component by framing it as a matter of government overreach and violation of parental rights.
"That a parent must consent to their child being medically tested at random by the DOE or be barred from entering in-person public school programs is an astounding stretch of authority. The Chancellor is not our doctor and the unions do not represent my son," wrote Council Member Joseph Borelli in a statement on September 2.
A week later, Borelli and Council Member Steven Matteo, and Assemblymembers Nicole Malliotakis and Michael Reilly, sent a petition to Mayor de Blasio with more than 1,400 Staten Island public school parents "opposing the mandatory in-school testing random testing for COVID-19."
One of the greatest challenges from an experimental standpoint is how to identify a truly random sampling of the population.
"I think the logistics of doing it are a nightmare and there are just not enough resources," said Dr. Karla Ballman, Chief of Biostatistics and Epidemiology at Weill Cornell Medical College in Manhattan. "It's not so much the availability of the tests...how are you going to randomly pick people, that's a big problem. And then another big problem is, are they going to come in to be tested? We're having a hard enough time getting people to wear masks."
"It takes a lot of resources, and I don't think anyone has those resources at hand," she added.
Dr. Bill Hanage, an epidemiologist at Harvard's T.H. Chan School of Public Health, believes there are innovative ways of conducting random COVID-19 surveys that aren't being explored on a wide basis. One of them is testing for the novel coronavirus' signature RNA in the sewers, which researchers in Boston have done. "You can find it, and you can actually estimate how many copies of it in a given volume of sewage," he told Gotham Gazette. The method would give scientists a true random sample and could be repeated frequently. But testing for COVID-19 in people's excrement can give a less reliable signal: "Wastewater jumps around like crazy. It's very, very, very variable," he said.
Dr. Anna Bershteyn, who teaches in the Department of Population Health at NYU Grossman School of Medicine, has been working with mathematical models to identify the best testing approaches for beating back the pandemic. She believes a combination of rapid contact tracing and randomized testing could be effective in suppressing the virus by letting swaths of the population know they are potentially infectious and using contact tracers to pinpoint individuals who may have been directly exposed. "You would need an enormous amount of testing, on the order of a million everyday," for random testing to be effective in this way, she said, based on recent modelling.
Other epidemiologists Gotham Gazette spoke with said a randomized test could be done with test samples ordering in the thousands.
Branas believes the logistical challenges to city-wide random testing aren't necessarily prohibitive because many of the functions already exist within the city's test and trace corps. "Perhaps the most effective way to do this, and folks should have thought this out, is to go door to door," he said. The process would be akin to contract tracing, he said, "except contact tracing is not a random sample, you're following the contacts of a specific individual. But...the resource costs can be similar to something like that, it's just you're going to random places to do it."
The election is an instructive comparison. "We mount a regular stream of random sample surveys to determine how our candidates are doing," he said. "If we can do it for the election we should be able to come up with a reasonable way to do it here."