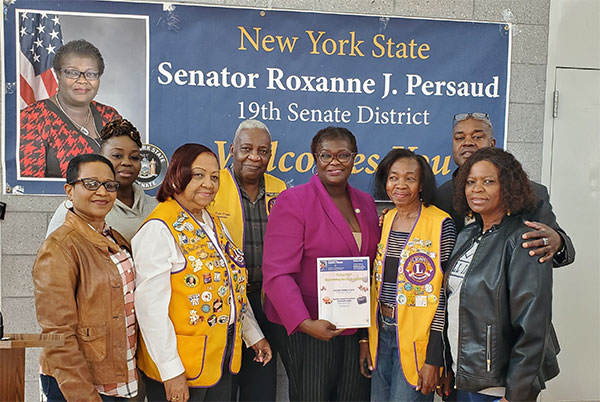 State Senator Roxanne Persaud (photo: @SenatorPersaud)
---
Coinciding with the COVID-19 pandemic and resulting economic devastation, crime, particularly gun violence, has increased across New York City, a trend that began even before the coronavirus outbreak but has worsened since. The spike in shootings and murders has been particularly large in sections of Brooklyn. The 19th State Senate District, covering southeastern parts of the borough, including Canarsie, East New York, Brownsville, and Sheepshead Bay, and represented by longtime Senator Roxanne Persaud, has been among the hardest-hit areas. On Wednesday night, Persaud hosted a community conversation on the spike in gun violence in the neighborhoods she represents.
The district straddles the Brooklyn North and Brooklyn South NYPD commands, the former of which has been the subject of citywide attention for its crime rates over the past several months. Specifically, Persaud's district includes the 61st, 63rd, and 69th Precincts in Brooklyn South and the 73rd and 75th Precincts in Brooklyn North, as well as Police Service Areas 1 and 2 (which cover the city's housing developments) and Transit District 33.
In the Brooklyn South precincts, while year-to-date changes in shootings are negligible in the 61st Precinct, the 63rd Precinct, centered in Flatlands, has seen 11 shooting incidents so far this year (up 120% year-to-date) and the 69th Precinct of Canarsie, has seen 30 shooting incidents this year (up 400%), according to the NYPD's CompStat. In the Brooklyn North precincts, the spike has been larger, in terms of raw numbers, with 74 shooting incidents in the 73rd Precinct, based in Brownsville, so far this year (up 184.6% year-to-date) and 78 in East New York's 75th Precinct (up 76.7%). Murders are up 81.8% and 144.4% year-to-date in the 73rd and 75th precincts, respectively.
In this context, Senator Persaud hosted the town hall over Zoom with local community and faith leaders, which her office titled "The Causalities and Casualties of Gun Violence." Participants included Dr. Jeffrey Gardere, a pastor and teacher at the Touro College of Osteopathic Medicine; Reverend Timothy Taylor of Hebron Baptist Church, a former Corrections Officer; Camara Jackson, executive director of Elite Learners Inc.; Rabbi Avrohom Hecht of the Canarsie JCC; Brother Paul Mohammad, a member of Community Board 5; Digna Layne, a member of the 73rd Precinct Council; Gardy Brazela, President of the 69th Precinct Council; and, Vincent Riggins, President of the Brite Leadershipship Coalition of East New York; as well as two young people from the district who are members of the NYPD Youth Explorers Program. (The Wednesday evening town hall, broadcast on Facebook Live, had around 50 viewers at any one point during the event.)
The pandemic in many ways has exacerbated an already-existing problem. The rise in murders in Brooklyn North was notable last summer and Senator Persaud, a Democrat, was quick to say that "This is not a new conversation." She has been holding similar town halls since last November on the issue of gun violence in the district.
"Our kids should be able to walk from one building to another without fear," Persaud said later. "The violence in our community is taking a mental toll on our community and we have to address that."
The focus of the town hall was mostly local actions that can be taken to reduce gun violence, with sparing mention of citywide or statewide criminal justice efforts or broader policing policy. Throughout the town hall, Persaud repeatedly stressed the need for the community to "work with our NYPD partners," striking a far different tone than recent calls from left-wing activists and elected officials to "defund the NYPD" and lining up more with several other Black elected officials who discussed the importance of fair but robust policing in their districts. In fact, none of the participants in the town hall voiced support for moving funds away from the NYPD as a means of solving the current gun violence crisis.
"I'm not fighting against the police. The police have a role in society," said Persaud, who did support the recent series of criminal justice reforms passed by the Legislature she's part of in Albany as one of 63 senators across the state, along with 150 Assembly members, which included major changes to bail laws. "We want our communities safe from every entity," Persaud said. "It's our kids dying by our hands. We have to stop pointing fingers." The senator said she wanted the disparate community and faith organizations to coordinate their efforts more.
In addition to people working more closely with the NYPD, among the answers mentioned by Persaud and others involved in the town hall were anti-violence programs in schools, family stability, greater involvement from community leaders and mentorship programs, and increased education funding, particularly for students with learning difficulties.
There was occasional mention during the event of historic underfunding of neighborhoods, such as Brownsville and East New York, in Persaud's district, particularly with regard to education. "Resources aren't allocated the same way in our communities as in others," said Dr. Gardere, who specializes in mental health.
Rabbi Hecht cited lower levels of screening tests for learning difficulties in schools in these underfunded communities as having a domino effect leading to disaffection and later serious consequences for local children. Early intervention is key, Hecht said.
Jackson, whose organization follows the Cure Violence model, said schoolchildren are "never too young" to learn about conflict resolution, adding, "It's really about allowing our youth the safe space to ask questions," about gun violence, gang activity, and other community issues. According to Jackson, "Conflict mediation needs to start as early as public school," but "the programs in the schools are very scarce."
However, there was an almost implicit agreement among participants that the city and state could not be relied upon to deliver much-needed local funding anytime soon. According to Persaud, "It's not only about legislation. We're never going to have enough funding." She instead said that those in attendance "should all agree to work for the betterment of our community and we hope it will change the youth's thinking."
Several participants echoed a few points. Reverend Taylor was among those who stressed various versions of "It takes that entire village," while expressing nostalgia for bygone days when community members shared collective responsibility for looking after each other's children and the community knew the local beat cop.
Rev. Taylor says that "We don't teach ourselves our worth," which is "more than what [local youth] are settling for." He voiced support for Senator Persaud's bill that would add Black history to the public school curriculum. Echoing Senator Persaud, he said, "Sometimes we're our own worst enemies."
Riggins, among others, decried the "exit of Black fathers out of the household" as a key contributor to the current conditions in the district, although statistics show that Black fathers are no less likely to be absent from their children's lives than other American fathers. Later, Jackson noted that in the local community, "The Cure Violence model is actually spearheaded by more men than women."
Gardy Brazela, the 69th Precinct Council President and Brooklyn's Community Board 18 chair, said that the rise in shootings was "directly related to gang violence," adding "[gangs] do not care about your socioeconomic status or property value." Like Rev. Taylor, Brazela believes that the community "must go back to taking the village approach to raising our children" and that "we're lacking mentorship in our community."
"Our young children are under a lot of pressure," Brazela said, and he believes that adults "need to listen to what they have to say."
When asked by Senator Persaud if the community has become desensitized to gun violence, Ariel Palmer, one of the Youth Explorers present, recounted how a shooting recently occured near her home and said, "It could be me or anybody that I know."