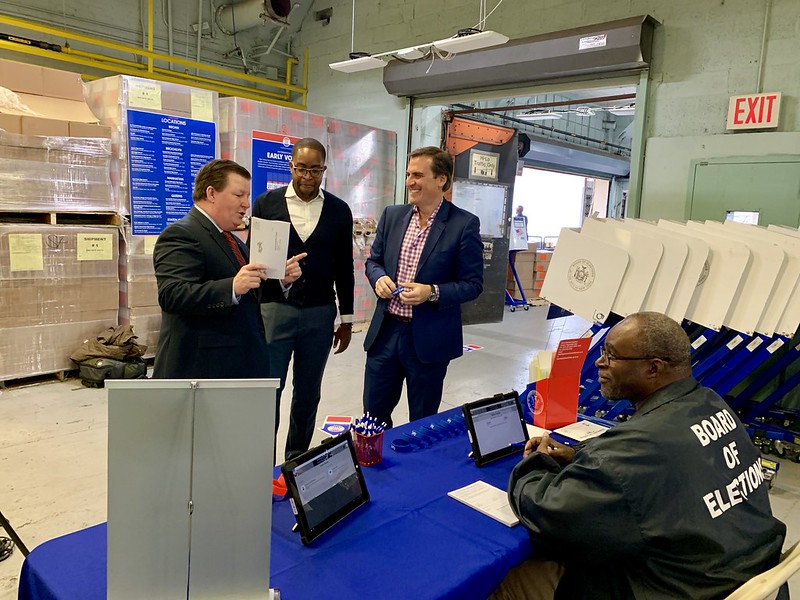 State Senators & election officials (photo: Senator Gianaris' office)
---
After the June primaries, when tens of thousands of absentee ballots were rejected on technical grounds or never cast because they were mailed to voters late or not at all, state lawmakers passed a series of measures aimed at correcting some of those mishaps. But several other bills introduced by legislators and pushed by voting rights advocates that could prevent thousands of ballots from being thrown out are still on the table as the clock ticks toward the general election.
Leading up to the June primary, Governor Andrew Cuomo signed a series of executive orders to change the rules around absentee voting in an effort to avoid crowded poll sites during a pandemic. The measures extended absentee voting eligibility to all registered voters, required absentee ballot applications be mailed to voters, and guaranteed postage for mail-in ballots.
The unprecedented leap in absentee voting led to a number of new problems for voters and elections administrators that ultimately disenfranchised voters, often without their knowledge. In New York City, 84,000 mail-in ballots were thrown out, frequently on technicalities like having a missing signature or a partially unsealed envelope. In response, state lawmakers introduced a series of bills to ensure more votes are counted, including several related to notifying voters when their ballots might be thrown out.
Some were passed and signed into law in August, but many others remain unmoved as the state's elections administrators brace themselves for a four-fold increase in voters this fall. The early voting period will run October 24 through November 1; Election Day is November 3. The New York State Board of Elections is anticipating 8 million voters including as many as 5 million mail-in ballots, in a state with 12.9 million registered voters.
Two of the signed bills codify key elements of Cuomo's primary executive order and guarantee another election with a significant portion of the electorate voting by mail. The first expands eligibility to vote absentee to the entire electorate during an epidemic or disease outbreak. The second allows voters to apply for an absentee ballot online through the New York State Board of Elections website. (There has been no legislation or executive order that would require local boards of elections to mail absentee ballot applications to all registered voters, as Cuomo mandated in the primaries.)
Others signed into law aim directly at problems that arose from the deluge of mailed ballots during the primaries.
Thousands of the absentee ballots were rejected in June because they arrived at boards of elections offices without a postmark, a problem that was completely outside voters' hands. A new law now requires election boards to count the ballots if they are time-stamped by the board by the day after Election Day, even if they are missing a postmark from the United State Postal Service (USPS).
Another bill seeks to work around the post office by requiring local boards to establish secure absentee ballot drop boxes. That bill is still in committee, but an executive order signed September 8, requires local boards to have drop boxes at early voting sites, Election Day poll sites, and their offices (in New York City, each borough office will have a drop box).
On the same day, Cuomo announced a campaign to raise awareness about the ways New Yorkers can vote, including early voting, an option watchdogs are saying should be more heavily encouraged to avoid the administrative stresses of absentee voting and long lines on Election Day.
As primary day approached in June, many voters still had not received the absentee ballot they had requested from the New York City Board of Elections (BOE). When he testified before state lawmakers in August, Michael Ryan, the executive director of the city BOE, said the absentee ballot application calendar did not grant enough flexibility in normal years and this year posed "an impossibility." A law signed later that month now allows voters to apply for absentee ballots prior to 30 days before an election, which is already giving local boards more time to process and fulfill requests.
A few days after he signed the August package, Cuomo signed an executive order that, among other things, requires local election boards to submit staffing plans and any staffing needs to the state by September 20, a measure to help ensure administrators can process the higher turnout.
Many of the ballots rejected this summer were tossed out because voters failed to sign their ballot envelopes.
One law signed in August would give absentee voters the opportunity to "cure" certain deficiencies on their ballots that would otherwise have them rejected -- namely lacking a signature, having a signature that doesn't match the one on the registration, or having an unsealed ballot envelope. Under the law, local boards of elections must notify voters within a day of detecting a defect and give them an opportunity to contest the rejection or correct the ballot. It extends the same type of due process right to absentee voters that in-person voters have when they sign an affidavit ballot at a poll site. A federal judge in Texas recently ruled a similar practice of rejecting ballots due to mismatched signatures there was unconstitutional.
Cuomo's August order requires the State Board of Elections to design a single "clarified envelope" for all local boards to use, which includes a large red 'X' where a signature is required.
Senator Zellnor Myrie, a Brooklyn Democrat, is chair of the Senate's elections committee and sponsor of several of the bills that passed, including the curing bill.
"Taking away someone's vote for a missing signature or an unsealed envelope really is the embodiment of disenfranchisement," Myrie said by phone Thursday.
"It's not the sexiest legislative highlight and victory but it really was, I believe, one of the most important election law bills we've passed both this year and last year, because of the implications of people knowing and having the opportunity to have their votes count," he said.
"Given the newness of the [mass absentee voting] experience, legislation that allows voters the opportunity to fix unintended, minor and often technical mistakes, is the right way to go," wrote Blair Horner, executive director of New York Public Interest Group (NYPIRG), the good government organization, in an email. "Far too many ballots were tossed in the June primary over ridiculously technical challenges."
But several other common mistakes are addressed in legislation that has yet to pass, but could lead to thousands more ballots being counted, their sponsors say.
One bill would extend the same notice and opportunity to cure ballots when they are received partially opened, or closed with glue, tape, or another re-sealing agent. In these cases, the legislation would give recourse to voters to attest that they sent their ballot in the condition it was received in. The bill is still in committee.
A second bill would require absentee ballots to be counted as long as the voter's intent is "unambiguous," even if there are other markings on the ballot.
"It is so easy with a marker to make a mark. What if it's food? I mean, everybody is doing absentee ballots at home, right?" said Assemblymember Amy Paulin, a Westchester Democrat who sponsors the two bills along with Myrie, in a phone interview.
"You don't want any stray marks of any sort when the intent of the voter is clear to eliminate the vote from being counted. And right now it can be challenged," she said.
Myrie and Paulin are not sure whether their bills will pass in time to impact the general election and it is unclear whether the two chambers of the State Legislature will meet in session to pass any legislation before voters go to the polls (or the mailbox).
"We have no idea whether we're going back to session prior to the election," Paulin told Gotham Gazette. "Certainly if we are I'm going to be pushing [the bills] and if we're not then they're still worth doing."
Lawmakers will have to act especially quickly if they are going to pass another proposal that would make it easier to register to vote in time to enfranchise more eligible New Yorkers by this fall's vote, which includes the presidential election, among many others for Congress, the State Legislature, and more. The bill, which would create online voter registration in New York City through the city's Campaign Finance Board, has passed in the Senate but not the Assembly.
The online registration bill has passed in the Senate but not the Assembly, while automatic voter registration has passed both houses but has not been sent to the governor (or been requested by him) for signing.
"I can't say with certainty when we'll meet again but I do know that if it's the case that we have to move swiftly -- and this is to help safeguard our democracy, particularly in light of the rhetoric that is coming out of the federal administration -- I think that the [Senate] majority has shown that we're ready to take those steps and I expect that we will do the same in this instance," Myrie said.
There isn't much time before the October 9 deadline to register to vote in the general election.
Voting advocates and some lawmakers also want to see the state pay for postage on absentee ballots, as it did during the primaries, but the proposal appears unlikely to move without another round of federal stimulus funding. Between federal and state allocations, New York's elections administrators had an additional $24 million to run elections this year, which has largely dried up, according to State Board of Elections officials. About 40 percent of the 1.8 million voters in the primaries across the state cast an absentee ballot. With 8 million voters expected in the general election, the proposal would likely require the state to pay postage on millions of envelopes.
In response to inquiries about whether the governor planned to issue more executive orders to provide for postage, curing certain ballot errors, and other measures proposed by legislators and advocates, Freeman Klopott, a spokesperson for the state Division of the Budget, wrote, "The State is providing unprecedented access to the ballot box and just last week the Governor announced a public service campaign to raise awareness that voters now have three options to cast their ballot: early voting, voting absentee, or voting in person on Election Day." He added that the executive order establishing absentee drop boxes has the effect of "negating the need to mail a ballot at all."
"The boards of elections have millions of dollars available to them from previously provided funding from the State and Federal governments and they should make use of those resources as the State is contending with a $62 billion revenue drop over four years," he added.
"In the absence of Federal funding to offset this revenue loss, the State, which funds schools, hospitals, and public safety, will have to make spending reductions, and anywhere we don't reduce spending will mean deeper reductions elsewhere," he wrote. "This is another reason the Federal government must step up and provide States with necessary resources."