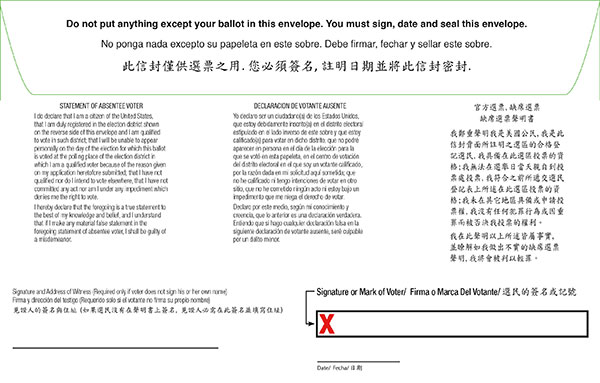 Part of the new absentee ballot envelope design
---
The New York State Board of Elections has approved a new design for absentee ballot envelopes to be used statewide in the upcoming general election. The new layout, mandated by Governor Andrew Cuomo in an executive order, is intended to make it more obvious where a voter needs to provide a signature in order to have the ballot accepted by elections administrators under state law and avoid mass disqualification of absentee ballots as New York saw during the June primaries.
The design, shared by the State Board of Elections upon request by Gotham Gazette, is actually for three envelopes, which accompany every absentee ballot: an outer envelope, a return envelope, and what is known as the "oath envelope," which a voter must sign to certify they are registered and voting lawfully. The new oath envelopes will have a sizable red 'X' where the signature is required, an attempt to avoid the most common reason absentee votes were disqualified.
The envelopes, which were developed in consultation with Center for Civic Design and local boards of elections, were designed to have either one language (English), two languages, three languages, or five languages, depending on the jurisdiction. The number of languages required is dictated by the federal Voting Rights Act. For example, Brooklyn will have a three-language envelope and Queens will have a five-language envelope.
While Cuomo directed the State Board of Elections to develop the envelopes, they did not require his approval, according to a spokesperson for the governor.
Failing to provide a signature is a key reason absentee ballots were thrown out during the June primaries. The measure could help ensure that thousands of absentee ballots are counted in the general election that may otherwise have been tossed due to a missing oath. In New York City, 23 percent of the roughly 400,000 absentee ballots cast were rejected, "the overwhelming number" of which were for missing signatures on the oath envelope, according to Michael Ryan, the executive director of the New York City Board of Elections, in testimony to the New York City Council on Friday.
"I do not have a specific number but I can tell you that is going to be the vast majority," Ryan told the Council's Committee on Governmental Operations, which was conducting oversight over the June primaries and the upcoming general election, when asked by Chair Fernando Cabrera about the prevalence of the problem.
"This is directly analogous to election day," Ryan said. "A signature is the gateway to the ballot. If you do not provide a signature, you do not get a ballot."
"The only difference between election day and absentee balloting is the signature is captured in a different process but it must be captured nonetheless. And if it's not captured it's not valid," he added.
Election Day is on November 3 and New York's early voting period will be from October 24 to November 1. Due to the COVID-19 pandemic, absentee voting eligibility has been extended to all registered voters and hundreds of thousands of absentee ballots have already been requested across the state. In addition to the presidency, many other federal, state, and local offices will also be on the ballot, including Queens Borough President.
Absentee ballots may also be rejected for other technicalities, including for having stray markings on the ballot or extraneous paper in the envelope, or for having an envelope that isn't fully sealed. Several pieces of legislation have been introduced to eliminate these obstacles, but not all of them have passed and been signed into law. One solution that was passed and will be in place for the general election is a measure that requires election administrators to notify voters when their ballot is rejected and give them an opportunity to fix the mistake.
But most of the errors are dwarfed by the frequency of missing signatures. Another reason some absentee ballots were rejected this summer is because the post office failed to postmark them, an issue beyond the control of voters. That was a particular issue in Brooklyn where roughly 4,500 un-postmarked ballots were initially rejected, according to Ryan (the other boroughs lost about 100 ballots each to the postmarking issue, he said), but later counted after a court challenge. In terms of other technicalities, "They really don't occur all that often," Ryan said.