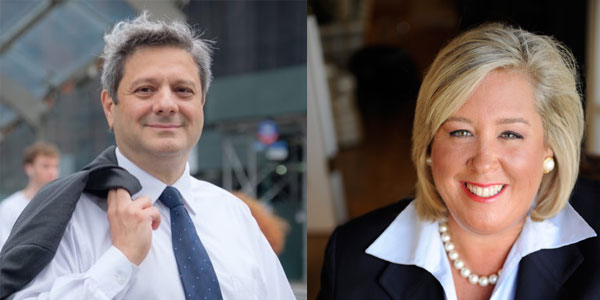 Lou Puliafito & Rebecca Seawright
---
Last time she faced a Republican challenger, in 2016, Assemblymember Rebecca Seawright won by a margin of nearly 50 points. Her Assembly district, which includes the Upper East Side, Yorkville, and Roosevelt Island, has a solid Republican presence but is generally considered a firmly Democratic stronghold. Yet due to a series of ballot controversies, Seawright's reelection bid has been thrust into some uncertainty this year.
The trouble started for the Assembly member this Spring, when her campaign failed to include a cover page for her petition filings for the June Democratic primary, in which she was to have run unopposed. She then attempted to run in the general election on the Working Families Party ballot line, but the courts determined that the deadline had already passed. This left open the possibility that the Republican nominee, Lou Puliatifo, would be the only candidate on the ballot for voters of the 76th Assembly District.
But Seawright got the required signatures to run on the self-created "Rise and Unite" ballot line, with the backing of much of the Democratic establishment but some reason to be nervous about how voters in her district may react to seeing no name on the Democratic Party line for Assembly. Given what's unfolded her campaign has brought in some of the party's biggest names, both locally and nationally, to help make sure Democratic voters know she'll be on the ballot -- somewhere. The party's two most recent presidential candidates, former Secretary of State Hillary Clinton and former Vice President Joe Biden, have announced endorsements of Seawright, with Clinton even Zoom-ing in for a virtual event.
The Assembly member's path to reelection has also been complicated by progressive activist Patrick Bobilin, who ran against City Council Member Ben Kallos in 2017 and jumped into the Assembly race on his own "Blue Wave" independent ballot line. Sensing a threat, Seawright's campaign sought to have Bobilin kicked off the ballot, and in late September the Appellate Division ruled that Bobilin did not meet the residency requirement for the office, after the State Supreme Court initially concluded that he did meet the requirement.
Bobilin decried the court's ruling, saying it "portends a negative impact on young people who want to run for office if they were ever outside of the state for any reason," but has since decided to suspend his campaign. Given the timing of the ruling, Bobilin's name appeared on a small batch of absentee ballots that went out.
He has said that he will be running again in 2022.
But it's unclear who the incumbent will be.
Puliafito, who works as a doorman, garnered 3.5% of the vote as the Reform Party candidate for the seat in 2018, with no Republican nominee that year, to Seawright's 96%. He has received significant attention from the media and Republicans given the incumbent's ballot challenges and the outside chance for the GOP to pick up a seat -- there are currently no Manhattan Republicans elected to New York City or State government.
Seawright has significant advantages despite the ballot snafu, particularly the district's Democratic voter enrollment advantage, her name recognition as an Assembly member since 2015, endorsements including big name politicians as well as labor unions, and fundraising. Seawright is one of more than 100 Democrats in the majority in the Assembly, which has 150 seats across the state.
As of the 11-day pre-general election financial disclosures, Seawright had raised $133,961 in the latest period, including $60,000 from the Democratic Assembly Campaign Committee in October alone, and had $120,608 in cash-on-hand while continuing to raise more funds. Comparatively, Puliafito raised $1,426 in his last filing and had a balance of $1,483. (In that filing, Bobilin reported $11,384 in donations and had $10,802 in balance.)
According to Census Reporter, The 76th Assembly District is predominantly white (72% of residents are white compared to 56% of New York State as a whole) and significantly wealthier than the rest of the state (the median household income is more than 50% higher in the district than the rest of the state). As of February 2020, there were 58,748 Democrats in the district compared to 15,690 Republicans, out of 101,185 registered voters, in the district, according to data from the state Board of Elections.
Rebecca Seawright
In an interview, Assemblymember Seawright emphasized what she sees as her top legislative accomplishments and leadership positions. She serves as secretary of the Assembly's majority Democratic Conference and sits on the judiciary, education, and consumer affairs committees. She cites a "proven track record of passing legislation" that includes cosponsoring the codification of Roe v. Wade into New York state law and sponsoring legislation requiring health insurance providers to cover mammograms.
She also cosponsored the recent repeal of section 50-A of the Civil Rights law, which is providing greater transparency regarding police disciplinary records.
"I've given over $12 million to our local public schools, libraries, and parks and will continue to fight for additional funding, especially during this pandemic," Seawright said, referring to government funding she's secured for the district. She said that she would support legislation to "cancel rent" as a result of the pandemic and related economic catastrophe "until after January."
Asked about the state's looming budget deficit, Seawright said, "I think we need to look at new ways to raise revenue and we need to continue to push for federal relief money out of Washington." She supports a "millionaires' tax" to raise revenue, she said, likely meaning raising taxes on those earning above $1 million annually on top of the higher rates they already pay.
"I think it's very important that we keep our buses clean, accessible, and on time," said Seawright, when asked about other top priorities for her constituents.
Seawright's district office was the target of anti-Semitic vandalism in August and she said that she is currently sponosirng legislation in Albany "to strengthen our hate crime law."
"I'm running on my record," Seawright said. "I treat each problem as if it were my own and I take it very seriously." She also said that election reform will be a top priority for her in the next session, after nearly failing to make the ballot herself, so as to provide "more access to people to run for office and for people to understand the election process."
Lou Puliafito
"I don't like either party," Puliafito said in an interview, but added that "when you have a one-party town, there's no accountability" and that he is "fed up with party politics and pointing at each other." He notes that he is also on the Liberal Party ballot line, for any voters in the district squeamish about voting for a Republican.
Puliafito, a former IT professional who became a part-time doorman in retirement, was quick to emphasize that he's not a typical Republican candidate and at times distanced himself from the national party, saying, "This is a local election. It has nothing to do with Washington."
Puliafito voiced support for further increases to the minimum wage, saying, "I'm a union guy. I know it's $15, but I think it needs to be more."
On affordable housing, he said, "I don't have the patent on what's the right thing to do" and that he would bring stakeholders together to compromise if elected. However, he decried recent new developments in the district as "creeping gentrification" and voiced concerns about the cost of living in the district. He has also stressed what he sees as a lack of safety on the streets of the district and the need for stronger law enforcement while criticizing bail reforms that the state passed in 2019.
Puliafito criticized the current state of governing on Roosevelt Island, calling for the board of the Roosevelt Island Operation Cooperation (RIOC) to be elected by the island's residents so that it is "accountable and transparent." The RIOC board is currently appointed by the Governor.
Election day is Tuesday, November 3. Early voting is already underway and all registered voters are eligible to vote by absentee ballot.

Note: this article has been corrected to reflect that Puliafito will be on the Liberal Party line, not the Conservative Party line.