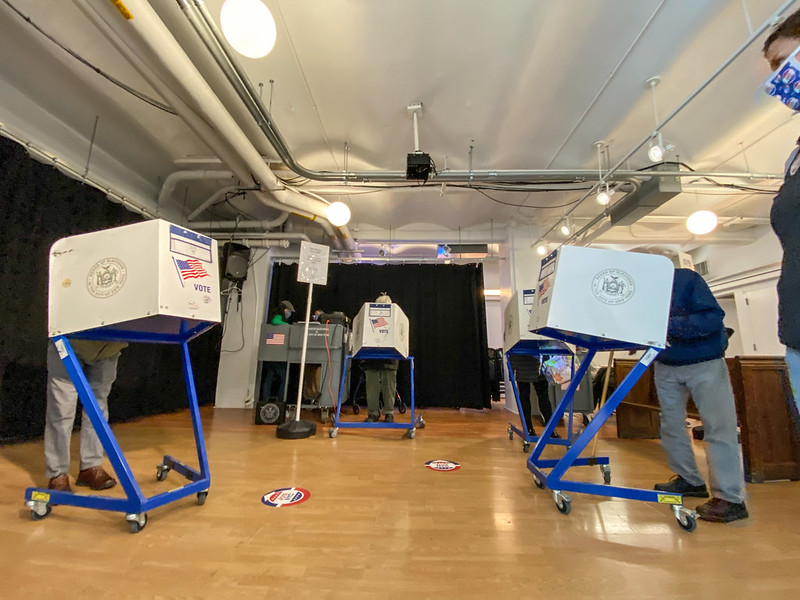 2020 Voting (photo: Michael Appleton/Mayor's Office)
---
Results are not official, hundreds of thousands of ballots are still to be counted, and only some New York races can be called as of election night, but millions of votes cast by New Yorkers in the 2020 general election have provided some indication of winners of a number of races.
In-person voting totals across New York State hit 6,495,194 on election night, per the State Board of Elections, including 2,346,302 in New York City, with hundreds of thousands of absentee ballots still to be counted, including roughly 550,000 in New York City alone.
We don't know who won the presidential race, but Joe Biden and Kamala Harris won New York and its 29 electoral votes, at this point receiving 55.16% of the counted New York vote, with President Donald Trump and Vice President Mike Pence receiving 42.8%. In New York City, Biden and Harris have received roughly 73% of the presidential/vice presidential race votes, with Trump and Pence getting about 26%. Like all other numbers, those figures are all but sure to change as the rest of the votes are counted. A Biden-Harris national popular vote win is all but certain, while an Electoral College win is appearing more and more likely as of Wednesday morning, as is Republicans holding on to the majority in the U.S. Senate and Democrats holding on to the majority in the U.S. House of Representatives.
As for a still very unofficial breakdown by borough, with many thousands of votes still to be counted, Biden-Harris are ahead of Trump-Pence in the four boroughs other than Staten Island, which was also the only borough Trump won in 2016. Biden was ahead of Trump 84%-14% in Manhattan; 82%-17% in the Bronx; 73.6%-25% in Brooklyn; 68.5%-30% in Queens. Trump was ahead 61.3%-37.4% on Staten Island.
More than 287,338 of the votes across the state (170,000 in New York City alone) for Biden and Harris came on the Working Families Party ballot line, which means the party hit the new state threshold and will continue to have an automatic ballot line moving forward, for at least two more years. Trump and Pence received 249,078 of their votes across the state on the Conservative Party line, helping it to also hit the threshold to keep its ballot line. The fate of other small political parties' ballot lines looks doomed, though they can potentially win them back in the future via gubernatorial or presidential elections.
In New York's 11th Congressional District, spanning all of Staten Island and some of Southern Brooklyn, incumbent Rep. Max Rose, a first-term Democrat, has been locked in a bitter battle with Republican Assemblymember Nicole Malliotakis. The challenger holds a large lead as of election night and declared victory, while Rose pointed to potentially 50,000 absentee votes still to be counted and did not concede.
Without any absentee ballots counted in the race, 236,008 votes had been tallied on election night, with Malliotakis taking 136,382 of them, good for almost 58% to Rose's 42% and 99,224 votes.
A similar dynamic is playing out in the overlapping 22nd State Senate of Southern Brooklyn, where first-term incumbent Democrat Andrew Gounardes is being challenged by Republican Vito Bruno. Without absentee ballots counted, 75,293 votes had been tallied as of election night, and Bruno led with 40,621 votes, good for almost 54%, to Gounardes' 34,586 votes, or almost 46%. The city Board of Elections has already received 12,744 absentee ballots in the district, with more likely coming in, and they skew heavily toward Democratic voters, according to figures provided by the BOE. Whether those Democratic voters, among others, fall heavily enough toward Gounardes is still to be seen.
In the overlapping 46th Assembly District, Democratic Assemblymember Mathylde Frontus is in trouble against Republican challenger Mark Szuszkiewicz. With thousands of absentee votes to be counted, Frontus has received 15,030 votes (45.66%) to Szuszkiewicz's 17,852 votes (54.2%).
Gounardes' race is part of the battle for control of the State Senate, which Democrats flipped in 2018 and took a wide margin that Republicans were hoping to chip away at this year to set themselves up to retake the chamber in 2022. The GOP appears to be on the verge of making up some ground, though there are many votes still to be counted and the math of the seats is somewhat tricky.
While Gounardes and several other Democratic incumbents in the Senate are in some trouble, Democrats are on the verge of flipping a few seats that are or were most recently held by Republicans. The 22nd District is the only competitive State Senate race in New York City, while several races on Long Island and north of the five boroughs are highly competitive. (A full rundown of competitive State Senate races will be available later on Wednesday.)
As is always the case, Long Island -- especially Nassau County -- is making for one of the most interesting battleground areas in the state. As he did four years ago, Trump is winning Suffolk County by a wide margin, but the presidential vote in Nassau is close -- Hillary Clinton narrowly won Nassau County in 2016. As of Wednesday morning, Trump had won 49.56% of the vote in Nassau to Biden's 48.46%.
One to several State Senate seats that Democrats flipped on the Island in 2018 may flip back, but absentee votes must be counted and will impact those races as well as House contests and the presidential tally.
While Democrats are not in any risk of losing the Assembly majority or needing to worry about the margin shrinking much, Frontus is not the only Democratic incumbent in some trouble, and Democrats also struggled in multiple open seats without an incumbent running. Other Democrats who could be knocked off include Edward Braunstein of Queens and Michael Cusick of Staten Island, though both will probably prevail once absentee ballots are counted. Republicans also appear set to keep Malliotakis' Assembly seat in a district Democrats had begun to have high hopes for.
Democratic Assemblymember Rebecca Seawright of the Upper East Side does appear on the verge of holding onto her seat against a spirited Republican challenge complicated by the fact that Seawright's campaign made errors keeping her from the Democratic Party ballot line. And Phara Souffrant Forrest, who beat Assemblymember Walter Mosley in the June Democratic primary, again prevailed over Mosley, who was on the Working Families Party ballot line.
Less competitive races that can and have been called include:
-Democratic City Council Member Donovan Richards winning the race to be the next Queens Borough President.
-Democrat Darma Diaz was uncontested in the general election and will become the next City Council Member in Brooklyn's 37th District, a seat that has been vacant since Rafael Espinal resigned for a private sector job.
-Democrat Jabari Brisport winning the 25th State Senate District in Brooklyn to replace retiring Senator Velmanette Montgomery.
-Democratic City Council Member Ritchie Torres winning the 15th Congressional District seat to replace retiring Rep. Jose Serrano.
-Jamaal Bowman winning the 16th Congressional District in the Bronx and Westchester, aftering having defeated Rep. Eliot Engel in the Democrartic primary.
-Democratic Rep. Alexandria Ocasio-Cortez winning her first reelection bid in the 14th Congressional District in the Bronx and Queens.
-New York City Congressional Reps. Gregory Meeks, Grace Meng, Nydia Velazquez, Hakeem Jeffries, Yvette Clarke, Jerry Nadler, Carolyn Maloney, and Adriano Espaillat, all Democrats, are all coasting to reelection.
Congressional Races Outside New York City
-It appears Republicans will hold the 1st and 2nd Congressional District seats on Long Island, via Rep. Lee Zeldin and nominee Andrew Garbarino, respectively.
-Democratic Rep. Tom Suozzi is trailing in the 3rd and Democratic Rep. Kathleen Rice is leading in the 4th, with absentee ballots still to count.
-Democrat Mondaire Jones will win the 17th Congressional District seat.
-Democratic Reps. Sean Patrick Maloney and Antonio Delgado are in close races in the 18th and 19th Districts, respectively, as absentee ballot counting is set to begin.
-Democratic Rep. Paul Tonko has a commanding lead in the 20th Congressional District.
-Republican Rep. Elise Stefanik has a commanding lead in the 21st Congressional District.
-Democratic Rep. Anthony Brandisi appears to be in trouble against former Republican Rep. Claudia Tenney, whom he unseated in 2018 in the 22nd Congressional District.
-Republican Reps. Tom Reed, John Katko, and Chris Jacobs appear headed toward reelection in the 23rd, 24th, and 27th Congressional Districts.
-Democratic Reps. Joseph Morelle and Brian Higgins appear headed toward reelection in the 25th and 26th Congressional Districts.
More detailed results will be available in the coming days and weeks.