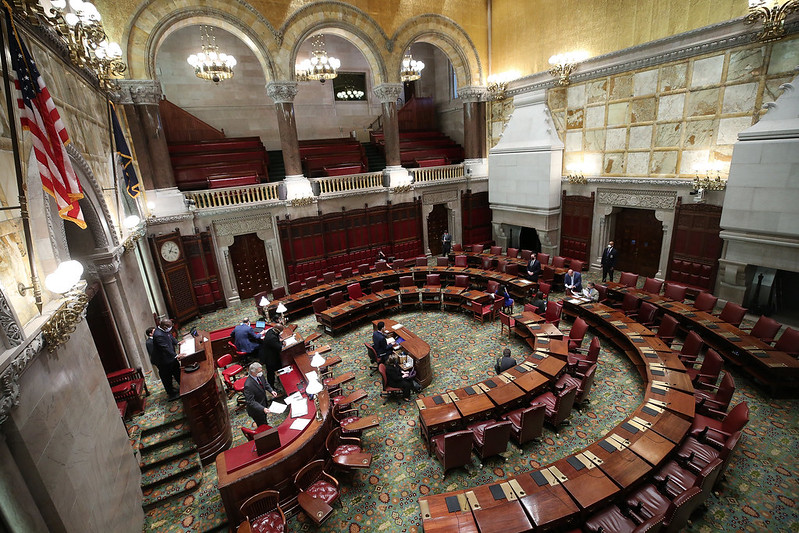 The New York State Senate chambers (photo: NY Senate)
---
Though hundreds of thousands of votes across New York are still to be counted and many races are not yet called, it appears certain that Democrats will retain the majority in the State Senate that they won two years ago, and by a fairly wide margin. But, Republicans seem poised to regain several seats in the chamber to narrow what has been an exceptionally wide 40-23 seat margin and keep Democrats from expanding it to what they hoped would be a veto-proof supermajority.
With a comfortable hold on the State Assembly and the governor's office, Democrats will continue to control state government for at least the next two years.
But with the 2020 election heading toward counting of absentee and other paper ballots, a number of State Senate races remain up in the air.
Unofficial election night results showed Democrats winning at least 28 State Senate seats and Republicans winning 9. With about 1.2 million absentee ballots cast statewide in the election and with counting of those ballots set to only begin next week, it's too early to tell how the rest of the 26 races will end up.
Early indications show that Republicans seem to have a lead in several competitive districts home to first-term Democratic senators, meaning the Democratic majority could be diminished by as many as five seats. Republican Senate Minority Leader Rob Ortt said Wednesday he believes his conference will have at least 27 seats when the dust settles.
Going into the election, Democrats held 40 seats and Republicans held 20 seats in the 63-seat Senate, while three seats most recently held by Republicans were left vacant based on retirements or resignations.
Democrats were hoping to pick up ten seats, particularly "open" seats where there had been Republican retirements and the districts held a Democratic voter enrollment advantage. Democrats were also on the defensive in several seats. It remains to be seen how all those districts will shake out.
"Despite a difficult night for many Democratic candidates throughout the state and nation, the Senate Democratic Conference comfortably retained our majority and will be welcoming a historic group of new upstate Democrats to the Senate," said Senate Majority Leader Andrea Stewart-Cousins, a Westchester Democrat who was just reelected, in a statement. "With the record high number of outstanding absentee ballots that are overwhelmingly Democratic, we will add even more victories to our majority as the vote counts continue. The Senate Democratic Majority will continue to lead New York State forward as we recover from this pandemic and economic crisis."
In a Wednesday appearance on The Capitol Pressroom radio program, Deputy Majority leader Mike Gianaris, a Queens Democrat who also won reelection this week, expressed confidence that there are an "overwhelming" number of Democratic votes that were cast in absentee ballots. "Given our projections, we fully expected that some of these close races we were going to be behind on election night and ultimately win," he said. "That's the posture we're in right now. We secured 36 seats comfortably so the majority is intact with a sizeable cushion. That number is going to grow because there are eight or so districts where we still believe we can overtake the Republicans."
On the Republican side, Minority Leader Ortt, speaking to reporters on Wednesday morning, saw the early results as an indication that voters are disaffected with Democrats. "What you saw last night was a repudiation of one party rule," he said, confident that the party will win up to 29 seats once all votes are counted.
Along with the Senate races, he also pointed to the party's victory in some congressional seats held by Democrats. "That is a huge, huge signal, I think certainly to the leadership of the majority of the State Senate that the people of New York, of all political stripes, did not like what they saw the last two years," Ortt said. "And they want to see something different. They want to see more balance, they want to see checks."
In seven districts where Democrats had expressed confidence about picking up seats previously held by Republicans, the results are mixed so far. The in-person vote tallies do not account for significant numbers of absentee ballots, leaving a lot unknown for the time being. The State BOE provided a snapshot of absentee ballot numbers as of November 6, though absentee ballots were continuing to be delivered and those numbers were likely to change.
In District 1, Republican nominee Assemblymember Anthony Palumbo leads with 54.08%, or 74,289 votes, against Democrat Laura Ahearn, who has received 55,554 votes, about 40.44%. There were 32,485 absentee ballots returned by voters in the district. Of those, 15,508 were from Democratic voters, 7,322 from Republicans and 7,588 from independent voters.
In District 41, incumbent Republican Senator Sue Serino is ahead with 56.49%, or 68,907 votes, against Democrat Karen Smythe, who has 49,477 votes, about 40.56%. This is Smythe's second time challenging Serino. In 2018, Serino won by only 688 votes. 30,712 voters have returned absentee ballots, including 16,088 Democratic voters, 5,580 Republican voters, and 7,166 independent voters.
In District 46, Republican Richard Amedure has received 66,784 votres, about 51.19%, compared to Democrat Michelle Hinchey, who has 58,613 votes, or 44.93% so far. There were 25,987 absentee ballots returned from 13,311 Democratic voters, 4,980 Republican voters, and 5,910 independent voters.
In District 50, Republican Angi Renna leads with 63,299 votes, about 51.45%, against Democrat John Mannion, who has 56,071 votes, about 45.57%. There are 37,149 absentee ballots left to be counted from 17,127 Democrats, 9,286 Republicans and 8,450 independents.
In District 55, Democrat Samra Brouk has the lead with 59,560 votes, about 49.88%, against Republican Chris Missick, who has received 54,504 votes, about 45.65%. Voters returned 42,443 absentee ballots in the district – 21,018 came from Democrats, 9,141 from Republicans and 8,982 from independents.
In District 56, Democrat Jeremy Cooney has a marginal lead, with 46,469 votes, about 47.16%, over Republican Mike Barry Jr., who is just behind with 45,587 votes, about 46.27 %. There were 32,578 absentee ballots returned from the district including 16,444 from Democrats, 7,017 from Republicans and 7,108 from independents.
In District 60, Democrat Sean Ryan has won 68,633 votes, about 54.32%, leading against Republican Joshua Mertzlufft, who is far behind with 52,391 votes, about 41.47%. Ryan may well keep his lead as the 26,729 absentee ballots in the district are counted. Most of the absentees, 15,347 to be exact, were from Democratic voters, while 5,076 were from Republicans and 4,517 were from independents.
In three districts, Democrats felt they had a solid chance of flipping Republicans seats but the current vote tallies, without the absentee counts, look promising for the GOP.
In District 4, incumbent Republican Phil Boyle has a strong lead with 69,199 votes, about 55.49%, against Democratic challenger former Assemblymember Christine Pellegrino, who has received 46,464 votes, about 37.26 %. There were 19,717 absentee ballots from the district, including from 9,495 Democrats, 4,747 Republicans and 4,363 independent voters.
In District 51, Republican Peter Oberacker has won 57.01%, or 64,014 votes, so far, while Democrat Jim Barber trails with 37.70%, or 42,336 votes. Voters returned 20,264 absentee ballots, including 9,020 Democrats, 5,742 Republicans and 4,281 independents.
In District 61, Republican Ed Rath already has 57.81%, or 64,887 votes, against Democrat Jacqualine Berger, who has received 36.81%, or 41,314 votes. Of the 31,628 absentee ballots returned in the district, 16,121 were from Democratic voters, 7,635 from Republicans and 5,987 from independents.
Republicans fielded competitive candidates in several races, particularly challenging first-time Democrats elected in 2018 in relatively moderate districts. Almost all of those challenges seem like they could yield seats.
In District 3, Republican challenger Alexis Weik leads with 53.01%, or 59,155 votes, against first-term incumbent Democratic Senator Monica Martinez, who has received 40.68%, or 45,388 votes so far. There were 20,012 absentee ballots returned, including 9,715 from Democrats, 4,693 from Republicans, and 4,416 from independents.
In District 5, Republican candidate Edmund Smyth is leading with 51.33%, or 69,015 votes, against incumbent Democrat Jim Gaughran, who has 41%, or 55,132 votes. There are plenty of absentees to count, however, and they favor Democrats. Of the 36,048 absentee ballots returned, 18,445 were from Democratic voters, 7,366 from Republicans and 8,645 from independents.
In District 6, incumbent Democratic State Senator Kevin Thomas is behind with 56,672 votes, or 43.03%, against Republican Dennis Dunne, who has 64,509 votes, about 48.99%. Voters returned 27,600 absentee ballots including 13,553 Democrats, 7,127 Republicans and 5,760 independents.
In District 22, Republican challenger Vito Bruno is in the lead with 40,621 votes, about 51.37%, against incumbent Democratic State Senator Andrew Gounardes, who has received 34,586 votes, about 43.73%. According to the New York City Board of Elections, 39,294 voters requested absentee ballots in the district, including 24,689 Democrats and 5,587 Republicans. Of those, a total of 18,524 ballots were returned by 11,622 Democrats and 2,651 Republicans. Another 7,785 independent voters also requested absentees and 3,714 returned them to the BOE.
In District 39, Democratic State Senator James Skoufis, a first-term incumbent, is currently ahead but with a margin that appears too early to call, though the senator did declare victory. He has received 50%, or 54,976 votes, so far, compared to Republican challenger Steve Brescia's 44.23%, or 48,639 votes. There were 5,432 absentees returned – including 3,069 from Democrats, 927 from Republicans and 1,128 from independents.
In District 40, incumbent Democratic State Senator Pete Harckham, another first-term senator, is trailing with 45.48%, or 58,233 votes, against Republican challenger Rob Astorino, who has received 51.31%, or 65,686 votes, and was previously Westchester County Executive and the 2014 GOP nominee for governor. There were 31,622 absentee ballots returned in the district, including from 17,354 Democratic voters, 5,775 Republican voters and 7,000 independent voters.
In District 42, Republican Mike Martucci is in the lead with 52.65%, or 58,685 votes, against Democratic incumbent Jen Metzger, who has received 43.11%, or 48,054 votes. There are 12,700 absentee ballots left to be counted including 6,526 from Democrats, 3,141 from Republicans and 2,363 from independents.
Besides Stewart-Cousins and Gianaris, other incumbent Democrats who won reelection, many of them running uncontested, include John Brooks, James Sanders, John Liu, Jessica Ramos, Leroy Comrie, Toby Ann Stavisky, Simcha Felder, Julia Salazar, Roxanne Persaud, Zellnor Myrie, Kevin Parker, Diane Savino, Brian Kavanagh, Brad Hoylman, Liz Krueger, José Serrano, Brian Benjamin, Robert Jackson, Luis Sepúlveda, José Rivera, Alessandra Biaggi, Jamaal Bailey, Shelley Mayer, Neil Breslin, and Tim Kennedy.
The conference is set to have one newcomer in Jabari Brisport, an activist and teacher backed by the Working Families Party and the Democratic Socialists of America, who ran uncontested in the general election for the 25th State Senate District in Brooklyn. Brisport pulled off an upset in the primary, defeating Assemblymember Tremaine Wright, who was supported by the previous officeholder, the retiring Velmanette Montgomery, and a third candidate, Jason Salmon.
The nine incumbent Republicans who won their races include Minority Leader Ortt, and Senators Andrew Lanza, Joseph Griffo, Patty Ritchie, James Tedisco, Fred Akshar, Pamela Helming, George Borrello, and Patrick Gallivan.
Note - this article has been updated.
Note- this article has been updated with a snapshot of absentee ballot totals as of November 6. It has also been corrected to reflect accurate absentee ballot totals from Senate District 22.