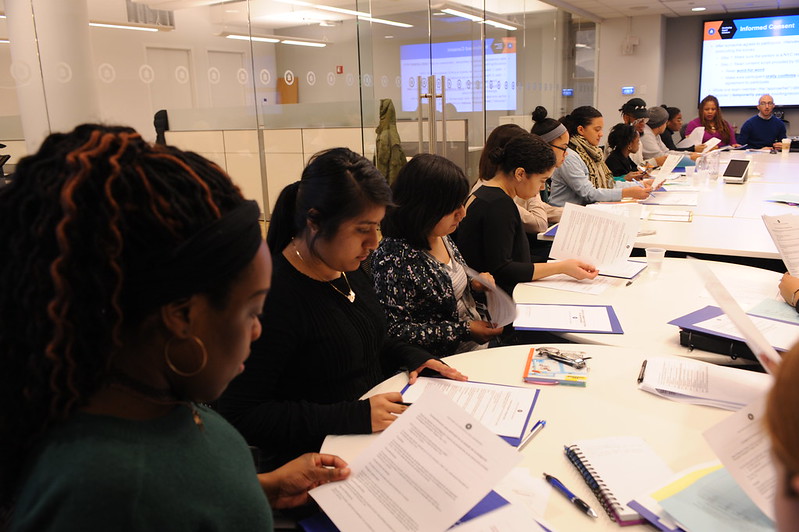 Students in CUNY class pre-pandemic (photo: CUNY)
---
The New York City Council's Committee on Civil Service and Labor and Committee on Higher Education held a joint hearing Thursday about the City University of New York's layoffs earlier this year.
The hearing, which was co-chaired by Council Members I. Daneek Miller and Inez Barron, who chair the two committees, respectively, focused on questions about why nearly 3,000 adjunct professors were laid off from CUNY colleges over the summer and if the university system did enough to prevent the layoffs from happening.
CUNY Senior Vice Chancellor Matthew Sapienza testified, saying that a 5.1% drop in enrollment and unexpected expenses as a result of the coronavirus pandemic put a strain on CUNY's budget. After long-threatening such a move, Governor Cuomo also withheld $2 billion from CUNY's budget last month, further reducing the amount of money available to the public university system that educates hundreds of thousands of students. Sapienza said the layoffs were necessary if CUNY was going to be able to continue to offer courses in the Fall 2020 semester.
"Since about 80% of CUNY's costs relate to personnel, any series of budget cuts will necessarily involve position reductions," he said. CUNY instituted a hiring freeze in April and has been working on reducing payroll costs by "consolidating the responsibilities of existing positions," which he said has saved CUNY $33 million.
According to Sapienza, budget cuts, reduced enrollment and a decrease in state aid made it obvious that it would be "impractical and irresponsible to continue operations as normal."
CUNY received $250 million from the federal government as part of the CARES Act earlier this year and has since given about $118 million of the funding to students who need it. Sapienza said that there are no official plans for the remaining $132 million as of right now, but that it will be used in CUNY's budget for the current fiscal year (2021).
The layoffs happened six months after CUNY came to an agreement with the Professional Staff Congress (PSC-CUNY), the union that represents over 30,000 faculty and staff members. According to President Barbara Bowen, over half of the classes at CUNY are taught by adjunct professors.
Bowen said that CUNY could have used some of the CARES Act funding to pay adjunct professors rather than moving straight to layoffs.
"[Senior Vice Chancellor Sapienza] left out the provision in the law itself, not just guidance that says that to the extent practicable, institutions that receive CARES Act money should keep employees on payroll," she said in her testimony.
The contract, which was ratified late last year, includes a continuation of a pilot program that would give some adjuncts three-year appointments, bringing them greater job stability because they wouldn't be up for reappointment every year.
According to Senior Vice Chancellor Pamela Silverblatt, college presidents were put in charge of layoffs for their campuses. She said that CUNY Chancellor Felix V. Matos Rodríguez told presidents that they should prioritize keeping adjuncts that were recommended for three-year appointments and those that could lose their health insurance. Despite this, every single adjunct that was recommended for a three-year appointment at Medgar Evers College was laid off.
At times during the hearing, CUNY officials sidestepped questions or lacked the data necessary to answer Council Members Barron and Miller. The senior vice chancellors repeatedly pinned the layoffs as the responsibility of the presidents of each school under the CUNY system. Silverblatt said that layoffs most likely start as recommendations made by department chairs but wasn't fully able to explain the protocols at each school.
When asked about the Medgar Evers College layoffs by Council Member Helen Rosenthal, Silverblatt repeated that college presidents were given guidance by the chancellor and that who was laid off was ultimately up to them.
"The presidents were told what to prioritize. They are entrusted to manage their schools," she said.
Rosenthal criticized the CUNY representatives for not doing enough to prevent the layoffs, saying that there were other ways to save money without increasing unemployment.
"What you didn't tell us was all the steps you took first, that was the lowest hanging fruit prior to having to lay-off people. So in other words, CUNY added to the unemployment problem in New York City," she said.
Bowen said that her union went to CUNY earlier this year with a list of demands for impact bargaining, which included no layoffs, but that CUNY has refused to negotiate with the union over that and class sizes, which have drastically increased due to layoffs.
"The impact of changes in class size is a mandatory subject of bargaining. And CUNY has sat at the bargaining table, bargaining Zoom with us and refused to bargain over that," she said.
Bowen went on to say that reducing the number of people to teach classes is harmful to students and that increased class sizes puts students at a disadvantage.
"CUNY exploited that structure in a moment of danger for the whole institution, instead of holding on to those folks for our students," she said. "What's more important for students than to keep their faculty in the classroom?"