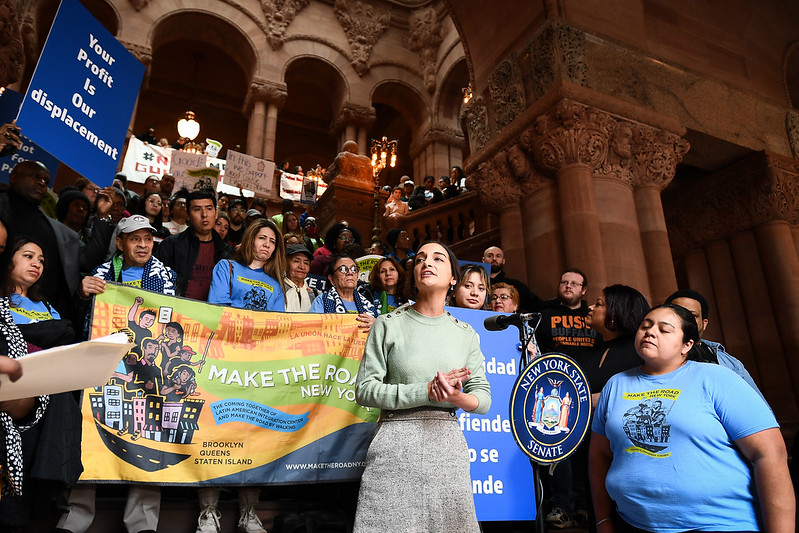 State Senator Julia Salazar with activists (photo: NY Senate)
---
For four years, moderate and progressive Democrats, a number of independents, and even some Republicans have shared a common objective: ensure Donald Trump is a one-term president.
Now, with that objective accomplished and a moderate Democrat in Joe Biden set to enter the White House in January, leftists are ready to go all out, at the federal and local levels, to pull the party further leftward and accomplish goals like taxing the wealthy and defunding the police so that they can pass universal health care and increase funding for social programs including public education.
Those plans are also coming together in New York, where a new crop of left-wing Democrats was just elected to both houses of the state Legislature, building on a progressive slate that won State Senate seats in 2018, not to mention the ascension of Rep. Alexandria Ocasio-Cortez that year, followed by Rep.-elect Jamaal Bowman this year. Many of these winning candidates prevailed with the support of the New York City branch of the Democratic Socialists of America, the progressive Working Families Party, or both.
Along with impacting government policy at all levels, left-learning activists and elected officials now have their eyes on the 2021 New York City election cycle, which will see the election of a new mayor, as well as dozens of new City Council members, and other officials.
In an event that resembled a party as much as it did a strategizing session, state and city legislators, along with City Council candidates and progressive activists, met virtually on Tuesday night to chart a path for post-Trump leftism, with a focus on New York. They started by refuting claims by moderate Democrats, including Governor Andrew Cuomo, that a fear of socialism impeded Democratic successes in this year's elections.
"It's kind of nuts" that Democrats would say that, said Manhattan Assemblymember Yuh-Line Niou. "It's no coincidence that all of The Squad won their reelection," said Samuel Nemir-Olivares, the organizer and emcee of the event, who is also a district leader in Brooklyn. Nemir-Olivares echoed Ocasio-Cortez's point that all swing-state House Democrats who endorsed Medicare for All won or were on track to win re-election.
Messaging by Republicans running for office also accused Democrats of being anti-police, and some Democrats took the bait, said State Senator Julia Salazar of Brooklyn, who was elected in 2018 over a more moderate Democratic incumbent with the support of the DSA. "Our movements for racial justice and economic justice cannot succeed if the Democratic Party insists on apologizing for them when elections come around," she said. Significantly reducing funding for the police remains a large part of leftists' platforms, especially considering the desperate financial situation the city and state governments are in. But some legislators in attendance said Democrats need to do a better job explaining what "defunding the police" means.
"You go into public housing saying defund NYPD, they're gonna be like, 'what the heck are you speaking about?'" said Jasmin Sanchez. "If we defund the police, this is what people in public housing and other minority communities are gonna think," said Brooklyn Assemblymember Maritza Davila: "'Who's gonna protect us, and who's gonna come out?' So you have to spend more time explaining that."
Brooklyn City Council candidate Wilfredo Florentino agreed, saying that community members don't immediately embrace the thought of defunding the police and "what we really want to talk about is reinvesting in our community."
"The reality is that progressive ideas are popular all across the country," said Brooklyn Assemblymember-elect Emily Gallagher, who just defeated longtime liberal incumbent Joe Lentol in this year's primary, "but we have to communicate them in a way that is user-friendly and is engaging."
Even so, some activists used language that even many progressives shy away from. "We have to be extremely clear that we want to defund the police, that we want to abolish police," said socialist activist Jawanza James Williams, expressing a different point of view from Democrats who are careful to draw a distinction between abolishing the police and diverting even large portions of police funding to social services. "Policing, including the NYPD itself, is a problematic institution that is predicated on the dehumanity of Black people," Williams said.
CUNY student-activist Aaron Narraph Fernando shared a personal experience where public safety at his college asked for his identification and suggested he might pose a threat. "We need to really use [democratic socialist candidates] to defund and disband the NYPD," he said.
Participants in the event expressed hope about the possibility of a supermajority of Democrats in the State Senate to match the one already in the Assembly, once officials finish counting absentee ballots. A few days later, leaders of the Senate Democrats gathered in Albany to celebrate the likely wins that would get them to that supermajority, and offer the ability for both houses to override vetoes by Governor Andrew Cuomo, a Democrat who is more moderate on many issues, especially related to the economy and taxes. But such overpowering of the governor would require progressive and moderate legislators to band together.
"While I'm very excited about a Democratic supermajority in the State Senate, I know that we're still going to need to see that political courage," said Salazar, "and we have not seen a great demonstration of political courage in the state Legislature collectively this year."
A supermajority, leftists hope, would give state legislators power over a governor some think is too powerful and too centrist. "We have a top-heavy problem in New York," said Zephyr Teachout, a progressive hero in New York who ran against Cuomo in the 2014 primary. "He's really a Republican," Manhattan City Council candidate Marti Gould Allen Cummings said of the third-term governor who is quite popular in New York City, especially among voters of color.
"Implementation is everything," said Brooklyn City Council candidate Brandon West. "A lot of times, we've seen really good politics come together, progressive groups put a lot of energy in, and then everyone leaves after implementation, so no one focuses on it, so then it fails, then Cuomo'll be like, 'oh, that policy doesn't work anymore — guess we shouldn't have tried!'"
Gallagher said that if there is a supermajority, Democrats should take advantage of it to push through bold ideas. "These moments don't last forever," she said, "and if we don't do anything with [the supermajority,] we will lose it."
In order to accomplish controversial goals like defunding the police and decriminalizing sex work, Brooklyn City Council candidate Sandy Nurse said that progressives need to educate people to build community consensus. "We are literally just facilitating the needs and the wants of the people in our districts and in our communities," she said. "If those priorities are not aligned, we're not actually able to make those hard transformations that we're asking for."
One thing everyone seemed aligned on was higher taxes on the wealthy — something the governor has largely opposed, before and during the pandemic recession, opting instead for a combination of cuts, withholdings, and waiting for a federal aid package, hopefully a large one spurred by Biden's victory.
"The money is there," said Nemir-Olivares, pointing out that New York billionaires have only gotten richer during the pandemic. "The question is whether the political class and the governor has the will to really tax the multimillionaires and redistribute the wealth that we need and the workers themselves created so we can fund the actual health care that we need, the masks for the nurses, the tablets for our schools."
"There are so many things that we can fund that aren't police or jails," Cummings said, citing the underway plan to build four new jails to replace those on Rikers Island. Those things, activists said, include making CUNY tuition-free again, forgiving all student debt, funding public housing, and fighting food insecurity. Other priorities include LGBTQ rights, the rights of undocumented people, canceling rent, legalizing marijuana use, and passing a Green New Deal to fight climate change.
"If we had invested in our communities, we wouldn't have been hit that hard" by the pandemic and recession, said Niou. "If we had invested in our healthcare system, we wouldn't have been hit that hard. If we had invested in our education system, we wouldn't have been hit that hard. If we had invested in our small businesses, we wouldn't have been hit that hard. This is the stuff that is so basic."