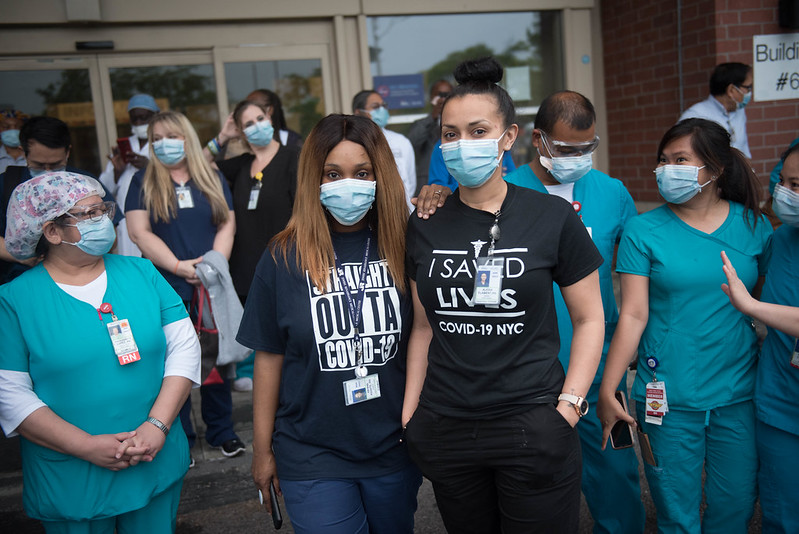 Many frontline workers have sought covid-related workers' comp (photo: Michael Appleton/Mayor's Office)
---
Eight months into the coronavirus outbreak in New York, frontline workers and their families continue to struggle to receive workers' compensation and death benefits for covid-related injuries incurred on the job. A Gotham Gazette analysis of claim data from the Workers' Compensation Board reveals that fewer than 2% of workplace injury claims associated with the virus have had lost wages awarded through the Board, while thousands remain in limbo.
Over 12,000 covid-related claims were filed since the pandemic began, according to information from the state's Open Data portal, which was last updated October 8, almost two months ago. In only 184 of them the Board made a determination to return wages, all of them for injuries sustained between March and May, the peak of hospitalizations and a period when, for the most part, only "essential" personnel were authorized to work in-person because of the risk of contracting the virus. Close to 5,000 more have been "voluntarily" awarded lost wages by insurance carriers, according to a spokesperson for the Board, but labor unions and workers' comp lawyers say essential employees from nurses to grocery store clerks are fighting to receive coverage after contracting COVID-19 on the job. At least 1,229 covid claims were initially denied by an employer or insurance carrier, the data shows.
The numbers demonstrate the difficulty of seeking relief and restitution through New York State's workers' compensation system, once a national exemplar of workplace protections, even in the event of a pandemic that left tens of thousands of first responders and other essential personnel ill. Since the spring peak, labor unions and elected officials have been pushing for COVID-19 to be deemed an "occupational disease" to streamline compensation claims, but experts say the change wouldn't alter many of the demanding procedures that create barriers to receiving benefits.
"Carriers and employers continue to unjustifiably deny and delay care and benefits for workers exposed to COVID-19 in the workplace and their survivors," wrote Mario Cilento, president of the New York chapter of the AFL-CIO, in an email to Gotham Gazette.
Cilento said his organization, which represents 3,000 labor unions statewide, has been working with the Workers' Compensation Board to expedite awards. But those efforts haven't been enough, he said, as "too many workers and survivors are waiting too long for the benefits they need."
Presented with the findings by email, Melissa Stewart, a spokesperson for the New Yorker State Workers' Compensation Board, the 11 members of which are appointed by Governor Andrew Cuomo, wrote, "a single piece of data at a single point in time simply doesn't tell the full story — the fact is nearly three-quarters of COVID-related claims are pending because they are incomplete and fewer than 10 of them have been denied."
"Just because someone has not received a formal award on a claim does not mean it was denied or that benefits aren't being paid," Stewart wrote in response to a Gotham Gazette inquiry to the governor's office.
"Thanks to New York's strong worker protections, many insurers voluntarily pay injured workers lost wage benefits and cover associated medical costs, even before a complete claim is submitted or an official determination is made by the Board," the email read.
In response to follow-up questions about what the worker protections were that led to voluntary payouts from insurance companies, a spokesperson wrote that since 2015 the Board has been monitoring and penalizing insurance companies for failing to meet legal time frames, which they claim has improved the speed at which insurers pay lost wages and report injuries.
"The majority of wage-related COVID claims are receiving benefits," the spokesperson wrote in an email. Of the more than 12,000 covid claims, roughly 8,000 include lost time, which means they "could potentially" be eligible for lost wage benefits, the spokesperson wrote. Of those, about 61 percent, or 4,900, have received lost wages from insurers voluntarily.
The 11 Board members are mostly from organized labor and the insurance industry, and the Board makes determinations on claims in accordance with the state's workers' compensation law.
According to Stewart, typical cases take at least four months to establish that an injury is work-related and many workers receive benefits during that time. But Cilento said the Board isn't doing enough "to reign in recalcitrant employers and carriers."
Part of the problem is the novel coronavirus missing designation as an occupational disease, which would create the presumption that a worker contracted the disease on the job as opposed to at home or in the community, thereby removing some evidentiary hurdles. Tracing the spread of the disease remains a challenge for scientists and pinpointing where an infection took place can be difficult for anyone, whether a worker, employer, insurer or the Workers' Compensation Board.
Labor unions and their allies are pushing for legislation to expand the definition to include COVID-19.
"The working class has been disproportionately impacted by this pandemic—risking their lives and the health and safety of their loved ones to keep New York running," said state Senator Jessica Ramos, a Queens Democrat who sponsors many of workers' comp reforms, including the bill to make COVID-19 an occupational disease, and chairs the Senate's labor committee.
"As we head towards what looks like a second wave, passing this bill is more important than ever—providing workers and their families with the added security of financial compensation if COVID-19 is contracted on the job and leads to disability or the loss of life, is the least we can do for their great sacrifice," Ramos wrote in an email.
Academics and lawyers representing injured workers have said the issue goes deeper to the byzantine, and increasingly litigious, system of workers compensation in New York.
"The problem the essential workers are having with covid demonstrates the systemic problems that we have with the Workers' Compensation Board," said William Crossett, co-chair of the New York State Workers' Compensation Alliance, the advocacy arm of the Injured Workers Bar Association, in an interview.
New York was the first state to pass a statewide workers' compensation bill near the turn of the twentieth century, but experts say decades of legislative action have gutted the system and helped shift its rewards from injured workers to insurance carriers.
Injured workers may receive medical coverage immediately related to the injury and recovery and compensation capped at two-thirds of lost wages in New York. A 2018 study from The New School found additional weekly minimum and maximum benefits trail neighboring states and place New York in the bottom half of the country. Death benefits may total two-thirds of wages the year before the accident (subject to weekly caps), plus up to $12,500 for funeral expenses.
According to the report, legislative and administrative changes, particularly ones made between 2007 and 2017, "have focused on curtailing benefits rather than minimizing injuries, adequately compensating injured workers, or fostering return to work."
Between 2014 and 2018 the total dollar amount of workers' compensation benefits, including workers' indemnity and medical costs, fell 28% while insurance company profits rose 200%, the report found. In 2017, insurance companies in New York reached $1 billion in profits for the first time and the next year had already reached $1.6 billion.
Government employees in New York have workplace injury rates above the state average, the report notes. In late May, following a push from labor unions and elected officials, including Mayor Bill de Blasio, Cuomo signed a bill extending eligibility for "line-of-duty" death benefits to the families of civilian public employees who died from COVID-19 while working a frontline job. The measure brought those death benefits closer to those received by members of the NYPD and FDNY. The mayor's office did not respond to a request for comment for this story about whether de Blasio believes more should be done to ensure workers' compensation benefits for private sector workers who may have contracted covid at work.
"It is the least we can do to say thank you, and we honor you, and we remember you," Cuomo said in a statement after signing the legislation. "We will be there to support your families going forward. And we say to their families, 'We thank you, we grieve for your loss, and we will always be there for you the way your loved one was there for us.'"
But even with the presumption the virus was contracted on the job -- still not a reality for private sector first responders and other essential personnel -- workers nevertheless face an arduous claim procedure and the burden of proving the virus led to lost time on the job, which can delay claims or discourage workers from seeking them entirely.
For a claim to be complete it must have a medical report from an authorized provider and either an employee claim or a report of injury from an employer, according to a spokesperson for the Workers' Compensation Board. The spokesperson said many workers file claims but do not end up pursuing them because they found they did not actually contract the virus or contracted the virus but did not miss the requisite seven days of work to trigger compensation under state law.
In cases related to COVID-19, a worker must have received a positive PCR test or a diagnosis by a physician, both of which were hard to come by at the height of the first covid wave in March, April, and May, when testing supplies were extremely limited and workers were instructed to stay home unless their symptoms were severe.
Another obstacle is finding an Board-authorized medical provider to write the report. Crossett said that pool is limited because many providers don't want to deal with the paperwork and process of litigation in exchange for relatively low reimbursement rates.
Workers frequently represent themselves in compensation cases and for those who do the barriers are especially high. They are higher still for those who do not speak English as a first language and receive determinations from a judge only in English. According to the New School report, immigrants make up more than a third of jobs in "higher-than-average injury-prone industries," and accounted for 28% of all workers in the state in 2017.
The process for receiving death benefits for the survivors of people who died after contracting COVID-19 at work is similar but often even more onerous, because of the levels of separation from key pieces of evidence. According to Crossett, most death benefits are initially denied by insurance companies.
In October, the Workers' Compensation Board proposed guidelines limiting injured workers' access to mental health treatment for post-traumatic stress disorder, which has become common among health-care workers who covered the frontlines this spring.
The measures are strongly opposed by groups like the Injured Workers Bar Association and Behavioral Medicine Associates, which provides mental health treatment to injured workers, because they lack support for workers who have a dual-diagnosis, like PTSD and depression, and for those who may be suicidal. The guidelines favor a limited treatment program and favor medication over therapy according to a statement from Behavioral Medicine Associates.
"These guidelines were developed for the outpatient treatment of the typical psychological population which are upper middle class, college educated individuals, most of whom are white," the statement reads.
Crossett's group supports a series of bills in the state Legislature that would make the process more worker-friendly and remove some of the roadblocks to receiving benefits.
One bill would ensure that decisions about compensation claims be handed down in the workers' first language and that transcripts of hearings, rather than audio recordings, be made available. Another would deem any physician who treated a COVID-19 patient an authorized provider for the purposes of the required medical report. Other legislation limits the length of time insurance companies can take to make a decision on a claim and ensures each claimant receives a hearing in every case.