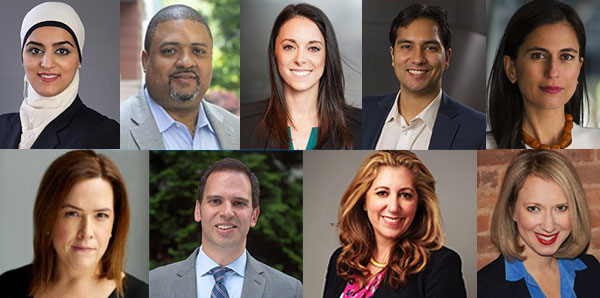 Top (l-r): Tahanie Aboushi, Alvin Bragg, Eliza Orlins, Janos Marton, Tali Farhadian Weinstein
Bottom (l-r): Liz Crotty, Dan Quart, Diana Florence, Lucy Lang
---
Tuesday night, the Chelsea Reform Democrats and Hell's Kitchen Democrats co-hosted a candidate forum for the nine candidates running in the 2021 Democratic primary for Manhattan District Attorney. Incumbent Cy Vance has not declared whether or not he plans to run for reelection, but he has not been actively fundraising for another run and has not appeared at any of the early forums, where candidates have at times criticized his record harshly as too punitive on some, particularly low-income people of color, and too lenient on others, particularly wealthy white people, including some men accused or convicted of sexual assault.
Much of the early discussion in the race has been about the many candidates trying to present their resumes and lay out their credentials to become the borough's top prosecutor, with many of the candidates taking progressive stances and promising efforts to decarcerate. A number of differences among the candidates have emerged, and others are still becoming apparent as they appear at more events together, release policy plans, and further explain how they would run the office that has domain including much of the city's sprawling subway system, Wall Street, major tourist destinations, some of the wealthiest zip codes in the country, many public housing developments, and other facets of Manhattan.
The moderator Tuesday was Sylvia Di Pietro, a district leader in the 75th Assembly District. The candidates were asked mostly different questions throughout the forum.
The nine participants included civil rights attorney Tahanie Aboushi; former Principal Deputy State Attorney General Alvin Bragg; former Manhattan Assistant District Attorney Liz Crotty; former Manhattan Assistant District Attorney Diana Florence; former Manhattan Assistant District Attorney Lucy Lang; decarceration activist and civil rights attorney Janos Marton; public defender Eliza Orlins; Assemblymember Dan Quart; and Tali Farhadian Weinstein, the former general counsel to Brooklyn District Attorney Eric Gonzalez.
Dan Quart
Assemblymember Dan Quart, the only current elected official in the race and a criminal defense attorney, promised "a complete break from the last 11 years" of Vance's tenure and sought to emphasize his anti-establishment bona fides from the beginning of the forum, highlighting his unsuccessful 2005 run for City Council against a party-backed candidate, along with his legislative accomplishments and pro bono work. He said "we can have public safety but also policies of decarceration that don't punish poor people."
He listed decarceration as his top priority if elected, saying it "requires deconstructing this office and rebuilding it." As part of his "reimagining a new vision for public safety," Quart promised a "complete revamp" of the sex crimes unit, scaling back the use of surveilance in prosecutions, and ending the "criminalization of poverty."
Quart said he was a supporter of ending cash bail and sentencing reform "before it was easy or a talking point," citing his legislative work on those issues. When asked how he would reduce jail overcrowding, Quart said as DA he would institute a "rebuttable presumption that no one will be offered a sentence of greater than 20 years."
Later in the forum, he sought to make a distinction between himself and several of those in the race with prosecutorial backgrounds, saying he would decline to prosecute more cases, rather than mandate diversion programs, as advocated by some other candidates, "who believe they can use the tools of the office in a kinder, gentler way."
As has been the case in prior forums, there was limited discussion by Quart or others about prosecuting crime, with some exceptions.
One being a major issue brought up at the forum of how each candidate would deal with vehicular violence as DA. Quart called the issue a "serious problem" and said he would be aggressive in prosecuting such cases, like reckless driving and when drivers hit pedestrians, but "not for purposes of incarceration."
Diana Florence
Diana Florence, who formerly ran the Manhattan DA's construction fraud task force, said she was running "for people who never thought they'd win" and repeatedly mentioned her intention to focus on "crimes of power not crimes of poverty" if elected. She cited her own work taking on real estate developers and landlords as an example of this. Florence has been endorsed by more than a dozen labor unions, she said, most of which are associated with the construction industry.
"We can't be operating in the 20th century," said Florence, who claimed "the district attorney's office hasn't changed in 45 years." She promised to "reallocate resources" from targeting crimes of poverty to crimes of power.
Florence also criticized Vance, whom she worked for until earlier this year, saying, "I was very much an outsider in that office," and criticizing what she described as a toxic work environment. She also criticized the current handling of gun violence more broadly, telling attendees that "we're not attacking the problem at its source. She advocated an "interstate approach" to stop gun trafficking before it reaches the city and said "we have great laws but if we're not enforcing them and stopping the source, we're not doing anything."
When asked about vehicular violence, Florence said she would "proactively investigate every single traffic injury or fatality," comparable to how she investigated any construction fatalities while at the DA's office.
Lucy Lang
Lucy Lang pitched herself by saying "I know how to reform the system because I've worked from the inside and outside." Lang served for over a decade as an Assistant DA under Vance and has been the director of the Institute for Innovation in Prosecution at John Jay College since 2017.
Lang said the most significant change she would make to the office would be "building an inclusive workforce," prioritizing diversity. When asked about the incumbent's handling of the Harvey Weinstein case, Lang decried a "sense of backdoor dealing" and said she would institute "a policy of equal access," preventing "backdoor meetings for well-heeled defense attorneys."
When asked if she thought traffic violence should be treated similarly to drunk driving, Lang said she could not commit without seeing the legislation, but that she "aspires to ensure" that offenders are held "appropriately responsible."
Tahanie Aboushi
Tahanie Aboushi offered a much more aggressive pitch, saying she was "running to transform this office." She said ending discriminatory practices is "not just doing damage control but making sure they won't happen again."
"This problem is not with Vance," Aboushi said. "He's just another cut-and-paste prosecutor." She said she would refocus the office away from "crime and punishment" and towards public health. When asked how she would address the school-to-prison pipeline, Aboushi said, "we rely on police instead of using our social service programs" and that we need to "stop criminalizing children for being children."
She criticized the office's conviction integrity unit as "a lame duck" and committed if elected to "making sure this office is represented by impacted people." When challenged over whether 20 years would be too lenient of a sentence for murder, Aboushi said that being against the death penalty means "being against death by incarceration."
Liz Crotty
"I've represented everyone," said Liz Crotty, noting her work as both a prosecutor and defense attorney, which she says gives her "an informed perspective to lead this office." She said she would bring "realistic, common-sense reforms" to the office, while also declaring "the job of the District Attorney is to enforce the laws of the State of New York and that's what I'm planning to do." She cited the use of "certificates of readiness" to prolong cases as a "practice the DA's office has gotten entirely wrong."
Crotty often eschewed the more sweeping and systematic promises of her opponents, saying she would look at cases on an individual basis. Asked about how she would handle immigration concerns as DA, Crotty said she would "look at the collateral consequences in nonviolent cases," but "when it comes to violent crime, it doesn't matter where you're from."
She had been the only candidate in the race not to sign a letter calling for Governor Cuomo to institute elder parole. "[W]hile I agreed with the spirit and tenor of that letter," she said, she did not sign it because "each case has to be held on an individual, case-by-case basis." She specifically said, "I don't think Harvey Weinstein should get compassionate release." She took that instance as an example of her "courage to stand out and above," saying "that's leadership."
While generally supportive of restorative justice, she noted that the decision should be left up to the victims, saying, "I have enough experience with defendants to know that not everyone wants that opportunity."
When asked about her criteria for prosecuting hit-and-runs, Crotty said she would "have to look at the surrounding circumstances."
Eliza Orlins
Eliza Orlins emphasized that she's the "only public defender running." She said that she "absolutely" believes there is systemic racism in the New York criminal justice system, adding that it "forms the basis of our penal system."
When asked about bail reform, Orlins said right now the presumption of innocence "only applies when you're rich enough to buy your freedom," recalling her experiences representing low-income defendants. She said "money bail does not keep us safe" and instead "is used to detain people who are poor." She decried the "false choice" between ending cash bail and public safety.
Again citing her own work as a public defender, Orlins said, "I've seen rampant misconduct" from prosecutors in the Manhattan District Attorney's office. She said there is a "need to restore trust in the office."
When asked if she would use vehicular data recorders in vehicular violence prosecutions, she said, "I don't think that makes our city safer in any way" because in her experience those devices have been used to "up the charges" on defendants.
Alvin Bragg
Alvin Bragg, the lone Black candidate in the race, told the attendees that "all of this work is personal for me," recounting his personal history witnessing and experiencing police misconduct and violence in his community in Harlem. According to Bragg, his lived experiences led him to make criminal justice his "life's work" and he said he's "ready to fundamentally reform the Manhattan DA's office."
"The way [violent crime] is prosecuted now doesn't work," Bragg said, calling current practices "overly punitive" while also saying that it "doesn't do enough for victims." He promised that the decisions of his office would be "survivor-focused and trauma-informed," including an "opportunity for survivors to confront" perpetrators. He said "we have to deal with this as a systemic issue," because "trauma affects us all."
Bragg also promised to hire formerly-incarcerated individuals to work in the office to help others with reentry post-incarceration, saying "those closest to these issues know them best." He also said he was "proud to stand with those calling for a $1 billion reducation" in the NYPD's budget, saying that the NYPD "dealing with homelessness and mental health does not make us safer."
Tali Farhadian Weinstein
Tali Farhadian Weinstein recounted her own personal experiences as an immigrant and said "that remains my framework for how I view the work." She says that experience has led to her "to want to tear down barriers because I know what it's like to stand on the other side." She said she would bring the practices of the Brooklyn DA's office, which she calls a "national model of progressive prosecution" across the East River to Manhattan.
She said "crimes against women and gender-based violence has not gotten the attention it deserves" from the Manhattan DA's office, and that change would "require extensive retraining" in addition to "moral courage and commitment."
When asked about alternatives to incarceration, Farhadian Weinstein said she would import practices from the Brooklyn DA's office, where she worked until recently, such as a diversion program for first-time gun offenses. Under such a program, participating in mental health counseling or job training could result in charges being dismissed.
On gun violence, she said, "we have excellent gun safety laws yet gun violence is still going up." She would work with state and federal partners to "stem the flow of gun trafficking" into the city, she said, as well as removing guns from domestic abusers and enforcing red flag laws.
When asked about a dangerousness standard being used to determine bail, Farhadian Weinstein said it's "a system that better achieves public safety" than cash bail, specifically the need to keep domestic abusers away from their victims.
Janos Marton
Janos Marton takes pride in having the most aggressive decarceration policy in the field. He has a campaign pledge to decrease the pretrial incarceration rate by 80%, which he calls a "real commitment." He said "that's something that we can be held accountable by the community for" because of his plan's specificity.
Aside from the decarceration pledge, Marton said his campaign has published more policies "than any other candidate." He highlighted his latest plan to "use resources from the financial forfeiture fund for community-based mental health-care," which he described as a "change approach." He said "We can do much better in this city than letting people struggle in the streets."
A longtime leader of the push to close the Rikers Island jails as director of policy and campaigns at JustLeadershipUSA, Marton has also spoken out against the new local jails proposal. "No issue is more important to me," he said, adding, "I believe we can close Rikers without building new jails if we've implemented the reforms I've proposed."
Marton is also an advocate for defunding the police, saying resources could instead be used to "invest in programs that truly keep people safe." He highlighted that he organized a letter among candidates earlier this year calling for $1 billion defunding of the NYPD budget.