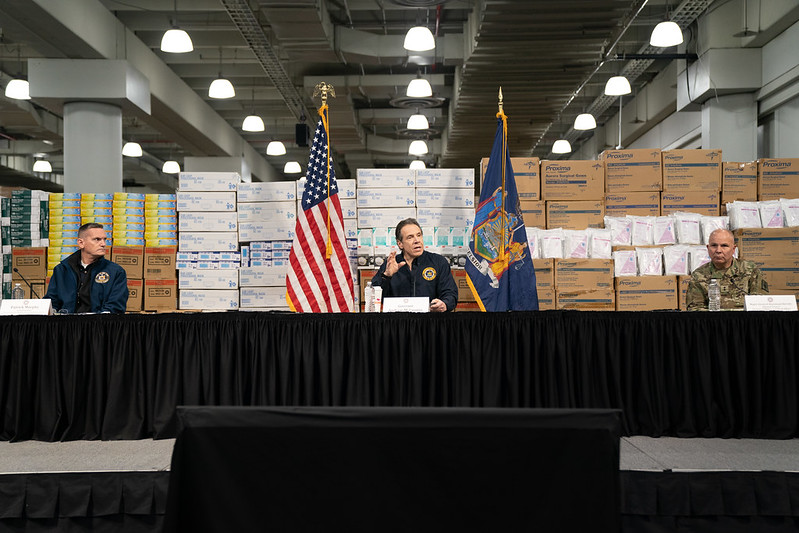 Gov. Cuomo at a covid briefing (photo: Governor's Office)
---
New York City has spent its entire $1.4 billion allocation from the Coronavirus Relief Fund, a key portion of the federal CARES Act relief package that expires at the end of the month. The state government is far from spending its own, much larger allotment from the fund, but officials say it will identify eligible spending without having to return money to the federal government.
Many other states and localities have been struggling to distribute the funding, wrangling with strict eligibility requirements, often set at the state level, even as they face fallout from the pandemic-induced economic crisis. In September, the Treasury Department clarified that the money had to be spent on activities that occurred between March 1 and December 30, but that the spending could take place after the year-end deadline.
The Coronavirus Relief Fund (CRF) is a $150 billion stimulus program to be used directly by state and local governments out of the $2.3 trillion Coronavirus Aid, Relief, and Economic Security (CARES) Act, the third federal pandemic relief bill. In March, Congress allocated $5.1 billion of the CRF to New York State and another $1.4 billion to New York City. The money can be used by state, local, and tribal governments on any "necessary expenditures" related to the public health crisis that had not been previously budgeted.
According to the Office of the State Comptroller, the state has spent roughly a quarter, $1.4 billion, of the $5.1 billion CRF allocation as of December 7. That money breaks down into $838 million for non-personnel costs, like supplies and utilities, and another $555 million in personnel costs, including salaries and benefits. Based on a September report from State Comptroller Tom DiNapoli, at least 40% of the personnel service costs and fringe benefits have been spent by State Police, and more than 95% of non-personnel costs have been spent by the state Health Department. (Neither agency provided Gotham Gazette with a breakdown of those expenses despite requests.)
Close to $3.7 billion of the CRF was unspent as of December 7, according to figures provided by the Comptroller's office to Gotham Gazette.
But in response to a Gotham Gazette inquiry in mid-November, Freeman Klopott, a spokesperson for the state Division of the Budget, wrote, "The state has fully allocated the $5.1 billion in CARES Act funding provided through the Coronavirus Relief Fund, which can only be used for narrowly defined COVID-related costs and the state will spend every dollar on eligible costs related to the pandemic response, including personal protective equipment, testing statewide, and contact tracing."
The state has identified roughly $7 billion in expenditures that could be covered by CRF and is looking for other revenue sources to make up the nearly $2 billion balance, according to Robert Mujica, the state budget director, at a December 2 press briefing with the governor.
"The CARES Act funds expire on December 30, so we'll fully allocate the full 5.1 [billion dollars] and then the additional funds we are looking for [are] other revenue streams, FEMA reimbursements, and if not they'll just add to our [budget] gap," Mujica told reporters. "Currently we're waiting for the federal government to provide additional resources to deal with that revenue gap."
On Tuesday, Klopott indicated that final decisions about CRF spending had yet to be made, but echoed Mujica's point. "The state has approximately $7 billion in eligible spending for the $5.1 billion we received from the CARES Act, including potential personnel costs, and we will make a determination on which eligible expenses to apply to this funding that maximizes our use of this and other potential federal funding streams," he wrote in an email.
"Final classifications of disbursements charged to the Coronavirus Relief Fund are under review by the Division of the Budget," wrote a spokesperson for DiNapoli in an email Tuesday when asked about the discrepancy between the office's figures and the response from the Division of the Budget. The DiNapoli spokesperson reiterated that $1.4 billion had been "charged to New York State's allotment" of the CRF.
In recent weeks, Governor Andrew Cuomo has made a push to identify expenses that would be eligible under the CRF, seeking to free up funds through executive order, and assuring the public that the money will not have to be returned to the federal government. Various interest groups and the elected officials that rely on them for support have been pushing the governor to spend the remaining funds. Meanwhile, Cuomo has been withholding billions of dollars in local aid while the state has a sizable cash balance, per DiNapoli's office, and the governor continues to lobby for more federal funds.
On December 2, Cuomo announced he would sign an executive order to expand eligibility and reopen applications for the state's COVID-19 rent relief program, which provides a one-time rental subsidy from a CRF allocation of up to $100 million. At the time of the announcement, only $40 million of the available funds have gone to renters and landlords. As Gothamist first reported in November, about 57,000 applicants have been rejected, with another 22,000 pending as of the end of October, and only 15,000 accepted statewide.
"By executive order I'm going to change the law. I've spoken to the legislative leaders about this - reopen the application window, extend the eligibility requirements to help more New Yorkers," Cuomo said.
Some lawmakers and nonprofits, which have been struggling to maintain expenses while often providing new pandemic services in a contracted economy, have called on the state to release funds from the $5.1 billion coffer to cover expenses like personal protective equipment (PPE) and facility modifications. In late November, State Senator James Sanders Jr., a Queens Democrat, wrote a letter to the governor signed by dozens of other state legislators and business groups urging Cuomo to use unspent funds from CRF on small business grants.
"There is still nearly $2 billion in unspent NY Cares Act funds available of the initial $5.1 billion in federal funding," the letter reads. "New York should spend CARES Act funds for the purpose of grants to small businesses around the state."
In a survey of 500 minority- and women-owned businesses published in July by New York City Comptroller Scott Stringer, 85% of businesses said they would not be able to stay in business without additional funding or legislative assistance.
The Sanders-led letter notes that other states, like Ohio, have used CARES Act funds for small business grants, although it is unclear if those funds came from CRF.
While the bulk of CRF went to states, local governments with populations over half a million can receive allocations directly. Under that provision, New York City received more than $1.4 billion. Suffolk, Nassau, Westchester, Erie, and Monroe counties, and the Town of Hempstead combined got close to $950 million, according to the state comptroller's office -- all of which, like the state's $5.1 billion, must be spent on activities that took place prior to December 30.
New York City
According to a spokesperson for Mayor Bill de Blasio's Office of Management and Budget, all $1.4 billion in CRF funds to New York City has been spent and the city does not expect to have to return any to the Treasury Department.
Of the CRF, $1.2 billion was budgeted for Fiscal Year 2020, which ended June 30, and another $215 million in Fiscal Year 2021, which began July 1. Another $4.7 billion has been budgeted from other federal sources, like FEMA, other CARES funding, and the Families First Coronavirus Response Act, which has a December 31 cut-off date, according to the U.S. Department of Labor website. The de Blasio administration spokesperson would not say what other funding streams are subject to cut-offs, but noted "varying deadlines." The administration expects all of the expenses to be reimbursed by the federal government, the spokesperson said.
Hazel Crampton-Hayes, a spokesperson for Comptroller Stringer, told Gotham Gazette close to $80 million CARES Act claims had been spent by the city but not yet reimbursed by the Treasury, although it is unclear if any of these expenditures came specifically from CRF. A spokesperson for the Mayor's Office of Management and Budget could not confirm the comptroller's figures, which had been pulled from the city's Financial Management System, according to Crampton-Hayes.
It is unclear how much, if any, of the state's $5.1 billion CRF allocation will be spent on programs within New York City. In response to Gotham Gazette inquiries on the state's spending in the five boroughs, Klopott, the state Division of the Budget spokesperson, wrote, "We are using the CRF funds to support the pandemic response statewide."
Total Federal Aid to New York
The total federal aid New York and New Yorkers have received -- including to the state itself, localities, organizations, and individuals -- dwarfs the CARES Act funding. According to Matthew Ryan, a spokesperson for State Comptroller DiNapoli, citing figures from the national nonprofit Federal Funds Information for States, New York received at least $31 billion additional grant funding and $118 billion in non-grant funding to individuals, businesses, and other entities as of November 24.
The grant funding went to myriad programs focused on education, health care, transit, and economic development. Non-grant funding included unemployment benefits, business loans through the Paycheck Protection Program, and access to borrowing for state government.
"The Office of the State Comptroller has approved unemployment benefit payments of more than $54 billion since March 1, with most of that from the expanded benefit programs provided by the federal government," Ryan wrote in an email in late November.
The state nevertheless faces a $10 billion budget gap after projecting an initial revenue shortfall of $14 billion earlier this year. While federal stimulus bills passed in the spring have been a boon to state finances, partisan gridlock in Congress has nearly eliminated hope for more federal aid in 2020, though negotiations are ongoing.
"The federal government has failed to provide New York and other states impacted by COVID-19 with assistance to offset any of the resulting revenue loss," Klopott of Cuomo's budget office wrote in an email in November, "which amounts to $30 billion over two years for New York State – funds that would be used to support hospitals, schools, and services for the vulnerable."