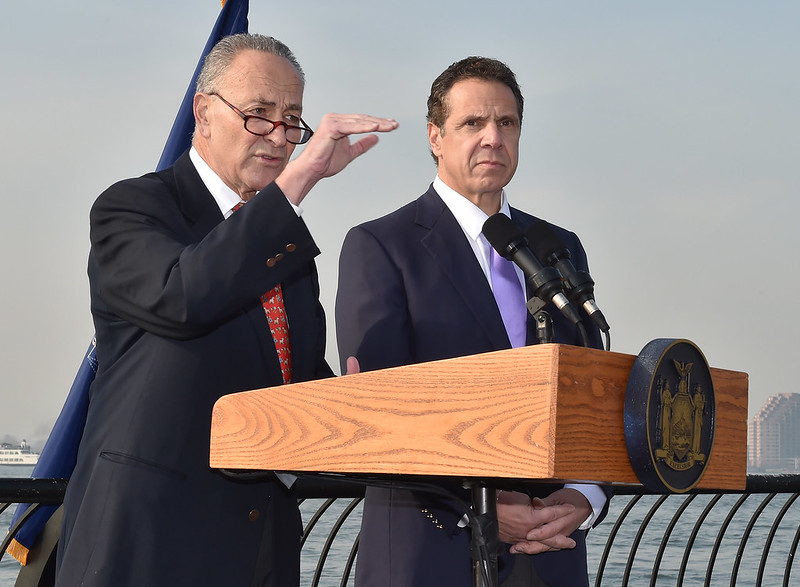 Senator Schumer and Governro Cuomo (photo: Kevin P. Coughlin/Governor's Office)
---
Joe Biden's victory in the 2020 presidential election brought the collective nightmare of the Democratic Party to an end after four years. But the celebration was muted given the party's majority in the House of Representatives diminished and, more importantly, the fate of the U.S. Senate remained undecided despite grand Democratic hopes for taking the chamber. The near- and long-term implications for New York are immense given the size of the federal aid package that it -- including state and local governments, especially New York City, governmental authorities like the MTA, businesses, nonprofits, and people -- is hoping for from a President Biden and Democratic Congress.
So much, including the success or failure of Biden's broader, ambitious agenda, which will have major ramifications for New York, hinges on the results of two simultaneous Senate runoffs in Georgia, which has for many years elected Republicans to the upper house of Congress, that will be decided in early January, just days before Biden is inaugurated.
It's not an exaggeration to say that tens of billions of dollars in pandemic-related aid to New York, and much more in terms of policy and future appropriations, could be on the line in Georgia, and it appears many New Yorkers are well aware and are taking action.
Democrats made a net gain of one in the Senate after the party flipped two seats in Arizona and Colorado but lost one to Republicans in Alabama. The Democratic Party now holds 48 seats to the Republican Party's 50. In order to pass any major legislation through the Senate, should Republicans vote strictly on party lines, Democrats will need to win both seats in Georgia to hold half the legislative chamber. In any tie in the Senate, the vice president -- soon to be Democrat Kamala Harris -- casts the deciding vote.
The last Democrat to win Georgia in the presidential election was Bill Clinton when he was first elected in 1992. Four years later, when he ran for reelection, he lost the state to Republican presidential candidate Bob Dole. The state has not had a Democratic Senator since the late Zell Miller, who held the seat between 2000 and 2004.
This year, Biden broke that losing streak and won Georgia with 2.47 million votes to President Donald Trump's 2.46 million, a margin of only 12,670 votes or 0.25%.
The two Senate races were inconclusive since none of the candidates crossed the 50% vote threshold required by Georgia election law. The races are headed to a January 5 runoff election – with in-person early voting beginning Monday, December 14 – in which incumbent Republican Senators David Perdue and Kelly Loeffler are being challenged by Democrats Jon Ossoff and Rev. Raphael Warnock, respectively.
Democrats from around the country know that much of Biden's agenda depends on control of the Senate and have aimed all their resources on the two races. Here in New York, local, state and national elected officials are pulling out all the stops to achieve those victories. Congressional leaders have been sending out fundraising pleas to their supporters, progressive groups have held phone-banking and text-banking events and have been registering voters.
"The two Senate elections in Georgia have a direct relation to the lives of New Yorkers," said Bill Neidhardt, press secretary for Mayor Bill de Blasio, in an email. "This will determine the Senate majority, which means it will determine if New Yorkers get the stimulus we need, let alone the progressive policies they could pass afterwards."
If Democrats do win both seats, U.S. Senator Chuck Schumer from New York would go from being the minority leader to holding the Senate agenda in his hands. Last month, after Biden was finally declared the winner four days after Election Day, Schumer said, "Now we take Georgia, then we change America!"
That prospect has Republicans in Georgia and elsewhere worried, and they've used the Schumer video clip in attack ads against Warnock and Ossoff, warning their base about "radicals" taking over the government. The Republican National Committee is also spending about $20 million on the election. In Georgia, however, both Democratic candidates are relatively moderate – for example, neither has backed policies like the Green New Deal or Medicare for All that are associated more closely with the progressive wing of the party.
At a Crain's New York Business forum last month, Schumer even said the party would let Georgia Democrats be the face of the campaigns. "We're leaving the Georgia campaign to the Georgia folks...Their side [the GOP] is trying to nationalize it. We're making it a Georgia-run campaign," he said.
The first priority for Democrats is another federal stimulus package, particularly one that will provide aid to state and local governments that have seen their economies devastated by the coronavirus pandemic, leading to major job loss, business closure, and tax revenue drops. New York State needs as much as $60 billion over the current and next fiscal years to fill the state government's budget hole, provide the necessary level of funding to municipalities, and to keep the Metropolitan Transportation Authority afloat without drastic cuts to subway, bus, and commuter rail services and personnel layoffs.
"If we want to increase our chances of having a better 2021 and beyond, we need more help from the federal government," said State Assemblymember Michael Blake, a Bronx Democrat and vice chair of the Democratic National Committee. "We want that help from the Fed, we need to have people that actually want to help us." Blake recently hosted a virtual conversation and fundraiser with Warnock, a statewide prayer call with Georgia clergy, and has been helping boost the candidate on social media.
A number of other elected officials have also used their platforms to provide assistance. Rep. Nydia Velazquez and Representative-elect Ritchie Torres have been using their supporter lists to solicit donations for the two candidates and to promote voter registration drives in Georgia. Rep. Alexandria Ocasio-Cortez, who has built a massive following on social media, took to Instagram to stress the importance of the runoffs.
Republicans in the Senate have been reluctant to approve as large a stimulus package as Democrats are demanding, leading to a months-long deadlock. The House-passed HEROES Act, worth a total of $3 trillion and passed May 15, has not been taken up by Senate Majority Leader Mitch McConnell and no three-way deal among the two legislative majorities and President Donald Trump has been reached on any aid package since the CARES Act in March.
New Yorkers have continued to suffer in that time, particularly after the additional weekly federal unemployment assistance of $600 ended on July 31, and the state is now well within a second wave of the virus that threatens to shut down parts of the economy again. Unemployment in the state, especially the state and federal "economic engine" of New York City, skyrocketed then came back down somewhat, while hundreds if not thousands of businesses have shuttered, people are struggling to put food on the table or pay rent, and governments are facing the potential of laying off many thousands of workers.
Democrats in the House have considered compromising with the Republican Senate to approve a $908 billion package as a stopgap measure, before pursuing another package after Biden is sworn into office. One of the key sticking points has long been that Republicans are reluctant to plug state and local government tax revenue holes, the largest of which exist in New York, which had the worst covid outbreak thus far and economic devastation to match.
In a desperate plea, New York's elected leadership including Governor Andrew Cuomo, Senate Majority Leader Andrea Stewart-Cousins, Assembly Speaker Carl Heastie, Mayor Bill de Blasio and several labor leaders called on the state's congressional delegation to ensure the state receives its fair share of those funds if such a compromise is reached.
"New York has the highest number of deaths in the nation and has among the highest number of unemployed people in the nation because COVID came to New York before the Trump Administration even acknowledged COVID's presence on the eastern seaboard," they wrote in a letter on Wednesday. "Federal funds should not be distributed politically but rather distributed by need and damage. By any fair estimate, New York is the economic engine of the United States, a fact that should be recognized in any federal legislation intended to jumpstart the national economy, and no state was damaged to the extent that the federal government damaged New York."
Without sufficient federal aid, Governor Cuomo and the Democrat-led Legislature have tough choices ahead. Either they will have to make major cuts to local aid, which will most impact funding for education and health care, or find new ways to raise revenue. Legislative leaders have emphasized that wealthier New Yorkers should pay more in taxes, though they've taken no action to do so, while the governor has long been averse to tax increases, insisting that they will simply incentivize higher-wage earners to leave the state.
"January 20th we are going to have a President that will be looking to actually help us and not hurt us. It is equally important to have a U.S. Senate led by Senator Schumer. These special elections in Georgia are crucial," said State Senator Andrea Stewart-Cousins, the Democratic majority leader, in a statement to Gotham Gazette.
One of the most significant aspects of the federal aid package will be the amount of funding for mass transit. The MTA is already threatening increased fares and reduced service, along with layoffs, as it looks for a way to make up for $12 billion in lost revenue because of the pandemic.
Beyond the stimulus package, Blake said the next Congress will also have to handle the Herculean task of ensuring an equitable and effective vaccine distribution plan to combat the pandemic. He noted that Perdue and Loeffler couldn't be trusted with that task, pointing to the controversial stock trades the two Senators made when the coronavirus began to take hold in the country, earning them accusations from Democrats that they were profiting off the pandemic.
"Given the history of [the Tuskegee Syphilis Experiment], given the history of what's happened in this country, do we want someone in Loeffler and Perdue who, when they learned information, what they first thought about was making money for themselves?" Blake said. "Or do we [want] Ossoff and Warnock who are going to be a part of the process to make sure there's equity when it comes to distribution?"
Biden's broader national agenda also includes a $2 trillion infrastructure plan that would be crucial for New York to build everything from housing to climate resiliency and green energy projects. He's promised to create a $100 billion affordable housing fund which could provide the state, and particularly New York City, with support it needs to fight a housing affordability crisis that has deepened over the years. And there is always the question of federal funding for NYCHA public housing, which is in deep disrepair.
"New Yorkers are clear that a full recovery that we need from the COVID crisis, the economic crisis, relies on a robust strategy led by Democrats at the national level," said Sochie Nnaemeka, New York State director of the Working Families Party.
The WFP is a national organization with its base in New York and a presence in Georgia as well. It is among the many national groups like MoveOn and Sunrise Movement and local organizations like the Manhattan Young Democrats and Persist Brooklyn that have turned their attention to the Senate runoffs, providing what support they can to help the two Democratic candidates succeed.
"New York was ground zero for COVID and we are still waiting for adequate relief from the government for small businesses, for working people, for excluded workers who are not getting by in this moment in New York State," Nnaemeka said. "The federal government and what Congress does or does not pass directly impacts working people here in New York State."
Brooklyn City Council Member Brad Lander partnered with Persist Brooklyn, a local progressive group, and the Working Families Party for a recent phone-banking and fundraising effort for Ossoff and Warnock. In a phone interview, Lander pointed to the dire need for aid to states and cities as a chief concern. "We've already made cuts to sanitation services and parks staffing and summer youth jobs and making any more would be devastating. But if we don't get federal aid, you know, really hard choices will have to be made," he said. "And the city suffers doubly, because not only do we have our own deficit, but the state has an even worse deficit. If they don't fill it, they're going to pass more cuts on us. So we'll get hit twice."
Almost daily, new announcements are coming from Democratic elected officials, activists, and political clubs for ways New Yorkers can get involved in the Georgia elections. On Monday, Queens Assemblymember Catalina Cruz emailed her supporters to announce an upcoming phone-bank along with New Visions Democratic Club and the Lesbian & Gay Democratic Club of Queens. "Polling shows these two races are in a statistical tie," Cruz's email said, "so we have to make sure we're doing everything we can."
While they appear less active around the Georgia elections given their smaller presence in the overwhelmingly Democratic city, New York Republicans are also paying attention to what happens in the Peach State, of course. A recent email blast from the New York Republican Party passed along a pitch from the Young Republican National Federation (YRNF) asking for donations to "deploy young Republicans into Georgia."
"The Democrats are targeting the Senate Majority!," the YRNF email says. "We can save the Senate and, in turn, save America from extreme socialist policies, but we need your help."
Ben Max contributed to this story.