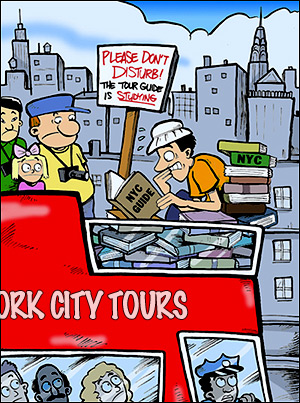 ---
Three articles in this series:
•
Testing The Tour Guides
•
The Tour Guides Complain
•
Test Your NYC Knowledge
---
What is the tallest building outside of Manhattan? Is the Ansonia Hotel famous for its performing seals or a rooftop farm? Which famous New Yorker invented the telephone - Alexander Graham Bell, Giuseppe Garibaldi or Antonio Meucci?
To be an official New York City tour guide you not only have to be able to answer these kinds of questions, but to expound on the topic with details, dates, and lore - and wow out-of-towners and native New Yorkers alike.
New York is one of the few cities in the United States that requires tour guides to be licensed. But when I took the tour guide licensing examination years ago, it became apparent that the source material used was out of date. Fortunately, I caught the errors in the test and was able to prove my case. My experience was far from unique.
As bad as the errors was the assumption in the test that being a tour guide was an endless litany of sound bytes. A tour guide can never be effectively replaced by an audiotape, though you would not have known this from the old test.
That is why I was happy to accept the assignment from Consumer Affairs Commissioner Gretchen Dykstra to construct a new examination for tour guides. It took me over two months of long days and nights, until my mind was swimming, and questions would come to me in dreams.
Many issues needed to be addressed in the new examination. Since there are no "official" training programs for New York City tour guides, applicants often demonstrate a wide range of backgrounds, orientations, and knowledge. To resolve this disparity, there are suggested readings from several major tour texts: Gerard Wolfe's New York: 15 Walking Tours, the classic Blue Guide New York, or Christine Metzger's New York. In addition, there are several New York City web-sites strongly recommended for study purposes.
All questions on the tour guide licensing examination are mini-commentaries, so that the tests become a learning tool. Each question includes a little "story" that will hopefully become part of a sightseeing guide's tour presentation.
Tour guides must be able to speak fluently on a range of topics from screen idols to architecture and from fine art to fine dining. A tour guide must be knowledgeable and flexible to accommodate the widely varied needs of different audiences. That's not all. As the chief representative of the client, a tour guide must direct the bus driver, interface with clients, resolve emergencies, know where buses may legally drive, coordinate admissions, make lunch recommendations, and find the elusive clean restroom - all while creating an imaginative route and providing sparkling commentary. (Not bad for a position that, in some major quarters, pays less than $13 an hour)
That is why the 150 questions on the examination cover a wide range of topics, among them:
Legal Tour Bus routes / Legal Passenger pick-up/drop-off locations
General New York City Knowledge
New York City History
New York City Neighborhoods and Landmarks
Ethnic Studies and Immigration
Museums, Art, and Culture / Music, Theatre, and Dance
New York City Literature
Religion and Religious Sites
Architecture and New York City Planning
Ethnic Foods
Public Sculptures of Noted People
Residences of Noted People and "Walks of Fame" in the City
A number of tour guides, including experienced professionals, have voiced several concerns about the test. [See The Tour Guides Complain by Norman Oder]. Commissioner Dykstra has indicated that she has already moved towards addressing these concerns. I also feel that some seem to have misunderstood the intentions of the commissioner.
The new professional licensing examination will not be an easy one for those unfamiliar with the city, but it should present few problems to the majority of experienced and dedicated tour guides. The goal of the test is to enhance the quality of tours, and thus increase the public understanding and appreciation for the glories of New York City.
I designed the following quiz especially for Gotham Gazette readers who want to challenge their own New York savvy. They are not the exact same questions as those offered in the professional licensing examination for tour guides, but they tap into the same vast treasure trove of New York City legends and lore. "I should like to live a lifetime on every street in New York," the short story writer O.Henry once said. "Each house has a drama in it."
Justin Ferate, formerly the director of tour services for Gray Line New York, has been offering tours of New York for more than 20 years.
Books and websites for tour guides
---

Three articles in this series:
• Testing The Tour Guides
• The Tour Guides Complain
• Test Your NYC Knowledge