Should trolleys – now re-christened as "light rail" – return to 42nd Street for the first time since they were replaced by buses 59 years ago? The idea, which has been around for at least two decades, was approved by the City Council in 1994 but died when then-Mayor Rudolph Giuliani withdrew his initial support.
A private group of urban and transportation planners and architects, calling itself vision42, resurfaced the idea of a 42nd Street light rail line recently with the release of a set of planning and economic reports. The reports, funded by an anonymous donor, set out an ambitious vision for 42nd Street as a tree-lined, pedestrian-friendly enclave running from river to river. Train tracks would be installed on a landscaped pedestrian boulevard. Unlike the 1990s plan approved by the City Council, the street would be closed to traffic. Futuristic low-floor light rail vehicles would replace taxis, buses, trucks and cars that now dominate the street. This famous east-west artery in Manhattan would join Fulton Street in downtown Brooklyn and Nassau Street in lower Manhattan as car-free streets.
Making The Dollars And Cents Argument
While all of this might sound much too nice to be New York, the advocates of the proposal, which would cost up to a half billion dollars to construct, make a dollars and cents case for light rail on 42nd Street. They start by computing time savings gained from replacing buses with light rail. A commuter traveling from the Port Authority Bus Terminal to Fifth Avenue, for example, would save up to five minutes on their commute.
In Manhattan, time is money. Office and commercial space that is closer to transit lines is more valuable than space further away. That simple observation is the basis for Mayor Bloomberg's proposal to extend the #7 train to the West Side. Time savings from a 42nd Street trolley would mean that property values for owners of offices, retail stores, residential buildings and vacant lots would increase by a whopping $3.5 billion, according to the economic study prepared by the consulting firm Urbanomics. The largest benefits would occur between First and Third Avenues, with property values also rising along Fifth and Sixth Avenues.
Rising property values are also good for New York City and New York State, which are projected to take in $277 million in additional taxes annually from property, personal income, corporate franchise and commercial rent taxes.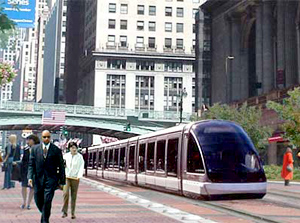 An illustration of the "light rail."
Complications – Traffic, Construction, Expense
The vision42 group presented the light rail studies at the Marriott Marquis Hotel in Times Square earlier this month. Questions about the studies came primarily from area residents who were concerned about increased traffic on surrounding streets and access to parking garages.
The traffic study projected that traffic impacts would be greatest west of Sixth Avenue on 40th Street and 44th Street during the morning rush hour. These streets would absorb traffic from the Lincoln Tunnel and West Side Highway that now uses 42nd Street. During the afternoon rush hour, traffic impacts would be heaviest on Eighth and Tenth Avenue with some but lesser impacts on 40th, 43rd and 44th Streets.
Notably, area residents took little note of possible benefits to them, which would be especially pronounced to those who live several blocks from the nearest subway line -- perhaps in part because presentations focused on benefits to commuters.
The primary construction cost is moving the utilities that lie underneath the street. As one might imagine, 42nd Street is not only a main conduit for traffic but also for sewer, water, telephone, electrical and gas lines. There are even abandoned trolley ducts under the pavement. Utilities need to be moved so that future utility cuts do not interrupt light rail service. Also, the vibrations from the trains can cause damage to some utility lines.
Utility relocation is an expensive proposition – estimated by an engineering firm at $319 million of the $510 million cost of construction. It might be possible to relocate only some of the utility lines, reducing the relocation costs to $189 million, but that figure would still be about one-half of total construction costs.
Why Not A Bus?
The costs of utility relocation raise the question of why not use rubber-tired vehicles instead of light rail vehicles that rely on tracks? With huge increases in bus ridership since the MetroCard free transfers between buses and the subway took effect, haven't New Yorkers proven that they will ride buses? Without tracks to worry about, a car-free bus mall would not require any utility relocations. Another advantage is that 42nd Street could be integrated with bus routes on North/South avenues. New York City Transit could run a bus rapid transit service on First and Second Avenues, for example, that would turn onto 42nd Street – a useful step until the Second Avenue Subway is built.
George Haikalis, a transportation planner and co-chair, with the architect and author Roxanne Warren, of vision42, cites several advantages of light rail over an improved bus service. Haikalis fears that without rail tracks, some vehicles will be allowed onto 42nd Street, and those vehicles would block the bus lanes – a problem that certainly does occur at times on Fulton Street in Brooklyn. Haikalis also cites the smoother ride of light rail vehicles over buses and that low-floor light rail vehicles do not need the large wheel wells of low floor buses. Passengers also like the certainty that rail vehicles will stay on the tracks and not unexpectedly divert to some unpredictable destination, a consideration that affects visitors more than residents or commuters.
What Needs To Be Addressed For It To Happen?
Many other issues would need to be addressed if the light rail plan moved forward. Further work is needed on traffic issues, deliveries to buildings on 42 Street and related implementation issues. More basically, who would fund the project? Who would operate the service – the Metropolitan Transportation Authority, the city, or a private company franchised by the city (as was the plan a decade ago)? Could riders use MetroCard to pay the fare – and how would the "proof of payment" system proposed for the line work in a New York environment?
Does a 42nd Street trolley have a future? Currently it lacks any depth of support in the civic community, which is focused on the Second Avenue Subway, East Side Access and lower Manhattan redevelopment. Mayor Bloomberg is focused on extending the #7 train, building the Jets Stadium and winning the Olympics. Although Manhattan Borough President Virginia Fields sponsored the recent meeting, she has not endorsed the project, nor have other elected officials or the Metropolitan Transportation Authority.
The 42nd Street light rail may need to wait a while before its day comes, if it ever does. In the meantime it will be yet another example of how many stars need to align before even a relatively modest transit construction project moves toward reality.

Bruce Schaller is head of Schaller Consulting, which provides research and analysis about transportation, and is also a Visiting Scholar at the Rudin Center for Transportation Policy and Management at New York University.Â