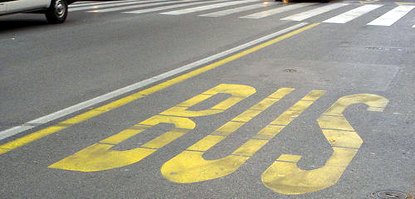 "No one has done more to preserve, protect and defend gridlock in New York City than Assemblyman David Gantt (D- Rochester), and Tuesday he made sure that bus riders are condemned to commuting at a crawl," the Daily News said earlier this week after Gantt, the chair of the Assembly's Transportation Committee, effectively killed a bill allowing enforcement cameras for city bus lanes, at least for this legislative session.
Gantt blocked a bill (S7229 Golden / A10233 Bing) championed by Mayor Michael Bloomberg, as well as scores of New York City advocacy groups, that would have allowed the city to use cameras to enforce restrictions designed to keep cars and trucks out of bus lanes. Supporters saw the measure as key to the success of the bus program. "Bus lane enforcement cameras are a key element to keeping bus lanes clear and bus riders moving," said a memo by the Campaign for New York's Future, an umbrella group of city advocates.
Both the mayor and advocates were disappointed.
"Gridlock will not simply disappear on its own," said a spokesman for the mayor. "The lack of action without any explanation ... means that transit riders can expect slower buses and longer commutes."
Wiley Norvell, a spokesman for Transportation Alternatives was a bit more pointed: "Twice this spring," he said, referencing the Assembly's recent decision to not even vote on congestion pricing, "Albany has been offered the opportunity to decongest our streets and get our city's 2.7 million bus riders moving. Twice they've stood in the way. After an unprecedented year focusing on the city's transportation crisis, we're left wondering if our legislators even grasp the problem."
So What is the Problem?
Gene Russianoff, senior attorney at the Straphangers Campaign, frequently says that it takes less time to get from New York to Philadelphia on Amtrak than to go from Harlem to City Hall on the M-15 bus.
Russianoff, of course, is an advocate with an agenda. But sweltering Staten Islanders standing around X-1 stops in Midtown express almost identical sentiments.
"On a bad day, and there are a lot of bad days, it's usually around two hours. On a terrible day, I've been onboard and standing for more than four hours," said Jim Litterelle, a financial consultant who has commuted from New Dorp, Staten Island to Midtown Manhattan for the past five years. Four hours, by the way, is more like an Amtrak ride from New York to Boston.
Litterelle's story is by no means unique. Many of city's bus commuters have contended with multi-hour traffic tie-ups for years. The Straphangers Campaign and Transportation Alternatives have been doling out Pokey Awards to New York City's slowest buses since 2002, and "changes in bus speeds since 2004 have generally been too minor to demonstrate significant trends," according to the Pokey's most recent press release.
Speeding the Buses
The Metropolitan Transportation Authority, the city Department of Transportation and advocates, however, have seen the glimmering of a green light at the end of the congested tunnel. The city's first Bus Rapid Transit project, called Select Bus Service, is scheduled to start along the Bx 12 route in Northern Manhattan and the Bronx on June 29. With enhanced bus lanes, payment before boarding, increased spacing between stops, and priority for buses at traffic lights, many believed this new route, along with four other planned Select Bus Service corridors, would act as surface subways, providing a faster, more reliable and appealing bus commute.
Bus lane enforcement cameras were a crucial part of the Select Bus Service plan.
"Bus Rapid Transit needs to be rapid and for that to happen we need an easy way of keeping autos out of the bus lane. Cameras are a simple way of making that happen." Russianoff said.
Judging by the success of bus lane cameras in London, Russianoff is right. Since the technology was first deployed there in 1997, the length of average bus trips was reduced by 10 minutes, wait times decreased by 15 percent, bus speeds increased by 12.6 percent, and bus lane violations decreased by 60 percent, according to the most recent Transport for London reports.
According to a Department of Transportation briefing memo, depending on the bill's final language, the cameras, which would be used exclusively along the Bus Rapid Transit demonstration corridors, could be installed on buses, at fixed locations or on mobile units along bus lanes. Between 7 a.m. and 7 p.m., the cameras would capture photos or videos of vehicles violating bus lane regulations. The owner of the offending vehicle would receive the equivalent of a parking ticket in the mail. No points would be assessed against the driver.
In many ways, bus lane enforcement cameras would be similar to the city's red light camera program, which has had a great deal of success since implemented in 1994. It has not only saved traffic officers time, but early studies showed a 40 percent to 60 percent reduction in speeding violations and a 24 percent reduction in injuries where the cameras were installed.
The Opposition
Civil liberties advocates have traditionally voiced concerns about the deployment of cameras for enforcement purposes. The New York Civil Liberties Union carefully watched this particular bill and decided it could accept it. "We talked a lot of things through with city DOT and developed a good framework for addressing privacy concerns," said the group's legislative director, Bob Perry. "We would not oppose the bill. We would offer support with amendment, because we felt we were engaged in a good faith effort to get privacy principles reflected in the bill."
Gantt has long opposed traffic enforcement cameras, often citing privacy concerns as his reason. But, with such a blessing from reputable privacy advocates, what concerned him this time around?
To add to the confusion over his thinking, the Assembly member recently introduced a piece of legislation that "would allow any community in New York State to install red light cameras ... and to boost government revenue from fines levied on violators," according to a recent article in the Poughkeepsie Journal.
Gantt did not respond to multiple requests for comment, but several news outlets (click here and here) have reported that his red light camera legislation was written as a "contract bill," a bill that favors a particular lobbyist. Robert Scott Gaddy, Gantt's former counsel and the principal of Excelsior Advocates LLC., represents CMA Consulting Services, an Albany-based company vying for the state's red light camera contract. This, by the way, is not the first time that the press has suggested that a piece of Gantt's legislation is a "contract bill" favoring Gaddy and CMA.
To further twist this tale, a staffer in Gantt's Rochester office said that Gantt has never supported any type of traffic enforcement cameras. The staffer said that, although he could not speak for the Assembly member, there is a "slippery slope of automation" and that cameras "might make a mistake," issuing a ticket for a necessary violation and unjustly punishing a driver.
When asked why Gantt would bother to introduce a camera enforcement bill, the staffer responded that, "it was to control the legislation -- to do what he wants with it."
Where are We Now?
Whatever Gantt's reasons for opposing the legislation, it's quite clear that, for now, New York City won't see bus lane enforcement cameras operating along the first Select Bus Service route. For supporters of the plan, this is a heavy blow.
"Without bus lane enforcement cameras Select Bus Service will be good, but by no means as great as it could be," said Norvell. "Perhaps this will make the DOT look at other ways of ensuring the integrity of bus lanes and speeding bus commutes, like physically separated lanes that don't need to be OK'd by Albany"
Others have suggested more radical remedies. Comments on the progressive urban planning Website Streetsblog called for New York City's succession. One individual, writing under the moniker Urbanis, wrote, "I'm outraged. Once again another livable streets initiative for New York City has been stymied because of our corrupt and dysfunctional state legislature in Albany. I feel all transit riders here have been collectively slapped in the face. New York City has been deprived of home rule on so many fronts, ranging from rent regulation to congestion pricing to bus lane enforcement. It's time for us to secede."
Assemblyman Jonathan Bing, who introduced the legislation, gave the New York Times a more measured comment in a similar vein: "This is such a specific New York City issue, it's one of the many things where you wonder why the State Legislature has any role in it at all."
Graham T. Beck is the managing editor of Transportation Alternatives' StreetBeat, and a freelance writer. He lives in Brooklyn. Â