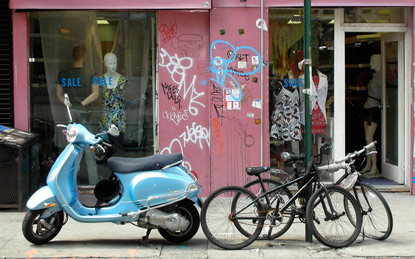 In the first three months of this year, scooter sales nationwide rose 24 percent, and according to the Motorcycle Industry Council, a national trade association, scooter sales in New York City, Long Island, and northern New Jersey grew 310 percent from 1996 to 2005.
With that rise in popularity, scooter riders, or "scooterists," are becoming a more vocal constituency, adding their concerns to the debate over street space, parking and rights to the road that has long served as the proving ground for transportation decisions in New York City.
Naturally, that increase in volume brings boosters and bashers. Many claim that the personal conveyances, which can go 70 to 100 miles on a single gallon of gas, are a long overdue addition to New York City streets, while others point to the dangers to riders, pedestrians and cyclists.
Why Scooters? Why Now?
With the average price of a gallon of gas in New York City hovering around $4.15, up about $1.10 from this time last year, many New Yorkers are looking to drive less or at least drive for less.
The New York Times recently reported that vehicle volumes at Metropolitan Transportation Authority crossings were down 4.2 percent in April, and preliminary data for June shows a similar decline. Meanwhile, bus, subway, light rail and commuter rail all show rider increases of between 4 percent and 9 percent, biking is booming, and the scooter's popularity is surging.
"People [are] coming up to me at gas stations, getting out of their SUVs, and saying, 'Where did you get one of those?'" said Jonathan Perkel, a scooter rider and an organizer for the New York Scooter Club. It costs Perkel only about $8 to fill up his tank.
But there's more to their popularity than gas prices, according to Allison Waters, another organizer for the New York Scooter Club. She thinks many New Yorkers get on scooters so they can avoid mass transit. "You don't have autonomy on the train, but on a scooter you can buzz about, weave through traffic jams, go where you want," she said. "Scooters are small enough to sneak through small spaces and powerful enough to keep pace with traffic on larger roads."
Still others are drawn to scooters because they fit in parking spaces that cars couldn't dream of. Considering that in some New York City neighborhoods vehicles cruising for a parking space account for two thirds of traffic on the street, scooters have the potential to cut congestion.
Scooterists also point out the pleasures of moving about the city in the open. "The air flowing past you, the nimbleness. When you ride through Manhattan you can hear and feel the reaction of people. You don't get that kind of reaction in a car," said Waters.
Street Fights
Despite their practicality and panache, scooters and scooterists are not poplar with everyone.
Environmental groups have expressed some hesitance about the increase in scooter use. Wiley Norvell, a spokesman for Transportation Alternatives, said, "Scooters are obviously a step up from the car in terms of efficiency. That said, we're in a fluid moment in terms of transportation habits. For the first time we have hundreds of thousands of New Yorkers giving up their cars and we want to encourage them to switch to the most city-friendly, environmentally savvy and spatially efficient modes: Biking, walking and transit. If people are going to give up their car, we want them to go all the way."
A Department of Transportation spokesman expressed a similar sentiment, "From our perspective, scooters aren't as clean as mass transit. The primary mode shift we're looking for is from vehicles to transit. That's why we're focusing our efforts on things like Bus Rapid Transit, bike lanes, and pedestrian improvements."
Mike Drury, a cyclist stopped behind a scooter on Sixth Avenue, has more immediate concerns. "Too many of those guys ride like bad bikers," he said. "They don't signal. They're in the bike lane. They weave through traffic. They might be smaller than a car, but they're still big, heavy and dangerous, and riders need to treat them as such."
By law they do. Scooters that can travel over 30 mph, or Class A Mopeds in Department of Motor Vehicles parlance, fall into the same category as motorcycles. This means they must follow the same traffic laws as cars and cannot travel in bike lanes, or park on sidewalks. Scooter operators also need a Class M designation on their driver's license.
Scooterists, worried about having their vehicle knocked over by a parking car or tampered with, sometimes park the scooters -- illegally -- on the sidewalk. There, they compete for precious pedestrian space and make enemies in the process. On Christopher Street, a mother pushing her child in a stroller down a scooter-pocked block said, "They lock them to everything. The sidewalks down here are already too narrow. Sometimes I can't get by and have to push her out into the street. They don't belong on the sidewalk."
The police department agrees. Last October, the blog Brownstoner reported that police were impounding scooters parked on the sidewalk along Third Street in Park Slope. The police also have started impounding scooters parked without license plates, an old trick to keep from getting parking tickets.
Making Room
As more people ride scooters, they need places other than the sidewalk to park them. In 2007, the New York Sun reported that the Department of Transportation was considering setting aside discounted parking for scooters in municipal lots. Although nothing has materialized, scooter advocates are pushing hard and hope that the city can find a way to make garage parking simpler for two-wheeled users. As it currently stands, many garages and parking lots refuse to rent spaces to scooters even at the car rate, sometimes claiming their insurance does not cover the smaller vehicles.
There also have been private efforts to ameliorate scooterists' parking problems. For two months last year the Piaggio Group, which imports the popular scooter brand Vespa, made 48 spaces in lots and garages in Chinatown, TriBeCa, Midtown and the theater district available for free to Vespa riders. During the parking space giveaway, Peter Scanlan, a Vespa rider who took advantage of a free spot near 44th Street and Sixth Avenue told the New York Times, "It's incredible. We win, we win!" Still, one-off events are far from a sustainable solution.
In a 2006 New York Times op-ed, Neil Barton, one of the New York Scooter Club's founders, argued for dedicated street space for two-wheeled vehicles. He pointed to Toronto as a model. There the City Council passed legislation increasing the amount of parking space available for two-wheeled vehicles and made motorcycle and scooter parking free. "Toronto obviously realized that it did more harm than good to punish those who reduced congestion and emissions in the city. It's only a matter of time, I hope, before New York City comes to the same conclusions," Barton wrote.
For now, scooterists are just one of the many voices calling for more respect on New York's chaotic streets. If current gas prices remain high, environmental trends remain and scooterists continue to make their needs known, city officials may take greater notice.
Â