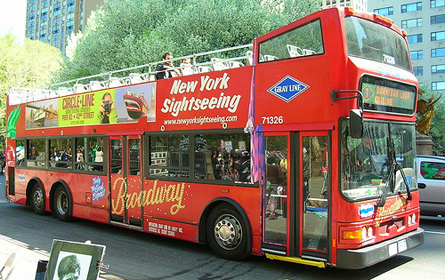 The brightly colored tour buses rumbling down Broadway are about to get muffled.
The City Council approved legislation Thursday, which turns down the volume on the tour bus industry by requiring all open-air tour buses give passengers headphones instead of blasting corny commentary over loudspeakers. The bill comes after years of complaints from local residents, who say wailing from a passing double-decker constantly interrupts their peace and quiet.
"The buses in the high season come every five minutes," said Barbara Becker, a resident of Bleecker Street for the last 40 years. "It permeates your living room, your kitchen."
The tour bus industry opposes the bill.
Headphones On!
Under the legislation, (Intro 182) which was approved by a vote of 44 to 2, all open-air tour buses will have to be equipped with headphones by 2015. At least 10 percent of the open-air fleet must have headphones by July 2011.
When first introduced, the bill would have applied to every tour bus -- whether it is enclosed or not.
Officials called the final version of the bill "a good balance."
"We can't neglect that the tourists come to a city where in all neighborhoods people live," said Council Speaker Christine Quinn. "We wanted to make sure we passed legislation that brought residents a little more quiet, a little bit of ability to sleep in the city that never sleeps, but also created appropriate regulation that would allow the tour bus industry to continue in the city of New York."
Of the 250 tour buses registered with the Department of Consumer Affairs, 170 of them are open-air, according to the council. Quinn also said that the thousands of tourists sharing headphones did not pose sanitary concerns.
A spokesperson said the mayor would sign the legislation.
At a hearing earlier this month, Thomas Lewis, president of tour bus company Gray Line New York Sightseeing, testified that his company had received only a handful of complaints over its 15-year existence and its buses work within legal noise levels.
"We strongly prefer to address this issue on a neighborhood by neighborhood and a block by block basis, rather than the 'killing an ant with a sledge hammer' approach that this broad citywide mandate imposes," Lewis stated in his testimony.
Bus operators that do not have headphones could be subject to a fine of between $200 and $750 per day and could have their licenses suspended.
Some critics of the bill fear that equipping the buses with headphones could spur companies to replace tour guides with taped messages, which isn't prohibited by the legislation.
Officials, including the bill's sponsor, Councilmember Gale Brewer, said they would make sure tour guide jobs are not lost and buses keep their persons and personalities.
"A tourist wants a person," said Brewer, who has been called out to from a tour bus while walking on Sixth Avenue. "They want the nuances of the neighborhood."
Juvenile Justice Disclosure
The council also approved two bills (Intros 37 and 153) requiring the Department of Juvenile Justice to report demographic and restraint data to the council every year.
Under the bills, the department will have to report the race, gender, zip code and ethnicity of every individual confined in juvenile facilities. The department will also be required to report any instances of physical restraint, mechanical restraint, room confinement and any allegations of abuse.