Pushing Papers and Principles
By Alex Viado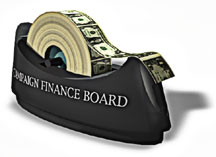 Eva Moskowitz, member of the City Council from the Upper East Side, sits before the five members of the Campaign Finance Board, pleading her case. Yes, she confesses, it is true that during her 1999 campaign for the seat she holds now, she did indeed send out thank-you notes.
But thank yous, she argues, are the American way.
"People that are participating in the process," she says with some eloquence, "need to know that their efforts are being appreciated. Thirty-four cents per stamped envelope is not too high a price to pay for that."
The staff of the Campaign Finance Board had disagreed, and ruled she had to return the $2,000 she had spent in public funds on the mailing. That is because the thank yous had gone not to her contributors, nor to campaign volunteers, but to voters who had checked on a survey that they would vote for her. And that, they said, is not allowable.
To outsiders, such distinctions may make the Campaign Finance Board seem like just another petty bureaucracy. But to the Campaign Finance Board and its defenders, what they are doing is nothing short of safeguarding democracy.
This, they are learning, can itself be a thankless task.
A FINE MODEL
This year the Board has been more visible, busier, and more beleaguered than at any time since its founding in 1989. The Board's most vehement critic, Mayor Rudy Giuliani, filed a lawsuit to end the program to provide matching public funds for local campaigns. Giuliani says that he is not against public financing in itself, but he has attacked the Board's specific program as too costly for the city and too much of a bonanza for political consultants and campaign managers.
The debate over campaign financing in general is heating up nationally as well. The United States Senate, in a 59 to 41 vote, recently approved the McCain-Feingold campaign finance bill to ban "soft money," the unregulated contributions by corporations and "special interests" to national parties rather than specific candidates. Though just a bill to curb the excesses of private financing of campaigns, rather than provide public funds for campaigns (as New York City's law does), the Senate's bill would be the most significant changes to federal campaign finance laws since Watergate. However, with the Republican-dominated House trying to stall conversation about the bill, its future is now in doubt. "I think if they don't get this thing resolved before the August [congressional] recess, it's in serious jeopardy," John McCain said recently. Opponents cite the Bill of Rights in their call to kill the legislation. "This is big government regulation of our most basic freedom of speech," House Republican Whip Tom DeLay likes to say.
Whatever happens nationally, and however much Giuliani may not like it, the local campaign finance laws are on the books and in effect for this year's elections in New York City. And, with term limits creating more candidates than ever before, and a deadline of June 1 for all local candidates to file with the Campaign Finance Board in order to receive public funds, the Board is also busier than it has ever been.
And that, says its advocates, is good for the city, and good for participatory democracy. "Without these reforms," says Joe Heaphy, a candidate for City Council in district 26, "a lot of candidates, including myself, simply could not run."
Indeed, the Board is a creation of a local public campaign financing law that is touted as a fine model for the rest of America. And fine it does, fearlessly. In the last citywide election, in 1997, the Board fined Comptroller Alan Hevesi and Mayor Giuliani for accepting what it deemed illegal contributions. It demanded that Public Advocate Mark Green refund unspent contributions. This year, the Board denied public matching funds to Karen Koslowitz, at the time a candidate for Queens borough president, due to "failure to timely file" her campaign disclosure statements. It ordered Hevesi, now a candidate for mayor, to return $67,600 in campaign contributions that the Board determined had exceeded the legal limit. It has just filed a lawsuit against four delinquent candidates from 1997 for failing, among other things, to fill out enough forms.
"The Board is mindful of the public trust," explains Nicole Gordon, the Board's executive director, "and very concerned not to allow tax dollars to go to candidates who have not fully complied." It's not just the money, says Gordon. "It's the principle."
But suing and fining and finding violations is not nearly the whole story of the Campaign Finance Board.
ORIGINS IN SCANDAL
In 1986 Queens Borough President Donald Manes was found at home dead of a self-inflicted stab wound to the heart. The suicide was a tragic end to a racketeering scandal that damaged Mayor Ed Koch and crippled public confidence in government. Manes had been accepting bribes from private vendors who were then contracted by the city to produce equipment for the Parking Violations Bureau. This far-reaching scandal caused an outcry of support for government reforms. What ensued was a package of reforms that included the bolstering of the City Council and, in 1989, the creation of the Campaign Finance Board. The Board was created to administer the newly created Campaign Finance Program, a program designed to inhibit the influence of private money on politics.
The Board and its sixty-member staff have many functions. They enforce limits on both campaign contributions and campaign spending in exchange for providing matching funds for private contributions from city voters. They demand full disclosure of the list of contributors to any candidate getting any public financing, and then publish those lists (and a searchable database) on its website, information that is free and available to the public. They also publish a nonpartisan voters guide distributed to every household in the city with a registered voter (a guide whose funding the mayor tried to hold up). They also organize debates for the major contenders in citywide races.
If the Board was treading unknown terrain when it began, "this year, there is another feeling of the unknown lurking out there," says Carole Campolo, who describes herself as "a little piece of the Scotch tape that holds everything together," but whose official title is deputy executive director. "This time it has to do with the number of candidates. Our office needs to be prepared for the maximum possible number, but at this point we just don't know how many people will be running."
But as important as how many are running this year is the question of who will be running. If Michael Bloomberg enters the mayoral race, he is likely to finance his campaign out of his own pockets. In that event, both the amount of public matching funds and spending limits would be increased for his publicly-financed opponents, both in the Republican primary and in the general election.
The emergence of such candidates as Bloomberg and Jon Corzine, who spent $30 million of his own money to win a Senate seat in New Jersey, points to concerns that, even with matching public funds, candidates enrolled in the program can still be heavily outspent by a well-financed opponent. Frank Barry, spokesperson for the Campaign Finance Board, believes this does not invalidate the campaign finance program. "What we've seen is that it's not the spending ceiling that is as important, but rather the floor, or entry level, necessary to get involved. Rudy Giuliani in fact won the 1989 Republican Primary despite being outspent by $10 million."
Another of the most contentious issues of this election year has been the four-to-one matching formula used by the Campaign Finance Program - that a candidate gets four dollars in public funds for every one dollar he raises privately. Although the City Council has passed a bill reasserting the four-to-one matching formula, a few members agreed with Giuliani, who filed a lawsuit to try to get the four-to-one match thrown out. One of these was James Oddo, Republican from Staten Island, who said, "Four-to-one is just too generous, and it's using too much of the city taxpayer's dollars. I believe that when things calm down after the election, you will see that number will come back down a bit, maybe something closer to three-to-one or two-to-one."
The Board disagreed with this argument, with Chairman Joseph A. O'Hare arguing that changing the law in the middle of an election year would create "confusion and uncertainty" for candidates who were running with the expectations that the four-to-one formula would be the standard. And, according to the Independent Budget Office, the formula has helped to both decrease the average size of the individual contributions and increase the total number of contributors.
Larger questions also linger around whether or not elections should be publicly financed at all. "There exists the potential, and I stress the word potential, for corruption and graft," says Steven Fiala, another Republican Councilmember from Staten Island. "I can picture a scenario where a candidate raises $25,000 in private donations, receives $100,000 in matching funds from the city, decides to hire family and friends to his or her campaign, and uses it all up. It has the potential to bleed the taxpayers dry for personal gain."
But to others, such risks are worth it. "The cost may be high, but it's worth it if in fact we elect a council that better represents the communities out there," says Doug Muzzio, professor of Public Affairs at Baruch College
SCENES FROM A CAMPAIGN FINANCE BOARD
While the debates about public financing continue, the staff at the Campaign Finance Board presses on during this unprecedented election season. "The phones are ringing here all day long," says Patrick Wehle, on the staff of the Candidate Services unit.
"I just got off the phone with one person with a pretty typical question," continues Wehle. "He was asking about determining the value of an in-kind contribution." In-kind contributions include non-money contributions made to a candidate, including gifts or services. "Basically, someone had given office space to this candidate at a discounted rate. So to determine the value of that contribution, I told him he would need to find out what the cost of the office space would be on the free market and then calculate the difference between that price and the discounted rate."
The Legal and Audit units play the role of enforcers, insuring against violations of the law. Some candidates do find themselves in trouble with the Board. A recent example is the Dweck Affair. Joe Dweck ran for City Council in 1999, and had public funds left over, money that still has not been paid back. With penalties, the total has grown to $24, 514. To make matters worse, Dweck's treasurer Isaac Schwartz has missed a series of deadlines to account for the funds. So when Schwartz finally showed up recently with some records, Father Joseph O'Hare, Chairman of the Campaign Finance Board, was clearly unhappy about any further delays. "It seems the reason for your missing the deadlines is due to the internal confusion of your campaign," the priest said sternly.
For the most part, candidates' work with the auditors and lawyers is more of a minor but necessary inconvenience. "My interactions with them have been happy," says Rudy Greco, candidate for City Council in district 25. "Recently I had some contributions from a few private attorneys, single practitioners whose personal accounts and business accounts are the same. Well, this must have set off a little alarm in their computers over there, since they insisted that we clarify the situation and fill out an affirmation form. It was a little inconvenient, but on the other hand, it's not a big deal.
"They're very scrupulous and careful," Greco says. "That is a good thing, since it's public money they're working with. It's nice to know that someone's watching the store."
###
Check out the Feature Archives!