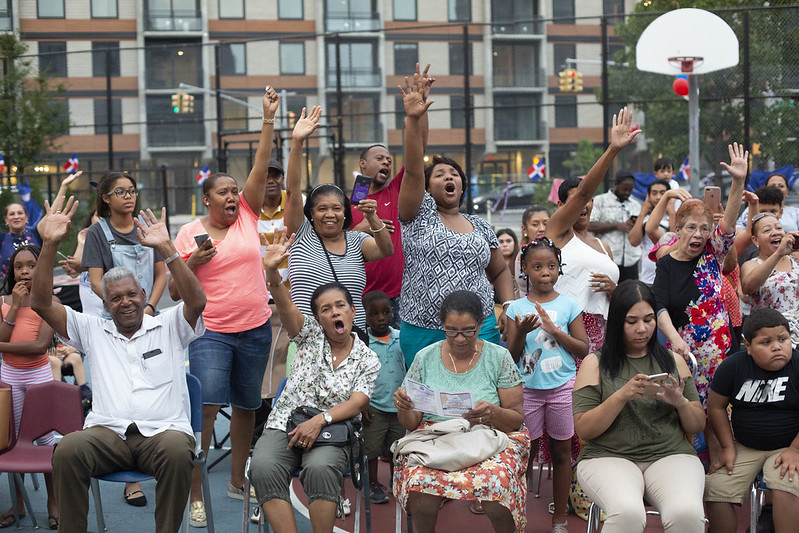 At a celebration of Latino heritage (photo: John McCarten/City Council)
---
Bienvenidos to "Latino Vote '22," the latest series in Gotham Gazette on the Latino vote in New York. Last year's columns on the ever-growing Latino vote looked at specific races and boroughs in New York City's 2021 elections, as well as the impact of the Latino vote on the mayoral election.
This year's series will explore specific races in predominantly Latino districts across the city as well as larger trends and dynamics related to Latino representation in New York politics and government.
The latest redistricting saga, the lines drawn by a court-appointed "special master" finally approved, has created some intriguing dynamics in many majority-Latino or Latino-plurality districts throughout the city. This series will take a look at some of the key, competitive races.
It will also take additional dives into the 2022 races for Governor and Lieutenant Governor. For the first time, the Lieutenant Governor race will have two Latinas (Ana Maria Archila and Diana Reyna) and one Latino, Antonio Delgado, who is Governor Hochul's appointee to fill the position left vacant by Brian Benjamin's resignation. The Latino vote is becoming increasingly pivotal in the governor's race. As a mark of that, Governor Hochul and the State Democratic party have announced a new effort aimed at Latinos, Nueva York Initiative.
This new series begins with a podcast episode, also building off our 2021 audio series. I am delighted to be joined by former New York City Council Speaker Melissa Mark-Viverito and Lucia Gomez, the political director of the New York City Central Labor Council, as we share insights on the recently-completed redistricting process. We ask: Have Latino neighborhoods been split electorally? Is there potential for Latino vote dilution? What does New York's legislative redistricting mean for Latino representation at the state and federal levels?
That discussion will be published May 30, and found starting then at the Gotham Gazette website or on podcast platforms (iTunes, etc) within the "Max Politics" feed, home to Gotham Gazette's ongoing podcast hosted by editor Ben Max, and titled in part "Latino Vote."
Grab your cuchifritos, a tasty mofongo, or a delicious taco and, since the summer is upon us, try the famous Puerto Rican limber, and join us for this latest journey, Latino Vote '22.
***
Eli Valentin is a political analyst and author of the forthcoming book, Reinhold Niebuhr: A Political Life. On Twitter @EliValentinNY.
***
Have an op-ed idea or submission for Gotham Gazette? Email This email address is being protected from spambots. You need JavaScript enabled to view it.