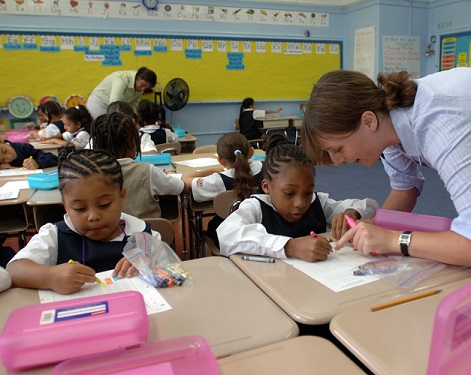 (photo: NYC DOE)
---
First, do no harm. Ha!
On Tuesday, the New York City Council will hold an oversight hearing on teacher recruitment and retention. The Council announcement states that a hearing is necessary because "there's a growing teacher shortage across the United States, although it is impacting some states more than others. This is the result of a nationwide trend that has seen the number of college students enrolled in education majors decrease by 35% in the past five years, as well as an increase in teachers leaving the profession."
This attention follows on the heels of the recent New York State Regents proposal to roll back rigorous 2014 teacher certification requirements and congressional efforts to rescind recently enacted U.S. Department of Education regulations.
We've got to stop the madness.
The constant revision of teacher preparation and certification requirements has real consequences, with the bad far outweighing the good. The reason for the problems identified by the City Council -- to be further illuminated at Tuesday's hearing -- are of our own making. The fact is that policy-makers are in the dark because we really don't know what is required to make a good teacher. Not a great teacher, mind you, since certification, despite the political cant, is about formulating minimum standards for public school job entry. A Google Scholar search of the field reveals hundreds of articles published in the last year alone on this highly technical subject, which no regulatory policy can hope to encompass.
The system of certification and retention is a sieve that screens more for those who persevere through the procedural maze than for talented educators. Every state comes up with its own scheme, blundering around in the politically-appointed regulatory kitchen since no workable recipe has been found. Private school teachers need no certification. Many charter school teachers are uncertified, provided exceptions under state law. Tens of thousands of New York City public school students are taught every day by staff teaching "out of license."
And every time some new half-baked hurdle is raised, an industry of preparation programs and their students is thrown into chaos. I work in higher ed. Curriculum changes are a big deal. Sometimes whole courses need to be developed, taking months to refine and sometimes longer to be reviewed and approved by layers of faculty committees and administration. Even small changes in course content require time for instructors to research, identify readings, determine assignments, and create assessments. And for every new course or curriculum tweak, other once-favored material needs to be adjusted or dropped. Students are whipsawed among confusing mandates, across overlapping certificate categories, with variable, dizzying deadlines. What is easy for politicians and regulators to order becomes a hornet's nest to implement.
And then, once set, it starts all over again as current city, state, and federal actions attest. We run in place with the urgency of lame hamsters on a wheel, every step dictated by some imperfect previous step and the political imperatives of change. Or, borrowing a more eloquent metaphor to describe our vain, pedestrian predicament, "we beat on, boats against the current, borne back ceaselessly into the past."
[Read: Teacher Recruitment, Retention Will Be Focus of City Council Hearing]
***
David C. Bloomfield is Professor of Education Leadership, Law, and Policy at Brooklyn College and The CUNY Graduate Center. He is the author of American Public Education Law, 3d edition (2016). On Twitter @BloomfieldDavid.
***
Have an op-ed idea or submission for Gotham Gazette? Email This email address is being protected from spambots. You need JavaScript enabled to view it.