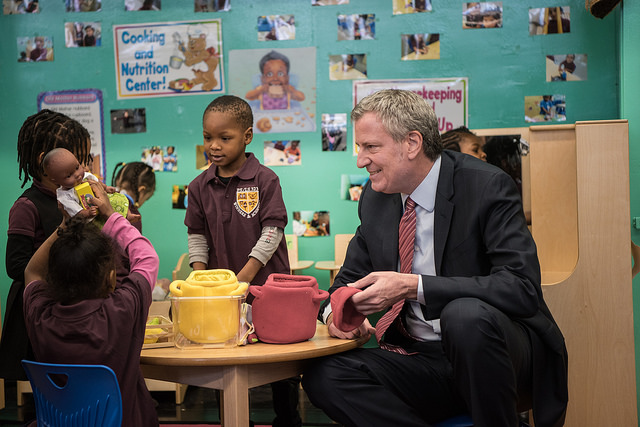 Mayor de Blasio on a school visit (photo: Michael Appleton/Mayor's Office)
---
My daughter is a third-grader in one of Mayor de Blasio's so-called Renewal Schools in Harlem. When I first heard about the program, I was hopeful: P.S. 149 needed attention and change to become the kind of school I wanted for my daughter. But, as a parent, I have not seen much renewal.
Since the program started, enrollment at P.S. 149 has dropped 25 percent. For the kids who have stayed, scores haven't improved much – students passing the English Language Arts exam has gone from 5 percent in 2014 to 13 percent in 2017. The math pass rate has dropped from 8 percent to 5 percent over the same time. So despite all the resources the Department of Education claims to have pumped into our school, fewer students are doing math at grade level.
When Mayor de Blasio announced his Renewal Schools program, he promised that his "bold new plan" would be the key to turning around chronically-struggling public schools like my daughter's. Four years and $600 million later, there is little to show for it. None of the schools have come close to any sort of "renewal" and the mayor has been forced to close nine of them and merge others. Just a handful of the original 94 Renewal Schools have seen real improvement.
For me, this broken promise means a lot more than just numbers on a state test. My daughter is struggling in reading and math, and nothing the mayor has done these past few years has helped her school improve.
When I realized my daughter needed extra help, I reached out to the school's parent coordinator – I'm not about to give up on my child. The coordinator promised to look for outside resources that might offer her the support she needs. I appreciate the effort, but why do we need outside resources when our school is supposed to be part of the mayor's major project? If his program were of high quality, my daughter's school would be able to provide a good education for kids inside the classroom, and parents like me wouldn't be scrambling.
I am so discouraged with the state of the district schools in my neighborhood. The system is failing communities like mine all over the city – the same communities that elected this mayor. At the end of the day, it's becoming clear that we can't depend on Mayor de Blasio to improve struggling schools for children of color.
That's why I'm trying to get my daughter a spot in a charter school, where kids like her have a shot to catch up. It's really her only hope.
The problem is that there aren't enough spaces at charter schools. I guess the mayor knows that if parents like me had a choice, we'd leave, just like a quarter of our school already has.
The mayor shouldn't be the only one with a say here. The New York City Council will be holding a hearing on Tuesday, Feb. 27 – and I hope Council members get to the bottom of this failed experiment. Our Council members live in our neighborhoods and they see what's happening in our schools. They need to step up because our communities can't wait another four years for Mayor de Blasio to figure things out.
As I keep fighting for my daughter, my son is getting ready for kindergarten. I am trying to do everything I can to make sure he's on a better path. Knowing what I know now, I am fighting like hell to get him into a charter school right from the start. As a single mom, juggling two different schools will be hard, but I would do anything to get my kids a better education.
If Mayor de Blasio was really focused on turning around struggling schools, me and my kids wouldn't be in the situation we're in now. The mayor's "bold new plan" is nothing more than another broken promise.
***
Aradany Vargas is a public school parent at P.S. 149 Sojourner Truth.
***
Have an op-ed idea or submission for Gotham Gazette? Email This email address is being protected from spambots. You need JavaScript enabled to view it.