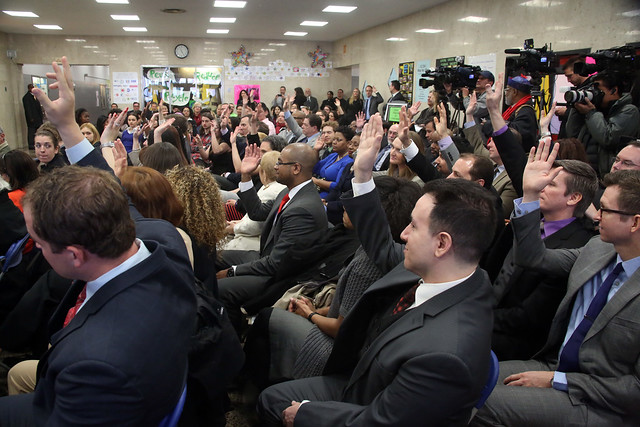 (Photo: Edward Reed/Mayor's Office)
---
Late last month, New York City Comptroller (and likely 2021 mayoral candidate) Scott Stringer proposed allocating $40 million a year to run the nation's largest teacher residency program in New York City. According to an analysis released by his office, a large-scale teacher residency program would address teacher retention and shortages of teachers of color and teachers in hard-to-staff areas of the city.
Teacher residencies are a high-potential pathway into the classroom. And Comptroller Stringer's plan is particularly promising. The residency would be an alternative certification program to prepare new teachers for the classroom. In it, residents would complete a year of training, primarily in the classroom, under the tutelage of an effective mentor teacher. Classroom experience would be complemented by relevant coursework completed at an institution of higher education. Residents would receive a living stipend during the program, and at the end of it, would be able to teach in a classroom of their own.
And there's reason to believe that Comptroller Stringer may get his way on this. Past analyses out of Stringer's office called out issues in physical education and arts education, which ultimately led to $124 million in investments in those programs.
Stringer obviously did his homework, and proposed a residency program built on current best practices in the field. But now is the time to think through implementation. Operating an effective residency requires careful planning and design choices. Here's what would need to be done to ensure this idea works:
1. Select and support effective mentor teachers
The success of Comptroller Stringer's residency plan hinges on the quality of its mentor teachers. They serve as the model for what good teaching should look like, and are responsible for connecting what candidates learn in their coursework to classroom practice. They need to be effective teachers of children and adult learners.
Stringer's residency program will provide mentor teachers a "salary boost" for serving in this coaching role on top of their regular work. But other residency programs provide similar incentives and still struggle with recruiting mentor teachers who have the skills and willingness to shape the next generation of teachers. Without effective mentor teachers, Stringer's entire program could fall apart.
2. Provide stipends large enough to attract the teachers the city needs
A key strategy of Stringer's proposal is to provide teacher residents a financial stipend to offset the cost of living expenses, which may give the residency an advantage over other teacher preparation programs that don't provide stipends, and appeal to people who otherwise may not consider teaching. The strategy may work: other residency programs offer similar incentives, and evidence suggests that they produce more diverse teachers and shortage area teachers than other preparation programs.
But even with a living stipend, a residency is a year of full-time employment, and few people have the financial means to forgo a year of wages. Other residencies address this by paying residents a full salary and benefits. Especially in a place as expensive as New York City, the stipend alone may not be enough to recruit the candidates Stringer wants and the city needs.
3. Encourage teachers to stay in the classroom past the residency year
One stated goal of the residency program is to improve teacher retention; nearly 40 percent of New York City teachers leave within the first five years. But unlike other residency programs, this one doesn't require a teaching commitment after completing the program.
It's possible Stringer plans to phase that requirement in later, given that the report highlights several residency programs that require similar teaching commitments as models of success. But if that's not the case, the city could end up making a substantial investment without actually improving teacher retention.
Stringer's residency proposal gets a lot right. But resources are scarce, so if the city is going to invest $40 million every year, it needs to do everything possible to make sure the plan is successful.
***
Ashley LiBetti is an associate partner at Bellwether Education Partners. On Twitter @aklibetti & @bellwethered.
***
Have an op-ed idea or submission for Gotham Gazette? Email This email address is being protected from spambots. You need JavaScript enabled to view it.