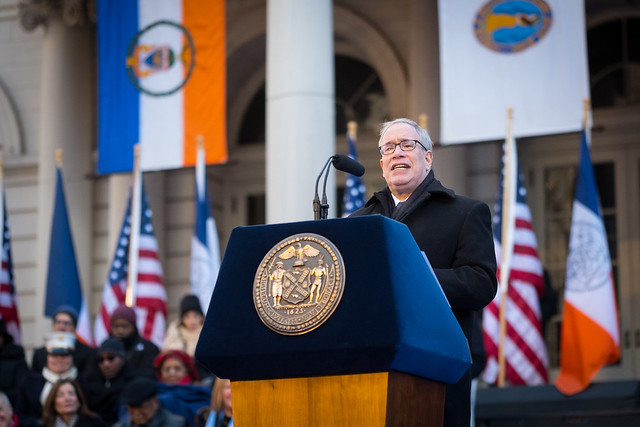 Comptroller Scott Stringer (photo: Edwin J. Torres/Mayor's Office)
---
New York City Comptroller Scott Stringer has made no secret of his plans to run for mayor in 2021, when both he and Mayor Bill de Blasio will be term-limited out of their current positions. And the outline of his mayoral policy platform is already hiding in plain sight.
After briefly entering the 2013 mayoral campaign before shifting to a first successful run for comptroller, Stringer has spent a long time laying the groundwork for a full mayoral bid, so much so that many expected him to challenge de Blasio in the Democratic primary in 2017 had the mayor faced any consequences from dual ethics investigations into his fundraising activities. But the mayor faced no charges and both officials instead sailed to reelection.
One of three citywide elected officials, besides the mayor and public advocate, the comptroller is the city's top fiscal officer, charged with overseeing the mayoral administration's spending, auditing city agencies for waste, approving city contracts, and acting as the fiduciary to the city's pension funds (with assets worth nearly $200 billion). Though they have next to no official policy-making power, those who've held the office also tend to issue policy reports and make recommendations for policies the city should implement.
In about five-and-a-half years as comptroller, Stringer has released numerous sweeping proposals to tackle everything from the cost of child care to building more affordable housing to abortion funding, improving city bus performance, and hurricane recovery efforts in Puerto Rico. Stringer fought against term limits for community board members, a ballot measure overwhelmingly passed by voters last year, and he's pushed for this year's city charter revision commission to propose creation of a citywide Chief Diversity Officer, building on his focus on city contracting for minority- and women-owned businesses. And, he's helped lead the effort to divest city pension funds from fossil fuel companies.
As a citywide official, he's weighed in with statements on many issues that don't directly relate to functions of his job, and he's taken on certain mantras, like the need for more "community-based planning," that also indicate the initial building blocks for his all-but-official run for mayor.
Stringer's work in the comptroller's office has been a continuation of similar efforts he made as Manhattan borough president, unveiling various plans that would have a citywide effect.
"Comptroller Stringer has spent his career in public service standing up for working families. From his time as a housing organizer, to his work as Manhattan Borough President, to his leadership as the City Comptroller, he's proven progressive government isn't just something he talks about – it's what he delivers on each and every day," said Hazel Crampton-Hays, Stringer's press secretary, in a lengthy statement responding to Gotham Gazette's inquiry about Stringer's various policy proposals.
"He's used his office to change the face of corporate America and open doors of opportunity to women and people of color; he's changed the conversation and shined a light on the touchstone progressive issues of our time, including housing and child care; and in every challenge impacting working New Yorkers, Comptroller Stringer sees a progressive solution worth fighting for," Crampton-Hays continued. "With two and half years left in his term, he will continue the fights that have been at the heart of his entire career -- for equity, affordability, and fairness for all New Yorkers."
When Stringer declares his candidacy for mayor in earnest, he'll have a lengthy, detailed campaign platform on day one, thanks to all of the reports and audits out of his office. It's a smart and appropriate use of the comptroller's office, said veteran political consultant Hank Sheinkopf. "The New York City comptroller can do whatever the New York City comptroller wants. The office has broad authority under the city charter," he said.
The issues Stringer has examined, Sheinkopf noted, cut across a swath of constituencies in a citywide electorate and have garnered significant attention. "He's very able to get appropriate coverage for whatever he does. He also knows – because politics has been his life – how to take those issues and turn them into relationship-builders with particular interest groups," Sheinkopf said. "He will be a highly competitive candidate for mayor, should he choose to run."
Along with his policy proposals, Stringer's near ubiquitous presence across the city should help him, Sheinkopf added. "No matter what choice New Yorkers will make, anyone who's paid attention to the news will be able to say, for whatever reason, whether they can identify the issue or not, that somehow Stringer spoke to them about something," he said. "And that's a pretty good place to be and what he spoke to them about goes beyond color lines or race lines or ethnic lines or gender lines. He has made himself into the person whose words and even actions have become relevant to people beyond and outside of his social grouping, religion, race, class, and residence, which is not easy for someone who's a west-sider from Manhattan."
Stringer is expected to compete in a Democratic mayoral primary with City Council Speaker Corey Johnson, Brooklyn Borough President Eric Adams, Bronx Borough President Ruben Diaz, Jr., and anyone else who throws their hat in the ring ahead of the June 2021 vote. Each has also been in the process of staking out their policy positions and possible major mayoral platform areas, though none has led the size of operation or had the citywide vantage point, at least for as long, as Stringer in the comptroller's office.
Political consultant George Arzt, who previously served as a campaign spokesperson for Stringer, echoed Sheinkopf. "The comptroller can put out anything on a platform just as the mayor or public advocate would put out anything on their platform," Arzt said. "Perhaps increasingly so during an election year. But every elected official does it."
Below are a sampling of the ideas that Stringer has proposed over the years, some of which are likely to form the basis for his mayoral campaign platform:
Child Care
In May, Stringer proposed a plan dubbed "NYC Under 3" aimed at drastically reducing child care expenses for 70,000 families. The plan, paid for with a payroll tax, would purportedly expand child care assistance to families with a combined income of up to $100,000 a year for a family of four, and triple the number of children enrolled in city-funded child care programs. The proposal was broadly praised by advocates, unions, and educators.
"New York City should drive a child care revolution, put working families first and establish a model for the nation to follow," Stringer said in a statement at the release of the plan. "NYC Under 3 is a down payment on future generations and would benefit children, parents, and the local economy by increasing job stability and economic security."
Since releasing it, Stringer has done a media and local event blitz to talk it up, including a "roundtable discussion" Monday evening with members of advocacy group Community Voices Heard in East Harlem.
Affordable Housing
Stringer has repeatedly criticized de Blasio's affordable housing program, saying it has not created or preserved enough affordable units for low-income New Yorkers and that it has failed to stem the city's homelessness crisis. In November, he released a proposal that would reimagine the city's housing plan to target the 580,000 households that are in most need.
Stringer's plan would put $375 million in the capital budget annually and repurpose the roughly 85,000 units left to be built under the mayor's 300,000-unit plan towards extremely low-income households (which earn less than $28,170 annually) or very low-income households (which earn less than $46,950 annually). An additional $125 million would go to operating subsidies to ensure apartments remain affordable. He also proposed increasing the set aside for housing for the homeless by nearly three times to 15%.
The plan would be paid for by eliminating the Mortgage Recording Tax and implementing a Real Property Transfer Tax on all home purchases based on price. These measures would raise roughly $400 million each year, Stringer estimated. He also reiterated his call for a New York City Land Bank/Land Trust, which he first proposed in February 2016, to build housing on vacant lots.
Teacher Residency
In June this year, Stringer released a plan to reduce teacher turnover in city schools, after an analysis by his office showed that 41% of teachers hired in the 2012-13 school year had left their jobs within five years.
Stringer proposed a paid, year-long residency program to train 1,000 new teachers annually, partnering them with mentors for classroom training and providing them with stipends for living costs.
On other education fronts, Stringer's efforts more closely linked to his core job responsibilities have already shown results. After a May 2015 report on inadequate physical education at schools across the city, the de Blasio administration added $100 million to hire physical education teachers in the five boroughs. And following an April 2014 report on broad disparities in arts education, the city allocated $24 million in new city funding to hire more than 100 arts teachers in neighborhoods with the highest needs.
Abortion Funding
Ahead of the passage of the city budget this year, Stringer rallied with reproductive health rights activists to push the city to allocate $250,000 to the New York Abortion Access Fund, a nonprofit service provider. The push was successful, with the City Council and de Blasio deciding to earmark funding, reportedly making New York the first city in the country to directly fund abortion services.
Insurance for Pregnancy
In March 2015, the comptroller released a report on pre-natal care coverage for pregnant women enrolled in insurance under the Affordable Care Act. The ACA did not recognize pregnancy as a "qualifying event" for immediate coverage. Following Stringer's report, State Senator Liz Krueger and Assemblymember Aravella Simotas introduced and passed legislation to allow for that coverage in New York, making it the first state to do so.
Puerto Rico Recovery
In October 2017, after Puerto Rico was hit by Hurricane Maria, Stringer released a six-point plan based on an analysis of federal programs to help the island recover from the hurricane's devastation. New York City is home to the largest community of Puerto Ricans outside of the island, many of whom continue to have ties to family living there, and the city was one of the main destinations for residents fleeing the island after the hurricane.
Stringer proposed federal loan guarantees for the construction of public infrastructure to help the debt-ridden island, called on Congress to authorize Disaster Recovery Private Activity Bonds (which were utilized after the September 11, 2001 terror attacks to rebuild Downtown Manhattan), and an expansion of federal safety net programs such as Medicaid, food stamps, the Earned Income Tax Credit and the Child Tax Credit for residents of Puerto Rico. He also pushed for measures to help displaced Puerto Ricans, including additional education funding for displaced and homeless students, and for higher education institutions where Puerto Ricans are enrolled.
Chief Diversity Officer
Stringer has used his position as the fiduciary to the city's pension funds to push for greater board diversity at companies where the pension fund invests its money. At the same time, he has pushed for more diversity at city agencies, more city contract spending with MWBEs, and has called for the creation of a Chief Diversity Officer at City Hall (Stringer has appointed his own chief diversity officer). He pushed the 2019 Charter Revision Commission to include the idea among its ballot proposals but was unsuccessful, though the commission is moving ahead with a proposal to enshrine responsibility for the city's MWBE program at City Hall.
Immigrant Services
In March 2015, Stringer released an "Immigrant Rights and Services Manual" – initially translated into Chinese, Korean, Russian and Spanish – to help immigrants navigate local, state and federal services.
In February 2016, he also released a report on citizenship application fees, with recommendations for federal and local action. He urged the city to provide more citizenship assistance programs, to add funding for English and civics classes, and to expand free legal services, among other proposals.
Commuter Rail & Bus Reliability
In October 2018, Stringer released a proposal to expand access to Metro-North and Long Island Rail Road, by reducing fares for in-city trips to the cost of a single MetroCard swipe. He called on the MTA to ensure commuter trains take more local stops, that buses provide enhanced service to commuter rail stations, and that those stations be made ADA accessible. His plan, which would entail providing commuter rail service at 38 stations in the Bronx, Brooklyn, and Queens, would cost about $50 million each year, he estimated.
In 2017, Stringer released a major report on the city's struggling buses, which have lost ridership at a dangerous clip, with an agenda for how to improve the system.
Security Deposits & Credit Score Benefits
In July 2018, Stringer released an analysis of security deposits in the New York City rental housing market, finding that renters paid about $507 million into security deposits in 2016. He called for legislation to cap security deposits as well as additional regulation regarding payments and refunds. The state Legislature this year put new rent regulations into effect that implement some of those reforms.
And in October 2017, Stringer launched pilot projects to help renters in roughly 3,000 apartment units to report their rent payment to increase their credit scores. The program was expanded a year later.
Playgrounds
In April, Stringer launched the "Pavement to Playgrounds" campaign, pointing to a dearth of playgrounds across the city and substandard conditions at hundreds of city playgrounds. Stringer pushed the city to build 200 new playgrounds over five years through partnership between the city's Parks Department, the Department of Transportation, nonprofits and community boards.
BQE Reconstruction
In March, Stringer proposed his own vision for how the city should rehab the crumbling Brooklyn-Queens Expressway, including by converting the triple cantilever and Cobble Hill trench into a truck-only thruway and building a new two-mile park on the remaining space. A panel assembled by de Blasio is working on coming up with recommendations for a new plan after the city's original idea received a great deal of pushback and appears to have been scrapped.
Marijuana Legalization
Before de Blasio released his administration's plan embracing the legalization of recreational adult use of marijuana in December, Stringer had already explored the possible ramifications of creating a legal market in the city and proposed measures to ensure that the city creates an equitable industry.
Stringer pushed for investing tax revenue from sales into communities most adversely affected by marijuana enforcement, called for equity provisions in state legislation (particularly by making people with marijuana-related convictions eligible for licenses to sell legal marijuana) and proposed a citywide equity program to provide assistance to individuals and businesses seeking to enter the industry.