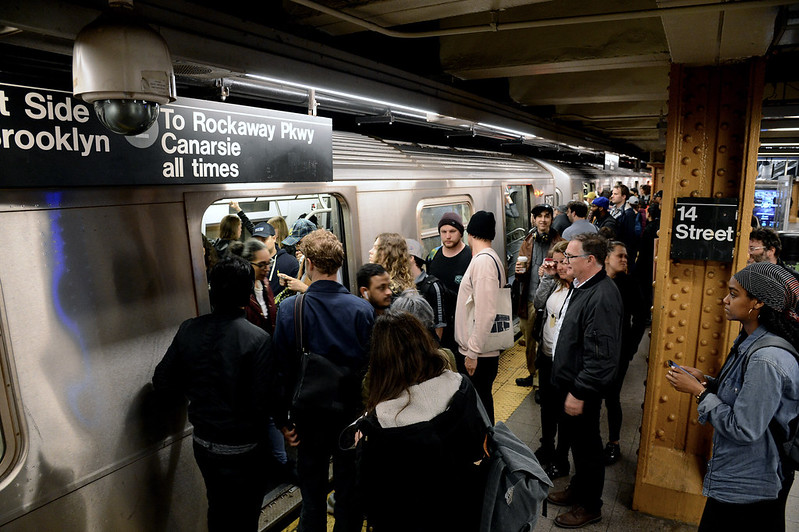 (photo: Marc A. Hermann/MTA New York City Transit)
---
The New York City Transit and Bus Committee of the MTA Board reported at its October 2019 meeting that weekday ridership of the subway grew 1.4% in September of this year compared to last, and that there have been four straight months of subway ridership gains. The MTA put out a gushing October press release that subway weekday ridership this September was up 4.5% over September 2018, and bus weekday ridership was up 1.5% over September 2018.* Revenue was up over forecasts as well.
The MTA attributed the improvement to the Subway Action Plan and a restoration of on-time performance to 82.7% in September 2019, compared to 69% a year prior. The Subway Action Plan invested heavily in operations and maintenance improvements like eliminating track fires, deploying emergency personnel, fixing signals and track, more rapid repairs, as well as other measures like increasing speeds on subway lines where speed limits had been imposed starting in the 1990s.
This is obviously good news since subway ridership peaked in 2015, stayed flat in 2016, and declined in 2017 and 2018. State Comptroller Tom DiNapoli's office has estimated that the ridership decline is costing the MTA $250 million a year. Any revenue gains are welcome, especially to the extent that they reflect improved public confidence in the mass transit system.
Despite the recent improvement, MTA documents still acknowledged that average weekday ridership for all of New York City Transit (subways and buses) was still down 0.6% from the prior year-over-year (September 2017-September 2018, verus. September 2018-September 2019), so a recovery is actually just beginning.
But the subway ridership gain is especially fragile because the MTA is projecting deficits of $1.9 billion by 2023 before fare and toll hikes and its budget reduction and "transformation" plans are implemented, after which there is still a projected deficit in 2023 of $433 million.
Unfortunately these plans to address deficits include staff reductions of 3,000-4,000 jobs, including reductions of 2,300 jobs in operations and maintenance personnel at New York City Transit from the 2019 staffing peak related to the Subway Action Plan.
Below is a table taken from the Comptroller's report using the MTA's projections.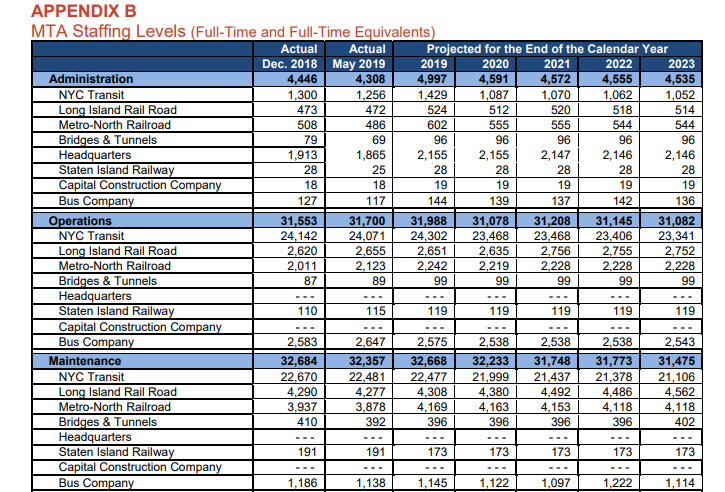 It is uncertain how the MTA will preserve the on-time performance and ridership gains while cutting 2,300 operations and maintenance personnel.
Projecting the revenue gains from the September ridership increases would yield another $100 million for the MTA in 2020, perhaps higher by 2023. This is just back-of-the-envelope math, but the potential of retaining, regaining, or gaining more riders is there and that's why personnel cuts of such magnitude are problematic.
The MTA is also hiring 500 more police officers, at an estimated cost of $50 million a year, for various public safety and fare evasion deterrence purposes, without booking any more revenue from the fare evasion deterrence. The agency says fare evasion now costs it $260 million a year. The MTA has yet to provide any metrics or a clear plan for how the extra cops will be worth the cost, but I would still give the extra cops the benefit of the doubt at a minimum at deterring crime. The MTA owes the public a better explanation for what benefits the new officers will offer.
Even a revenue gain of $100-$200 million a year from improved ridership won't be a miracle for the MTA when it faces deficits of $1.9 billion a year, with $433 million still left after implementing current plans by 2023.
When the Legislature provided funding for the Subway Action Plan and the new congestion pricing and various tax hikes for the 2020-2024 MTA Capital Plan, it left the MTA little extra room to address its deficits. The Action Plan funded staff-ups for service improvement, most of which need to be sustained (and the money spent). Congestion pricing and the other new revenue is prohibited from being used for operating deficits. Essentially Governor Cuomo and the Legislature left the MTA stranded and needing to find a way internally to cope with its deficits, which involve a mismatch between revenue, including its farebox and dedicated taxes, growing at 1% a year, and its costs, growing at 3% a year, mostly debt service costs and health insurance.
With the Legislature up for election next year, tax increases are unlikely. But there are still large sums of money unspent in the Dedicated Infrastructure Reserves set up from the Financial Settlements over the past years. Just giving the MTA $150 million from the reserves next year to preserve operations and maintenance services (and the ridership gains), to New York City Transit and commuter rail, would give the MTA more time to continue the gains of the past year and find efficiencies without harming service.
In 2021, the Legislature could look at some modest new sources of revenue, like the for-hire-vehicle surcharges, or substituting some sources of revenue for the MTA with others that more closely correlate with economic growth.
***
Jim Brennan was a member of the New York State Assembly for 32 years, where he chaired four committees. On Twitter @JimBrennanNY.
***
Have an op-ed idea or submission for Gotham Gazette? Email This email address is being protected from spambots. You need JavaScript enabled to view it.
*The MTA notes its ridership numbers may be subject to future revision.