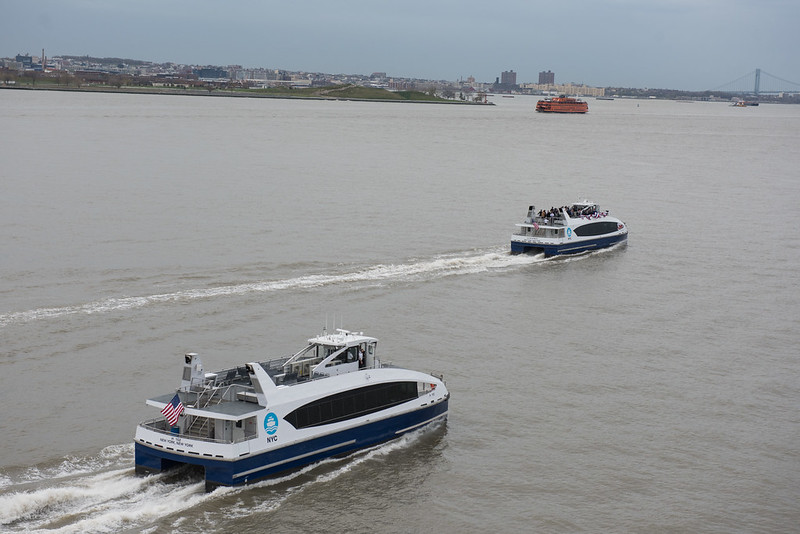 NYC Ferry program could become more important (photo: Michael Appleton/Mayor's Office)
---
There's no doubt we'll see changes in almost every facet of our daily lives after the coronavirus pandemic, but perhaps none will be as dramatic as the answers to the question of how New Yorkers will move safely around the city, including in our travels back-and-forth to work. Studies show that even if we drastically reimagine our economy, roughly two-thirds of employees -- at the very least -- will still need to commute, and the subways have been the lifeblood of the city for a century.
The subway system will remain the lifeblood of our city, and will undoubtedly adapt as best it can to new standards of safety and health in New York. But a quiet transportation revolution has been taking place in recent years that has altered thousands of commutes by taking advantage of one of our city's greatest attributes, which can also help during our coronavirus-altered reality.
That revolution is the resurgence of our waterways and the robust and resilient ferry service that has come along with it. All up and down the East River and other points in Brooklyn with NYC Ferry, and to New Jersey and up the Hudson River with New York Waterway, ferries have been providing safe, efficient, and convenient trips for millions of commuters. NYC Ferry alone, in three short years of operation, has served almost 20 million riders.
As COVID-19 continues to change the fundamentals of human interaction, it's become clear that these ferries provide a trip that is also far safer and healthier than other modes of transportation, largely because of their design and the federal rules that ferries operate under, which ultimately allow for more social distancing. The continuous monitoring of public spaces, by crew that today are wearing personal protective equipment (PPE) and undergoing daily temperature checks, are able to provide a more thorough upkeep and cleaning of the commuter space compared to what can be done on other modes of public transit.
Ferries are also flexible in a way that the subways and buses are not, from the vessels themselves to ferry networks as a whole. To begin, ferries have open upper decks, providing outdoor space. Riders aren't hunkered down in a dark tunnel while on a ferry. Open decks mean fresh air (every day) and sunshine (most days). And there is enough room for everyone to stay safely apart. On NYC Ferry, for example, there are 165 seats on boats with a capacity for 149 passengers. That means even if the boat is 100-percent full, there are empty seats – seats that act as a buffer between passengers, in addition there is ample standing room indoors and on the outer decks. Same goes for the larger 349-passenger vessels.
Similarly, ferry systems can provide flexibility and ease of implementation that other transit systems lack. New routes can be added without the cost or disruption of building new subway tunnels, and vessels can be interchanged with relatively little disruption to meet demand. Due to anticipated budget cuts, overnight Staten Island Ferry service is expected to be scaled back, but essential workers will still require an affordable and convenient method of transportation. The smaller vessels operated by NYC Ferry, which is already set to expand to Staten Island later this year, could effectively and efficiently replace the overnight Staten Island Ferry service at the current overnight ridership demand, until the budget and demand allow a return to regular overnight operations.
The boats can also be re-configured to have more room for bicycles, which will likely be used even more after the pandemic subsides as commuters stay off the subway and look to other ways to commute.
On NYC Ferry, there are ADA-accessible, full-service restrooms that allow passengers to wash their hands. And hand-sanitizer stations are installed on all vessels along with notices to remind riders about CDC-recommended precautions individuals can take to stop the spread of germs.
At the end of the day, New Yorkers will need all the mass transit options they can get, including ferry service, which is relatively simple and efficient to scale up as we conform to what will likely be new social distancing norms for the foreseeable future. The waterfront's role will continue to grow, but now with a sense of spatial necessity. But perhaps that greatest value ferries can provide? Each passenger on a ferry is one less passenger on a subway and in this new reality, when it comes to space, it's quality over quantity.
***
Thomas J. Grech is President & CEO of the Queens Chamber of Commerce. On Twitter @QueensChamber.
***
Have an op-ed idea or submission for Gotham Gazette? Email This email address is being protected from spambots. You need JavaScript enabled to view it.