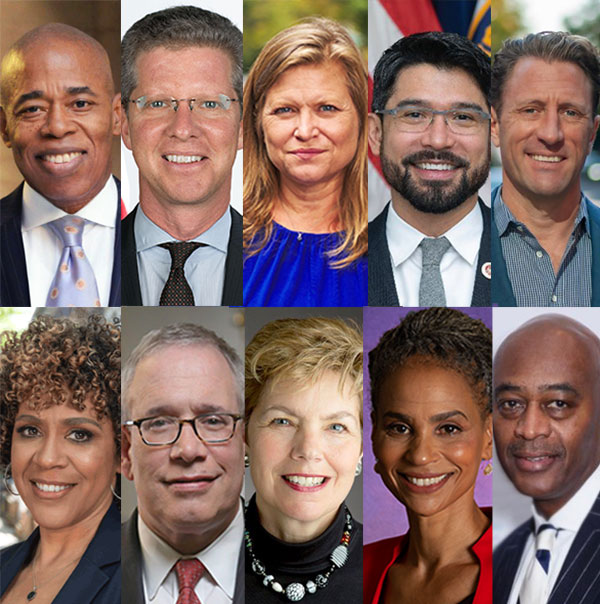 l-r: (top) Eric Adams, Shaun Donovan, Kathryn Garcia, Carlos Menchaca, Zach Iscol (bottom) Dianne Morales, Scott Stringer, Loree Sutton, Maya Wiley, Ray McGuire
---
New Yorkers will elect a new Mayor in 2021 and a large and growing field of candidates is forming in the race to replace term-limited Bill de Blasio, a Democrat.
Most of the action through 2020 has been in the Democratic primary, which will take place in June and is very likely to annoint the next Mayor given the party's overhwhelming voter registration advantage in the city (though New York City is no stranger to electing its Mayor outside of the Democratic Party, given the 20 years' reign of Republican Rudy Giuliani and Democrat/Republican/independent Mike Bloomberg).
As candidates declared their campaigns or explorations of a run for Mayor of New York City, we invited a number of those who appear most formidable to appear on the Max & Murphy podcast, co-hosted by Ben Max of Gotham Gazette and Jarrett Murphy of City Limits. As we move into 2021 we will no doubt have some of the candidates back on the show while welcoming new guests -- for example, we're eager to have city Comptroller Scott Stringer back on the program for the first time since late 2019 and to welcome Rep. Max Rose and entrepreneur Andrew Yang, among other returning or first-time guests.
But as the calendar turns from 2020 to what will be one of the most consequential election years in the city's history, we have had several interesting in-depth conversations with Democratic mayoral candidates, beginning to get to know them (better) and hear about their qualifications and vision for the immense job of New York City Mayor. Find links to listen to those interviews below, or find them all at Max & Murphy wherever you get podcasts, and look for new episodes starting in early January (the show typically first airs on WBAI radio at 5 p.m. on Wednesdays, then interviews are posted to the podcast streams and to the Gotham Gazette and City Limits websites shortly after).
Before we get to the candidate interviews, as 2020 was coming to a close we had a great conversation with Mara Gay of the New York Times editorial board and Sally Goldenberg, Politico New York City Hall bureau chief, in which we previewed de Blasio's final year as Mayor and broke down the race to replace him in broad strokes -- listen to that conversation here:
Max & Murphy Podcast: Previewing Bill De Blasio's Last Year as Mayor and the Race to Replace Him
Also in December, we spoke with candidates Ray McGuire, a finance executive of Citigroup, and Maya Wiley, a civil rights attorney and former counsel to de Blasio:
Max & Murphy Podcast: Ray McGuire is Running for Mayor
Max & Murphy Podcast: Maya Wiley Runs for Mayor
In November we welcomed three different mayoral candidates soon after their official announcements, including military veteran Zach Iscol; City Council Member Carlos Menchaca, and Brooklyn Borough President Eric Adams:
Max & Murphy Podcast: Zach Iscol is Running for Mayor
Max & Murphy Podcast: Carlos Menchaca on His Campaign for Mayor
Max & Murphy Podcast: Eric Adams Launches His Campaign for Mayor
In September we were joined by Kathryn Garcia, who had just left her jobs in the de Blasio administration as sanitation commissioner and emergency food "czar" to explore a mayoral run:
Max & Murphy Podcast: Kathryn Garcia on Trash, Food, & Possibly Running for Mayor
In August, Shaun Donovan, a former Obama cabinet official and New York City housing commissioner under Mayor Bloomberg, joined the show to discuss his planned mayoral bid (he has since formally declared his candidacy):
Max & Murphy Podcast: Shaun Donovan Explores a Run for Mayor
In May BP Adams joined us to discuss the city's response to the COVID-19 outbreak, and we spent a short time discussing the upcoming campaign:
Max & Murphy Podcast: Brooklyn BP Eric Adams on the City's Coronavirus Response
In February, before everything changed due to the covid outbreak, we talked with two candidates who declared their candidacies fairly early on and have kept campaigning since, Dianne Morales, who left her job as a nonprofit executive to run, and Loree Sutton, the former New York City Department of Veterans' Affairs commissioner under de Blasio:
Max & Murphy Podcast: Mayoral Candidate Dianne Morales
Max & Murphy Podcast: Mayoral Candidate Loree Sutton
And in late 2019 we spoke at length with Comptroller Stringer, now a candidate for Mayor (and likely an early 2021 guest on Max & Murphy):
Max & Murphy Podcast: Comptroller Scott Stringer