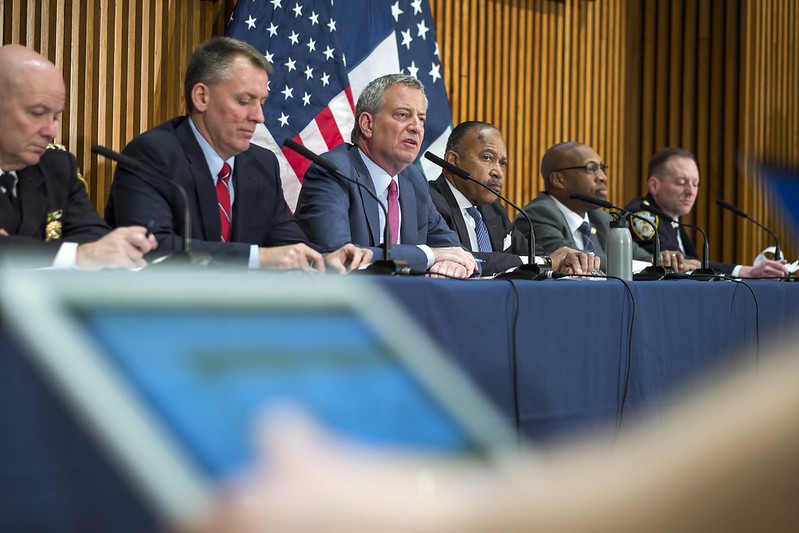 Mayor de Blasio & NYPD officials (photo: Ed Reed/Mayor's Office)
---
When Governor Andrew Cuomo signed an executive order in June mandating that localities set blueprints for broad police reform or risk losing state funding, he tasked mayors and other municipal leaders to engage the public and local legislatures in a collaborative reform process. Now, in response to delays and limited communication from Mayor Bill de Blasio's administration, the New York City Council has signaled that it will move ahead with its own police reform agenda to meet Cuomo's April 1 deadline.
After seven months, eight public "listening sessions" held in October by the NYPD, and countless criticisms of how the mayor has led the police department, de Blasio has announced several notable policing-related changes but has not yet presented the full "police reform and reinvention" plan in line with the governor's order, blowing past the suggested timing in state guidelines, and raising questions about the mayor's ability to get the required City Council approval by April.
As the City Council is asserting itself with a newly-announced legislative package, representatives of the mayor say the administration will produce a plan in February, garner public feedback, and present a final version to the Council "on or before April 1," leaving little room for lawmakers to consider any proposal before approving it.
The reform plans are intended to "help rebuild that confidence and restore trust between police and the communities they serve" through a process "based on fact-finding and meaningful community input," Cuomo said when he signed the order on June 12, two weeks into nationwide demonstrations after the killing of George Floyd by Minneapolis police officers. The order requires localities to convene police leadership and other stakeholders to develop a plan to reform policing writ large -- vaguely enumerating everything from use of force and deployment policy to "restorative justice practices," with few specific requirements.
Once approved by local legislatures, the state Director of the Budget, Robert Mujica, will have the authority to confirm whether the adopted plans comply with the governor's order. If he deems they don't, Mujica can withhold state and federal funding to local police forces.
In New York City, where "defund the police" became a rallying call amongst demonstrators last spring and summer, that jeopardizes some or all of the $30.9 million in state funding for the NYPD in this year's preliminary city budget on top of federal money, according to the city's Independent Budget Office (IBO). It's unclear how much of that can legally be withheld, according to an IBO analyst, or how much of the $168.6 million in federal funds budgeted for the NYPD comes through the state and how much goes directly to New York City.
As the de Blasio administration has yet to present a full police reform plan, City Council Speaker Corey Johnson and other Council members are accusing the mayor of blowing off the state's timetable and faltering on commitments made last summer to enact change within the ranks of the NYPD.
"The Council will not pass anything that does not offer a concrete plan for reform that comes from a truly collaborative process," said Jennifer Fermino, communications director for Johnson, in a January 22 email to Gotham Gazette.
A week later, the Council moved ahead without de Blasio. On Friday, Johnson announced the planned introduction of 11 pieces of legislation for changes mayors have long resisted. The push includes removing NYPD school safety agents from schools by June 2022 and making the police commissioner a Council-confirmed position. It also has a resolution that calls on the state to change the law so that the Civilian Complaint Review Board (CCRB), not the police commissioner, will have final say on many officer disciplinary matters.
"This legislative package will be just one of the steps the City Council is taking toward reforming policing," Johnson said in a statement Friday. "It is critical that we redefine public safety and reduce the NYPD's footprint." Hearings on the legislation will occur in February, the announcement said.
The pressure from the Council and Cuomo's executive order, which requires the city to solicit public feedback on any proposed plan before submitting it for ratification, is adding to an already sizable list of promised police and racial justice reforms de Blasio has committed himself to in his final year in office. The mayor has repeatedly said many of those reforms are works-in-progress the city has been shaping for months or years.
"We're making systemic changes as we have throughout," de Blasio said last month on WNYC radio of the NYPD and his seven-year tenure. The statement came shortly after announcing the adoption of new police disciplinary standards, a policy induced by City Council legislation last year.
The mayor has said he and Police Commissioner Dermot Shea support recommendations made by the city Department of Investigation and Law Department following two separate City Hall-initiated investigations into the NYPD's handling of demonstrators last summer. A new lawsuit from Attorney General Letitia James against de Blasio and the NYPD is adding to the demands to change police-protester relations. In response, de Blasio frequently cites previous moves, like reducing the reliance on stop-and-frisk policing and expansion of neighborhood policing, as examples in an ongoing effort to improve police-community relations.
"To me, this has just been a continuum and it has to deepen. I expect a number of reforms this year in New York City," de Blasio said in an appearance on NY1 Monday evening.
But the delays and lack of transparency from de Blasio around meeting the state order did not bode well for reform directed from within his administration, according to representatives of the City Council.
"The NYPD is in charge of this reform effort," said Fermino, Johnson's spokesperson, in the January 22 email. "But we've seen no real desire from department leadership to change. This is not a good sign."
"To say we're disappointed is an understatement," Fermino said, in a response that followed a January oversight hearing on the de Blasio administration effort to meet Cuomo's order. "It's been seven months, and still we've seen nothing. We don't even know what issue areas they're focusing on. At the hearing, we heard again that the City has made no real attempt to collaborate with advocates and community groups."
Lagging Behind State's Timeline
After the NYPD listening sessions in October, de Blasio announced the second phase of community engagement under a team overseen by First Deputy Mayor Dean Fuleihan, which would ultimately be responsible for coming up with the final plan. The team included senior officials from the NYPD and City Council, along with Jennifer Jones Austin of the Federation of Protestant Welfare Agencies, Wes Moore of Robin Hood, and Arva Rice of the New York Urban League, who had joined the process two weeks earlier.
As part of his State of the City agenda released on Thursday, de Blasio said local police precinct councils would be able to give formal feedback to the police commissioner before the selection of precinct commanders -- a proposal that appears to have been inspired in part by the team's work last fall and a push by Brooklyn Borough President Eric Adams, a former NYPD captain and de Blasio ally currently running for mayor.
The State of the City agenda for the months ahead also includes measures to strengthen the CCRB by giving the oversight body the authority to initiate investigations at its own discretion, as opposed to relying on a formal complaint, and consolidating other oversight entities, like Commission to Combat Police Corruption and the NYPD Office of the Inspector General, under the CCRB umbrella.
The city held over 45 meetings with a litany of community leaders, clergy, advocates, and police officers between November and January, according to Fuleihan's office. State guidance says that engagement work should have been completed by November. It is unclear what, if any, work on the executive order was done between its June signing and the October listening sessions.
Like de Blasio's own sweeping announcements for potentially transformational initiatives, Cuomo's deadline set a relatively narrow window to achieve such a lofty task. But the lack of progress and transparency offered by the Mayor's Office has rankled City Council leadership.
"The administration's lag in deliverables to date demonstrates the fact that there are problems in meeting the Executive Order," said Queens City Council Member Adrienne Adams, who chairs the Council's Committee on Public Safety, in a statement to Gotham Gazette.
"The only way to view the lack of information received thus far is that this mandate has not been taken seriously enough," she wrote.
At the oversight hearing held January 11 by the public safety committee, representatives of the First Deputy Mayor's Office, the Mayor's Office of Criminal Justice, the Law Department, and the NYPD struggled under withering questioning to provide specifics about what would be in the final proposal.
"We believe that the collaborative so far, the plan we have in place for engagement, for engaging as many stakeholders as possible, accepting all recommendations, and publishing a plan in the coming weeks for public comment before bringing it to Council for ratification on or before April 1, reflects what we've read in the executive order and the guidance," said Chelsea Davis, chief strategy officer in the office of First Deputy Mayor.
A spokesperson for de Blasio confirmed to Gotham Gazette that a draft is due in February for public comment and would be ready on or before the April 1 deadline, which is also the date a new state budget is due.
But state guidance issued August 17 says the police reform plans should be drafted in November and December and released for public comment from January to March. The guidance calls for public education around the proposals and that "the public comment is addressed in a meaningful way in your final plan."
Pursuant to Cuomo's executive order, New York City must submit the final plan after City Council ratification to the state Division of the Budget by April 1, or jeopardize future state and federal funds at the discretion of State Budget Director Mujica, meaning the governor.
"Build in sufficient notice and time for this to occur before the April 1, 2021 deadline," the August guidance says.
Tall Order
It's unclear how well any plan developed in a half-year's time -- and near the end of a two-term mayoral tenure of regularly unfulfilled police reform promises -- will be able to meet the transformative demands of Black Lives Matter demonstrators, whose cause Cuomo, now in his third term, sought to further through his executive order.
The Cuomo order says the collaborative "shall consider evidence-based policing strategies, including but not limited to, use of force policies, procedural justice; any studies addressing systemic racial bias or racial justice in policing; implicit bias awareness training; de-escalation training and practices; law enforcement assisted diversion programs; restorative justice practices; community-based outreach and conflict resolution; problem-oriented policing; hot spots policing; focused deterrence; crime prevention through environmental design; violence prevention and reduction interventions..." It suggests modelling existing policies and standards created by the New York State Municipal Police Training Council and the state Law Enforcement Accreditation Program, both under the state Division of Criminal Justice Services.
Cuomo was clear he was pushing localities to bring stakeholders together to make their own plans collaboratively and that there was no one-size-fits-all plan for the entire state.
"The relationship is frayed," he said on August 17 when he released the guidance for municipalities, referring to police and community. "The relationship is based on trust and respect and the relationship is ruptured. But divorce is not an option here."