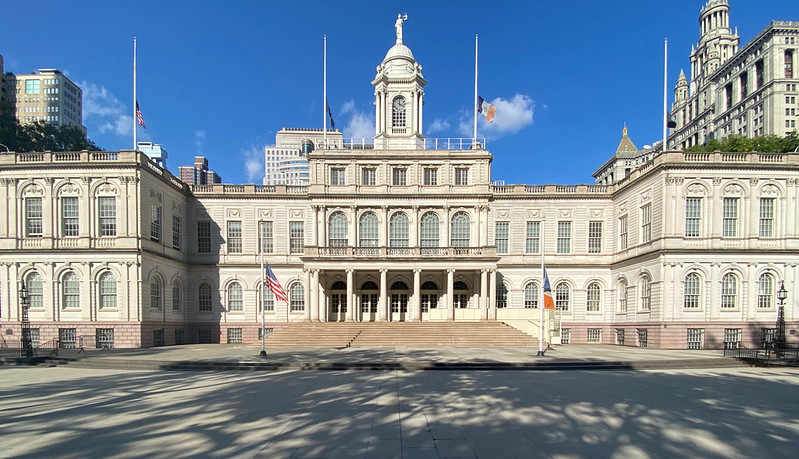 The race for City Hall is on (photo: Michael Appleton/Mayor's Office)
---
With all of city government on the ballot, 2021 is an immensely important election year in New York City. New York voters will elect a new Mayor, and many other new officeholders for citywide, borough-wide, and City Council positions. In partnership with Manhattan Neighborhood Network, Gotham Gazette is producing "Decision NYC with Ben Max," a series of in-depth 30-minute video interviews with candidates for Mayor, Comptroller, Public Advocate, Manhattan Borough President, and Manhattan District Attorney. This series will complement Gotham Gazette reporting on the 2021 city elections, the Max & Murphy podcast, our 2021 video issue briefs, and more.
Below, you'll find all of the Decision NYC interviews with candidates for New York City Mayor, with the Democratic candidates followed by the Republican candidates. The primaries will be in June. More interviews will be added as they are completed and published. (Interviews with candidates for other offices are/will be posted elsewhere on the Gotham Gazette site.)
Have feedback? Tweet us @GothamGazette and @TweetBenMax.
Eric Adams (D)
---
Scott Stringer (D)
---
Kathryn Garcia (D)
---
Maya Wiley (D)
---
Shaun Donovan (D)
---
Ray McGuire (D)
---
Andrew Yang (D)
---
Dianne Morales (D)
---
Joycelyn Taylor (D)
---
Isaac Wright Jr. (D)
---
Art Chang (D)
---
Paperboy Prince (D)
---
Aaron Foldenauer (D)
---
Fernando Mateo (R)
---
Curtis Sliwa (R)
---
Bill Pepitone (C)
---
Stacey Prussman (L)
---
Quanda Francis (i)
---
Carlos Menchaca (D) (Dropped out of the race in March)
---
Loree Sutton (D) (Dropped out of the race in March)
---
Zach Iscool (D) (dropped out of the mayor's race and into the comptroller race)
---
Sara Tirschwell (R) (did not make ballot)
---
Eddie Cullen (D) (did not make ballot)
---
Guiddalia Emilien (D) (did not make ballot)
---
Barbara Kavovit (D) (did not make ballot)
---
Cleopatra Fitzgerald (D) (did not make ballot)
---