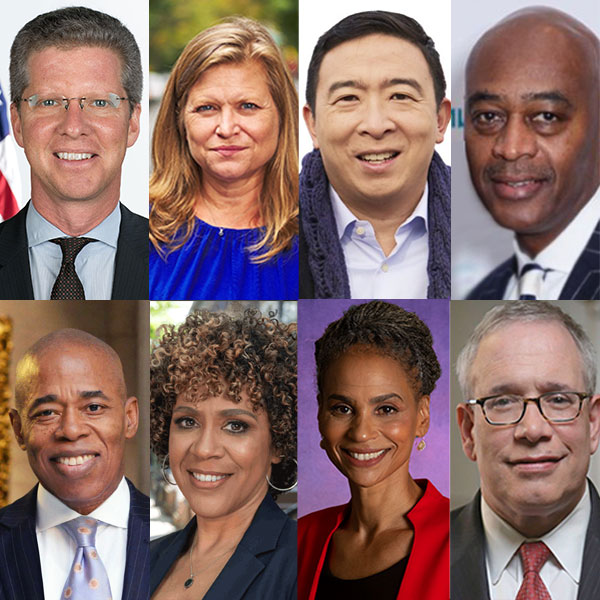 8 leading Democratic mayoral candidates
---
During a forum Wednesday night hosted by VOCAL-NY, leaders of the statewide grassroots group questioned eight leading Democratic candidates on their plans to tackle the intersecting issues of drug policy, homelessness, and policing. The forum was centered around the group's newly-unveiled "Caring & Compassionate New Deal for NYC" report, which calls on elected officials to adopt a new framework for addressing complex problems and invest in social services instead of relying on policing, criminalization, and incarceration.
Candidates were pressed on the extent to which they would incorporate the group's policy suggestions into their platforms, featuring questions on the decriminalization of drugs, the reallocation of funds from the NYPD to housing, social services, and other concerns on homelessness, substance use, policing, incarceration, and more.
The forum was moderated by Alyssa Aguilera, the co-executive director at VOCAL-NY, and Jawanza Williams, the director of organizing at VOCAL-NY, both of whom often challenged candidates to clarify or elaborate on their responses, though as is often the case at these candidate forums, candidates' time to speak was fairly limited.
The eight participating Democrats appeared in small groups: former Wall Street executive Ray McGuire and city Comptroller Scott Stringer appeared together early on; then Maya Wiley, a civil rights attorney and former counsel to Mayor de Blasio, former federal housing secretary and city housing commissioner Shaun Donovan, and former city sanitation commissioner Kathryn Garcia appeared together; followed by Brooklyn Borough President Eric Adams, former nonprofit executive Dianne Morales, and Andrew Yang, an entrepreneur and former presidential candidate.
Most candidates found agreement on increasing preventive and supportive services to reduce homelessness, replacing police intervention with mental health and social services in response to non-violent calls, decriminalizing marijuana, and implementing overdose prevention centers, also known as safe injection sites, while also providing different specific solutions and taking some varied stances on other topics. Candidates were clearly divided on defunding the police department.
'Caring & Compassionate New Deal for NYC'
Wiley, Donovan, and Morales pledged to remove police intervention from all responses related to homelessness, drug use, and mental health crises, but proposed different strategies, some more specific than others, for restructuring city government in order to increase its efficiency and reduce reliance on policing.
"I would start by making sure that the NYPD is not getting 911 calls related to mental health crisis intervention," said Wiley, who pitched "crisis response teams made up of mental health professionals, as well as peer counselors" as an alternative. In addition to creating "supportive housing" and increasing "safe havens and urgent care centers," Wiley said her administration would "start to solve" the issue of 500,000 New Yorkers who are without health insurance, though she didn't go into specifics. She called for defunding the police to create "a participatory justice fund, where communities can direct resources to what they need," as well as implementing "trauma-informed care in our schools."
Donovan spotlighted his "15-minute neighborhoods" policy proposal, which would "make sure that every New Yorker, within 15 minutes of their front door, has emergency 24/7 mental health care available to them."
Donovan also said he would establish greater coordination between city agencies. "Every time someone leaves Rikers, every time someone leaves the mental health wing of one of our hospitals, they [should be] directed immediately through a coordinated entry system, to the housing and services that they need, rather than what happens now, which is they fall through the cracks," he said.
"It's still very devastating to me to me that the recent subway stabbings were framed by some of my colleagues in this race as incidents that should be criminalized versus being seen as a public health and transformative justice issue," said Morales, who praised VOCAL-NY's "Caring & Compassionate New Deal for NYC" plan for its intersectional approach to key issues and was the most clear of all the candidates that she is fully embracing it.
Morales went on to say that her administration would "declare housing as a human right" within the first 100 days of office and "really ensure that every city organization and agency was focused around housing as one of the most single important physiological needs that addresses a multitude of issues that we know." She also reiterated her pledge to defund the NYPD by $3 billion.
McGuire, Garcia, Adams, and Yang were less committed to adopt VOCAL-NY's framework in full. They all indicated they were not comfortable fully removing the police from calls related to homelessness, mental health, and drug use.
"I agree with much of your framework, although I would not commit to everything you laid out," said McGuire, who said he would "create a 24-hour Emergency Social Services Bureau" (with units in every precinct across all five boroughs, according to his public safety plan) that would "respond either with or before the NYPD," especially in situations involving mental health crises, homelessness, or substance abuse.
Additionally, McGuire said he would appoint "a deputy mayor for public safety," who would "help the day-to-day management of the NYPD." He also said he would require the NYPD to provide requested body camera footage within 48 hours; his public safety plan notes that in 2019, the average time it took for the CCRB to receive body camera footage was 42 days (the de Blasio administration has announced changes to the policy since).
"I believe that we need mental health professionals embedded within our [police department] to ensure that when they are responding to a mental health crisis that they have the resources that they need," said Garcia.
Yang said "we've been underinvesting in mental health resources," but also argued that a police presence was necessary in some cases.
"The vast majority of cases would not warrant a police officer's presence," Yang said, "but there are some cases where it might be useful to have a police officer somewhere in the vicinity." He did not explain what those instances would be.
Adams, who spent two decades in the NYPD, took a similar stance, saying, "I would strongly believe that the overwhelming number of times, that I remember as a police officer, not having the need of the police officer being there." But he went on to add that some cases, such as recent subway stabbings, require a police response in conjunction with that of mental health professionals. The violence of that incident means the instance would not have fallen into the question from the group, though.
Stringer was said to be experiencing technical difficulties during this portion of the forum, and so did not answer this question, but he addressed the topic of replacing police intervention with mental health services later in the forum, saying that law enforcement should not be responsible for responding to mental health crises.
Drug Policy
Asked if they support decriminalizing possession of small amounts of all drugs, most candidates emphasized treatment over criminalization in their responses, to varying degrees.
Morales was the only candidate who explicitly supported decriminalizing possession of small amounts of all drugs, saying, "Yes, I think we need to move towards that." She called for the expansion of the 2019 bill that decriminalized small amounts of cannabis in New York, as well as working with the state government to fully legalize it.
"We have to start with where we already have a lot of public support, with marijuana and NARCAN," said Wiley. She did not disclose whether she was supportive of decriminalizing possession of small amounts of all drugs in the future, but rather argued that public opinion around drug decriminalization would shape her drug policy moving forward.
Stringer implied some degree of support for decriminalizing possession of small amounts of all drugs without outright commiting to the policy, saying, "We can't just simply incarcerate; that's what we did with the Rockefeller Drug Laws." He added, "We need to provide places where people can get the services they need."
Although many candidates said they supported decriminalizing marijuana, Donovan, Garcia, Yang, and Adams varied in their responses on decriminalizing possession of small amounts of other substances. Some candidates also appeared to use the terms "decriminalization" and "legalization" interchangeably, though they are two different legal concepts, and the question posed was specifically about decriminalizing possession of small amounts of all drugs.
"I do have some concerns about decriminalizing completely all substances," said Donovan, who cited fentanyl as particularly concerning. "I would ensure that we are directly connecting those who are struggling with the housing and the services that they need," he added.
"There are other substances, not only fentanyl, but even things like cocaine, where you don't know how your body is going to react," said Garcia, who cited decades-old examples of "young basketball players who died of heart attacks after their first use." Garcia said the city needs to "connect people who are addicted to services and also make more available the chemical substances that we know are helpful," citing SUBOXONE and methadone, "to get people off of drugs permanently."
Aguilera pushed back on Donovan and Garcia's responses, saying, "Drugs have always been illegal and the devastation and the overdoses are continuing to happen. Clearly, 40 years of [criminalization] hasn't worked. We're hopeful that the next mayor will take a different approach."
Yang said he was supportive of "the decriminalization of many of these prescription opiates," as well as the "legalization of psilocybin mushrooms." More broadly, he said, "I'm open to the public policy impact of legalizing other substances." On criminalization, he said he would instruct district attorneys to not prosecute "personal possession," though the mayor does not have control over district attorneys, who are elected officials. Yang added, "We need to be getting people that are trying to frankly profit and getting other people hooked."
Adams said he was outright against decriminalizing all other drugs, citing his background as "ex-po-po," meaning part of the police department. He went on to say, "We need to make sure that people who were demonized and criminalized are able to make their lives whole again, such as cleaning credit reports, having some of the first licenses," most likely referring to those who have experienced criminalization for marijuana possession and the ability to sell legalized cannabis.
Unlike other candidates, McGuire did not specify his stance on decriminalizing or legalizing marijuana, although he did say he was unsupportive of decriminalizing possession of small amounts of all drugs. "We need to recognize a difference between the substance abusers, who need help and support, versus organized trafficking rings or doctors who illegally prescribe opioids," McGuire said. "We need to focus NYPD and prosecution on those responsible for the spread of drugs in the communities."
Stringer, Wiley, Donovan, Morales, Adams, and Yang pledged to implement overdose prevention centers, also known as safe injection sites, within their first year in office, while McGuire and Garcia expressed reservations.
"We should go one step further," said Adams, who cited his experience opening Brooklyn's first "shower bus," which provided hot showers, toiletries, peer counseling, housing support, and employment resources to the borough's homeless population. Adams also called for "wraparound resources," but did not specify further.
Yang honed in on the intersection of stigma and classism associated with over dose prevention centers. "People are not excited about having an overdose prevention center in their neighborhood," said Yang, "but they wouldn't object to having a hospital in their neighborhood. This, to me, has the exact same purpose, which is to keep people alive."
"In order for us to truly move forward, to move away from the criminalization of poverty and the criminalization of existing while Black, we need to prioritize care and the preservation of Black lives," said Morales.
"I was the first candidate to call for Safe Use Centers to be established here," said Donovan. "I would also ensure that we are directly connecting those who are struggling with the housing and the services that they need."
"Overdose prevention centers are something that is proven to work around the world," said Stringer, "but in addition to the centers, I do think you have to incorporate supportive housing, you have to create jobs and services."
Just before Stringer said that, McGuire cast doubt on the efficacy of overdose prevention centers, calling evidence from centers worldwide "mixed." He pledged to "invest in whatever strategies we can employ, that are proven effective," adding "we'll have to look into it."
Williams pushed back on McGuire's response, pointing out that the city conducted a feasibility study in 2017 that found overdose prevention centers are "viable" and should be implemented. They have not moved ahead for a combination of reasons including a lack of state government sign-off.
"I will advocate for [overdose prevention centers]," said Garcia, "but the [City] Council member in the local area has the final say on changes in land use."
"We have to actually reform our land use policies because we can't have the kind of NIMBY-ism that prevents us from making progress," Wiley said in apparent response to Garcia's point.
McGuire, Morales, Adams, and Yang unanimously pledged to double the city Department of Health's funding for harm reduction programs and interventions in their first term. (Stringer, Wiley, Donovan, and Garcia were not asked this question because of time constraints.)
McGuire, Morales, Stringer, and Yang unanimously pledged to eliminate the Special Narcotics Prosecutor, an office dedicated solely to prosecuting drug crimes and originally created at the start of Nixon's War on Drugs.
"I can't answer yes or no to that because there's too many caveats," said Adams. (Wiley, Donovan, and Garcia were not asked this question because of time constraints.)
Homelessness
Asked what policies they would implement to curb homelessness in the city, candidates called for the city to increase preventive and supportive services, while highlighting their housing plans in the process.
McGuire emphasized prevention services, such as "rental subsidies, legal assistance, and advocating for additional Section 8 vouchers." Additionally, McGuire said he would invest in mental health services, job training, placement, and childcare. The third prong of McGuire's housing plan also calls for "pathways to permanent housing" and "expanding affordable housing through quality basement apartments, accessory dwelling units, and communal housing."
"What I would do on day one as mayor is initiate my housing plan to build 400,000 low-income housing units," said Stringer. He added that he would use parcels of vacant city-owned land, via community organizations, to build low-income housing.
Donovan, Wiley, and Morales invoked housing as a human right as part of their policy platforms, with some differences. Donovan said he would "create an interagency council on homelessness that would bring everyone to the table," citing a similar measure he implemented while a member of Obama's Cabinet, while Morales said she would shift "the $3 billion annual shelter budget towards providing and supporting permanent housing," as well as increase rental assistance.
Although Wiley, Donovan, Stringer, Yang, and Garcia said they would increase housing voucher values, they did not addressing tackling rampant discrimination by landlords against people with those vouchers.
Some candidates, such as Donovan, Wiley, and Yang, expressed support for more supportive housing. Garcia said she would implement a "three-step process" that would create "drop-in centers, so that [unhoused people] can begin to trust the providers," then "move them to safe haven beds as the next step, and then into supportive housing."
Adams and Morales called for a deputy mayor position to oversee all aspects and departments dealing with housing — something other candidates have indicated they are planning or considering. For example, Garcia's housing platform proposes that homeless services, economic development, and housing agencies all report to the same deputy mayor, who would oversee and coordinate the city's housing-related issues and departments, including NYCHA public housing.
Most candidates pledged to guarantee access to emergency "on-hand" housing, called "safe havens," including for people who use drugs or are struggling with unmet mental health needs, within the first year of their administrations, with some variations.
McGuire, Donovan, and Wiley voiced support for expanding access to safe haven beds, but also said such measures should ultimately lead into supportive or permanent housing.
Stringer did not say whether he would expand the supply of safe havens, but instead emphasized increasing the safety of homeless shelters and ensuring tenants stay in their homes.
Adams pledged to go further, saying he would expand emergency housing for those leaving correctional facilities, "so they can transition back into society."
Morales pledged to meet the goal, saying it reflected her "housing for all" platform.
Although Yang agreed to expand and guarantee access to safe haven beds for all, he declined to commit to the timeline, saying, "I would certainly love to make that happen because we need those beds, but I do want to be realistic. It's hard to go from 1,200 to 20,000 in the timeframe that you've described."
Garcia was against expanding and guaranteeing access to supportive housing for all, arguing, "Some folks just aren't ready for supportive housing."
Wiley disagreed, saying, "One thing we know is that everybody's ready for housing."
Candidates unanimously pledged to grant a right to youth shelter to all youth up to the age of 25, with Stringer and Donovan highlighting how this issue disproportionately impacts the LGBTQ community and those who have aged out of the foster care system. Donovan also said, "We have to go upstream and solve these problems."
Decarceration
Candidates were divided on whether they would reduce the NYPD budget and how much would be reallocated to address social problems. Although Stringer, Wiley, Donovan, Morales, and Yang said they would reduce NYPD funding to varying degrees, McGuire, Adams, and Garcia either would not commit to cuts or would not specify by how much.
Morales cited her plan to create a Department of Community First Responders that would respond to non-violent calls and connect people to social services and programs. She also reiterated her commitment to cut $3 billion from the NYPD budget but has not laid out a roadmap for how to do so.
Wiley reiterated her plan to divest $18 million to create participatory justice funds "in communities that have high rates of gun violence" to fund various social services. She also pledged to cut "incoming cadet classes and use that money for community care centers." She voiced support for eliminating VICE and said she hasn't put an overall number on how much she would cut from the NYPD budget because the budget itself is too opaque.
Stringer pledged to cut $1.1 billion over four years from the NYPD, adding he would model his police department after the CAHOOTS program in Eugene, Oregon, so police officers are not responsible for responding to mental health crises. "These police officers are simply not trained to do that," he said, adding he would dispatch "guidance counselors and mental health experts" instead.
Both Donovan and Yang said they would divest from the city's overall criminal justice system budget, though Donovan was more specific on exact dollar amounts and the timeline.
Donovan said he would cut half-a-billion dollars within his first two years to fund "community-based programs that end the cycle of incarceration." He also said he would increase that by 20% by the end of his first term.
Yang was more vague on the extent to which he would reallocate city funds, but suggested the money would go toward mental health and substance abuse resources, as well as education. He cited Los Angeles, which reallocated their discretionary local budget by 10% as a benchmark for New York City to beat.
"My commitment is ensure the police funding isn't going to useless programming," said McGuire, who added that he would reimagine policing so officers are held accountable and their responses are proportionate. "I would reallocate the budget," said McGuire, who emphasized reducing violent crime and increasing "community policing," although he did not specify how much would be reallocated and to where.
Garcia would not commit to making cuts, arguing, "We can have both reform and safety in our communities," though she did not explain in detail how she would accomplish that dual task other than to say she has experience leading a uniformed city agency and would run the department with accountability it has lacked. Garcia did allude to prevention in her response, saying, "The first time a kid shoplifts something — what is going on, that needs to be an alarm bell going off across all of our services to make sure we are addressing that."
"I can't give you a dollar amount of how much I'm going to take from the police budget," said Adams, "but I'm telling you, I'm going to deal with the $400 million in overtime, I'm going to deal with the civilian organization to get police officers out of those civilian assignments, I'm going to change the ecosystem of public safety." Adams said he would invest in foster care so youth can stay in the system until the age of 26, and he would also demilitarize law enforcement.
Although candidates unanimously called for closing the Rikers Island jail complex as is planned, they offered distinct responses on reimagining incarceration in the city.
"89% of the population at Rikers is Black or brown," said McGuire, who went on to say that he was against building the new planned jails and would build "restorative justice centers" instead. "We need to find a way to accommodate those who are high-level crimes, those who are mid-level and those who don't deserve to be in jail."
Garcia, Stringer, Donovan, and Wiley said they did not support the city's current plan to build four new borough-based jails on the grounds that the city should build smaller jails. They also voiced their approval for the "Renewable Rikers Act," which would transform the island into a renewable energy hub and create new green jobs instead.
"I would support building a modified version of new jails," said Adams, a point Yang agreed with, but because of time constraints, they were not able to elaborate on their responses.
Morales was also unsupportive of building new jails, but because of time constraints, she was unable to elaborate on her reasoning.