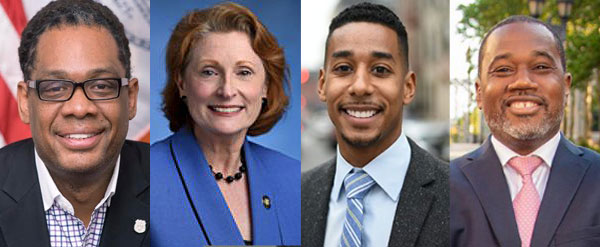 (l-r) Robert Cornegy Jr, Jo Anne Simon, Antonio Reynoso, Khari Edwards
---
With Brooklyn Borough President Eric Adams, a Democrat, facing term limits and pursuing a bid for mayor, there is a competitive "open" primary race underway to replace him. More than a dozen candidates are seeking the Democratic nomination in the June primary, which is all but assured to decide the next borough president because of the overwhelming majority of registered Democrats in Brooklyn.
The race features three City Council members, a State Assembly member, a former hospital executive with deep community ties, a bishop, a state committee person, a high school English and theater teacher, a daycare teacher and labor activist, a reference librarian and minister, a business administrator for non-profit organizations, and a gang violence activist. Like the rest of the party primary elections for all of city government — mayor, comptroller, public advocate, borough presidents, and City Council seats — happening this June, the Brooklyn Borough President primary will feature ranked-choice voting for the first time.
The office of borough president is a relatively ceremonial role without many concrete enumerated powers. A borough president can appoint members to various local and boroughwide boards, including half of all members of their borough's community boards, local school boards, one member each to the citywide Panel for Educational Policy and City Planning Commission.
One of the more important roles borough presidents play, albeit in an advisory capacity, is their voice in land use and development matters through the city's Uniform Land Use Review Procedure (ULURP). The process determines how rezonings, changes with development, and city map alterations are made. Borough presidents also control millions of dollars in capital funding that they can allocate for infrastructure including everything from parks and playgrounds to schools and community centers.
While there aren't many other decision-making powers of the borough president, they can also sponsor legislation before the City Council, often in partnership with Council members, though the borough president can't vote on those bills. The borough president can also award proclamations to people he or she feels are notable and can convene task forces to discuss issues facing the borough, issue reports and policy recommendations, and advocate.
And that is perhaps the most important power of the borough president, albeit an abstract one: the bully pulpit. The borough president is supposed to be the borough's strongest advocate, representative, and cheerleader, a champion for diverse communities and for the borough as a whole. They are the link between the local districts and boards and the centralized City Hall and City Council, between their borough and the mayor and governor. A proactive borough president can influence major decisions.
Brooklyn, like the rest of the city, is continuing to struggle with the effects of the coronavirus pandemic and faces a long road to recovery. It is home to communities that have been disproportionately affected by the crisis, a result of long-standing inequities that stem from structural socio-economic disparities. There are also the perennial issues that are pertinent to all or most of the five boroughs including the lack of affordable housing, the future of the New York City Housing Authority (NYCHA), large-scale rezonings, criminal justice, transit infrastructure, coastal resiliency, and more.
More specific to Brooklyn, these and other issues manifest in terms of challenges like addressing coastal resiliency in the south of the borough, deciding how to rebuild or reinvent the Brooklyn-Queens Expressway, the revival of Coney Island's tourist economy, environmental justice in northern Brooklyn, education equity and safety from hate crimes in the large Orthodox Jewish communities, the plan to build a new downtown jail as part of the closure of the Rikers Island complex, gun violence, poverty, and a lack of health care in parts of central Brooklyn, housing and displacement in gentrifying areas, and much more.
Though there are 14 candidates running to be the next Brooklyn Borough President, the top tier — as determined by candidates' public profiles, political experience, endorsements, fundraising, campaign activity, and more — consists of six: State Assemblymember Jo Anne Simon, City Council Member Robert Cornegy, Jr., City Council Member Antonio Reynoso, City Council Member Mathieu Eugene, nonprofit executive Kimberly Council, and former Brookdale Hospital executive Khari Edwards. The other candidates include Robert Elstein, Pearlene Fields, Anthony Jones, Shanduke McPhatter, Robert Ramos, Jr., Trisha Ocona, and Lamor Miller-Whitehead.
******
Gotham Gazette spoke with five of those leading candidates running for Brooklyn borough president, while Eugene did not respond to multiple inquiries. Highlights from those interviews and other key information about the six leading candidates are below, followed by, on page two of this article, information about the other candidates in the running for Brooklyn Borough President.
Robert Cornegy, Jr.
Robert Cornegy, Jr., a two-term Democrat in office since 2014, represents Council District 36, which includes the neighborhoods of Bedford Stuyvesant and Northern Crown Heights.
In the Council, Cornegy chaired the Committee on Small Business in his first term and now heads the Committee on Housing and Buildings. He championed several initiatives and bills to support small businesses including the Chamber On-the-Go mobile business support program and a bill to penalize landlords who harass commercial tenants. He also successfully sponsored a bill that requires the city health department to provide lactation rooms for breastfeeding mothers at government agencies and offices where many New Yorkers get services.
Among his more prominent achievements is the Kalief Browder law, which mandates that any person detained or incarcerated at Rikers for more than 10 days should receive the necessary vocational, educational, and health care services they need. He's also been a proponent of expanding gifted and talented programs in elementary schools.
Cornegy touts his experience in the Council as key to being successful as the next borough president, particularly his leadership on small business and housing issues. "I believe that those are the actual pillars by which recovery and resiliency will take place not only in the city, but also in the borough of Brooklyn, which to me drives the city," he said in an interview.
As with most candidates, Cornegy wants to pursue a new approach to land use and development, focused on creating truly affordable housing. "The three components to affordability in this borough are going to be the ability to access and utilize the powers in land use and zoning, but also the almost $100 million annually of capital funding that help reshape every corner of the borough," he said.
He wants to strike a balance in how development occurs in the borough, seeming to criticize both as-of-right market development and the major city-led rezonings aimed at encouraging new housing, including a portion that is rent-restricted. "The private-public partnership is what's really going to get us to affordability in this borough," he said. "We've seen, when it's driven by the private sector, abuses that are far too many to document. And we've also seen inequities when it's been led solely by the public sector," he said.
Cornegy did promise that before his term is up in the City Council, he would "reshape" ULURP to make the process more inclusive for communities on the ground, though he did not specify the legislative changes he would propose to do so. "I intend to do that as a legacy project before I leave the City Council," he said.
Among the ways that the Council is already considering changes to how the city pursues the larger context of housing development, rezonings, and all sorts of borough and local needs is comprehensive planning legislation championed by Council Speaker Corey Johnson and originally proposed by Council Members Brad Lander and Antonio Reynoso, another contender for Brooklyn borough president. Cornegy did say he supports "portions" of the bill, but could not say specifically which parts of it he opposed.
But Cornegy repeatedly emphasized the need to ensure greater community input in rezonings. "It's really important for us to look at rezonings and make sure they don't favor one demographic over another, and to make sure to give community viability and input in every single project. That's where communities have taken exception, not to the process in and of itself," he said.
That dynamic also played out in the city's plan to build a borough-based jail in every borough except Staten Island, to replace Rikers Island, which is slated to close in 2026. Cornegy voted for the plan in the Council and takes pride in playing a role in the closure of Rikers.
(In terms of changes to how the city does development, there is also a Council bill, pushed by Public Advocate Jumaane Williams, to mandate a racial impact study as part of all rezoning proposals, but Cornegy did not mention it.)
On the power of making appointments to community boards, which play an advisory role in land use at the hyperlocal level and where new term limits start being implemented next year, after a charter change was approved by voters in 2017 with the goal of seeing more turnover and diversity, Cornegy said he supports term limits but worries about completely replacing current members from the boards.
"There are people who have institutional knowledge who we don't want to throw out. You don't want to throw out the baby with the bathwater," he said. "However, there should be a healthy mix of past, present and future community residents on these boards…Yes, we want fresh blood and fresh eyes but getting rid of tremendous institutional knowledge in the process is not the best thing ever." (Community board term limits will be implemented on a staggered schedule and members can reapply to boards after being off for one two-year term.)
Asked how he would ensure that community boards don't become roadblocks to local projects like busways and bike lanes, as happens fairly often, Cornegy said there is no "blanket" approach. "Every community has their needs, and they're able to articulate those needs," he said.
As with most candidates, he expressed reservations about the NYCHA rescue plan being pursued by the de Blasio administration to raise funds for the struggling public housing authority and renovate and rebuild its many developments. On one portion of the plan, often called infill development as it would allow the lease of unused or underused NYCHA land to private developers to build housing, including or at times fully rent-restricted housing, Cornegy expressed opposition. "So in its current form, I'm not thrilled with that," he said, "because of the concerns that I have around keeping those employees and labor members who have been a part of NYCHA, and those families who've lived in NYCHA."
Cornegy has been a clear supporter of charter schools and believes the state cap on their growth in the city should be lifted. "As a parent of six, I think it's important to give pathways for all children to be successful," he said, noting that three of his children attend charters. "I think that there are solid arguments for raising the charter school cap," he added.
As borough president, Cornegy also said he would pursue a "comprehensive transportation plan" for the entire borough, assessing which communities need dedicated busways, which ones need protected bike lanes, and such. "A real robust program that can be driven actually, by the borough president's office, that incorporates the use of public transportation, protected bike lanes, and access to the waterways, is what's going to be necessary to get this entire borough moving," he said.
Cornegy's campaign hasn't been without controversy. The City reported in February on a complaint filed by a former Cornegy staff member alleging that he used official resources and staff for his campaign. Then in March, The City also reported on a verbal scuffle between Cornegy's staff and a constituent.
Still, Cornegy is seen as among the frontrunners in the race. He had about $493,000 in cash on hand as of the last campaign finance filing from March 15 (Due to a filing error, the CFB's database incorrectly showed he had more than $1 million). He has also received several prominent endorsements including from State Senators Diane Savino and Roxanne Persaud, Assemblymembers William Colton, Jaime Williams, and Erik Dilan, and City Council Members Chaim Deutsch, Alan Maisel, Laurie Cumbo, and Darma Diaz. He even has the backing of director Spike Lee and comedian Tracy Morgan.
Jo Anne Simon
Since 2015, Simon has represented State Assembly District 52, which covers Downtown Brooklyn, Cobble Hill, Carroll Gardens, Boerum Hill, Gowanus, and parts of Park Slope. A lawyer by training, she previously ran a disability civil rights practice and is also an adjunct assistant professor of law at Fordham University.
Before her time in office, Simon built her reputation as a community activist opposing large scale developments in the borough including Atlantic Yards and the closure and sale of Long Island College Hospital (LICH). That second project led her to introduce and pass through the Assembly a bill called the Local Input in Community Healthcare (LICH) Act, to ensure that the state health department cannot close hospitals without assessing the community's health care needs. The bill has stalled in the State Senate.
Simon has generally been anti-development over the course of her activism and elected career, even speaking up against the recently scrapped Industry City rezoning and the proposed Gowanus rezoning. She previously served as President of the Boerum Hill Association, chaired its committees on traffic and transportation, land use, and Atlantic Yards. She also chaired the Gowanus Community Stakeholder Group and Gowanus Expressway Community Coalition. In 2004, she was elected female District Leader and State Committeewoman for the 52nd Assembly District, and would go on to win the Assembly seat.
"I am running because I am really tired of issues being categorized as women's issues and therefore being given less credence and less value," she said in an interview. "It's time, I think, for some 'good trouble,' as Congressman [John] Lewis used to say. Women's issues are small business issues, they're education issues, they're health issues, they're immigration issues, they're environmental and economic and social justice issues. And it's time for women's leadership in Brooklyn." As Simon noted, she would be the first woman ever to serve as Brooklyn Borough President.
Simon said the borough president's office is only limited by the way its holder uses it. "The real power is in the ability to lead by convening, by coalition building, and by a strategic use of capital funding, for example, to help shape and support issues that are consistent with policy," she said.
As with Cornegy, Simon wants to see changes to the ULURP process, though she said it should happen through an amendment to the city charter. "My approach to land use would be very different from what is currently in the charter," she said. "[W]hat we have right now under ULURP isn't working really well for anybody, and nobody involved with that process is particularly enamored of it. What we really need is sort of smart, responsible and community driven development." It was a veiled critique of the top-down approach employed by the de Blasio administration, which has often seen rezonings delayed or even derailed because of community opposition. More often than not, communities feel they have not been heard and several communities have even attempted neighborhood-led rezonings to meet their demands. "The ULURP process does not really involve the community. It was designed to make it look like it involved the community, but it doesn't actually involve them. So that sets up the community to be unhappy because somebody else came in with an idea and he's trying to sell it to them," she said.
The comprehensive planning legislation before the City Council ostensibly seeks to fix that issue by giving communities a greater voice. But Simon disagrees with the legislation as it stands. "I think we need comprehensive planning," she said, "My concern about the speaker's approach at this juncture, without some modifications, is that it still ends up putting the development community in the driver's seat."
Besides giving communities more power, she also wants developers to give them more resources. "We need to find a way that developers when they develop, that they put in some money that goes to public services," she said. "We need water and sewer, we need to build out our broadband seriously... That's infrastructure, right? We should be putting money into a pot to build schools where we need the schools."
But that wasn't her only critique of the major neighborhood rezonings pursued by de Blasio, most of which have been focused on low-income communities of color. They come with the threat of accelerating gentrification and mass permanent displacement, she said, without adequate planning for community benefit. "The problem with these big rezonings is that everything's up for grabs in other words," she said.
A central concern for Simon is environmental justice, which runs through issues of land use, public health, transit and waterfront infrastructure. "To the extent that the borough president has a role in ULURP...in any kind of proposal, what is the impact on climate and climate justice?...That's the North Star there. And so everything then has to point in that direction," she said, promising to strategically use capital funds to ensure all new projects are climate resilient.
Though Simon may not be able to affect the borough-based jails plan, she nonetheless opposes it, insisting that the "critical flaw" was that the city did not place a facility in each borough. More facilities would have meant a more spread out jail population footprint and smaller facilities, she said. "I came out against that particular proposal, ultimately, even though I had wanted very much to be able to support it," she said. "And so I think it could be improved significantly...I don't know what another administration would do to modify that."
Simon also promised to provide more resources to community boards to strengthen their ability to weigh in on land use matters "because we're asking people to evaluate incredibly complicated projects, beyond their area of expertise, and we're not giving them any help."
She believes NYCHA infill development is misguided. "You may have what looks like a lot of room. But the reality is, you'd have to build too close to the existing buildings and it would just be awful," she said. "And it also just engendered a lot of fear and distrust in the part of the residents and I think that was unnecessary."
She is opposed to raising the charter school cap. "It's a legislative decision as opposed to a borough president's," she said. She is supportive of building more dedicated busways and protected bike lanes, she said.
Simon's bid has been endorsed by several fellow elected officials and political clubs including State Senator Andrew Gounardes, Assemblymember Robert Carroll, former State Senator Velmanette Montgomery, 504 Democratic Club, former Assemblymember Joan Millman, Union of Arab Women of NYC, the Bay Ridge Democrats, the Jim Owles Liberal Democratic Club, the Independent Neighborhood Democrats, Brooklyn Young Democrats, Lambda Independent Democrats of Brooklyn and Central Brooklyn Independent Democrats. She is in second place in fundraising and had over $727,000 in campaign cash as of March 15, but her filings also show an outstanding loan of $125,000, which Simon lent to the campaign.
Khari Edwards
Khari Edwards was the vice president of external affairs at Brookdale University Hospital and Medical Center for more than seven years, where he was the first person of color to hold the position, according to his website. In this role, he worked with various community-based organizations to make the hospital a fixture of the local community, his site says.
Before working at the hospital, Edwards served as a special advisor to the Democratic leader of the New York State Senate for nearly four years and as the regional representative for the Office of the New York State Executive Chamber for about two years, per his LinkedIn page.
Edwards' main four borough president campaign issues, according to his website, are housing and homelessness, healthcare, small businesses, and opportunities for youth.
His main goal when it comes to housing is to ensure the creation of more units for families, meaning three to four bedroom apartments, which would benefit families that have children or extended family members living with them.
"My first piece of legislation is any new city-funded development should be three or four bedrooms," he told Gotham Gazette in a phone interview. "We haven't built three and four bedrooms since, I think, 2006. I tell the story all the time that my wife and I, my three children, and my 85-year-old dad, we had a fire in our home, and while we were waiting to move back into our house, we couldn't find a place that all of us could stay together."
For NYCHA, Edwards said he is not supportive of the federal Rental Assistance Demonstration program that encourages private management of public housing and the city is utilizing and expanding, and that more of the money that's going to the public housing authority should be used to renovate existing properties and eliminate issues such as lead and mold inside the apartments.
"I believe that public housing should remain public. It is the last frontier for affordability. I do think that, however, NYCHA needs to be fully renovated, fully invested in," Edwards said, though he did not say where he believed the money should come from.
Additionally on housing, Edwards wants to change how Area Median Income is determined and used for setting housing affordability thresholds.
Edwards proposes using the AMI of each individual ZIP code, and then only approving affordable housing development projects if they include housing for people who make 50% of the ZIP code's AMI.
When it comes to the land use review process, ULURP, Edwards said that he believes it should become more community-based.
"What I want to do is put the power back into the community's hands and to make sure that our community boards have a vote in ULURP," Edwards said, offering a major proposed change to how land use decisions are made given that community boards, like borough presidents, are currently in an advisory capacity.
Edwards also wants to create a screening process to ensure that members of community boards are diverse and reflective of the district they serve. The screening committee would be made up of stakeholders — community members, churches, teachers and business owners — who would interview the candidates to help him make appointments.
And he plans to promote community board meetings through newly-created marketing teams, as well as making sure those meetings are recorded and posted online for those who cannot attend in person.
Edwards also wants each community board to set aside two positions for members 18 years old and younger and two positions for people ages 19-25.
Other opportunities Edwards wants to provide for youth in the borough, according to his campaign website, are creating a youth job and internship portal and covering the costs of community-based organizations housed in city school buildings, like after-school programs.
Edwards said he does not support raising the cap on charter schools. "I feel that charter schools, even though they've played their role, have really kind of decimated our public school system and I feel that charter schools have the ability to pay for their own space, but right now, with COVID...I don't feel that all charter schools have our students' best interests at hand," he said.
In terms of small business, his campaign website states that Edwards will use the borough president's nonprofit fund to provide relief to small businesses and will create incentives to and a portal for businesses to collaborate with one another.
Edwards has been endorsed by the large and influential DC 37 labor union as well as Brooklyn City Council Member Alicka Ampry-Samuel and Assemblymember Nick Perry. As of the mid-March campaign finance filing he had raised a total of $673,204 in public and private funds.
Antonio Reynoso
Reynoso, also a term-limited Democrat, represents City Council District 34, which includes parts of Bushwick, Ridgewood, and Williamsburg. Through his two terms in office, he has chaired the Committee on Sanitation and Solid Waste Management, while he has focused on those issues, environmental justice, police accountability, and transit.
Reynoso is framing himself as the progressive champion in the race and pitched his campaign for borough president in deeply personal terms. "I'm a son of two immigrant parents that got here with very little money," he said in an interview. "Whether it was welfare, Section 8, food stamps, Medicaid, you name it, if there was a government aid that existed, my family had to take advantage of it just to give us a fair shot at life. So I knew from a very young age what government can do for people in need. And I want to make sure that I can pay that forward."
Reynoso wants to be the borough's cheerleader, evoking the popular former Borough President Marty Markowitz, who was Adams' predecessor. "Brooklyn gave me everything and Brooklyn is my home. I love it dearly. I want to bring a little bit of the Marty Markowitz back," he said. But it's not just the best bagels or pizza in town that he wants to promote. "I also want to make Brooklyn the model for progressive politics and progressive policy," he said.
Reynoso acknowledges the limited charter-mandated responsibilities of the office, with the focus on community board appointments and land use recommendations. "I think the strongest and most important responsibility is the bully pulpit," he said. "You are representing Brooklyn, the largest county in the country, and you're representing an area that is larger than some states in some cases and definitely larger than most cities in itself."
At the top of his list for using capital dollars is creating more health equity across the borough, particularly for Black women who have historically suffered worse health outcomes. "I'm looking to outfit every single public hospital in Brooklyn with a state of the art birthing center," Reynoso said. "I really want to start talking about Black women's health during childbirth. I think it's one of the most significant gross inequities that exist in our city, but definitely in Brooklyn."
As one of the original sponsors of comprehensive planning legislation that has been introduced in the City Council, Reynoso has long been a critic of the city's current land use and development processes. The problem he sees is that the city looks at blocs of development rather than borough-wide needs, imposes rezonings rather than soliciting community input on their demands.
"We could spread this burden of building housing in the city," he said. "The comprehensive planning idea here is to allow for every community board to send us information about where they think potential development can occur, and then encouraging the city to build more equitably, as opposed to just cramming all their housing in these poor Black and brown neighborhoods," he said. The legislation, championed by Council Speaker Corey Johnson, who is running for Comptroller, has had one Council hearing and is among the major proposals that could be passed before the end of the term this year.
Reynoso wants to expand the land use and planning expertise in the borough president's office to provide technical assistance to community boards.
The lack of comprehensive planning is also why Reynoso believes the rezonings pursued by the de Blasio administration in places like East New York are flawed, though he did reserve some judgement. "It's hard to determine whether a rezoning is good or bad in short order...The outcomes I guess dictate whether or not it was a good rezoning. So the jury's still out on these," he said.
"The rezonings are a product of a flawed process and a flawed process is going to have a flawed outcome," he said. "So I think we need to start rethinking about how we're doing rezonings, rethinking the process. And until then, I can't necessarily say that I think any of these rezonings are beneficial to communities." Last year, Reynoso was the leading elected official urging the administration to study a community-led rezoning plan for Bushwick, in his district, instead of an administration-led proposal. The rezoning was ultimately put on hold after the two sides could not come to an agreement on the scale and scope of the rezoning.
Another failure of city government is that the administration tends to promise large-scale community investments only when proposing major neighborhood rezonings. "Why is it that we need a rezoning before they can start dealing with our sewer lines? Why is it that we need a rezoning before we can get transportation options or MTA stations or housing development?" Reynoso said. "There's just so many things that the city should be taking care of independent of rezonings."
He extended the argument to borough-based jails as well, calling them "a result of a flawed process," though he does not regret voting in favor of the plan.
"It's very hard to say that you want to build more humane jails, because jails in themselves are inhumane," he said, explaining his conflict about the jails plan. "It's hard to make it independent," he said of closing Rikers and not building new jails, "but we closed Rikers. That's what we set out to do. I am very happy and very proud of the vote. It was tough. It was a tough vote, but we closed Rikers...These new jails, there's still opportunities to have conversations about exactly what we want them to look like."
As borough president, Reynoso said he would be deliberate about diversifying community boards "with perspectives, with professions, with ethnicities and race, religion, age, income." He also wants to ensure they do not prevent beneficial projects that he supports. "I don't want any community boards to be like the first stop of NIMBYism," he said, referring to the oft-used community board philosophy of "not in my back yard."
He was direct about his opposition to the NYCHA infill development as it's currently taking place, with mixed-income projects being pursued by the city. He insisted that private for-profit developers should not benefit from public land and should particularly not get an opportunity to build more market-rate housing there. "100% affordable housing done by not-for-profits is the way to go," he said. "We need more affordable housing. Anything less than that is a big problem for me."
He went further, saying the infill program should be put on hold until a new administration comes to power. "I don't think that we should be having this conversation under this current mayor and his current leadership, because they just don't manage well," he said. "And I think that this new election is going to be a mandate to do something different, and it not be this business as usual."
Reynoso is opposed to raising the charter school cap. "The issue that I have is that there's a double standard when it comes to these charter schools. There are things that are accepted there that are not accepted in public schools."
Reynoso, who has been a long-time proponent of public transit and of bike-riding in the city, supports building more dedicated busways and protected bike lanes. "Yes, 100%," he said when asked about expanding both.
Having championed successful legislation to create commercial waste zones across the city that will cut down on truck traffic and limit the over-saturation of low-income communities of color with waste stations, Reynoso said the approach to infrastructure, particularly climate resiliency, needs to be boroughwide, not based in individual communities along the waterfront. "Right now, every single community along the waterfront is having their own individual fight for resiliency up and down along the coast…What we should have is one coordinated effort where the city goes to the federal government and asks for funding for the entire coast of Brooklyn," he said. "That is not what happens right now. When we don't coordinate our work together, the inequities start existing. The people who have more money or more political capital, end up getting more resources than the people that don't have that. And I don't want that to be the case."
"For me, it's not so much about necessarily where you land on policy, because I don't think many of us are going to be too far away on too many issues," he said of the many candidates in the race. "It comes down to who do you think can deliver."
Reynoso has been endorsed by a 'who's who' of progressive organizations and elected officials including Public Advocate Jumaane Williams, former gubernatorial candidate Cynthia Nixon, fellow City Council Members Brad Lander, Margaret Chin, and Helen Rosenthal, State Senators Jessica Ramos and Julia Salazar, Assemblymembers Marcela Mitaynes and Maritza Davila, the Working Families Party, Make the Road Action, and the New Kings Democrats. As of March 15, Reynoso's campaign had about $618,000 in cash on hand.
Kimberly Council
Kimberly Council has worked for roughly two decades as an associate minister at Historic Berean Baptist Church and as a senior reference librarian at Sullivan & Cromwell LLP, a New York City-based international law firm. She has also run for several elected offices in recent years, including City Council and State Assembly.
Council is running for borough president in part based on her lived experience of being raised in a publicly-subsidized home with her parents and four siblings, and dealing with food insecurity and poverty. She highlights her membership in the NAACP, Church Women United, and the National Council of Negro Women, and as the former president of the Law Librarian Association of Greater New York.
Council's top campaign issues are affordable housing and health care, but her website provides issue stances for an array of other topics as well.
When it comes to housing and land use, Council said that the overarching goal is to make dealings more transparent and community-involved. "Typically by the time it gets to the community level, it's already been through several different areas and we want to make sure that the community is involved in the project from the beginning and that the developer solicits their input as they're developing the project," she said in reference to the ULURP process and development proposals.
She told Gotham Gazette in an interview that she would demand that 60% of all new housing projects that come to her for input as borough president be affordable at a lower, more localized Area Median Income (AMI).
Additionally, Council's borough president campaign website says that she plans to "Ensure that all proposed zoning changes consider educational infrastructure, healthcare infrastructure, impact on first responders, access to transit, impact on utility service, and environmental sustainability in the scope."
On the related topic of community boards, Council said that she wants the boards to be more diverse and to actually be representative of their communities. She also said that she feels communication is the key to ensuring that community boards work on behalf of their constituents.
For NYCHA, the candidate said that she supports legislation by Reps. Nydia Velázquez's and Yvette Clarke, both New York City Democrats, that would put more money into the housing authority, but she also wants to use the bully pulpit to push the mayor and governor to invest more money into NYCHA. By doing so, she said, the city would be able to ensure public housing facilities are environmentally sound and would be creating jobs around the developments.
"We want to make sure that we are investing not just in the projects but in the people that live in those projects," she said.
When it comes to the closing of the Rikers Island jail complex, Council said that she is in favor of a community-based jails plan, but emphasized that community input needs to be taken into consideration when developing the plan (the city's plan already went through the ULURP process and passed the City Council).
"This will be something that you will see throughout every answer is that we want community input," she said. "I want the community's input in what it is that we're going to do, don't want this to be something where we come in and dictate, 'This is what's gonna' happen,' but that we have them involved in the process from the very beginning."
Council's education plan is based on her experience as "a member of the White House Community Leader Briefing Series, where she advised high level Obama Administration officials on educational policy," she says. According to her campaign website, she will fight for increased baseline funding from the city and state to hire more teaching assistants, librarians, nurses, and social workers.
On the subject of charter schools, Council told Gotham Gazette that she does not support raising the state-imposed cap on charter schools that prevents new charter schools from being created in the city.
Another component of her campaign is transit infrastructure, specifically to add more bus stops and lines, more ferry stops, and more protected bike lanes throughout the borough.
She would like to see more stops added to the city's five current ferry lines, especially in south Brooklyn neighborhoods such as Coney Island and Mill Basin. A Coney Island ferry line is already planned for a 2021 opening, which will have a start/end point in Coney Island, a stop in Bay Ridge, and start/end at Pier 11 in Manhattan.
Council said that while she would push to expand the number of bike lanes, she would also make sure that all bike lanes, both old and new, are clearly marked.
She also plans on creating a "Mobile Borough Hall," which would consist of social services that can be brought into communities so that they don't have to go to the physical Borough Hall building for help.
"I want to make Borough Hall a one-stop-shop for small businesses, for people in the community, for social services, for everything that everybody needs," Council said. "They should know that they can come to Borough Hall to have their issues dealt with."
Council had raised about $84,000 as of the March campaign finance filing.
Mathieu Eugene
Mathieu Eugene is the term-limited City Council member for the 40th District, which includes the Brooklyn neighborhoods of Crown Heights, East Flatbush, Flatbush, Kensington, Midwood, Prospect Park South, and Prospect Lefferts Gardens.
He has held this position since 2007, when he won in a special election, making him the first-ever Haitian-American elected to the New York City Council. Eugene chairs the Council's Committee on Civil and Human Rights and previously chaired the Committee on Youth Services.
Gotham Gazette was unable to find a borough president campaign website for Eugene, and he did not respond to multiple requests for an interview for this article. Eugene has been sending fundraising solicitations to his supporters by email, though his fundraising has been lackluster, and he has appeared at some candidate forums, but he does not appear to be campaigning aggressively.
As of the March campaign finance filing, Eugene had raised about $54,000.
*****
While the candidates discussed above are the apparent top six contenders for the position, there are still six other candidates vying for the role of Brooklyn Borough President.
Go to page two of this article to read about the remaining candidates and their backgrounds, past accomplishments, issue stances, and plans for the borough. READ MORE.
***
by Samar Khurshid & Amanda Salazar
Note - this article has been updated to reflect accurate campaign fundraising numbers for Robert Cornegy. He has about $493,000 in cash on hand, not more than $1 million as previously stated.