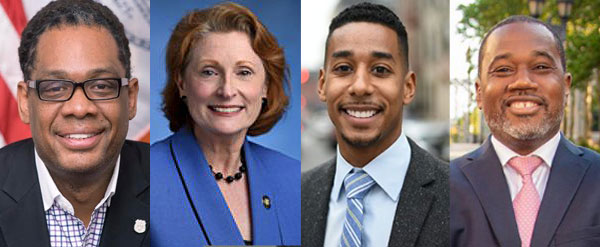 (l-r) Robert Cornegy Jr, Jo Anne Simon, Antonio Reynoso, Khari Edwards
---
This is page two of this article about the 2021 Brooklyn Borough President Democratic primary. The first page included six other candidates in the race: Robert Cornegy, Jo Anne Simon, Antonio Reynoso, Khari Edwards, Kim Council, and Mathieu Eugene. Read page one here.
*****
Robert Elstein
Robert Elstein is an English and theater teacher at the New York City Department of Education's Edward R. Murrow High School in Midwood, where he has taught for more than 15 years. Elstein also describes himself as "an artist, a poet, a theater person, a fun dad & a keen political observer," on his Brooklyn borough president campaign website.
He is also the founder of the community clean-up effort Beautify Brooklyn. This grassroots effort relies on volunteers to help pick up trash in various neighborhoods in Brooklyn, both at organized group events and in volunteers' spare time.
"I'm here to change things by bringing the people together, by creating Community Boards that reflect the community, by advocating for a Green New Deal for NYC, by developing the Reimagined Schools and Safety Commission and the Brooklyn Neighborhood Business Council, by bringing art to every block and helping to make Brooklyn the greatest community in the world to live and work," Elstein's campaign website reads in part.
Elstein's campaign focuses on five key topics, his site says: education, development, community, humanity, and intellectual and arts capital.
When it comes to education, his primary goal is to end mayoral control of New York City public schools and to disband the Panel for Educational Policy. The city's schools would instead be overseen by Local Education Panels run by communities.
"In 19 years of mayoral control of schools our students have only fallen farther behind their counterparts in other districts," it says on the "Issues" page of his campaign website, though it's unclear what metrics he is using. "In fact, our student's progression was second worst of all major cities (except Cleveland) in that time despite a new generation of data obsessed Principals and administrators who have had no problem tearing apart wonderful school communities and programs in the interest in slight gains in test scores."
Under mayoral control, Elstein wrote, schools have seen massive overcrowding and racial segregation, both of which are due, in part, to the way zoning is done.
With local school panels, the idea is that teachers, parents, students, and community members can be directly involved in decision-making on school leadership and curriculum.
Elstein also wants to create a Reimagined Schools and Safety Commission "to find ways for educators, members of the community, and, yes, law enforcement officers, to work together on our common goals."
He also wants to increase the number of psychologists and social workers in schools, increase access to affordable after-school programs, expand vocational education, and put more emphasis on teaching the arts.
On development, Elstein touches on banning "dirty real estate" and carbon negative construction, as well as creating a neighborhood beautification network, relating to his Beautify Brooklyn Campaign.
"I am the founder of Beautify Brooklyn, an organization that unites Brooklynites of all generations and backgrounds in the common interest of cleaning up our streets and strengthening the bonds between neighbors in the process. Our events occur all over Brooklyn and we encourage our volunteers to explore new neighborhoods, interact with new people and hopefully make new friends. Lots of kids get involved, too," Elstein's campaign website states. "We are doing this because our politicians have somehow failed to realize that the trash is piling up in the gutters, on the corners, in discarded shopping carts, in front of vacant storefronts and construction sites and overflowing from uncovered city trash cans. But my volunteers and I have it under control."
His "community" theme includes the bullet points of: "reimagine policing, resist gentrification, empower entrepreneurs, create new affordable housing laws, reform universal land use review process and restore mental health."
"In regard to our community security, we need to diversify the NYPD, divert funding from militarization and toward community affairs," the website reads in part. "We need to stop rewarding officers for arresting people, investigate and prosecute hate crimes, animal cruelty and stop guns from materializing on our streets! We need to stop the iron pipeline of guns trafficked illegally into our state."
On "humanity," Elstein's site discusses developing a New York City climate change plan, a Cruelty Free City plan, and an Activate Kindness plan.
The Cruelty Free City plan focuses on animal cruelty in Brooklyn, calling for an immediate ban on the sale of fur, cockfighting, dogfighting and live anmial markets. The plan also includes supporting animal shelters and adoptions, as well as promoting veganism.
Elstein's final campaign value, intellectual and arts capital, includes creating a Borough Hall Mentorship Center and a Borough Hall Immigrant Empowerment Network and strengthening public libraries and schools.
"New ideas are what we need and we [need] new initiatives to bring us together. We need new approaches to solving our problems," his campaign website reads. "The actions our elected officials have been neglectful of our needs for far too long and have proven they will continue to neglect."
Pearlene Fields
Pearlene Fields has worked in business administration for 20 years at different non-profit organizations, such as at the Juvenile Diabetes Research Foundation, or JDRF, where she was a grants administrator.
She also worked at the United Nations International Children's Emergency Fund, or UNICEF, as a program assistant and at the United Nations Secretariat Department of Peace Operations Office of Military Affairs as a member of the Chief of Staff's front office.
Fields' campaign for borough president centers around her vision for affordable housing, public safety, small businesses and entrepreneurship, and education.
Being that she personally dealt with housing insecurity in the past, Fields has housing as a core issue in her campaign, with several ideas.
Regarding NYCHA, Fields says she wants to better ensure its housing is not fall ing into disrepair in the first place. She also wants to help public housing developments become more self-sufficient by creating grocery stores and other services — including "psychological assistance, learn about money management, property management, small business, and information on trade skills to improve job prospects" — in the complexes, so that more jobs for residents can be created and residents can have easy access to the things they need.
On homelessness, Fields' site says she wants to "Create more programs that address the homeless situation and provide mental health services, gainful employment, and permanent homes to get our neighbors out of shelters and off city streets."
On public safety, Fields wants to take a number of actions, including demilitarizing the NYPD by ending the 1033 program that provides military-grade equipment to the police, abolishing qualified immunity, hiring more officers in internal affairs, and requiring that body cameras be on at all times while officers are on duty.
Fields wants to require all new recruits to the NYPD to have to earn at least an associate degree in criminal justice and to pass an exam in order to be licensed to serve and will have to renew their licenses every four years at the community board of the community they work in. Officers would have to carry their own version of a doctor's malpractice insurance and would have to be on the force for two years before being given their guns.
"Today, Black and Brown people fear for their lives at the sight of the police. Corruption has gotten so out of control that George Floyd, Brionna Taylor, Eric Garner and so many more have been murdered without any real consequences for the officers," her campaign website states. "When it comes to the police, we need to get rid of the bad, keep the good, and retrain those who remain so the relationship between the public and the police can begin to heal and we create a brand-new meaning of 'protect and serve.'"
Fields also wants the NYPD to better track and make public officers' disciplinary histories, increase salaries for police officers who aren't fired due to bad behavior, and offer more mental health services to officers.
For business and entrepreneurship, Fields wants to create a program with the Department of Labor that would allow gig workers to apply for unemployment and set up an emergency fund to position gig workers to get paid to help during natural disasters, plus provide quicker access to emergency funds during crises. She would also support an emergency bailout fund for small businesses.
To create jobs, Fields wants the city to sell more bonds for a major capital program including hiring contractors to make sure that NYCHA buildings are all environmentally sustainable and use clean energy, upgrading the sewer system and water mains to reduce flooding, repairing and upgrading street signs and lights and, finally, upgrading puch school buildings to also be environmentally sustainable and use clean energy.
On education, Fields says she wants to remove NYPD officers from schools, get rid of common core standards, raise teacher salaries, advocate for increased funding, enhance vocational training and life skills classes in schools to show students that college isn't their only option, and offer S.T.E.A.M. classes in all schools.
"I am running for Brooklyn Borough President in order to empower people to use their voice, to give power to the powerless, to get justice when there is none, and to bring hope to communities that are often abused, impoverished, or overlooked," Fields' campaign website reads. "Our community is very diverse and the small businesses throughout them help us thrive and it is about time we go back to embracing our differences, finding balance between cultures, and rebuilding bridges between the community and the people responsible for patrolling them."
Anthony Jones
Anthony Jones is a Democratic state committee person in Assembly District 55, which includes the Brooklyn neighborhoods of Brownsville, Weeksville, Ocean Hill, and parts of Bedford Stuyvesant. In this role, Jones says he has worked to help employ about 150 poll inspectors for each election cycle.
Jones is focusing his campaign on the borough's comeback from the pandemic, according to his website.
To this end, Jones wants to encourage increased job opportunities for youth, creating and rebuilding small businesses, and enhancing food banks and encouraging them to provide healthy options for food insecure Brooklynites.
Jones says he wants to take on gentrification and to lower property taxes for both homeowners and businesses, though on these issues and others his website has few details.
Shanduke McPhatter
Shanduke McPhatter is a community activist, responsible for founding Gangstas Making Astronomical Community Change, or GMACC, an organization that works to help people "caught up in street life" to create better futures for themselves and their communities. The organization works with people in and around gangs, gun violence, drugs, and incarceration, according to the GMACC website.
Gotham Gazette was unable to find a borough president campaign website for McPhatter, who does have a Facebook page for his campaign, however, which promotes his campaign fundraising page on the New York City Votes website.
"This campaign is inspired by the passion and desire to cultivate a unified and safer Brooklyn," the Facebook page, called "Shanduke McPhatter For Brooklyn Borough President 2021," reads in the "About Me" section.
Robert Ramos, Jr.
Robert Ramos, Jr. is an educator and labor activist who has lived in Brooklyn his whole life and attended New York City public schools and the City University of New York's Brooklyn College, where he majored in education and a chairperson of the CUNY University Student Senate and as such a member of the CUNY Board of Trustees. He is a teacher at Breukelen Day Care.
Ramos' bid to be borough president is focused on environmental justice, education, social justice, and housing and homelessness.
His website says he wants Brooklyn to become a more sustainable borough, through increasing clean energy usage and farming, among other strategies.
Ramos wants to expand grants and other incentives to homeowners to install solar panels, a strategy he also wants to bring to NYCHA.
Additionally, Ramos wants vertical farming to become a larger part of the borough to produce healthy, locally-grown fresh produce, specifically in areas of the borough that are (healthy) food deserts.
"Education is a right," Ramos' campaign website states. "All students must receive a high quality education through all levels of their education." He pledges to push for further expansion of public pre-school and more funding for early childhood education through 12th grade as well as CUNY.
He wants to work to end the school-to-prison pipeline and wants the members of the NYPD oversight Civilian Complaint Review Board to be elected, not appointed.
For housing, Ramos wants to expand community land trusts to help more residents become homeowners, to abolish the tax lien sale of homes that disproportionately affects people of color, to create more affordable housing using the area median income of neighborhoods to set thresholds, and to extend the eviction moratorium.
Lamor Miller Whitehead
Lamor Miller Whitehead is a bishop at Leaders of Tomorrow International Churches, a licensed New York State Chaplain, and a certified marriage and funeral officiant. He was ordained as a minister in 2006 and later ordained as a pastor and a bishop in 2014.
Miller Whitehead's campaign website has an "Initiatives" page, but it doesn't explain his issues stances on any subject, as the hyperlinks on the page don't work.
The key issues his campaign is focusing on are COVID-19, criminal justice reform, education, community development and low- and moderate-income housing.
***
by Samar Khurshid & Amanda Salazar