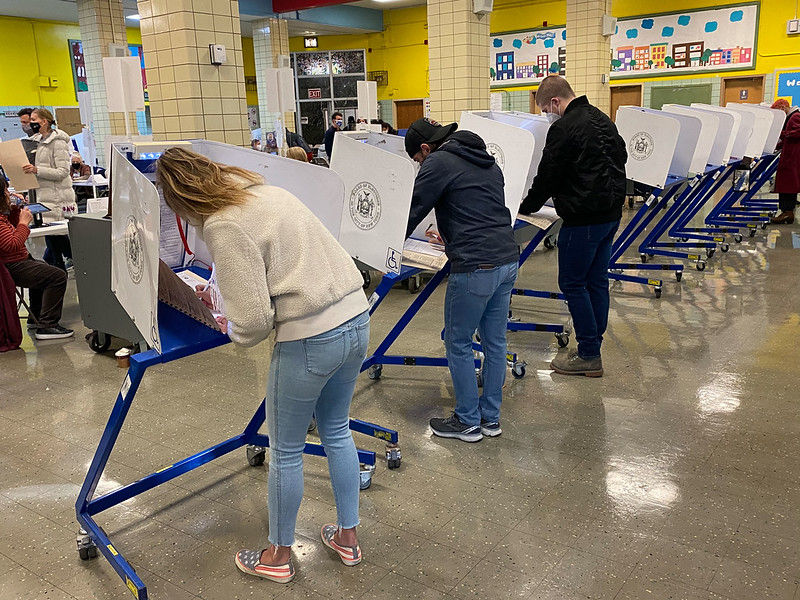 Voters (photo: Michael Appleton/Mayoral Photography Office)
---
The Democratic Party in New York has consistently grown its voter base over the years and has also drawn previously party-unaffiliated and Republican voters to its ranks. In the last year alone, more than 88,000 voters who either had no party registration ("independents") or were registered with the Republican Party switched their affiliation to the Democrats, potentially creating a new bloc of voters that candidates may seek to woo in races such as the crowded and competitive primary contest to replace term-limited Mayor Bill de Blasio.
According to data from the state voter file analyzed by Prime New York, a political consulting firm, 67,965 unaffiliated voters and 20,528 Republicans joined the Democratic Party, for a total of 88,493 new Democrats. In that same period, 20,136 Democrats switched over to the Republican Party.
Just 209 voters from the Republican and Democratic Parties gave up their party affiliation and became so-called "blank" or "independent" voters.
New York has a closed primary system, where only those with a party affiliation can vote in party primary elections. With 3.7 million registered Democrats in the city as of February 21, compared to just over 566,000 Republicans and about 1.08 million independents, the Democratic primaries all but decide the winner of the general election as well, at least for almost all citywide, boroughwide, and district-specific seats.
As turnout has grown in recent election cycles, this year's primary is also expected to see more voters and an expansion of the Democratic electorate. In recent cycles, the electorate has become younger, more progressive, with a surge of newer voters moving into the city, though it still remains older and fairly moderate. There has been growing concern among business leaders, moderates, and others that a race to the left in many Democratic primaries has moved the city and state too far in that direction.
In 2013, the last open mayoral race and when de Blasio emerged victorious in the Democratic primary and went on to win his first term as mayor, there were 3.14 million Democrats registered to vote in the city. Since then, nearly 620,000 more voters have registered as Democrats. Just 691,801 Democratic voters (22%) cast a ballot in that 2013 primary and de Blasio won the nomination with 282,344 of those votes.
[What Will The Electorate Look Like For The 2021 Democratic Mayoral Primary?]
Since the primary is in essence more important than the general election for most races, particularly mayor, several business and civic leaders have launched separate efforts to either increase turnout or encourage moderate voters, Republicans, and independents to switch to the Democratic Party in order to influence the results. (The deadline to switch party affiliation in order to vote in the primary passed on February 16 – by law, it was February 14 but Governor Andrew Cuomo extended it briefly by executive order.)
Among the groups seeking to persuade voters is New Yorkers United for Change, which includes among its leaders Bruce Teitelbaum, an Upper West Side developer who switched from Republican to Democrat, as reported by THE CITY. Another group, Be Counted NYC, was launched by Lisa Blau, an investor and wife of Jeff Blau, CEO of the development giant The Related Companies. Stephen Ross, chair of Related, is separately spending millions on an independent effort to influence the Democratic mayoral primary. The Partnership for New York City, a business group that represents the city's largest corporations and employers, also urged its members to convince their workers to register, switch to a party, and vote in the June primaries.
Many other voter registration drives have taken place, of course, though they've been limited by the pandemic, and the deadline for new voters to register to vote in this June's primaries (whether Democratic or Republican) is May 28.
It isn't easy to directly attribute the changes in party affiliation to the aforementioned efforts, but there is clear recognition in the city that Democratic primary voters will determine the trajectory of city government for the foreseeable future. "Blanks could be anything," said Jerry Skurnik of Prime New York. "They could be very progressive. They could be just people who didn't realize that you had to be a Democrat in order to vote in the primary, or they could be people who have an ideological [leaning]."
Four years of the Trump presidency, the monumental presidential election last year, and a progressive wave in New York, and nationally, could also have convinced some party-affiliated voters as well as some independents to more definitively articulate their political proclivities.
"I think we've seen nationally a little bit of that switch of 'Never Trumper' or people that have been drifting towards the Democratic Party," said Luke Hayes, campaign manager of Rank The Vote NYC, which was successful in pushing for the implementation of ranked-choice voting in New York City through a ballot question in 2019. Ranked-choice voting is at play in party primaries and special elections for city government positions as of this year. (Hayes is also a veteran political operative who help ed run the successful campaigns of two recent progressive challengers over longtime Democratic incumbents.)
"There seems to be a more engaged primary electorate in New York," he said. "And it's hard to suss out, just because it's only recently happened, where the sort of ideological bent is, but I think it just shows more people are kind of tuned into both national and local politics."