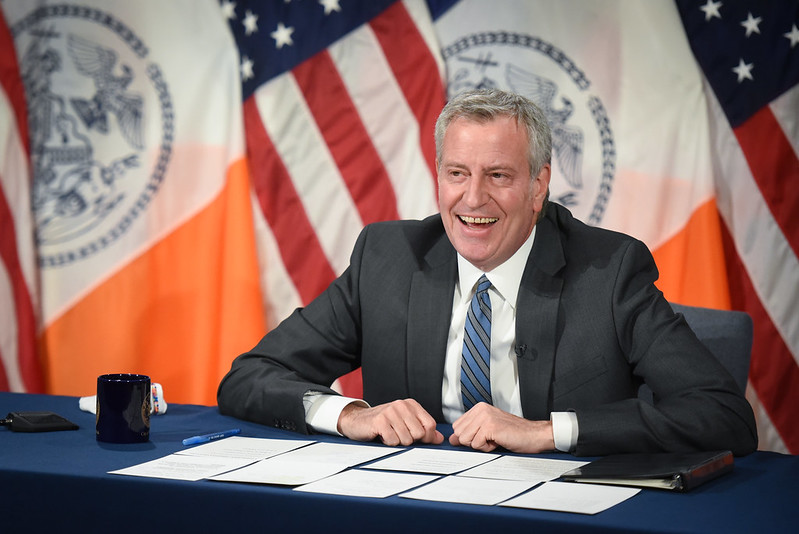 Mayor de Blasio (photo: Michael Appleton/Mayor's Office)
---
Mayor Bill de Blasio on Monday released a $98.6 billion executive budget proposal for the 2022 fiscal year, relying on new federal funds to massively increase spending aimed at spurring the city's recovery from the coronavirus pandemic.
The mayor's "recovery budget" invests deeply in New Yorkers, he said at his budget presentation from City Hall, with resources going towards fair student funding, summer youth programs, early childhood education, job creation, gun violence prevention, mental health services, nonprofit community groups, small businesses, and more.
The executive budget reflects a $6.3 billion increase in spending compared with the mayor's preliminary budget proposal released in January, when the administration was uncertain about the level of federal stimulus that would be delivered by the federal government and prepared for the worst-case scenario. But the $1.9 trillion American Rescue Plan Act approved by President Biden and the Democratic Congress in March sent $5.9 billion in direct aid to the city government and about $12.6 billion to the state government, part of which will also trickle down to New York City, besides other funding streams for transit, education, small businesses, and performing arts venues. Decisions made in the new state budget to send additional funds to the city, especially for education, are also buoying both de Blasio's outlook and city spending.
"What do we have here? We have a radical investment in working families," de Blasio said. "We've never seen anything like this in generations in this city, focusing on working people, on families, on kids in ways that we just haven't even imagined in so many years. We're getting to do things in this budget some of us have dreamed of, but we're never sure we'd get to do. And this is a budget that will be felt down to the grassroots."
The federal aid package, an additional $1.3 billion in FEMA assistance, and a $1.5 billion increase in projected tax revenue between fiscal years 2021 and 2022 helped the city cover a $5.25 billion budget gap that was expected for the 2022 fiscal year, which begins July 1. The mayor's new budget plan will now be the subject of City Council hearings and negotiations before a final budget is adopted in June.
The mayor's presentation also included other good news for the city, as de Blasio announced the return of jobs is underway. "Now to be able to achieve recovery, it's all been about reaching people, vaccinating people, taking that stimulus money, using it to a positive effect, bringing back the life of the city, bringing back our economy. We're seeing it happen," he said. Between December 2020 and March 2021, jobs grew by 100,000 and the administration expects another 400,000 by the end of 2021, for a total of 4.5 million jobs. That is starting to approach the 605,000 jobs that were lost between February 2020, just before the pandemic, and December 2020, according to Comptroller Scott Stringer's office.
After having depleted most of the city's budget reserves last year, the mayor also managed to add $1.8 billion to rainy day buckets, including $1.6 billion to the Retiree Health Benefits Trust in the current fiscal year and $200 million to the general reserve, bringing the total reserves for the next fiscal year to to $4.59 billion – $3.8 billion in the Retiree Health Benefits Trust, $493 million in the new Rainy Day Fund, and $300 million in the general reserve. The administration found $3.9 billion in savings over the current and next fiscal years, including $603 million in new savings included in the executive budget.
The budget does foresee gaps in the coming fiscal years – $3.9 billion in fiscal year 2023, $3.7 billion in fiscal year 2024 and again $3.9 billion in fiscal year 2025 – but the mayor believes those will be "manageable" and will be reduced by the steps this budget takes to boost the economy and therefore increase revenue.
Though the city's workforce is currently just under 314,000 people, down from a high of about 327,000 in September 2019 due to attrition and a partial hiring freeze, the mayor said the city would add thousands of new workers for programs announced in the budget while maintaining a somewhat lower hiring rate in replacing workers who leave. The administration had earlier put in place a three-to-one policy where there had to be three vacancies for every new hire; now there will have to be only two-to-one.
The recently approved state budget included a $1.4 billion increase in educational Foundation Aid, which will allow the city to fully resource Fair Student Funding at $600 million in the next fiscal year. That state funding is expected to increase to as much as $1.1 billion in the next three years, the mayor said in celebratory tones. De Blasio also announced a full investment in universal kindergarten for three-year-olds, expanding his 3K For All program with $377 million in fiscal year 2022. The program will be fully implemented by September 2023, he said, meaning there will be free pre-school for all three- and four-year-olds in the city.
The budget increases spending broadly on education, taking stock of learning losses created by the pandemic and its effects on the social and mental well being of students. Per de Blasio's new plan, in the next fiscal year, about $500 million would go towards academic recovery efforts, including assessments and tutoring, $155 million on technological literacy, $12 million on social emotional learning, $10 million on expanding community schools from 266 to 406, $236 million on special education, $6 million on sports programs and $22 million on early childhood special education. Another $136 million will be spent in the current year to cover mid-year adjustments to school spending.
Summer youth programs would also get a boost in the budget, the mayor said. The city would spend $200 million on the Summer Rising program, reaching 190,000 youth, and add 5,000 slots for $13 million to CUNY's Summer Youth Employment program for a total of 75,000 at a cost of $167 million.
Even prior to the pandemic, the administration had encouraged the growth of the life sciences industry. But de Blasio hopes to make the city the "public health capital of the world" with new funding that includes $50 million for the new NYC Public Health Corps and expanding the LifeSci NYC initiative beyond Manhattan's East Side to the Brronx, Brooklyn, and Manhattan's West Side with $300 million in capital infrastructure funding. About $20 million in capital funds will also go to a new Pandemic Response Institute. Another $23 million in expense funding was dedicated to a new program providing home health visits for first-time parents and NYCHA residents. "We want to keep building our public health capacity in this city. We want to do it to reach people. We want to do it based on the lessons we've learned from the pandemic," de Blasio said.
De Blasio addressed one of the more pressing concerns that arose from the pandemic – the state of mental health for New Yorkers. "This has been one of the most obvious, painful realities of the covid crisis. Mental health issues are clearer than ever to New Yorkers and to people all over America that we're finally having, for sad, tough reasons, we're having the conversation we should have had a long time ago about mental health and recognizing how central it is," he said. As part of the budget, the administration is expanding its non-police mental health crisis response teams, which are staffed by EMS workers and social workers and are currently being piloted in three police precincts, to all precincts citywide with $112 million in funding and adding 25 new mobile treatment teams at a cost of $23 million. Those non-police teams will go to mental health calls that appear to be non-violent in nature.
The budget plan also makes other small infusions in mental health services – $2.5 million for the Thrive Neighborhood Support Network, $2 million for the Communities Thrive tele-mental health services, and $1 million for a new Behavioral Health Academy for community providers.
It includes new funding for older and aging New Yorkers – $39.4 million to launch a Community Care Plan for elders living at home and for 25 more senior centers in communities of color, and $10 million for current senior centers.
Much of city services are provided by nonprofit human services organizations contracted by the city but they have been fighting for years for increased pay as many face fiscal solvency. The budget aims to rectify that with $120 million in proposed spending for indirect costs like rent and technology burdening those nonprofits, across the current and next fiscal year. The administration is also putting $32 million to expand emergency food distribution programs run through nonprofits.
Small businesses have been among the hardest hit victims of the pandemic, with thousands that are projected to have permanently closed their doors. While billions of dollars are flowing from the federal government, the new city budget includes much-needed relief for those affected businesses with $100 million in the next fiscal year for rental assistance and grants for businesses in low-income and moderate-income neighborhoods, $30 million used to leverage another $70 million in private funds for low-interest loans in the current fiscal year, and $5.2 million to provide legal assistance in commercial lease negotiations.
The city's recovery wouldn't be complete without the return of the tourism industry, which was decimated by the pandemic. The mayor's budget will spend $25 million on the largest tourism campaign in the city's history in fiscal year 2022, with another $5 million being spent in the current fiscal year.
Seeking to restore the city's "quality of life," which appeared to suffer after the mayor made cuts to sanitation and parks last year at the height of the pandemic and facing a budget crunch, the new budget includes $234 million for a 10,000-strong City Cleanup Corps, restores $33 million for an abandoned organics collection program and to expand recycling, and $9 million to restore litter basket collection.
There is also new expense and capital funding for streets and transportation including $46 million for speed cameras, which will increase in number from 360 to 600 in fiscal year 2022, $8.5 million to streamline the process of setting up Open Restaurants, $4 million to support the Open Streets program, $2 million for bike boulevards and a new Brooklyn Bridge bike lane, and $5 million for a Queensboro Bridge bike lane. The most significant capital expenditure was dedicated to completing the Manhattan Greenway at a cost of $723 million.
Though overall major felony crime fell in the last year, there have been devastating increases in shootings, homicides, and hate crimes, owing to which the new budget includes investments in anti-crime and violence inter vention programs. That includes $3 million for a community-based hate crime prevention, $27 million for Cure Violence programs, $6 million for a mentorship program for at-risk youth, $7 million to expand the Saturday Night Lights program, and $1.3 million for a Joint Force to End Gun Violence.
The budget also awards the Civilian Complaint Review Board (CCRB), a police oversight agency, with $4.1 million in additional funding to expand its capacity to perform investigations into certain types of police misconduct.
The city's ten-year capital capital plan under the new budget is pegged at about $133.7 billion, the highest it has ever been, though the mayor did express some optimism that much of it could be funded by a massive federal infrastructure package that President Joe Biden has promised. The plan includes $1.9 billion for the mayor's affordable housing program, $1.4B for water and sewer infrastructure, $1.4 billion to repair roads and bike lanes, $644 million for coastal resiliency projects, and $161 million for Vision Zero safety improvements.
"The Mayor's budget includes several important investments in schools, small businesses, and violence prevention. I am pleased that the budget restores cuts to essential services and fulfills indirect cost obligations to nonprofits, as I have long advocated for," said Comptroller Stringer, in part, in a statement on Monday. "We must also remember that stimulus funding is temporary—and that even when our economic recovery is fully underway, we still face substantial budget gaps. We need a sustainable budget plan for the post-pandemic era that protects New Yorkers and safeguards our fiscal future."
Andrew Rein, president of Citizens Budget Commission, a nonprofit fiscal watchdog group, issued a cautious estimation of the executive budget, saying in a statement that it contains "some commendable components but fails to leverage the historic opportunity enabled by federal aid, State education support, and higher tax revenue to both provide essential services now and stabilize the City's fiscal future."
He noted that future budget gaps remain roughly the same as before, even as the budget adds new recurring expenses such as for 3K for All. "No matter how worthy the programs may be, this sets them up to fall off future budget cliffs since there are no efforts to identify efficiencies that could generate the resources to support the programs over time," he said.