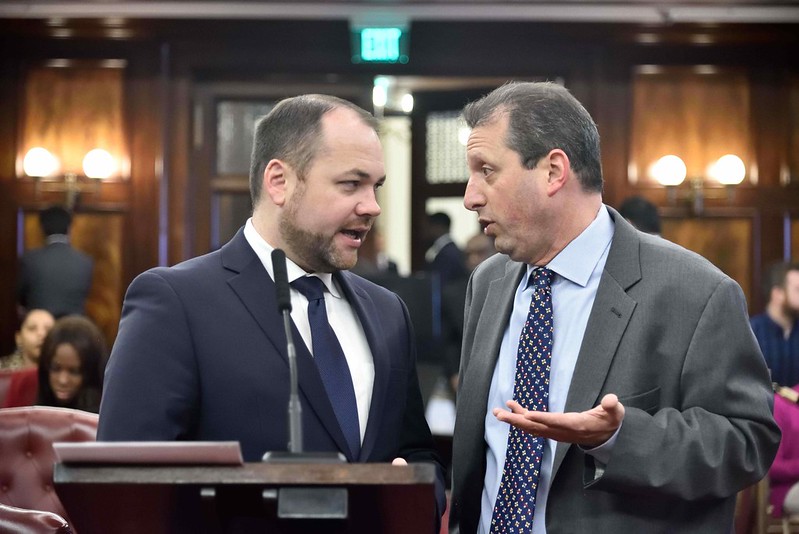 Corey Johnson and Brad Lander (photo: John McCarten/City Council)
---
The war of words between City Council Member Brad Lander and Council Speaker Corey Johnson, both Democratic candidates for city comptroller, continues to escalate as Lander raises concerns that Johnson will leverage the city budget to help his chances of winning the June primary.
Johnson and Lander are among the top contenders in the Democratic primary for New York City comptroller, which also features a number of sitting state legislators and several first-time candidates competing to be the city's next chief fiscal officer, budget watchdog, and pension fiduciary. But the two have become embroiled in a bitter rivalry over the race, which Lander had planned for years and Johnson joined recently after abandoning a run for mayor.
In recent months, Lander has repeatedly attacked Johnson's legislative record and his leadership as speaker, going so far as to launch a website called "What's the Story, Corey?" to question the speaker's response to the pandemic and treatment of a number of bills, including one of Lander's related to sick time for gig workers.
Lander's latest sling, however, relates to the city budget for the 2021 fiscal year, which is due by July 1, just over a week after primary day. The city budget is negotiated between the Council, led by the speaker, and the Mayor. Over the last several months, the Council has been examining Mayor Bill de Blasio's proposed budget over weeks of virtual hearings while the annual jockeying for priorities from inside and outside government has intensified, the landscape has shifted dramatically thanks to billions in federal aid, and this year's city elections -- with primaries in June as opposed to September for the first time -- hanging over everything.
This year's comptroller race is wide open given the incumbent, Scott Stringer, is term-limited and running for mayor. Both Lander and Johnson are also term-limited, while the several state legislators running do not have to give up their current seats, which were just on the ballot in 2020. The race would have focused somewhat on management of the city budget no matter what, but with Johnson and Lander involved, everything happening at the Council has taken on additional electoral importance and intensity.
In an interview, Lander said he expects the speaker "to wait and hold the budget vote till after the election and threaten groups that they need to have people come out and campaign and vote for him."
"I can't prove it, but do I think it's gonna happen? Yes," he added.
He also said that Johnson is shirking his duty as he focuses on his campaign. The minutes of dozens of Council executive budget hearings held in the last three weeks show that Johnson has not attended a single one. Lander has attended at least 11 hearings.
Jennifer Fermino, a spokesperson for Johnson, rubbished Lander's claims about the upcoming budget vote, but did not comment on the speaker's absence from budget hearings.
"The Speaker has passed three on time and balanced budgets as required by the city charter, including in 2020 during the most challenging financial constraints in modern New York City history," she said in a statement on Friday. "To suggest anything different will happen this year is ridiculous." Though last year's budget came down to the wire and was passed in the early hours of July 1, the previous two budgets under Johnson passed on June 19, 2019 and June 15, 2018.
Asked about the Speaker's absence from executive budget hearings, Fermino did not provide an explanation. "Between the preliminary and executive budgets, this Council thanks to the leadership of the Speaker and Chairs Dromm and Rosenthal secured many budget priorities laid out in our response," she said in a statement, referring to Council Members Danny Dromm, the finance committee chair, and Helen Rosenthal, the capital budget subcomittee chair (both have endorsed Johnson for comptroller). "The Speaker is proud of what we accomplished so far, and eager to begin negotiations and continue fighting for the people of New York."
Lander said his concern was based on what happened after last year's budget deal. He and several other members voted against the final passage when it did not go as far as they wanted to cut funding to the NYPD, which Johnson also expressed regret about at the time as he oversaw a compromise and urged his members to approve the deal, struck amid massive Black Lives Matter protests and calls to 'defund the NYPD'. Lander believes that Johnson exacted revenge against him and the other nay voters. "Obviously the one thing that's on my mind is that last year, Corey used the budget for purposes of retaliation to settle scores with people whose votes he was unhappy with," Lander said.
An analysis last year by the New York Daily News found that the 17 districts represented by Council members who had voted against the budget, some from the left and some from the right, received far less in discretionary and capital funds in the budget than members who voted for the budget, and even less than they had received the previous year. The speaker's office denied then that the funding distribution was unfair, noting that the city faced a $9 billion budget deficit because of the pandemic and that the Daily News analysis did not look at all the discretionary funding granted under the budget.
Lander, of course, doesn't buy the explanation. "I think everybody knows the fact that he lies. It only means he first retaliates and then lies," he said.
Lander has previously also alleged that Johnson's retaliation extends to legislation before the Council. In particular, he has called out the speaker for holding up the bill to provide paid sick leave to gig workers.
Among Johnson's defenders are Council Members Rosenthal and Ben Kallos, who both also voted against the budget last year and have not supported Lander's claims. "Brad has never shown any interest nor been a member of the budget negotiating team," said Rosenthal, who was herself running for comptroller for a time before leaving the race and eventually backing Johnson at his campaign announcement, in an interview. Asked about Lander's speculation about Johnson holding up the budget, Rosenthal said, "A statement like that reflects a naive understanding of what goes into passing a budget."
With the glut of federal funding and a mayor willing to spend lavishly on reviving the city's economy, Kallos said, "For the first time, as long as I've been a Council member, it seems like everything we've been asking for, we are getting. So this would be a great year to pass the budget early. But that being said, I think the best thing that the speaker can do short of passing it now, is passing it after the election so it won't be politicized." Kallos is among two City Council members, along with Mark Levine, running for Manhattan Borough President in the Democratic primary.
What complicates the budget deadline this year is its close proximity to the primary, which was previously scheduled in September but was moved to June after voting reforms passed by the state Legislature in early 2019. This year's massive municipal election, with every city government position on the ballot, has fallen squarely within the budget process. About a third of Council members are eligible for and seeking reelection, but the majority are term-limited, and several are seeking promotions, either to borough president posts or, for Johnson and Lander, citywide. Thanks to the federal bailout, a generous state budget, and an improving city economy, the city is working with a much better fiscal picture for this year's budget negotiations. Still, negotiations over the size of the NYPD budget, among other items, are sure to be contentious, especially as policing issues are front and center in many of the primaries, from mayor through the City Council.
For Johnson, the budget could be a double-edged sword. As speaker, the power he wields over the process creates incentives for individuals and groups to endorse him and means that he can advance his own policy priorities in the budget, which can inherently help his argument for becoming comptroller. It creates a lot of opportunity, said Bruce Berg, political science professor at Fordham University. "Is that a conflict of interest of any kind? Only in the most technical of senses...But you could say that for any politician running for higher office within the same political system."
But Johnson's power over the budget also creates immense pressure and vulnerability, as was seen to a great degree last year when he faced considerable consternation from both the left and the right over negotiating the NYPD budget. And, ultimately criticism from those who were opposed entirely to reducing police funding and those who believed the cuts were far too insufficient. Still, most of his members rallied around him and the deal the Council reached with the mayor, which Johnson struggled to discuss given he had sought deeper NYPD cuts and appeared more kindred with the activists and Council members who wanted to go further.
Berg, however, believes the 'defund' issue isn't as prominent in the budget this year, even if it has been a dominant question for mayoral and City Council candidates, particularly as rising gun violence has led to a deeper focus on policing and public safety. "Given the publicity that crime has gotten in the city, it's not surprising that 'defund' is not being pushed as vociferously as it was last year," he said. "So that leaves him relatively free to do what he wants because I don't think anybody's watching that aspect of the budget as closely as they did last year on the heels of George Floyd."
Former City Council Speaker Gifford Miller also came to Johnson's defense. "Corey Johnson takes his role as Speaker very seriously and knows that his most important job right now is negotiating the best possible budget in collaboration with his colleagues for the people of New York City," he said in a text message. "That's what he is doing."
"Budgets are always political documents," said Andrew Rein, president of Citizens Budget Commission, a nonprofit nonpartisan fiscal watchdog, in a phone interview. "The main focus in budget making should be providing for the needs of New Yorkers today and tomorrow. That's the main criteria...That's the most important thing, is providing a robust and sustainable New York for New Yorkers today."
Rein and CBC recently hosted a forum with each of six Democratic comptroller candidates to discuss their platforms and approaches to key issues. Along with Johnson and Lander, participants included State Senator Brian Benjamin, Queens Assemblymember David Weprin, military veteran-turned-entrepreneur Zach Iscol, and former finance journalist Michelle Caruso-Cabrera. Also in the primary are State Senator Kevin Parker and career finance professionals Reshma Patel and Terri Liftin.
Blair Horner, executive director of New York Public Interest Research Group, echoed Rein's sentiment. "The budget is a document that reflects the programmatic priorities of the executive and legislative branches, and that is inherently based in how they view the world. And so it becomes political right away," he said in a phone interview.
But, Horner said elected officials have limited incentive to use the budget process for bolstering their campaign. Not only could it hurt their chances of being elected but it could also open them up to legal exposure. "To play too many games with the budget process for electoral advantage, you're playing with dynamite," he said.