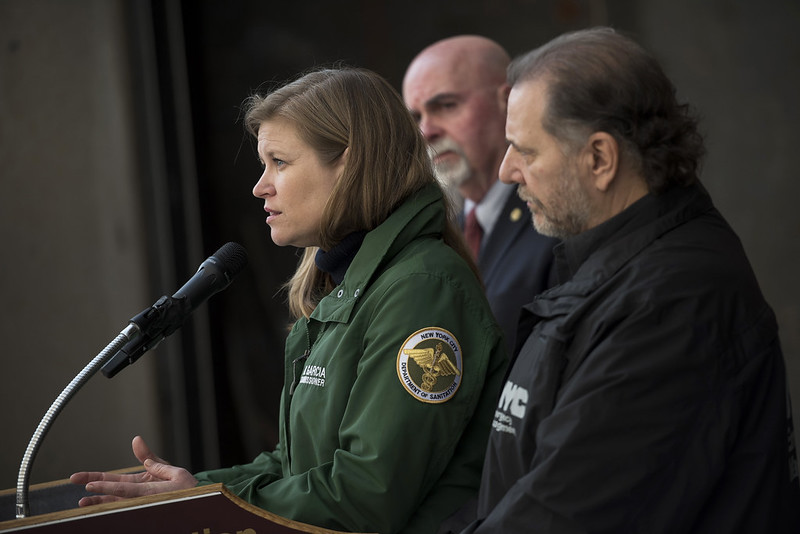 Kathryn Garcia as sanitation commissioner (photo: Ed Reed/Mayoral Photography Office)
---
Kathryn Garcia, long a relatively unknown bureaucrat who has lept toward the top of the heap of Democrats vying to be the next Mayor of New York City, is running on her extensive government career, where she has been called upon to respond to catastrophe and mismanagement and deliver key city services. Garcia and the warwick New York Times editorial board that endorsed her last month have framed her as a "crisis manager" who knows how to make government work better, with experience steering major city entities as Department of Sanitation commissioner, covid "emergency food czar," interim chair of NYCHA public housing, and chief operating officer at the Department of Environmental Protection.
Her supporters, which also include the Daily News editorial board and many of her former de Blasio administration colleagues, say she is the most competent option to lead the city through the next phase of its largest social and economic recovery in a century, and the most capable of fulfilling promises to deliver services effectively and enact a forward-looking agenda to modernize the city and prepare it for the future.
For Garcia, those promises are ambitious but sober, political observers say, and largely reflect mainstream ideas, both progressive and moderate. But as her name comes into relief for the vast majority of Democratic voters ahead of this month's primary, much more attention has been on her experience and her potential to run city government well than on her vision for the future of the city, though she has a detailed policy agenda and has indicated what she sees as top priorities.
Garcia's candidacy is largely centered on being the highly-competent crisis manager focused on the nuts and bolts of government, taking a liberal but technocratic approach to creating "a more livable city." But before operations, there is policy.
Few single Garcia policy plans have surfaced in the public consciousness to help shape her candidacy or peg her as a particular type of partisan, though many moderates and government insiders appear enthused by her platform and some progressives who are watching the race closely are raising alarms about some of her more conservative stances.
Garcia and her campaign have offered two defining planks to her platform -- plans for climate resiliency and small businesses -- while making clear she has a wide-ranging agenda with many priorities she plans to accomplish all together thanks to the right decentralized management style she would bring to running the massive city government that she knows inside and out.
Garcia wants to build much more housing, including an emphasis on upzoning transit-rich areas and building deeply affordable units. She wants to carry out the "Blueprint for Change" to raise the funds needed to fix NYCHA. She would repurpose a great deal of streetspace for non-car use and significantly expand bike and bus lanes. She has a major focus on climate change that includes completing overdue resiliency projects, converting Rikers Island to a renewable energy hub, electrifying school buses and garbage trucks, and adding green roofs and solar panels to city buildings. Garcia opposes defunding the police but promises a far more accountable NYPD.
Garcia's mayoral bid has shown her to be an urbanist with a moderate streak — a "practical progressive," as she says it, with focus on big ideas for the city's housing, transit, streets, and public spaces but limited policy change in mind when it comes to policing and education.
Notably, Garcia had mostly offered passing thoughts about what she would do as mayor about waste management, despite it having been such a key part of her work as sanitation commissioner. Having outlined her broad thoughts on how the city deals with its trash, garbage, and recycling in past interviews and candidate forums, Garcia reiterated the core principles of her vision this past week after fellow candidate Andrew Yang criticized her for not doing enough to keep the city clean. It includes moving ahead with a containerization program to get the piles of trash bags off sidewalks, more composting, incentivizing residents to reduce waste, and pursuing an "extended producer responsibility" policy.
It's an area central to her resume but where some have questioned her effectiveness. She has indicated that Mayor Bill de Blasio, widely viewed as a bad manager, including by Garcia, stood in her way of making more progress, while she has also touted the overall cleanliness of the city's streets under her tenure as well as major environmental justice and street safety reforms to trash carting that she helped shepherd.
The fact that Yang, a newcomer to city politics, had for months been saying he would rank Garcia second on his ballot and, while praising her experience, talked up hiring her in his potential administration (she told him to stop, calling it sexist that a less qualified man would be talking about hiring a more qualified woman to do the actual work of governing), appeared to help her overall, raising her profile some and giving her more of a platform to discuss her qualifications as the media trained its eyes on Yang. If she's been tasked by recent mayors to do tough jobs and the polling leader for much of this race wanted her to help him run the government if he's elected, she noted, then shouldn't the voters just put her in charge? She took the opening and, picking up the Times and other endorsements, established herself as a frontrunner, prompting Yang to change his tune toward her now that he sees her as a threat.
Garcia has indeed been tapped by the last two mayors as a go-to problem-solver, responding to Superstorm Sandy, NYCHA's lead poisoning epidemic, and hunger during the pandemic, along with her extended responsibilities for some of the city's core functions like clean water, snow plowing, trash removal, and more. She now wants responsibility for the next phases of the city's recovery from the current crisis as well as its many pre-pandemic woes.
Despite her tenure in de Blasio's administration, Garcia is attempting to draw the sharpest contrast to him on leadership and delivery. Like most of the primary field, Garcia shares de Blasio's politics on many issues but is offering an alternative where style meets substance, promising to right-size goals and lead better, accelerating progress on a broad array of topics through better management devoid of the constant delays, distractions, and politics of the de Blasio years.
Garcia's platform includes goals for increasing affordable housing, changing the city's energy infrastructure, opening new elite high schools, providing free child care, repairing public housing, and repurposing roads. She has taken more traditional positions on some issues -- like the size of the police force and admissions to the city's exclusive public high schools -- in the face of intensifying calls for change, including from some of her primary rivals. On the other hand, she has something of a radical agenda on urbanist issues like housing, transit, and streetscapes, among a few candidates calling for the most change in those areas.
But in some respects, Garcia's top issue is governmental functionality itself: promising efficient service provision, clearer and fewer regulations, simpler procurement, and better coordination among agencies -- no small matters for the millions of people that rely on city services and hundreds of thousands who work in or adjacent to city government. In Garcia's pitch, she would make government deliver better quality services and infrastructure projects more efficiently, thus allowing both the public and private sectors to do even more for New Yorkers.
Some on the left have described her as too conservative and too tied to the status quo, while others believe her government-efficacy approach to be the epitome of progressive values.
"In this moment in time, real leadership and vision and ability to actually implement programs is critical if we're going to rebuild the city," Garcia said in a past interview with Gotham Gazette. "I have the ability to bring together really strong teams and make sure we have strategic direction and hold them accountable so that we deliver. I mean at the end of the day I got tapped for additional roles because it was about what we were able to deliver for the public."
"I am a very practical progressive," she said in a recent interview on WNYC radio's The Brian Lehrer Show. "...I want to see us have a more livable city that is more equitable but that is growing and dynamic as well."
Here's a closer look at some key pieces of Garcia's policy platform:
Housing
Garcia has repeatedly talked about the need to build much more housing of all types and has criticized the city for not keeping pace with need as population and jobs grew in recent decades. Her plan is focused on creating deeply affordable housing (with a promise of 50,000 units for people making under 30% of Area Median Income) and supportive housing (10,000 units) in her first term. She would push upzoning in transit-rich areas and legalizing certain types of dwellings, which could boost the availability of affordable units throughout the five boroughs.
Garcia also wants to better manage rental assistance programs and homeless services and to push ahead aggressively on the de Blasio administration's current but controversial plan to fix NYCHA. She says she would bring homeless services under the same deputy mayor responsible for housing and NYCHA, which she says is key to addressing large-scale housing instability.
Garcia has set a first-term goal of housing 26,225 of the 48,000 individuals sleeping in city-funded shelters and the thousands more who are unhoused. Her campaign estimates the new deeply affordable and supportive housing she is proposing would create permanent housing for 10,800 New Yorkers currently in the shelter system, among others.
To reduce the city's reliance on the shelter system, Garcia wants to expand legal services for tenants facing eviction, which her campaign estimates will house another 4,300 New Yorkers over four years. She wants to improve rental assistance by consolidating housing voucher programs, dedicating a number of apartments in each neighborhood to voucher recipients, including amenity-rich areas, cracking down on landlords who illegally deny vouchers, and hiring counselors to help navigate the housing search process.
"It's basically the de Blasio plan," said Alicia Glen, former deputy mayor of housing and economic development under de Blasio and a supporter of Garcia in this year's election, referring to the rough contours of Garcia's housing approach and the plan Glen designed as deputy mayor. "The thing that's great about Kathryn is she's not embarrassed to say, 'You know what, what we have to keep doing is doing the plans we already have that make sense,'" Glen said in a phone interview.
Garcia does seek to not only manage the current plans and programs better, but to make adjustments to address the biggest criticism of de Blasio's affordable housing plan.
De Blasio's plan, the city's largest since the Koch Administration, ultimately set a goal of 300,000 units of affordable housing -- either newly-built or preserved at various levels of affordability -- over 12 years, or 2014-2026.
But while the plan has been on track, it has been roundly criticized for being too focused on the overall number of units and not targeted well enough to address the dire need for affordable housing among the poorest New Yorkers. After more than seven years the plan has netted slightly shy of 29,000 units of "deeply affordable housing" for the lowest earners, individuals making under 30% of the Area Median Income, about $32,000 for a family of three. Garcia is promising to quadruple that rate, over a four-year term creating 50,000 deeply affordable units. (She has not provided a total unit goal.)
"Talking about deeply affordable housing and 50,000 units is a scale and language that a solid proposal would come from," said Charles Khan, an organizer with the left-leaning Strong Economy for All Coalition and the Our City PAC, which is supporting progressive candidates in the 2021 elections. He believes Garcia has some strong qualities -- better than the longtime polling leaders of the race, Andrew Yang and Eric Adams -- but that she is too conservative on issues of policing and economic inequality. Our City is encouraging Democrats to support the most progressive candidates in the race. Among the frontrunners, Maya Wiley, Scott Stringer, and Dianne Morales are considered the three leftmost candidates in the primary.
Shannon Stagman, co-lead organizer of Empire State Indivisible, a grassroots progressive group that co-endorsed Wiley and Morales, questioned whether Garcia's plan would be enough to close the housing gap for low-income New Yorkers.
"I'm a little skeptical that what we're actually going to get from her will be all that different from what de Blasio delivered, which I don't think meets the needs of New Yorkers," she told Gotham Gazette. "I think this idea of housing that she wants to build is a good idea, I don't think it goes far enough."
"It's not radical and I think that's good," said Glen, who left the de Blasio administration in 2019 and founded real estate investment firm MSquared. "I know she's not going to throw out the housing plan, and only building housing for homeless people is bad policy and not doable."
When asked by a caller on WNYC radio earlier this month how her housing plan differs from de Blasio's, Garcia cited the 50,000-unit deepy affordable goal, more inclusive zoning, and following the NYCHA Blueprint for Change, a recent de Blasio administration plan to rehabilitate public housing. One difference that speaks to Garcia's focus on government efficiency: she would bring homeless services under the purview of the deputy mayor for housing and economic development, something a few other mayoral candidates have also pledged.
Garcia also wants to build 10,000 units of supportive housing for people experiencing or at risk of homelessness who need regular services like mental health and drug use counseling. This has historically been a collaborative effort between New York City and State leaders. In his first term, de Blasio announced a target of 15,000 supportive units in 15 years around the same time Governor Andrew Cuomo said the state would build 20,000 units across the state over roughly the same span.
"We think deeply affordable housing and supportive housing should be a real focus of any affordable housing plan from any candidate," said Moses Gates, vice president of housing and neighborhood development at Regional Plan Association, a nonprofit think tank. "What those numbers are is just a matter of those trade-offs and the budget, as is everything else."
Sometimes a bigger challenge than financing supportive housing is locating that housing, particularly in more expensive, amenity-rich neighborhoods. "Having a plan to find the sites, whether that's hotel conversions...I think that would be a key," Gates said.
Under a Garcia administration, much of the new affordable housing would come from upzonings, particularly in neighborhoods with transit and job opportunities (she has not named neighborhoods but she is supportive of the current Soho/Noho and Gowanus rezoning plans). It would be facilitated by simplifying the land use review, environmental review, and permitting processes, the campaign has said, though details have not been provided. Garcia wants to legalize accessory dwelling units like in basements and garages, single-room occupancy units, and divisions of single-family homes.
To save the city's deteriorating public housing stock -- roughly 110,000 units of the city's most affordable housing -- Garcia, who ran NYCHA briefly went it and de Blasio faced a severe crisis of confidence over lead paint exposure, wants to stick to the plan outlined in the Blueprint for Change released July 2020 and meant to address a large share of NYCHA's roughly $40 billion in physical needs. The plan includes raising $18-25 billion to put toward capital repairs to fix things like mold, lead, and crumbling infrastructure across more than 300 complexes and moving the governance to a decentralized neighborhood operation model.
But the plan is controversial.
To pay for it, the Blueprint calls for the creation of a Public Housing Preservation Trust, which requires state action, and converting a large chunk of federal Section 9 financing to Section 8, a mechanism known as Rental Assistance Demonstration (RAD) that aims to leverage the housing subsidy to attract private investment and management. RAD has been opposed by some tenant advocates at NYCHA campuses who fear it could displace residents based on private companies pursuing more aggressive eviction strategies. Several mayoral candidates also oppose it, though none of those who do have offered a full plan for rescuing NYCHA beyond hoping for full funding from the federal government. Garcia also supports infill development, which allows the public housing authority to lease land and sell air rights to private developers to build housing and fund repairs.
The Blueprint also suggests jobs created through the initiative, coupled with training, are offered to NYCHA residents. The city is currently crafting an implementation plan that will be due in two phases this September and next June.
Like Garcia, Gates believes keeping the current course, many years in the making, is a positive. "A lot of work has been done to bring the political will and the ideas and plan necessary to fix NYCHA and we don't have time to start all over," he said, echoing the exact sentiment Garcia has expressed throughout her mayoral campaign.
"NYCHA doesn't need a new plan," Garcia said in a recent NY1 interview. "We have a plan. It will work. We have to get repairs in place right now."
Gates noted tweaks may be welcome, like adjustments to the funding streams and the level of tenant engagement, which he said needs improvement. "It is going to take a lot of money, it is going to take engagement, it is going to take a lot of figuring out the correct governmental structures, it's going to take federal cooperation. It's going to take a lot but what it starts with is saying, 'we are going to bring all of NYCHA back to a state of good repair' full stop."
Economic Recovery
At the top of Garcia's economic recovery platform is support for small businesses, which have been decimated by the pandemic. As in other areas, Garcia says she wants to use her knowledge of city regulation and agency jurisdictions to improve government services, including making it easier for small businesses to open and expand.
"Today, to open a restaurant in New York you need to get permits, file applications, undergo reviews, get inspections and receive licenses from up to eight different agencies before you can sell a bowl of soup," Garcia said in an April statement. "To restart New York City's local economy, we have to change and we have to change fast."
At the center of her proposal is a single "City Permit" to replace the multitude of applications across numerous city agencies that business owners have to navigate to, say, open a storefront or retrofit a location. Garcia also wants to launch a zero-interest microloan program for small businesses funded through private crowdsourcing.
"The role of the mayor is trying to figure out how to really assist the small business sector because the really big employers and companies -- their recovery is less dependent on things the city does" and more on macroeconomic factors, Glen said. In terms of the scale of the impact the City Permit and microlending will have on the overall recovery, "it's going to be very important for specific neighborhoods and subsectors," said Glen, particularly neighborhoods hardest hit, "but it's not going to be the panacea for everything."
"She's pretty bad on economic justice, taxing the wealthy, addressing inequality," said Khan, referring to Garcia's opposition to raising taxes on high earners and her warnings about pushing those individuals to leave New York. "She's not selling herself as a visionary but I think that's why, for many folks on the left, on top of being a little bit conservative, she's quite boring."
For Glen, among others like those at the Daily News editorial board, Garcia's competence is exciting. "The only way to be progressive and get anything done is to know how to do it...She actually knows how hard it is to get 16 agencies to all agree to use one portal so that a small business owner can actually get the permits to open up their business," said Glen.
Josh Goodman is an assistant commissioner at the Department of Sanitation who worked closely with Garcia on the emergency food program and regular Sanitation operations, and is supporting her mayoral bid but is typically involved in left-wing political organizing. Speaking only in his personal capacity, he echoed the sentiment, saying, "making government work for the people who have the least is the most progressive thing you can do."
Another key component of Garcia's platform is the promise of free childcare for children ages zero to three from households making under $70,000 a year. The program, which Garcia estimates will cost taxpayers an "expensive" but worth it $630 million per year, as she has put it, fills in gaps in early childcare that would then connect with de Blasio's landmark universal 3-K and pre-K programs for three- and four-year-olds. (3-K is still being rolled out across the city with the next mayor tasked with finishing implementation.)
"In my experience with her, I think this is more about cutting bureaucracy -- bureaucracy is her kryptonite," said Eric Phillips, a consultant and former de Blasio press secretary who worked with Garcia. "I don't think it's some deep commitment to a specific economic development viewpoint...It's almost like an approach that she's had at Water and at Sanitation and at NYCHA just applied to a different set of economic development concepts."
Garcia's platform is chock-full of major capital projects for parks, transit, resiliency, and more. Again on those, she is not promising to come up with flashy new ideas, she's promising to actually deliver on ideas that have been floating around or promises politicians have made but not fulfilled. And she is among several of the candidates who have frequently discussed the need for more workforce development programming. She has proposed creating 10,000 new internships for high schoolers and building a more robust CUNY-to-career pipeline.
Climate and Transit
"I'm running for mayor to make the city I've always called home safer, healthier, and more liveable for all New Yorkers," Garcia said at a recent press conference.
She has a broad climate plan focused on repurposing city resources, like buildings and vehicles, roadways, and Rikers Island. The plan, which her campaign told Gotham Gazette is, if she had to choose, her marquee 'idea,' is another example of her pledge to get government moving faster and sharper to execute, here on stalled resiliency projects since the aftermath of Sandy.
Garcia has also talked about electrifying the city school bus fleet in 20 years, expanding electric charging stations, adding green space to all school roofs and solar panels on all city-owned buildings. She's called for full restoration of the city's curbside composting program, which de Blasio announced would begin again in October, and pledged to make it citywide.
Like several of the Democratic frontrunners, Garcia supports converting post-jail Rikers Island into a renewable energy hub equipped with solar power, large battery storage, organic waste processing, and electric-vehicle charging. The project would be a major capital undertaking that, because the city owns the land, would largely be under municipal control. Still, other non-city actors would likely be involved and the level of interagency coordination required would be a defining element in the effort's success.
"It is at the end of the day a construction project to a large extent," said Gates, of Regional Plan Association. Who is building it, managing it, and financing it "is also going to be a very big deal."
Garcia and six of the other eight Democratic frontrunners (all but Ray McGuire) have signed on to a commitment outlined by the transit advocacy group Transportation Alternatives to convert a quarter of the city's roadways to pedestrian, park, and commercial uses by 2025. The campaign, known as "NYC 25x25," is intended to mitigate traffic dangers and pollution, and improve quality of life. It fits in with another goal of Garcia's to expand the pandemic-era Open Streets and Open Restaurants programs. She also wants to add at least 250 new miles of protected bike lanes and possibly more (Transportation Alternatives has called for 500 new miles), and create more bus lanes and busways with digital traffic signal priority. The campaign did not provide numerical goals when asked.
"Rethinking our streets is going to be a big part of the next administration and putting some goals behind that, just like with housing…[is] the way you get stuff done in this city," said Gates.
Last week, Garcia announced a commitment to complete one major transportation-related infrastructure project in each borough during a four-year term: repairing the crumbling Brooklyn-Queens Expressway, repurposing parts of the Cross-Bronx Expressway for green space, completing the Gateway rail tunnel between Manhattan and New Jersey, building a 3.5-mile "Queensway" park on a defunct Rockaway train line, and adding more transit options to Staten Island's West Shore.
"To rebuild our economy, we must rebuild our city – starting with the most urgently needed infrastructure projects in each of our five boroughs," Garcia said in a statement. "From the Gateway project to rebuilding the BQE and a new light rail for the Richmond Avenue corridor in Staten Island, it's clear that we have big opportunities to create jobs and build modern infrastructure fitting of the greatest city in the world."
According to Stagman of Empire State Indivisible, Garcia "stands out a little bit from other candidates in terms of having specific plans to address transit and the connection between transit and climate."
Education
Garcia's education platform is also marked by a focus on management, effectiveness, and efficiency with a more moderate overall lens. It includes reducing bureaucracy at the Department of Education headquarters to send more funding to schools, giving principals more control over school budgets, advancing the universal literacy goal to 2023 (getting all students to grade-level reading by third grade), adding more school social workers and counselors, and giving more funding to the schools serving a large proportion of homeless students. She also wants to build new high schools for the top middle school graduates.
Garcia has proposed $200 million for bilingual programs across the city.
She has been careful not to buck the current order of school admissions, which has produced deep racial segregation and disparities but is viewed favorably by some groups for whom they are seen as a path to upward mobility.
Garcia and Ray McGuire are the only Democratic candidates in the top tier of eight who support lifting the state-level cap on charter schools, which has been reached and is now stopping new charter schools from being opened. Other candidates, namely Eric Adams and Andrew Yang, are vocally supportive of charter schools and have called for allowing new charter schools in the city through the reissuance of previously issued but currently unused 'zombie' charters.
"Pushing really hard for education while lifting the charter cap" is a dubious proposition to Khan of the Strong Economy for All Coalition and Our City PAC. He wants to see a "community school model" of public schools with greater engagement from parents -- not charters, which he views as one of the "pet projects" of many Wall Street executives. "I see that as her perhaps trying to woo those folks with that proposal. So I think that runs afoul."
The New York City school system is one of the most segregated in the country. An advisory panel convened by de Blasio and led by Wiley to study the issue identified middle school admissions screens and gifted and talented programs for young children as key contributors. The Specialized High Schools Admissions Test (SHSAT), the sole criterion to get into one of the city's eight specialized high schools, is another source of controversy given the miniscule number of Black and Latino students offered entrance each year.
Garcia has said she would keep the SHSAT and other high school admissions screens. Instead of changing admissions practices for those schools, she wants to open new high schools in each borough that would admit students in the top 10% of each 8th grade graduating class, with a focus on South Brooklyn, Central Queens, and the South Bronx.
"It is valuable for the communities for whom it's working," said Goodman. "I think it's very reasonable to say we are going to expand these pathways while keeping the ones that exist."
Garcia has expressed willingness to end middle school screens, incrementally, "on a district by district basis in consultation with parents." She supports getting rid of gifted and talented testing for kindergarteners, which can influence a child's opportunities through their entire school career, and expand gifted and talented programming at other grade-levels.
"Just because she's in favor of SHSAT or lifting the charter cap or even a more moderate style of policing doesn't mean as mayor those viewpoints can't evolve," said Phillips, discussing Garcia and other candidates, "...especially on things they don't have a ton of experience on."
Policing
Garcia has made a number of proposals to improve public safety and, in particular, reduce the gun violence spike that is plaguing the city.
To address the tide of gun violence, Garcia wants to increase patrols in neighborhoods with a history of shootings, increase the size of the NYPD's Gun Violence Suppression Division, and add funding to Cure Violence community programs. She says she will work with the courts to prioritize gun cases and she has said she would increase the gun buy-back rate from $200 to $2,000 per gun, though there is limited evidence of the program's effectiveness and questions about whether this would be a good use of city funds. She has said it is not only a way to get guns off the streets but to provide money for people to buy necessities and avoid crime.
As former sanitation commissioner, Garcia touts her credentials managing a unionized, uniformed workforce of tens of thousands and says she can instill much more discipline and accountability in the police department. She's offered few specifics beyond promising that consequences for misconduct would be swift and significant. To help with culture change at the department, she's pledged to push a "guardian" mentality, seek to require new NYPD recruits live in the five boroughs and increase the minimum recruitment age from 21 to 25. She has pledged zero tolerance for officer infractions.
She is opposed to reducing NYPD resources but believes she can apply her expertise to finding savings that could be redirected to other agencies. Her stances on the size of the NYPD, a marquee issue since "defund the police" became a ubiquitous slogan in the protests for reform last summer, is the area where she has received the harshest criticism from the left, though it has earned her plaudits from the center and may be helping her to compete with Adams and Yang for moderate voters.
"Whether you agree or disagree with the notion of defunding or reducing the police budget, the way she's coming to these issues are really grounded in her absolute belief that if managed properly and with transparency, and with more women and people of color, that having a high-quality accountable police force is the right answer," said Glen.
"We have one of the biggest armed forces in the world and if a candidate can't say that it needs to be smaller to spend more money on counselors and things like that instead that's a big problem," said Khan.
Garcia believes the Police Commissioner should continue to have final disciplinary authority, not the Civilian Complaint Review Board (CCRB), in part a matter of state law, and that the commissioner's appointment should not be made subject to the City Council's approval. Both matters are intrinsically tied to police accountability and have divided police reformers who nevertheless agree the status quo lacks transparency and independence.
She wants to pair officers with mental health workers in subway patrols and increase the number of officers underground, a divisive proposal supported by Governor Cuomo and more recently opposed by Mayor de Blasio (after already adding more cops to the beat).
Garcia has expressed significant skepticism about the city's current plan to build four new borough-based jails to replace Rikers Island, but hasn't laid out an alternative plan.
Garcia supports decriminalizing sex work. She has warned against decriminalizing drug possession beyond marijuana.
Ben Max contributed to this article.