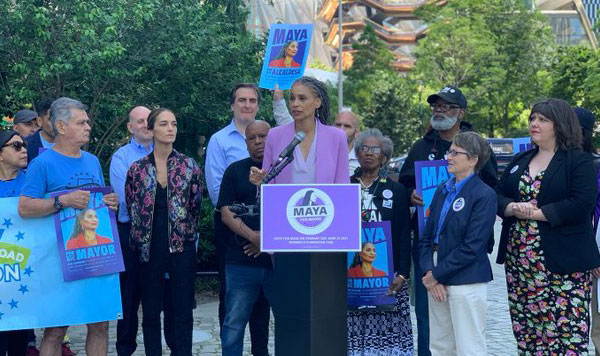 Maya Wiley (photo: @mayawiley)
---
Maya Wiley is seeking the Democratic nomination for mayor as one of the leading progressives in the race, leaning heavily on her accolades as a civil rights attorney. Her education platform includes a number of the most aggressive and embattled proposals to integrate the city's deeply segregated schools and she has said her position is forged by her own experience going to a segregated elementary school. But as she has sought the progressive mantle and pledged decisive action toward racial equality, Wiley has not emphasized school desegregation as a central campaign promise. Nor does she always highlight it even when discussing her approach to education, despite having focused extensively on the issue in recent years as the leader of a city task force, the School Diversity Advisory Group.
"I've been talking about it constantly on the campaign trail. I said explicitly, I'm a civil rights lawyer but I'm also a Black woman that went to a segregated, over-crowded, underfunded elementary school when I was a child," Wiley said Tuesday in response to a Gotham Gazette inquiry at a campaign stop outside the Brooklyn Public Library and referring to her upbringing near Washington, D.C. "So I've been very clear, no discriminatory admission practices, period."
But indicative of where Wiley has placed desegregating the city's schools in her campaign pitch, she did not discuss her integration plans further and quickly went on to describe her plan to decrease class sizes by hiring 2,500 more teachers and inject "trauma-informed care" in schools, the two education proposals she touts most often. She took an almost identical tack when asked at the debate the next evening whether she would prioritize desegregation over improving schools, though she also refuted the premise of the question and said both must be done.
"You want to bring violence down and send graduation rates up?" she continued Tuesday, in response to the question about her campaign messaging around school desegregation. "I'll tell you the solution, it's trauma-informed care in our schools and we're going to invest in that too. And I have been saying it across this campaign trail."
As indicated by her several television ads and campaign trail stump remarks, Wiley has focused her central campaign pitch on the issues of police reform and accountability and economic equity.
From 2017 to 2019, Wiley was co-chair of the School Diversity Advisory Group (SDAG), a panel with with education experts and representatives of student and parent advocacy groups and civil rights organizations appointed by Mayor Bill de Blasio to study the stark racial segregation in New York City's school system. Her education platform now includes many of the integrationist recommendations the group offered in two extensive reports and de Blasio has left by the wayside, but education advocates and political observers agree promoting them may not be a winning political strategy.
"It's a really thorny subject because a lot of progressive Democratic voters believe in school integration in theory but not necessarily in practice," said Dr. Christina Greer, a political scientist at Fordham University, in an interview.
"When it comes to actual implementation, i.e. can we change the composition of your child's school district or should we redraw the lines or reassess how we allocate resources? That's where the rubber hits the road and you get less support," Greer said. That conclusion is supported by a recent national survey from The Century Foundation, which found respondents were more supportive of racial and economic diversity in public schools before being asked about specific proactive approaches to achieving it, like busing. Wiley, herself, has gotten criticism for sending her children to screened public schools and elite high schools while advocating for dismantling and replacing some of those programs.
"She needs to appeal to white moderates, or at least white liberals who are afraid of talking about race and doing things related to race, and I also know she needs to appeal to Black and brown folks who want issues around civil rights and educational equity to be front and center," said Matt Gonzales, director of NYU's Integration and Innovation Initiative and a member of the SDAG when he was with NY Appleseed.
But school desegregation was not a campaign issue when de Blasio was elected in 2013, he noted, and usually isn't front-and-center in the minds of many voters. "That it's not the centerpiece of her platform is not surprising to me and it's also not off-putting in any way," Gonzales said.
"I've never felt like integration is the primary issue because people just don't understand it, they think it's something from the past, people don't actually know we have a segregated school system or city," he added.
Seventy percent of city schools are 'intensely segregated,' meaning 90% of the student body is nonwhite, according to a new study from the Civil Rights Project at UCLA using 2018 data. The problem isn't limited to New York City -- the report found the state to be the most segregated in the country for Black students and second-most for Latino students. But many of the contributing factors identified by the report -- "gifted and talented" programs and specialized high schools, a growing number of charter schools, and housing segregation -- are abundant in the city and partially within the power of the next mayor to address.
"She's not going to talk about it on the campaign trail because it's not important to most voters," said Michael Benjamin, a member of the New York Post editorial board and a former state legislator. "I guess if she's in Park Slope where they've done positive, concrete work to try to open up their schools and that's their local choice, that's fine, she can talk about it there. But when she goes to District 26 in Queens where it's predominantly Black and many of the kids aren't succeeding, telling them about wanting to integrate schools, specialized high schools and screened schools, there's nothing for them in the schools on the ground."
Wiley has maintained that she hasn't shied away from the issue and has focused on the issues that matter to the students and families in segregated school communities. "I've been clear that I'm going to hire 2,500 more teachers because one of the things we heard in SDAG rightly so from the communities that have the overcrowded and segregated classrooms is, 'no one is investing sufficiently in our kids' learning and making our schools great schools,'" she said Tuesday, adding, "we're going to bring class sizes down, I'm the only candidate that's been explicit about it."
The most contentious elements of the SDAG reports have to do with admissions practices -- a zero-sum game for many parents seeking the best placement for their children -- not class size or the "trauma-informed care" plan Wiley has described. But she has largely embraced those too, and reading her policy platform makes clear that school desegregation is a serious consideration for her.
"Maya's specific plans for desegregating New York City schools lean into the work she led on the School Diversity Advisory Group," Gonzales wrote in an email. "As a former member of the SDAG, I obviously want to see all 90+ of our recommendations fully implemented...Is this the perfect desegregation plan? No, but if implemented, these plans would be a significant down payment on desegregating NYC schools."
"She's done her homework for sure," he wrote.
The SDAG produced two sets of findings in 2019. The first, de Blasio and then-Schools Chancellor Richard Carranza lauded and accepted most of the accompanying recommendations. The second was far more controversial and de Blasio has said he would review the recommendations, though he took almost no action on them until extenuating circumstances from the pandemic forced his hand. The changes he did make, including removing some admissions screens, may be temporary depending on th next mayor.
After the reports came out, Wiley was an adamant proponent of the SDAG's work. "Right now I'm focused on the report and recommendations and improving our schools," she said in an appearance on NY1 in September 2019 when asked by host Errol Louis if she was considering running for office. "I will continue to be part of the conversation," she said when prompted by Louis.
The group suggested schools phase out and find alternatives to gifted and talented programs, specialized and exclusive tracks that often separate children at a young age and sometimes using a single test for admission. The SDAG recommended exclusionary admissions "screens" -- prerequisites based on grades, test scores, auditions, lateness, and attendance -- be eliminated for middle schools and geographic screens be dropped from high school admissions. In their place, the group said, should be universal enrichment programming so that all schools can offer accelerated and deeper learning experiences for students, helping to eliminate the 'scarcity mindset' that often accompanies selective admissions processes.
The SDAG also recommended the city adopt a Chief Integration Officer (CIO) reporting directly to the chancellor to oversee progress toward desegregation goals, one of the few suggestions from the first report that de Blasio and Carranza did not pick up.
Wiley's platform contains all of these points. She has said she would appoint a chief integration officer, eliminate the specialized high schools admissions exam (SHSAT) for the five specialized schools that don't require SHSAT by state law (while seeking to change the law through Albany), and replace discriminatory admissions practices with inclusionary ones. When asked Tuesday which admissions practices, in particular, she directed reporters to the SDAG's report. "I've been very explicit about it in that report," she said.
In lieu of the SHSAT, "it is imperative that the only skills assessed will be those taught in all middle schools, and any assessments used will be administered in school during the school day," wrote Julia Savel, Wiley's campaign spokesperson, in an email to Gotham Gazette. "The CIO will develop an algorithm to weigh these and other criteria (such as census tract or income data) that levels the playing field for students historically denied access to these schools, including those who are Black, Latinx, have disabilities, are multilingual learners and/or are economically disadvantaged." A Wiley administration would also "explore implementing a lottery based system with weights for students who meet certain eligibility criteria," she wrote.
Wiley supports eliminating many of the admissions screens outlined by SDAG, though she would keep auditions. "We will preserve our rich portfolio of talent-based schools, but will ensure that they are not assessing students for skills that can only be acquired as a result of private lessons," her website states. She would keep certain screens for special populations like immigrants and students with disabilities, consistent with the SDAG reports. Her website states she wants to simplify the application process by creating the same application procedure for all schools, including charter schools, at each grade level.
On gifted and talented, Wiley has discussed creating school-wide enrichment programs and dropping the standardized test used on the youngest learners -- in-line with SDAG recommendations -- which would have an immediate impact on segregation in elementary schools and she said could also save the city $5 million annually.
Wiley wants to convene an advisory study group pursuant to state law to review and make recommendations on school boundaries, according to her website. Redrawing district lines to promote school integration is another yet-untouched SDAG recommendation.
Richard Kahlenberg, a senior fellow at The Century Foundation and a member of the SDAG executive committee, believes there might be more of an appetite for an integrationist candidate coming out of the pandemic and a year of activism for racial equality. "People who may not have thought about the implications of segregation...have been newly sensitized to deep racial inequities in our system," he said in a recent phone interview.
There are unsettled questions about how the pandemic impacted both enrollment figures and "white flight" out of the city. The city has taken steps to implement some of the types of policies described in by the SDAG, largely in response to the pandemic, which made many standardized tests and other learning metrics unfeasible. Their fate and the larger admissions picture will be determined in large part by the winner of the mayoral election.
Part of the difficulty in discussing school desegregation on the campaign trail, Greer said, is that the proposals are still cursory compared to the mammoth task of institutionalizing the goal of school desegregation. "That's a heavier lift and it's a much harder question to answer. I think the plans would be way more detailed because right now they're on paper -- but we're talking teachers unions, physical locations, and we're also talking about wealthy parents whose kids are in public school that have a lot of power when it comes to changing the structure that some of them are really benefiting from."
As Wiley's campaign has unfolded and she has released her education plan, she has become more full-throated about school desegregation policies, even if they are not at the forefront of her campaign pitch.
"I am going to stick to what is going to work to achieve the goals we set out as a task force," Wiley said when asked in a December interview with Gotham Gazette when asked about where the SDAG recommendations would fit into her recently-launched mayoral campaign. "The only reason I'm hesitating isn't about what our recommendations were, it's that covid hit...I want to make sure that we're staying open to the innovation and in a way that does serve those goals. I'm not going to change the goals but there may be things about covid that may change how we get there and meet them."
Asked similar questions in a February interview with Gotham Gazette, before she had released her education plan, Wiley said, "The truth is we [SDAG] came up with a vision that was a ten-year vision -- it wasn't an overnight vision. It was a vision that said at its core, 'we're going to set goals but we want to create room for schools and districts and communities to figure what works to get to those goals that most represent what's happening in their communities and that the DOE should invest in it.'"