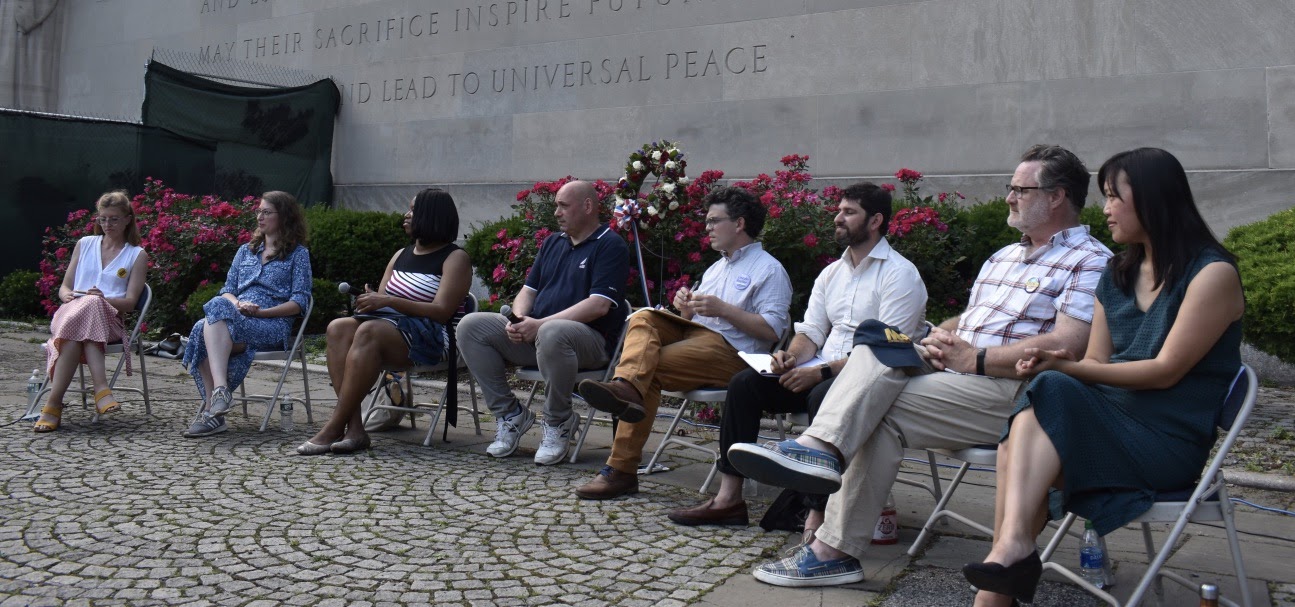 (l-r) Elizabeth Adams, Victoria Cambranes, Sabrina Gates, Toba Potosky, Lincoln Restler, Stu Sherman, Benjamin Solotaire & April Somboun at June 6 debate
---
As Stephen Levin nears the end of his three terms in office representing Brooklyn's 33rd City Council District, eight Democratic candidates are vying to replace him — bringing varied resumes and competing visions on key issues like policing, the crumbling Brooklyn-Queens Expressway, and the recent tide of development in the district's neighborhoods.
The 33rd District stretches along Brooklyn's East River waterfront, from Greenpoint to Boerum Hill. It straddles an eclectic group of neighborhoods, including Brooklyn Heights, the Brooklyn Navy Yard, and parts of Downtown Brooklyn, Williamsburg, and Gowanus.
With eight candidates running, Democrats in the 33rd District will choose from a larger-than-usual slate of potential Council members at this month's election (with early voting June 12-20 and primary day June 22), reflecting the groundswell of candidates across the city this year. The new slate of City Council members will serve a two-year term instead of the usual four years, as the city must perform redistricting based on the 2020 Census results.
Over the past two decades, Census data shows that the council district has seen a significant influx of white residents, while Black and Hispanic residents have moved out. As of 2010, Census data showed residents of the 33rd City Council District were 73.5 percent white, 13.5 percent Hispanic, 5.7 percent Black, and 4.8 percent Asian and Pacific Islander.
During the term-limited Levin's time in the Council, he has advocated for environmental health protections, mandating regular reporting of polychlorinated biphenyls (PCBs) in schools and banning the dispensation of oil and natural gas-related waste in city water, according to his website. He also chairs the Council's General Welfare Committee, where he has focused on the city's homelessness crisis and child welfare.
Levin's successor will need to confront a new wave of controversial office and residential developments, a soon-to-be-hazardous Brooklyn-Queens Expressway, a rezoning effort affecting the district's southernmost neighborhood of Gowanus, and the stakes of rising sea levels along the district's waterfront.
Whoever succeeds in replacing Levin will represent a very politically active set of neighborhoods, particularly in the south end of the district. The New York City Campaign Finance Board found that Brooklyn's 2nd community district — which covers part of the Council district, including Brooklyn Heights, parts of Downtown Brooklyn, DUMBO, and the Brooklyn Navy Yard — was the third-highest voting district across the city in 2019.
On Sunday, June 6, all candidates gathered amid heavy heat for a debate in front of Cadman Plaza Park's Brooklyn War Memorial. While the candidates had gathered for a previous online forum, the Cadman Plaza Park event was the first in-person debate for the district's contenders.
The Candidates
Two of the candidates seeking to replace Levin are currently members of his staff. Elizabeth Adams, who hails from Greenpoint, currently serves as Levin's Legislative Director. She was formerly the Director of Government Relations at Planned Parenthood of New York City and served as a co-chair of the Sexuality Education Alliance of New York City. A self-described "lifelong tenant," Adams has pledged to create a "community-driven" counterpart to the City Planning department, push for rent stabilization for small businesses, and defund the NYPD by $1 billion.
As of May 21, the Campaign Finance Board reported that Adams had spent $119,442 during the campaign, with $99,124 remaining funds. She has been endorsed by the Freelancers Union, the National Institute for Reproductive Health, Progressive Women of New York, Brooklyn Young Democrats, NYC Kids PAC, and U.S. Rep. Alexandria Ocasio-Cortez' Courage to Change PAC, which gave its seal of approval to several candidates in the race.
Benjamin Solotaire also works for Levin, as Community Liaison and Director of Participatory Budgeting. He served for eight years on the steering committee for Participatory Budgeting NYC; ran community engagement efforts at the Fortune Society, which provides prison re-entry services; and led policy initiatives at the Brooklyn Food Coalition. Solotaire has focused on land use and city planning reform during his campaign, voicing strong support for non-profit development and for rezoning efforts to create more affordable housing in Gowanus.
According to the Campaign Finance Board, as of May 21 Solotaire had spent $47,934 and had $59,321 funds remaining. He has been endorsed by Pastor Karen Daughtry of the House of the Lord Church.
But the apparent frontrunner in the race is Lincoln Restler — a former de Blasio aide and a District Leader representing Greenpoint and Williamsburg for the Brooklyn Democratic Party. Restler, who grew up in Brooklyn Heights and now lives in Greenpoint, co-founded the New Kings Democrats organization in 2008, and the reform organization has pressured the local Democratic Party to become more transparent and accessible while infusing younger, more progressive activists into Brooklyn politics. Working for de Blasio, Restler did intergovernmental affairs and special projects, including, he noted at the debate, work on IDNYC, the city's municipal identification program that included undocumented New Yorkers. Restler promises to increase green space and decrease lanes on the BQE; revive empty storefronts with "good small businesses that meet the needs of the neighborhood," as he said at Sunday's debate; and collaborate with the state Legislature to lower rents of apartments that remain vacant for certain periods of time.
As of May 21, Restler had spent $118,306 and had more than any other candidate — $127,518 — left to spend. He has been endorsed by the Working Families Party; U.S. Representative Nydia Velázquez, Assemblymember Emily Gallagher, and State Senator Julia Salazar, who all represent 33rd Council District residents; Public Advocate Jumaane Williams; TenantsPAC; Independent Neighborhood Democrats; Stonewall Democrats of NYC; a long list of labor unions, including the United Federation of Teachers, the 1199 SEIU healthcare workers' union, National Association of Social Workers, and Teamsters Local 202 union; many progressive activist groups, and all seven NYCHA tenant organizations within the district. He was also given the deal of approval from Ocasio-Cortez's Courage to Change PAC, and he has received significant support from Orthodox Jewish leaders in the district.
Others running include neighborhood activists, such as Toba Potosky, who served as the president of Cadman Towers, the Mitchell-Lama affordable co-op where he lives, for 16 years. According to his campaign website, Potosky has worked an array of jobs ranging from street vendor to screenwriter. As an activist, he co-founded the Cadman Park Conservancy, where he led efforts to rehabilitate the Brooklyn War Memorial, and pressed for elevator accessibility at the Clark Street subway station. Potosky has pledged to create pathways to homeownership through Limited Equity Co-operatives like Cadman Towers; lower affordable housing rents; and make the Coalition for the BQE Transformation, a community organization, an advisory committee to the city.
Potosky had spent $119,650 and had $111,870 remaining as of May 21. Potosky has been endorsed by City Council Member Robert Cornegy and former State Senator Velmanette Montgomery of Brooklyn.
Victoria Cambranes, a Greenpoint resident who previously challenged Levin in 2017, is running again this year and has also focused on land use and the environment in her campaign. She proposes the creation of a new Office of Community Planning to oversee development and a hyper-local "Green New Deal" to create eco-oriented jobs. Cambranes, whose parents are Guatemalan and Polish immigrants and also live in the district, said she became galvanized to enter the political arena after Donald Trump won the 2016 presidential election. She is a former marketing consultant who now works as a community organizer.
Cambranes had spent $87,905, and had $51,896 left to spend as of May 21. Her endorsers include the Brooklyn Progressive Alliance, the student activist group Future Steps US, and a number of unions including the Laborers' International Union of North America, IATSE Local 798 (representing makeup and hair stylists), Local 1 New York (bricklayers and similar trades), DC9 (painters and similar trades), and BAC Local 7 (tile, marble, and terrazzo workers). She also has the support of Ocasio-Cortez's Courage to Change PAC.
Legal aid attorney Stuart Sherman, who goes by Stu, is running on a platform centering healthcare equity. Sherman is a senior attorney with New York Legal Assistance Group's health division, offering legal aid at various healthcare centers. He also started a free legal clinic for seniors experiencing dementia and their families. He has cited his own experience with diabetes as well as other chronic illnesses in his family as a motivating force for his campaign. Sherman has proposed the creation of a public pharmacy, the expansion of home health care access, and reforms that would require land rezoned as residential to provide 100% affordable housing.
Sherman has been endorsed by the Black Lives Caucus, In the Fight North Brooklyn, Voters for Animal Rights, and the United Automobile, Aerospace and Agricultural Implement Workers of America. He also has the support of Ocasio-Cortez's Courage to Change PAC. Sherman had spent $123,025 as of May 21, more than any other candidate. He had just over $79,000 remaining funds at that filing.
Sabrina Gates, a self-employed graphic designer with her company SunSum Design, said at Sunday's debate that her top priority is to improve communication with neighborhood residents. She has proposed mandating Mental Health First Aid training for public employees, reviewing small businesses' needs block by block with attention to home-based businesses, and expanding outreach to residents who cannot attend traditional public forums like Community Boards. Gates had spent $3,084 over the course of the campaign and had $3,774 left to spend as of May 21.
As she also seeks the Council seat, Brooklyn Heights resident April Somboun has cited her involvement with community organizations including the North Heights Community Group, the Brooklyn Bridge Park Community Advisory Council, the Bridge Harbor Heights Condominiums' BQE initiative, and the Poplar Street Community Garden. A refugee from Lao who immigrated to the U.S. as a child, she works as a marketing and communications consultant. Somboun supports transforming the BQE into a "greenway belt" from Sunset Park to Queens, expanding childcare access, and increasing funding for the Parks Department. On the campaign trail, she has emphasized her experience as a mother in the district.
Somboun had spent $78,698 and had $119,057 left to campaign with as of May 21. She has been endorsed by State Senator John Liu, Moms in Office, and mayoral candidate Ray McGuire.
A Hot Debate
The Cadman Plaza Park debate was generally congenial, save for a brief exchange between Cambranes and Restler.
Cambranes accused Restler of levying personal attacks against her privately to endorsers and staff members, and creating "overall a really threatening environment that is not conducive to working with women and for women." (She declined to put Gotham Gazette in contact with the endorsers and staff members in question, stressing that she wanted to protect their privacy and safety.)
At the debate, Restler responded, "I want to be clear that there has not been one iota of negative campaigning from me or anyone associated with my campaign. I promise that if any issue is brought to my attention where somebody says anything inappropriate, I will address it and they will no longer be associated with the campaign."
Housing and Development
In recent years, the 33rd City Council District has seen a surge of high rises and luxury developments across its various neighborhoods. This trend has loomed heavily over the Council race.
The controversial 1 Clinton Street project stands feet from where Sunday's debate took place at Cadman Plaza, rising where a former Brooklyn Public Library branch once stood. (Developers have promised to provide new — sleeker but smaller — library space on the building's ground floor.) Nearly every candidate named housing and land use reform as a top priority — offering different visions for increasing affordability and bringing community voices into development decisions.
Sherman and Restler both called for government bodies to contribute more pressure and resistance to private developers' demands.
Restler spoke out against a culture of "member deference" in the City Council, in which development decisions are generally decided according to the position of the Council member representing the district at hand. He called out back-end deals between developers and Council members.
Sherman focused his critique on the City Planning Department. "I've been at Planning meetings in which it was difficult to tell the difference between those people that work for the city and those that work for the developers, and that needs to end," Sherman said at Sunday's debate. He advocates for reforming the department so that it is organized around a singular focus on affordable housing and homelessness.
Some candidates proposed revamping or supplementing the City Planning Department with alternative community-driven approval processes altogether. Cambranes said she would work to amend the city Charter to create a new "Office of Community Planning" in order to center neighborhood residents' input in new developments. Meanwhile, on her website, Adams calls for a similar "independent, community-driven planning process" to replace City Planning.
In order to bring in beneficial development, Sherman called for the city to prioritize non-profits over for-profit developers.
Potosky offered a different approach. "Forget about developers," he said, suggesting that he would instead focus on using city-owned land — "like what has now become One Clinton" — to create housing that is 100% affordable.
Adams echoed this strategy of focusing on city-owned land, adding that community land trust lots could also be a focus to create 100% affordable housing complexes.
Solotaire highlighted his work as part of Levin's staff leading the Gowanus rezoning effort that would create more affordable housing in the neighborhood. The rezoning in Gowanus has been controversial partly because it would place a 950-unit fully affordable housing development at Public Place, where a defunct gas plant once leaked environmental toxins into the soil. The city plans to remediate the site, although some opponents have questioned whether those efforts will be effective. The effort has mostly been the purview of Council Member Brad Lander, however given that most of the rezoning area is in Lander's 39th District.
On his support for the rezoning, Solotaire received some pushback from Cambranes and Gates.
"Toxic vapors which will be escaping through vents for hundreds of years," Cambranes argued. She alluded to the fact that Black and Latino New Yorkers are significantly overrepresented in Section 8 homes and public housing.
Gates echoed this concern: "We have to stop doing this to the same communities over and over again."
Solotaire conceded that the placement of the affordable housing complex on the site of a former gas plant is "problematic," but maintained his faith in the area's environmental cleanup. "I would want to make sure that all the remediation efforts that we can possibly put in and constant monitoring are in place," he said.
Still, he noted that Gowanus is a predominantly white and affluent neighborhood. "If we want true diversity in our neighborhoods, we need to build affordable housing," he said.
Amid these policy discussions, Gates and Somboun called for greater transparency and communication between developers and community residents.
Somboun promised a "one-stop destination on my website" for information about upcoming developments.
Gates stressed the need to reach out to residents beyond formal meetings, which not everyone can attend. "You cannot solely rely on the voices of Community Boards, because they only represent a fraction of the community," Gates said. "You have to ensure that engagement processes are diversified and encompass all of the people of the community in a timely manner."
Policing
One of the clearest divides among the candidates emerged with the issue of restructuring the NYPD and strengthening public safety. It was lost on no one that one year ago, just after the police killing of George Floyd, Cadman Plaza had been filled with hundreds of police brutality protestors. At that protest, the NYPD arrived with riot gear and deployed a strategy known as "kettling," encircling and arresting hundreds.
Adams, Cambranes, Restler, Solotaire, and Sherman have expressed strong support for reducing NYPD funding and redistributing mental health response, school safety, and traffic enforcement to other entities. The department currently operates on a $5.35 billion budget.
Addressing the citywide spike in gun violence and some other crimes since the pandemic, Sherman argued that more policing does not necessarily lead to a drop in crime. "The equivocation between police and public safety for too long has led to the violence we've seen against Black and brown communities," Sherman said at the debate.
"Public safety is all about housing stability, it's about good jobs, it's about a good education, it's about mental health services," Solotaire added.
Restler, who said he had to leave the debate early and departed before the topic of policing came up, proposes creating "a new public safety agency made up of social workers, mental health professionals, and credible messengers" on his website.
Cambranes, who has pledged to cut police funds by $3 billion, joined Sherman in proposing to expand the city's emergency mental health pilot program, which will send EMTs and social workers to non-violent mental health-related 911 calls in Harlem and East Harlem.
Echoing these calls, Adams argued that the city could dramatically increase funding to community-based violence intervention organizations like Save Our Streets. Those organizations focus on "preventive work and care," she said, rather than reacting to crime that has already occurred.
Somboun issued a more cautious promise to cut NYPD funding, stating that she would "reexamine the budget and figure out where the inefficiencies are." She would cut the budget by up to $1 billion, she said, and "reinvest it in this community."
Somboun noted her experience as an Asian-American woman, alluding to the spike in hate crimes against Asian New Yorkers this year. "I understand that the Jewish Community, the Black community, and the Asian community also want safety," she said. "We got to talk to the people who are actually living it, rather than implementing it without community feedback."
Gates took a somewhat different approach. "I don't necessarily believe in defunding the police, I believe in refunding communities," she said. "We need a system of enforcement in this city." She called for the police to develop more neighborhood ties and community policing practices, and for more thorough mental health screening and resources for officers.
"I have been stopped by the police," said Gates, who is a Black woman. She called for the police to "demilitarize," saying, "It makes absolutely no sense that we have some of the equipment we have in this city." (The department recently got rid of a newly-acquired armed robotic dog.)
Instead of reducing police funds, Potosky promised to replace top police officials, increase legal accountability for officers, and bolster training.
"I am genuinely concerned that social media starts becoming policy," he said of the movement to defund policing. "Every day, we see more violence against people in the street, people in the subway, so we have to find where that balance is."
Fixing the BQE
Candidates have also offered diverging visions for the Brooklyn-Queens Expressway, the section of Robert Moses' I-278 that has run through Northern Brooklyn and Queens since the 1960s. The part of the BQE stretching between Atlantic Avenue and Sands Street has been deteriorating, to the point at which it may soon need emergency repairs. To address engineering concerns, the city has suggested replacing the Brooklyn Heights Promenade — located above the BQE's triple cantilever section — with a temporary road as the highway is fixed. As a more time- and resource-consuming alternative, the city has suggested repairing the highway lane by lane.
The city's proposals have angered environmentalists and park enthusiasts who want continuous access to the promenade; public health advocates concerned about pollution elevated near people's homes; and preservationists who seek to keep the waterfront park intact. Activists and planning companies have put forward an array of counter-proposals, including turning the middle level of the Cantilever into a High Line-esque park; diverting traffic to an expanded Furman Street while turning the entire expressway into green space; and creating a tunnel alternative to the highway.
The 33rd district's City Council candidates have supported plans that leave the promenade intact, and that generally add park space to the area.
Adams, for instance, told the North Brooklyn Open Space Coalition that she would "explore options for the BQE that redirect some of its freight traffic to our waterways, and that covers the BQE with green space where possible."
Somboun has suggested incorporating a "greenway belt" from Sunset Park to Williamsburg into plans for the BQE.
Gates said she supports plans to extend the promenade over the highway, connecting it to Brooklyn Bridge Park. Echoing this vision, Potosky specifically named the Bjarke Ingels Group's "Tri-Line Plan," which would enclose the highway in a three-level greenspace connected to Brooklyn Bridge Park. Both Gates and Potosky promised to continue dialogue with Furman Street residents, whose street would be incorporated into the proposed park.
Sherman, meanwhile, expressed support for a "covered highway" or tunnel alternative to the BQE, an approach he admitted might be limited by funding.
Both Adams and Somboun have expressed support for BQGreen's proposal, which calls for a platform-park to be built over the part of the BQE that runs below street level in Williamsburg.
Restler has shared general support for renovations that would add more greenery and reduce traffic. Meanwhile, Solotaire and Cambranes came out staunchly against the city's plan to replace the promenade, but said they would seek to listen further to neighborhood voices before supporting a particular plan.
The words "strong community input" recurred in every candidate's response.