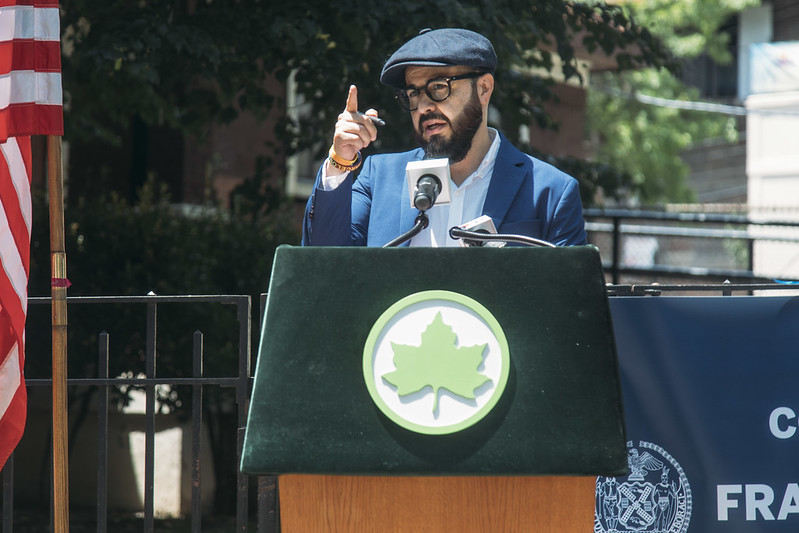 Council Member Moya (photo: Emil Cohen/City Council)
---
One year ago, COVID-19 swept across Corona, turning the Queens neighborhood into the epicenter of the pandemic — and leaving behind a trail of death, sickness, hunger, and unemployment. In the wake of the crisis, which hit Northern Queens harder than most of the city, incumbent City Council Member Francisco Moya says his work to address healthcare and food insecurity kept the pandemic's effects on his 21st Council District from growing even worse.
But Moya's most prominent primary challenger, mutual aid activist and longtime social worker Ingrid Gómez, in this month's election argues that much of the area's suffering could have been prevented under different leadership.
Only 16 spots within the 51-seat New York City Council are filled by incumbent City Council members who have not yet reached their term limits and are seeking reelection. One of these is in District 21, where various Democratic challengers are working to unseat Moya.
District 21 encompasses East Elmhurst, Elmhurst, Jackson Heights, and Corona in Queens, along with Flushing Meadows Corona Park, LeFrak City, and LaGuardia Airport. Moya, a Democrat who was elected in 2017 over disgraced ex-lawmaker Hiram Monserrate, is heading into the final months of a four-year term on the Council. With the June 22nd primary quickly approaching and early voting ongoing June 12-20, Moya and his challengers will have to compete for the nomination. The winner of the primary is quite likely to be elected in November and take office in January given the district's overwhelming Democratic voter majority.
Over the course of the last year, the district was among those most devastated by COVID-19. In East Elmhurst, nearly 14% of residents contracted the virus, according to city data. The district is largely comprised of immigrant communities. The New York Times reported that high-density housing helped covid spread quickly through the district, where a majority of residents are Latino and many are East Asian and South Asian. Three quarters of district residents identified as Hispanic in the 2010 Census; 12.6% of the district Asian-American or Pacific Islander, 6.1% is Black, and 4.5% is white.
In an interview with Gotham Gazette, Moya cited his work on the ground during the pandemic, including his role in obtaining personal protective equipment (PPE) for Elmhurst Hospital workers and district community members when demand for medical-grade face masks and hand sanitizer reached its height. His website specifies that he secured 120,000 items of PPE for Elmhurst Hospital in the first week of the pandemic. Moya also highlights his work to encourage district residents to get vaccinated through town halls to reduce skepticism and pop-up vaccine clinics. The district's neighborhoods now have average-to-high vaccination rates relative to the rest of the city, with slightly varying rates in the neighborhoods, 40 to 60% of residents have been fully vaccinated and 50 to 70% of residents having received at least one dose.
Last year, Elmhurst Hospital in the neighboring 25th Council District gained national attention when it was overwhelmed with COVID-19 patients. Moya noted that in his first year in the Council, years before the pandemic, he worked to expand emergency room funding for Elmhurst Hospital by $43 million, which included renovating the existing emergency room and adding new space. Moya once worked at Elmhurst as the director of business development, and he said he considers many employees there to be extended family.
In his three-plus years representing District 21 in the City Council, Moya has focused on issues that involve working-class and immigrant families, union rights, workplace safety, and worker protections. Specifically, Moya has passed legislation to stop employment agencies from enacting unfulfilled finder's fees on low-income families, wrote Carlos' law, which would establish endangering the welfare of a worker as a crime and result in higher fines for the corporation or employer, and has blocked efforts to repeal the Scaffold Law, which holds employers liable for gravity-related work injuries in various construction fields.
In the State Assembly before moving to the Council, Moya also introduced the New York State Liberty Act and the DREAM Act to ensure that all New Yorkers, including undocumented immigrant groups, are treated the same by local officials and have viable educational opportunities. Moya said he is proud to be the first Ecuadorian-American to be elected to public office in the country.
Moving forward, Moya told Gotham Gazette that his priorities will be reviving the small business economy, building more affordable housing in the district, and expanding access to wifi and technology, particularly for public school students in an effort to close the "digital divide."
As Moya once again runs to represent District 21 in the Council, he faces four challengers in the Democratic primary.
Moya has seen a groundswell of support behind him even as he faces one particularly formidable opponent who has the backing of a number of progressive groups and individuals.
Moya been endorsed by a number of unions including the New York State Nurses Association, the NYC District Council of Carpenters, the United Federation of Teachers, the Laborers' International Union, and the Hotel Trades Council; as well as Planned Parenthood of Greater New York Votes PAC; TenantsPAC; Stonewall Democrats of NYC; Latino Victory Fund; the Queens Democratic Party; Resilience PAC; and the Lesbian and Gay Democratic Club of Queens.
As of June 11, the New York City Campaign Finance Board website showed that Moya's campaign has received $92,719 in private funding and $154,053 in public matching funds, and he has spent $136,770.
Ingrid Gómez has emerged as Moya's most prominent challenger. Gómez immigrated from Colombia to the Bronx at age seven and moved to Corona as an adult. She has worked as a clinical social worker for 17 years, according to her website. Last summer, she helped found Corona Mutual Aid, a network of activists that established a community fridge and other efforts to help neighbors in the midst of the pandemic. Góme also joined the community advisory board of Elmhurst Hospital. She currently works as a therapist at the Child Center of New York.
Gómez has been endorsed by City Council Member Brad Lander, New York Progressive Action Network, Met Council on Action, the National Association of Social Workers, QueensLatino media outlet, and Women of Color for Progress. She received the seal of approval from Rep. Alexandria Ocasio-Cortez's Courage to Change PAC. Gómez's campaign has received $30,782 in private funds and $144,818 in public matching funds, according to the New York City Campaign Finance Board, and she has spent $112,846 of that money so far.
In an interview with Gotham Gazette, Gómez said she was inspired to run for public office partly by Ocasio-Cortez, both because of her "sense of justice" and because of her "courage" to unseat a longtime incumbent.
Gómez spoke to the pandemic's disproportionate impact on her community as evidence of a need for new leadership. She spoke to food pantry lines in the community that have sometimes stretched blocks and lasted for hours. The council needs to "fully fund food banks," she said.
"Over the last year and over the last four years, I've seen this community be continually neglected by Francisco Moya," Gómez added. "During this pandemic, he was nowhere to be seen. His office was closed…Had it not been for the neglect of this Council member, things would be different."
Moya refuted Gómez' claims. "When we became the epicenter of the pandemic, I was out there," he said. "I was delivering for my community — when people were hiding at home, not coming out, I was every single day at Elmhurst Hospital," he said. "I was giving out food, making sure that our community was being given the proper information in multiple languages, handing out PPE to the community."
Another point of conflict between Gómez and Moya is the Willets Points development in Flushing Bay, near Citi Field. Plans to revive the 23-acre city-owned development had stalled for 15 years. Willets Point failed to materialize during three Queens Borough President administrations, Moya said. "I managed to do that in three years," he said of getting a deal in motion.
The current plan, recently approved by the Queens Borough Board, the Queens Eagle reported, outlines 1,100 new units of affordable housing, an elementary school, new retail space, a community center, and one acre of open space. The land will need an environmental remediation before construction can begin.
Gómez called for triple the number of affordable housing units and for a stronger emphasis on community gardens and "spaces for children to play."
In response, Moya said the affordable housing units were "1,100 more than my opponent has ever done."
While she stressed the pandemic's devastation, Gómez suggested that the crisis also created an opportunity for the city — and the district — to start fresh with dramatic policy changes.
Gómez's platform centers around a municipal "Green New Deal" plan combining affordable housing development with job creation and environmental design. In her "Municipal Housing Justice For All/Green New Deal" plan, Gómez proposes both retrofitting NYCHA buildings to become environmentally sustainable and building new housing developments with prioritized hiring for local communities of color.
She would create job training programs for district residents geared towards these construction opportunities. According to her website, Gómez would foster "democratically controlled social housing units" like Community Land Trusts, where neighborhood-based nonprofits develop housing generally for low-income residents.
Gómez has also expressed support for worker-owned businesses, pledging to expand the Department of Small Business Services' Worker Cooperative Development Initiative. Her other plans include urban agriculture initiatives that would provide community food sources, as well as food rescue and "upcycling" programs that would divert food waste from supermarkets toward food banks and other organic waste uses.
She distilled her priorities into three categories: food, jobs, and housing.
Also running for Council is George Onuorah, who lives in the LeFrak City apartment complex. He has lived in the Corona neighborhood for 34 years, according to his website, which describes him as a "pillar of quiet strength." Onuorah is the CEO of the Foundation for Sustainable Community Development Initiative, a non-profit organization started in 2018 that has donated pandemic-era personal protection equipment, toys, and cash in both LeFrak City and various localities in Nigeria. He has also founded Our World Media, an occasional news magazine.
Onuorah has expressed support for a gun buyback program; soft, low-interest loans for small businesses; and vocational training in schools. He has also supported diversion programs that would decarcerate people experiencing mental illness and substance abuse disorders. Onuorah told QNS that he would prioritize creating a "friendlier" housing court for tenants and stopping illegal evictions. Onuorah has received $15,009 in contributions and $52,098 in public matching funding, of which he spent $26,180 by June 11.
Two members of the East Elmhurst Corona Alliance, an activist group that opposes the establishment of more homeless shelters in East Elmhurst and Corona, have also entered the race as relatively low-profile candidates.
One of them is Talea Wufka, a Jackson Heights resident according to her Facebook page. In previous neighborhood activism, Wufka, whose father survived the holocaust, has called for the deportation of a former Nazi concentration camp guard living in Jackson Heights. Wufka does not have a known campaign website, but she maintains an active Twitter presence.
Wufka said during the Campaign Finance Board's NYC Votes interview series that she would work to secure more resources to vaccinate elderly and disabled residents. She proposed creating mobile mental health treatment units that could take walk-in appointments in the neighborhood. She would add more police officers to the subway, she said — and she would advocate for redesigning public infrastructure so as to accommodate social distancing for possible future pandemics. Wufka has received $8,808 in campaign contributions and $51,642 in public funds. Of that money, she has spent $4,780 so far.
David Aiken, who identifies himself on Twitter as an electrician, union member, and lifelong Queens resident, is also running for the City Council. Aiken told NYC Votes that his top priorities are building "true affordable housing," adding social services for immigrants and seniors, and promoting "public transportation that serves the people." He does not have an active campaign website. Aiken received $21,640 in contributions, of which he has spent $4,546. He has received no public funding.
Kira Silbergeld contributed to this story.