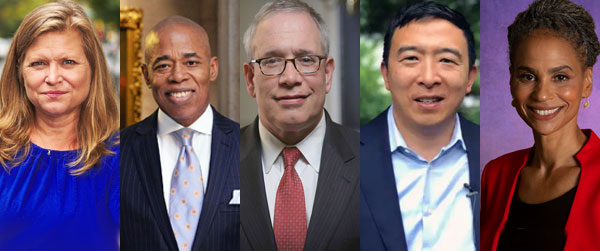 l-r: Kathryn Garcia, Eric Adams, Scott Stringer, Andrew Yang, Maya Wiley
---
The Democratic mayoral race is the most diverse it has ever been in the city's history, both in terms of the candidates and the records they bring to the table. In the top tier of eight candidates, there are two sitting elected officials, two former top de Blasio administration officials, a former presidential candidate, a former Wall Street executive, a former Obama cabinet secretary, and a former nonprofit leader.
In the last two weeks, though the race remains unpredictable, the upper echelon of the field has seemed to winnow down to five candidates – Brooklyn Borough President Eric Adams, former sanitation commissioner Kathryn Garcia, former counsel to the mayor Maya Wiley, entrepreneur Andrew Yang, and Comptroller Scott Stringer. Former Citigroup executive Ray McGuire, former federal housing secretary Shaun Donoovan, and former nonprofit executive Dianne Morales have consistently polled near the bottom of the pack and seem unlikely to have a path to victory.
Each of the candidates has offered their argument for why they would be the ideal leader to help usher in the city's recovery from the pandemic, asking voters to judge their backgrounds and visions. It remains for voters to decide whether they will prefer candidates with a wealth of experience in government service or those with an outside perspective from private industry, whether they will vote for what a candidate has done in the past or what they promise to do in the future.
While most of the election has focused on candidates' plans for their mayoralties and stances on key issues facing the city, with some examination of parts of their records, what have these top mayoral candidates really accomplished that voters should in part judge them on? Here's a look at the top five Democrats in the polls:
Eric Adams
Adams was a police officer for 22 years, eventually becoming an NYPD captain, before becoming an elected official. In his time in the department, he co-founded 100 Blacks in Law Enforcement Who Care, an advocacy group aimed at fighting police brutality and racial profiling from within the department. The group raised thousands of dollars, awarded community grants and did public trainings about how people should respond when stopped by the police. Adams became a regular, high-profile voice on police reform and eliminating racial bias in policing.
Adams also touts having been part of the department as it modernized and brought crime down, saying he helped develop the CompStat program and that, along with his regular police work, was key to the crime reductions of the '90s and into the 2000s.
He then moved from the NYPD to elected office, winning a State Senate seat, then becoming borough president. Though there were structural barriers in his way, Adams has few major accomplishments to show for his time in the two offices. While there is more to the story, his mayoral campaign website names no specific accomplishments from his time in government, only broad areas where he's fought for change.
Between 2006 and 2013, Adams served four terms in the state Senate, representing Central Brooklyn. But he did not successfully sponsor many significant pieces of legislation, likely since he was in the minority almost the entire time. He pushed legislation to place tight restrictions on the sale of ammunition, which would eventually be approved through separate legislation. He also sponsored legislation to ban the NYPD from compiling a database of people who are stopped but not arrested by officers.
Adams launched free public safety seminars for New York City parents, covering issues like gang awareness and child abuse prevention, and an annual "Cradle to College" parent and youth empowerment seminar. His defining moment in the Senate was his impassioned defense of legalizing same-sex marriage in 2009 – the bill failed that year but was approved in 2011.
In 2013, Adams was elected to become the first Black borough president of Brooklyn.
Since 2014, he's served two terms in the position that comes with few powers but a prominent bully pulpit. The borough president's office doesn't lend itself to high-impact policy-making, though the borough president can request and introduce legislation before the City Council. For instance, he co-sponsored a bill with Council Member Ydanis Rodriguez requiring the mayor to create an Office of Sports, Wellness and Recreation. It was approved in May of this year.
As borough president, Adams launched several initiatives focused on public health, after being diagnosed with diabetes and adopting a healthy plant-based diet and a wellness-focused lifestyle, reversing his own illness. Working with the de Blasio administration, he created a plant-based lifestyle medicine program at NYC Health + Hospitals/Bellevue. The program, which Adams has touted on the mayoral campaign trail as a top accomplishment, provides treatment to people with chronic conditions through a holistic combination of dietary, lifestyle and medicinal changes.
He also convinced the administration to pilot a "Meatless Mondays" program to reduce meat consumption in 15 Brooklyn schools – the program was later expanded citywide to all 1,700 public schools. And in partnership with City Council Member Fernando Cabrera, Adams was able to successfully push through a ban on processed meats in school lunches.
Other elements of his work as borough presidents, like most who hold the role, included advocacy on issues with limited or nebulous results. In 2017, Adams, along with Bronx Borough President Ruben Diaz Jr. (who has now endorsed him for mayor), created a new "Gifted and Talented Education Task Force" to examine issues around gifted and talented programs and admissions to specialized high schools. It pointed to ongoing questions around limited programming in communities of color, part of the ongoing debate over school admissions processes. The effort does not appear to have resulted in any changes but may have contributed to the wave of commentary warning against eliminating or replacing such programs.
"As a child I lived on the verge of homelessness, but I also learned how to turn my pain into purpose," Adams said at the second official primary debate on June 2. "I became a police officer, an NYPD reformer, a state lawmaker, and now your Brooklyn Borough President, all the time leaning into the blue collar values that were handed down to me by my single mom. I'm going to use those blue collar values to create a city where we will raise healthy children and families. I know we can have a safe, affordable city. This is our moment, and our movement."
There are several blemishes on Adams' record as voters consider his accomplishments. As a state Senator, in 2010, he voted against the expulsion of fellow Democratic State Senator Hiram Monserrate from the chamber, after Monserrate had been convicted of assaulting his girlfriend. He claimed at the time that it was because he wanted the legal process to play out.
Over the years, Adams has also skirted ethics and campaign finance rules, leading to investigations at the local, state, and federal levels though he has never been charged with any crimes. While in the Senate, when he chaired the Racing, Gaming and Wagering Committee, a state inspector general investigated the bidding process for a casino at the Aqueduct racetrack in Queens. The IG's report in 2010 stated that Adams was one of several lawmakers guilty of "failing to fulfill their public duty" and said he gave non-credible testimony while also receiving campaign contributions from the winning bidder
As borough president, Adams launched the nonprofit One Brooklyn Fund to promote the borough's interests. But he raised money for the fund from donors who had business with the city, raising questions about whether he was circumventing city campaign finance rules while burnishing his political prospects. The arrangement was investigated by the city's Department of Investigation and federal prosecutors and no charges were filed. Recent reporting has also pointed to issues and raised questions around Adams' tax filings.
Kathryn Garcia
Garcia has highlighted a number of accomplishments from her roughly 14 years in city government, including instances where she was at or near the top of three city agencies but also filled in as a crisis manager to take on other roles. She has managed large bureaucratic agencies, many thousands of workers, and large budgets.
Prior to that, for ten years, she was vice president of New York Appleseed, a nonprofit consulting and advocacy firm.
From 2007 till 2014, Garcia served at the Department of Environmental Protection under Mayor Michael Bloomberg. She would eventually become chief operating officer, overseeing the Bureaus of Water Supply, Water and Sewer Operations, and Wastewater. While at DEP, according to her campaign website, she "rid the city of #6 heating oil," a heavy-polluting fuel that was used for home heating systems. She helped reduce the department's repair backlog from 3,000 to 300, saved the department $30 million with efficiency measures, and helped restore wastewater treatment infrastructure in the wake of Hurricane Sandy.
From March 2014 till September 2020, Garcia was de Blasio's sanitation chief. She successfully championed a ban on styrofoam containers and packing material, created the city's first electronic waste recycling program, and launched an organics recycling program. Perhaps her two biggest accomplishments were helping to negotiate and usher through an environmental justice law to limit how much trash communities can process and a law to regulate the deeply problematic private carting industry, creating new commercial waste zones.
Garcia also modernized snow removal operations at Sanitation, adding GPS systems to snowplows for real-time monitoring. Under her tenure, the city mismanaged only one major snow storm, though it was an unpredictable one where the forecast shifted dramatically.
But she didn't just carry out those duties, she also served as the mayor's "lead czar," charged with mitigating the city's lead paint exposure crisis that had affected young children. De Blasio also made her the interim chair and CEO of the New York City Housing Authority, when the agency's struggling finances and management crises came to a head, in part over lead exposure for young children. Garcia filled that role for a tumultuous year, attempting to bring more organization to the sprawling authority during an especially challenging time and to move it ahead on several key goals, including lead remediation, but also revenue-raising measures.
While lead exposure did continue to fall in the city, the problem at NYCHA remained relatively unchanged, and she was even upbraided by a federal monitor who said she gave a "misleading impression" of the agency's lead abatement efforts in testimony to the City Council.
Finally, when the pandemic hit, Garcia was appointed the city's emergency food czar and oversaw the distribution of more than 130 million meals to New Yorkers in need. While largely heralded, the program did have its share of missteps, most of which Garcia took ownership of while also pointing to the fact that the program was moving in haste during the pandemic to ensure millions of New Yorkers didn't go hungry after losing access to food and/or wages. The city gave contracts to vendors without a proven track record, including for emergency food distribution, including a particular contract for $14 million awarded to a vendor with a recent criminal conviction, though Garcia terminated the contract when that became evident. There were instances of food delivered to the wrong locations, delivery of rotten food, and at least one incident where boxes of food were dumped on the street.
"I have been the city's crisis manager for the last 14 years, I have managed billions of dollars of budgets, as well as tens of thousands of staff," Garcia said during the first official primary debate. "I have pumped water during Hurricane Sandy, and during COVID, delivered a million meals a day to hungry and sick New Yorkers...And I am ready to execute on the vision on day one. I don't need to be told where the lights are in City Hall, and I want to make this a better New York for all of us."
David Birdsell, the dean of Baruch College's Marxe School of Public and International Affairs, said Garcia stands out in the field for her concrete record of accomplishments in city government. They are "not typically the kinds of accomplishments that people use as a platform for mayoral races, but they are the kind of bread and butter accomplishments that suggest a key knowledge of how to manage city agencies, working with unionized workforces to solve problems that have dimensions that are logistical, physical and conceptual," Birdsell said.
"She has a different capacity to point to accomplishments in her record that are germane to the office of the mayor," he added.
Maya Wiley
Wiley has had a career as a civil rights lawyer, which she began at the NAACP Legal Defense Fund in 1992. She later served in the civil rights division at the office of the U.S. Attorney for the Southern District of New York for three years between 1994 and 1997 and was a senior adviser on race and poverty at the Open Society Foundations till 1999. She has said her focus on civil rights and economic justice issues has been at the center of all those roles. "Everything I've done, every step I've taken has always been about creating more coalition and building more opportunity for communities of color," she said in a February interview on Decision NYC, hosted by Gotham Gazette and Manhattan Neighborhood Network. "Because it lifts all boats. Because at the end of the day it is about all of us and it's part of what called me in the race."
In 2002, Wiley co-founded what she touts as perhaps her signature accomplishment on the mayoral campaign trail when discussing her resume, the Center for Social Inclusion, a national nonprofit advocacy group aimed at fighting racial inequity across the country. But it's hard to gauge what the organization accomplished under her leadership. Her campaign did not provide any highlights of her tenure at the organization, when asked. She served there for the next twelve years, becoming president in 2012. According to the New York Times, "She built it into a national organization dedicated to addressing racial inequity, with a $3 million annual budget and 13 employees."
"The character of her career was established over decades and she cares deeply about equity issues, but it's not clear what she's been able to accomplish there," Birdsell said of Wiley.
Upon joining the de Blasio administration in 2014, Wiley spent two-and-a-half years as the mayor's top legal counsel. Along with giving the mayor a broad range of legal and policy advice, she was responsible for crafting the city law that limited cooperation with the federal Immigration and Customs Enforcement (ICE) agency, which was seen by progressives as a major accomplishment though questions have been raised about her effort to slightly water down the final language.
She led the effort to increase city contracting with Minority- and Women-Owned Business Enterprises. According to an Observer report, in the first two years and one quarter of the administration, coinciding with Wiley's purview, mayoral agencies awarded $1.79 billion to M/WBEs, about $700 million more than in the last two years and one quarter of Mayor Michael Bloomberg's term.
She also spearheaded the administration's initiatives to expand broadband internet access across the city. On the campaign trail, Wiley has repeatedly touted the success of her efforts and in particular, one project: providing free internet to the roughly 6,000 residents of the Queensbridge Houses public housing development. But, an analysis by The City, showed that Wiley had mixed success with the overall effort even if she laid the foundations for the city's current citywide approach. Wiley has said one reason she left the de Blasio administration was her frustration over the pace of change, and argues she left a strong blueprint in place that was not well-followed afterward. She touts having gotten a $70 million line-item for broadband expansion into the city's capital budget for the first time. And she also helped negotiate the city's deal to set up LinkNYC wi-fi kiosks to replace phone booths, which was meant to be funded with revenue raised from advertisement. However, the kiosks have not been built as fast as initially projected and revenue has been well below projections.
Leaving the mayor's office, de Blasio named her chair of the Civilian Complaint Review Board (CCRB), a police oversight agency, and she served there for just over a year. Wiley has claimed credit for advancing the disciplinary case against Daniel Pantaleo, the NYPD officer whose chokehold led to Eric Garner's death, but her record there has been a subject of some debate.
After leaving the CCRB, Wiley became co-director of the Digital Equity Lab at The New School and taught some courses there before leaving to run for mayor. At the Lab, Wiley worked with graduate students to study issues related to the digital divide in New York City. The lab selected three projects, developed them for months including through community engagement, and then presented recommendations to a panel of city government and community partners. She also co-led de Blasio's School Diversity Advisory Group, focused on examining school segregation in the city, which offered sweeping recommendations that the mayor gave limited attention to and Wiley is vowing to move ahead on aggressively if elected. [Read: Maya Wiley's School Choice]
"Maya is a leader in city government and in spurring democratic change," her campaign website says. "As Counsel to the Mayor, she delivered for New York City on civil and immigrant rights, women and minority owned business contracts, universal broadband access and more. In the five years since she left City Hall, she held police accountable as Chair of the Civilian Complaint Review Board and worked to improve public education as a Co-Chair of the School Diversity Task Force." It also notes her work at The New School and as a legal analyst for NBC News and MSNBC, being "founder and president of the Center for Social Inclusion," though it mentions no accomplishments from that effort. "Maya was also Senior Advisor on Race and Poverty at the Open Society Foundations, the largest funder of human rights work the world over," it states.
Andrew Yang
A lawyer by training, Yang has spent most of his career in the world of startups, small businesses, and nonprofits. After quitting his first job as an attorney in just five months, he launched Stargiving.com with a co-worker, to connect celebrities and charities. He then spent three years working for a company that manages medical information.
Yang's first prominent career accomplishment came next. In 2006, he joined Manhattan Prep, a test prep company, and later became CEO. The company, which focused on the GMAT business school exam, experienced a windfall in the wake of the Great Recession and sold to Kaplan, a national test prep firm, a few years later, making Yang a millionaire. That business growth is what Yang most-often touts on the campaign trail as his key professional accomplishment that prepares him to be mayor. He has, however, been accused of gender discrimination by two female employees of the company, which he has denied.
Yang is also proud of Venture For America, a nonprofit organization he launched in 2011 to recruit college graduates for startup firms in struggling cities across the country. Yang's project twice got him recognition from President Barack Obama's administration. Yang has claimed the group has created 5,000 jobs, though a New York Times analysis showed it was closer to 150, with both numbers well short of the 100,000-job goal Yang had set.
"I have the experience that a lot of New Yorkers can relate to, which is that I owned and operated a small private company that then grew to become number one in the country," he said at the second mayoral debate, when asked about his qualifications to run for mayor. "And if you've ever run a business you know a few things. No one cares about excuses or politics. You have to make the numbers work, you have to recruit a team and build a positive culture." Pointing to his nonprofit and his advocacy for cash relief, he added, "People in New York know exactly what I've been up to the past several years and they know this is exactly the kind of experience we need in this time of crisis to lead our city in a better direction."
Yang has published two books, "Smart People Should Build Things" and "The War on Normal People." The second book, released just before his presidential run and focused on universal basic income and the effects of technology on jobs, became a New York Times Bestseller.
Much like the current race, Yang ran an unconventional presidential campaign and grew a national movement, repopularizing the concept of a universal basic income. He raised $41 million and qualified for the primary debate stage eight times. The campaign made him a celebrity and sought-after endorser, landing him a gig at CNN as a political analyst, and boosting his name recognition and network ahead of the mayoral run that would follow.
Yang did not, however, win any delegates and dropped out of the presidential race after the New Hampshire primary. His campaign was later accused by former staffers of fostering a "toxic" work environment with a "bro culture" comprised of sexist and discriminatory behavior.
Yang also recently launched the nonprofit Humanity Forward Foundation, after abandoning his bid for the presidency. The group has launched pilot programs built on his campaign, which centered on the idea of providing a basic income to every American adult. Humanity Forward has distributed at least $1 million in the Bronx as one of its basic income initiatives.
"It was very hard to point to, aside from a sterling academic record, anything that signals outstanding accomplishment on his part either on the corporate side or on the nonprofit side," Birdsell said of Yang. "He promises big results. He underdelivers."
Scott Stringer
Stringer has been in politics virtually all of his entire life. Stringer represented the Upper West Side on the state Assembly from 1993 though 2005. During that tenure, he passed 40 laws, chiefly spearheading major reform to the chamber's rules, including ending 'empty-seat voting' by mandating that legislators be present to vote on bills, according to his campaign. He sponsored the repeal of tax cuts on the wealthy that had been implemented under Governor George Pataki and unsuccessfully fought against the weakening of rent laws. He also co-sponsored the state's first marriage equality bill, and was an early backer of the Gender Expression Non-Discrimination Act (GENDA), which was approved last year.
From 2006 till 2013, Stringer served as Manhattan borough president, during which he was known for a relatively pro-development stance and he says he helped negotiate a number of good projects including rezonings in East Midtown, Hudson Square, and at Columbia University's Manhattanville campus. He also reformed the community board appointment process, putting an end to patronage positions.
As comptroller, though he audited the performance of city agencies and scrutinized the administration's budgeting practices, he could not single-handedly affect changes on those fronts. Several of his audits have had a major impact, bringing attention to severe problems at city agencies and leading to reforms by the administration. Those include several audits of NYCHA highlighting a backlog of repairs, wasted spending on roof maintenance, and inefficient management of heating maintenance complaints ; an audit showing that the Administration for Children's Services endangered thousands of children by failing to adequately investigate abuse allegations; and another that put a spotlight on dangerous conditions for children at family homeless shelters.
Where Stringer took perhaps his most prominent role was his work overseeing the city's now $253 billion pension system (it was roughly $161 billion in his first year in office). He has successfully pushed three of the five pension funds to divest about $4 billion from the fossil fuel industry and also persuaded the entire pension system to divest from private prisons. He has also been an activist investor by pushing companies that the funds invest in to promote more diversity on their corporate boards. Stringer has pointed out that the pension funds have hit annual growth targets almost each year, though the city has also grown its share of pension payouts from the city operating budget.
Stringer created a new ClaimStat portal, which allows data-driven analysis of legal claims against the city. He says it has saved tens of millions of dollars in taxpayer money. And he has succeeded in pushing the administration to increase contracting to Minority- and Women-Owned Business Enterprises. He boosted M/WBE spending in his own office from 13% to 50%, part of his work as seen in annual reports on city entities and agencies where he grades their M/WBE efforts.
Stringer also appointed a chief diversity officer at the comptroller's office, and pushed the mayor to do so at every city agency, which de Blasio eventually did through an executive order.
"Thirty years of progressive leadership in this city is what I bring to the table as New Yorkers choose who will lead our city's greatest comeback," Stringer said at the second debate.
"As City Comptroller, Scott Stringer has exposed waste and mismanagement in every city agency," his campaign website reads. "He has overseen growth in the City's $240-billion pension funds, the fourth largest in the nation, to record levels. He took on the private prison industry and the world's largest fossil fuel companies, advancing the causes of climate justice and decarceration. He forced corporations across America to diversify their boardrooms. His plans for a comprehensive city-run childcare program would make New York the national leader. And over the last year, every step of the way, he's pushed Bill de Blasio to fix the City's response to COVID-19."
Stringer's mayoral campaign had momentum until sexual harassment and assault allegations were made by a volunteer from his 2001 campaign for public advocate, which led many of his endorsers to rescind their support and a barrage of negative news coverage. While he denied the claims, his poll numbers ultimately froze and then dropped and his campaign has struggled to move ahead. A second accuser later came forward to say Stringer had groped her repeatedly when she worked for him at a bar and restaurant he once owned and operated.
[MORE: Where They Stand: Compare Top Democratic Mayoral Candidates On The Issues]