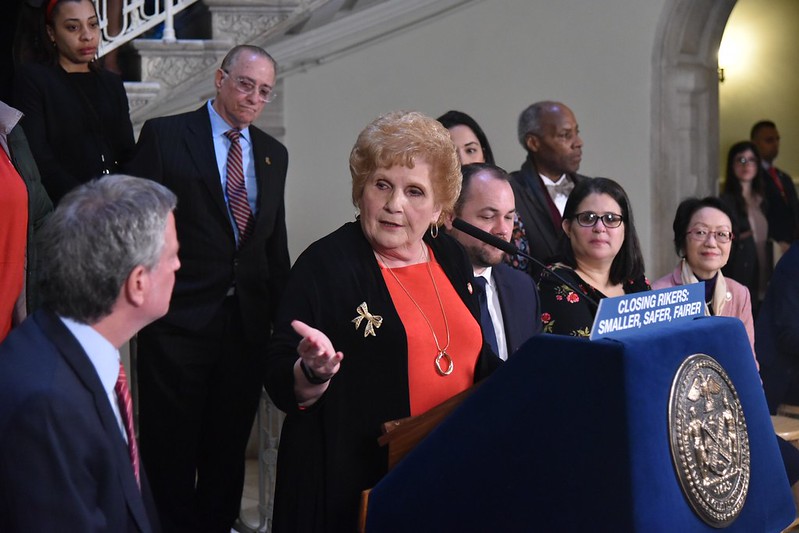 Council Member Karen Koslowitz (photo: John McCarten/City Council)
---
Queens' Forest Hills, Kew Gardens, Rego Park, and Richmond Hill neighborhoods are losing their City Council member, Karen Koslowitz, who has served five terms over two stints but is again term-limited from seeking reelection. The District 29 race to succeed Koslowitz is flooded with nine Democrats running in this month's primary, eight of whom are well-funded and offer substantial platforms.
The district, whose residents are 47.1% White, 27.7% Asian, 18.2% Hispanic, and 3.5% Black, according to the 2010 Census, faces issues ranging from the redesign of Queens Boulevard, the construction of a new jail in Kew Gardens, and a lack of health-care access for its disproportionately old population.
Public safety improvements along Queens Boulevard from Yellowstone Boulevard to Union Turnpike have been highly contested and remain an issue in the district. The upgrades have been delayed since 2018 and are finally set to be installed this July. This is the final stage of the redesign that includes added protected bike lanes and shortened pedestrian crossings to improve safety. The first stages of the new design decreased pedestrian injuries by 55% and total crashes by 19%, according to a city Department of Transportation report. Koslowitz and Community Board 6 caim that the 200 lost parking spaces entailed by the new design will hurt small business. The de Blasio administration moved ahead with the plan despite pushback, leaving the next Council member to monitor and build-off of the new installation.
Koslowitz took a bold stance when she made what she called a "difficult" decision and agreed to the construction of one of four borough-based jails to be constructed in her district as part of the plan to close the Rikers Island jail complex. Koslowitz's conditional support of the jail won her a new community center, more public parking, more police officers and security cameras, school and senior center improvements, and lighting upgrades among other 'quality of life' measures. The construction and opening of the jail will likely happen on the watch of the next Council member.
As with most districts in the area, the coronavirus pandemic exposed consequences of the hospital closures that hit Queens during the first decade of this century, with St. Joseph's Hospital, Parkway Hospital, Mary Immaculate Hospital, and St. John's Hospital shutting their doors. Health care has been a top issue in the campaign.
Lynn Schulman, Koslowitz's chosen successor and the recipient of many endorsements, is running aggressively on a healthcare platform. Her background in healthcare and tenure on Community Board 6 have convinced many that she has the experience necessary to bring these Queens neighborhoods back from covid and help them to be better prepared for the future.
Her run is far from uncontested, with progressive Democrats rallying behind local activist and nonprofit leader Aleda Gagarin. Also running are David Aronov, the youngest candidate in the race hoping to be the first Bukharian Jewish Council member; Avi Cyperstein, a moderate candidate rooting his run in years of emergency response volunteer experience; Eliseo Labayen, a longtime aide for numerous elected officials in city and federal government; Douglas Shapiro, a business finance advisor; Edwin Wong, a banker who is a member of Community Board 6; Donghui Zang, a more conservative Wall Street analyst; and Sheryl Fetik, a veteran community organizer and member of the Queens County Democratic Committee.
Koslowitz has been a popular staple in the district, serving in the Council from 1991 to 2001 and 2010 to 2021. She hopes that Schulman will replace her, telling voters that "we can count on [Schulman] to focus on the issues that matter most to our neighborhoods, especially fixing the hospital shortage, investing in our public schools, and taking care of our seniors."
David Aronov
Aronov, 24, is a first-generation American with parents from Uzbekistan. In 2020, he helped lead the Queens Census effort, and is running with experience in community relations positions for various City Council Members including Koslowitz.
As of June 13, the NYC Campaign Finance Board (CFB) reports that Aronov fundraised $65,049 privately and received the maximum amount of public matching funds, $160,444. He is endorsed by NY Pan-Asian Democratic Club, NY Chapter of the American Institute of Architects (AIA), Parent Leaders for Accelerated Curriculum and Education (PLACE NYC), Queens Parents United (QPU), Laborer's International Union (LiUNA! NY), Alliance of South Asian American Labor (ASAAL), and 70 "Jewish Community Endorsers," he writes on his website.
Pandemic recovery is Aronov's top priority. He wants more grants and fewer fines for small businesses to help them recover from the economic hardship of the shutdown, and increased access to healthcare — focus areas similar to the rest of the pack.
One major tenet of his healthcare plan centers around universal child care, which Aronov says on his website will save New York families $10,152 in expenses each year. He also lays out plans on his website to combat the opioid crisis using neighborhood action centers as resource hubs and directing low level drug offenders to community-based health services instead of jail.
Regarding the Queens Boulevard redesign, Aronov claims on his website that the bike lanes are neither efficient nor safe for pedestrians, cyclists, and drivers, and he hopes to "revisit" the plan. Before implementing any new transportation programs, Aronov says he will seek "genuine community feedback."
Aronov makes it clear on his website that unlike Koslowitz, he does not support construction of new jails, and would rather focus on rehabilitation and facilitating reentry into society to prevent recidivism. To make this plan feasible, he wants to use existing jail facilities and speed up trials, he told QNS.
Increasing benefits for seniors including increasing funding for the Department for the Aging, creating a one-stop-shop for senior welfare programs, and freezing property tax for 65 and older residents are all plans Aronov hopes will appeal to the large base of older voters in the district.
Having been excluded from the gifted and talented program as a child due to overcrowding, he says, Aronov told PoliticsNY that bringing more G&T programs to the district on top of building a new middle school and securing funds he claims are owed by the state to the city, are key education-related issues he plans to address if elected.
To "deal with the crisis of confidence in the NYPD," he says on his website that he aligns himself with mayoral candidate Eric Adams' policing platform. Launching a new anti-gun unit, somewhat narrowing police purview, and funding the hate crime task force are all ways that Aronov hopes to improve policing in the city.
Avi Cyperstein
Born and raised in Kew Gardens, Cyperstein now hopes to represent his home neighborhood in city government after having spent years volunteering to help neighbors with non-medical and medical emergencies through a nonprofit he co-founded called Chaverim of Queens and as a volunteer EMT. According to his LinkedIn profile, Cyperstein was a property manager in Brooklyn and the Bronx, and is now an executive producer for an entertainment group that creates content for nonprofit organizations.
With the support of Orthodox Jewish voters, Cyperstein is running a campaign with $49,719 in private donations and $160,444 in public matching funds as of June 13, according to the CFB. He is also supported by the Queens Jewish Alliance for Action, local political group Kissena Democratic Club, Asian American Voters Alliance, and a few others.
Cyperstein entered the race after witnessing the pandemic through the eyes of an emergency response technician, which, he said in an interview with PoliticsNY, exposed the inconsistencies and political motivations that hindered the city's pandemic response. In an interview with Hamodia, Cyperstein said that city emergency response protocols were made "not based necessarily on the medical necessity or what would be for the benefit of the patient," but rather what New York's political leadership had chosen. He doesn't delve into specifics on what type of protocols he would improve and implement.
For Cyperstein's small business recovery plan, minority- and women-owned businesses would be prioritized through the city's adherence to quotas for the number of city contracts that go to Asian-American and young adult-run businesses, he explains on his website.
"No jail in Kew Gardens!" Cyperstein says on his website. Instead, he thinks the funding should go to Rikers Island renovations.
In a recent Twitter video, Cyperstein said that he opposes defunding the police, because it doesn't allow the NYPD to hire the best officers "to do the best job possible." People in the district, he argues, want an effective police department that will maintain Queens' "safety and security," and stop hate crimes.
Expanding welfare programs is another way Cyperstein hopes to help his community members rebound from the pandemic. He told the Queens Gazette that he would fight to fund "senior centers, programming and the reopening of social adult day care centers." Alluding to "starving" residents in the district on his website, Cyperstein said he will increase food stamp programs and expand them to include clothes and school supplies. He also plans to fight for discounted museum and other arts and cultural activity rates for low-income families.
Sheryl Fetik
As a longtime local activist in politics, Fetik hopes to overcome a lack of funding and endorsements to win the seat. She attended local public schools and Queens College, was an aide to District 29 Council Member Aurther Katzman in the '80s, and is now a member of the Queens County Democratic Committee.
Fetik only raised $438 in private funds as of June 13, according to the CFB, and doesn't list any endorsements on her website. Further calling into question the legitimacy of Fetik's run is her sparse website platform.
In an interview with Patch, Fetik said that small businesses were hurt by the bike lanes on Queens Boulevard, and that in the future, residents need to be included in streetscaping decisions.
On her website, Fetik says that she was the only candidate to testify against the jail in Kew Gardens, and told Patch that she doesn't see the jail as a done deal, but rather a plan she plans to stop through defunding, canceling contracts and altering the current plan.
Fetik's healthcare plan puts an emphasis on "quality of care, not the number of beds," she says on her website -- a point of difference between her and the other candidates who put hospital capacity as a top healthcare priority. Details of the plan are not offered.
Fetik is a proponent of specialized high schools and their admissions tests in addition to gifted and talented programs. She names education and expanding lifelong learning as one of her main priorities.
Fetik's position on NYPD funding is similar to Cyperstein's in that she wants to reform, not defund the police, she writes on her website.
Aleda Gagarin
A 15-year Kew Gardens resident with $35,514 in private funds and $160,444 in public matchings funds as of June 13, according to the CFB, Gagarin has united progressives on the left and has had a lot of energy behind her campaign. She has a masters in urban planning from CUNY-Hunter College and has been a leader for seven years at Candid, a nonprofit information service focusing on nonprofit funding transparency.
Gagarin enjoys a plethora of endorsements including from Assembly Member Ron Kim, Council Members Jimmy Van Bramer and Brad Lander, activist and actor Cynthia Nixon, the Working Families Party, The Jewish Vote, VOCAL NY, StreetsPAC, National Institute for Reproductive Health Action Fund, Voters for Animal Rights, New Yorkers for Clean, Livable and Safe Streets, National Association of Social Workers, Black Lives Caucus, Vote Pro Choice, Sunrise NYC, Forest Hills Green Team, Kew Gardens Preservation Alliance, Resilience PAC, New York Communities for Change, Queens United Independent Progressives (QUIP), Queens Central Democratic Club (QCDC), AOC's Courage to Change PAC, Progressive Women of NY, Run for Something, and more. She also has local news outlets Forest Hills and Rego Park Times.
Garagin criticized Koslowitz' pro-parking stance during the Queens Boulevard bike lane dispute, saying it denied the district "environmental and health benefits," as she told Streetsblog. Gagarin goes further on her website, calling for a city-wide bike lane network and more road medians to protect elderly pedestrians and bikers.
Like the other candidates, Gagarin is vehemently against the Kew Gardens jail, hoping instead efforts and funding go toward decarceration through expanded employment opportunities and decriminalization, she writes on her website. Pre-existing jails such as on Rikers Island should be closed by 2026 and converted to a green energy hub, she says of the Renewable Rikers plan that is in the works.
Universal healthcare and a moratorium on public hospital closures are among her plans to address the healthcare crisis that Gagarin argues is a product of a lack of access to healthy food and green space that leaves working class communities worse-off and prone to chronic underlying health conditions.
Small business support is another area Gagarin hopes to address at the City Council. She wants an increase in city contracts of minority- and women-owned businesses to a 50% quota, to rezone to limit chain retailers, to institute commercial rent control, and to increase grants and loans for small businesses, as detailed on her website.
Gagarin has the most robust environmental justice platform in the race and wants to reduce waste, invest in green infrastructure, create a resiliency plan to prepare for extreme weather, rezone to equitably distribute exposure to noxious waste, and divest municipal funds from fossil fuel-invested Wall Street.
Gagarin is vocal about police reform as well, and recently authored a guest opinion column explaining how she wants to resize the police budget to better reflect the community's priorities. Instead of policing homeless people, we should provide permanent housing; rather than having police in schools, we should invest in school-based social workers; and in place of drug-related arrests, we should provide addiction treatment, she argues. On her website, Gagarin also calls for freezing all new police hires and reducing police union power in favor of AFL-CIO unions. City and State reported that she has supported defunding the NYPD by $3 billion.
Her platform also includes a public bank, making CUNY free, facilitating school integration and inclusionary admissions, an eventual moratorium on charter schools, decriminalizing jaywalking, ending solitary confinement, and expanding accessory dwelling units to "ensure long-term deep affordability," among other initiatives she details on her website.
Eliseo Labayen
Native to the district and a longtime city and federal government staffer with the offices of Congressional Reps. Cartwright and Rangel and Council Members Vallone and Ferreras-Copeland, as well as in the State Department, Labayen now seeks the City Council seat to bring change after Koslowitz's "dismal tenure," he told Patch. With $22,645 in private fundraising and $97,865 in public matching funds as of June 13, according to the CFB, Labayen doesn't list any endorsements on his website.
Growing up, he told Streetsblog, Queens Boulevard was so dangerous that he remembers being among those calling it the "Boulevard of Death," explaining that it would be "a top priority" for him to support the redesign in favor of public safety over business owners' plea for parking spots. In a Queens Post video interview, Labayen said bike lanes, like the ones set to be installed on Queens Boulevard, are a "basic safety measure."
Labayen hopes to support small businesses in other, more productive ways, he told the Queens Post, such as through a renewal of the Love Your Local Small Business Grant Program, which was recently allowed to sunset. He also explains on his website that he will fund the Department of Small Business Services, offer more grants, and create small business liaisons to offer advice on regulatory adherence.
In line with most of his opponents, Labayen is opposed to the Kew Gardens jail and told Patch he "[intends] on preventing" its construction. Not only does Lanayen believe that the land use process and location decision was flawed, as he explains on his website, but that Koslowitz's decision went "against the wishes and concerns of the community at large," he told Patch.
Labayen said in the Queens Post interview that he is "happy with the headcount of the NYPD as it is now," and approves of the modest cuts made by the City Council and mayor last year. For him, police remain "a vibrant and very important part of the community...so are small businesses, so are schools and so is mental health." Law enforcement involvement in fighting hate crime, protecting small businesses from burglary, and keeping public transportation safe are all areas he hopes to address with the NYPD.
Labayen believes that expanding use of Kendra's Law, which allows courts to order mental health treatment if someone is deemed a danger to the public, will not only improve street safety, but also help the homelessness crisis, he writes on his website.
To tackle education reform, Labayen wants to hire at least two college counselors per high school and foster diversity in schools through affordable housing that allows parents to choose the neighborhood where they want their child to attend school, he says on his website.
Labayen also promotes his climate change platform, which includes fostering climate resiliency and disaster preparedness, expanding rain garden construction, and installing QueensWay, a High Line-esque urban park.
Lynn Schulman
Backed by much of the Queens Democratic Party establishment, including outgoing Council Member Koslowitz, on top of many influential labor unions, Schulman, a senior liaison in Council Speaker Corey Johnson's office, LGBTQ activist, and the former vice-chair of Community Board 6 for 20 years, is running the apparent frontrunner campaign. Having worked for 10 years as an executive director for a hospital network, Schulman is focusing her campaign on healthcare.
A graduate from Brooklyn Law School and the Senior Executives in State and Local Government Leadership program at Harvard Kennedy School, Schulman has run for the seat twice before, losing by less than 4% to Koslowitz in 2009.
Schulman is endorsed by, among others, Congressional Reps. Grace Meng and Ritchie Torres, Assemblymembers Andrew Hevesi and Catalina Cruz, Council Members Koslowitz, Carlina Rivera, Daniel Dromm, Keith Powers, and Justin Brannan, State Senators John Liu, Toby Stavisky, and Leroy Comrie, State Comptroller Tom DiNapoli, 1199 SEIU, Central Labor Council (CLC AFL-CIO), nurses (NYSNA), communications workers (CWA), municipal workers (DC37), hotel workers (HTC), building service workers (32BJ), sanitation workers (USA Local 831), teachers (UFT), firefighters (UFA), retail workers (RWDSU), EMS workers (EMS Local 3621 and 2507), and transportation workers (TWU Local 100), 21 in '21, Jim Owles Liberal Democratic Club, Lesbian & Gay Democratic Club of Queens (LGDCQ), JFK Democratic Club, Tenants PAC, Roadmap for Progress, Queens Democrats, Queens Central Democratic Club, Planned Parenthood PAC, Stonewall Democrats, NY League of Conservation Voters, Vote Pro Choice, and still others.
According to the CFB, Schulman raised $81,982 in private donations and $160,444 in public matching funds as of June 13. City & State reported that $4,000 of her fundraising came from registered lobbyists, several of whom have had direct business-related contact with Schulman in her position as senior community and emergency services liaison in Council Speaker Corey Johnson's office.
Another $30,876 was spent on Schulman's behalf by "Common Sense NYC," an independent expenditure group whose top donors, according to Patch, are two Trump-supporting billionaires. Although candidates cannot control who chooses to spend to support them, they can publicly disavow or refuse the money -- neither of which Schulman has done. Schulman told Patch she was proud to be running a "broad based grassroots campaign," and "did not seek, nor…know anything about [the Trump-supporting donors]."
Common Sense NYC has supported 17 other City Council candidates and told The City that their funding decisions are efforts to suppress "socialist-related" candidates (such as Gagarin, in this case).
Schulman is running with a focus on healthcare and healthcare infrastructure, and helped spearhead a letter to the State Health Commissioner demanding more hospital beds in Queens. She told Patch hospital capacity is the "single most pressing issue" in the district. Schulman not only wants more investment in community healthcare centers for preventative and primary care, but she also promised she would "push legislation that will require all development projects under land use review to include a hospital impact assessment in addition to the required environmental assessment," according to her website.
Schulman is supportive of the Queens Boulevard redesign project, and hopes to take more input from community boards on the subject of safety in public spaces, she told Streetsblog NYC. Hoping to balance pedestrian and cyclist safety with business' push for more parking, Schulman says on her website that she supports expanding residential parking permits to all neighborhoods and promoting rapid bus transit.
Schulman wants to stop the Kew Gardens jail altogether, and is in favor of a "community-based restorative justice" system that she says on her website will "change the relationship between the corrections systems and the community," although she does not offer any specific policies.
She is similarly vague with regard to her plans for police reform, telling City and State that she plans to work with other Council members to determine cuts to NYPD funding.
Douglas Shapiro
A self-described technocrat with a "deep expertise in macroeconomics and finance," Shapiro is a CFO advisor for an IT consulting firm who is not accepting donations from corporations, special interest groups, lobbyists, law firms, fossil fuel companies, or real estate firms. He had raised $23,509 in private donations and $66,560 in public matching funds as of June 13, according to the CFB, and posted no endorsements on his website.
Shapiro told Patch that his experience working with the Guinea-Bissau government to reduce inequality and as a consultant to the US government to increase food stamp efficiency prepared him to "[get] things done despite bureaucratic obstacles." He is positioning himself as the rational, data-oriented candidate.
Koslowitz's vote for the Kew Gardens jail was a "colossal error in judgement," Shapiro told Patch. On his website, he says the money should be diverted to "education, physical infrastructure, and healthcare."
Education and healthcare are priorities in Shapiro's campaign. Having attended Stuyvesant High School, Shapiro is in favor of keeping the specialized high school admissions test and the expansion of gifted and talented programs. He also wants to build a new middle school and hire more teachers to reduce class sizes, Shapiro told PoliticsNY.
Shapiro co-authored a piece in Gotham Gazette about senior healthcare infrastructure improvement in which he echoes calls to increase hospital capacity in Queens by replacing lost hospitals and funding current facilities such as the vacant Parkway Hospital in Forest Hills.
On the addition of bike lanes on Queens Boulevard, Shapiro said that he is willing to sacrifice some parking space for a plan that will in the end "make our community more vibrant by allowing more transportation options," he wrote on his website.
Edwin Wong
Wong is a commercial banker and Community Board 6 member in addition to having achieved president emeritus status of the Forest Hills Asian Association. He had raised $27,198 in private donations and $108,786 in public matching funds as of June 13, according to the CFB. He is endorsed by Queens Parents United (QPU), Parent Leaders for Accelerated Curriculum and Education (PLACE NYC), New American Voters Association (NAVA), NYC Asian-American Democratic Club, South Brooklyn Chinese-American Voters Alliance, former Assembly Member Jimmy Meng, and several other Asian-American community leaders.
Without a clear website platform and failure to respond to press requests for comment, Wong's positions on many issues is largely unknown.
In an interview with PoliticsNY, Wong said that he considered himself "the unifier" who can work with everyone, from small and commercial businesses to landlords and tenants. On the issue of bike lanes on Queens Boulevard, Wong told the Queens Chronicle that he would look more into the issue because of business owner complaints.
On the Kew Gardens jail, he told QNS he was opposed to its construction and wants the funds to be redirected to education, rent relief and mortgage assistance. Rather than fund new jails, Wong advocates for rebuilding Rikers Island and focusing on "free vocational and trade schools" to facilitate employment, reported QNS.
Donghui Zang
Zang, who came from a small village in China to work his way to become a Wall Street analyst, takes a more conservative stance than many of his opponents.
Zang is endorsed by City Council Members Robert Holden and Peter Koo, Assembly Member William Colton, Queens Parents United (QPU), Parent Leaders for Accelerated Curriculum and Education (PLACE NYC), NYC School Safety Coalition, and NYC Parents Union. He had raised $29,819 in private funding and $160,444 in public matching funds as of June 13, according to the CFB.
Zang has two children in city public schools, and is an outspoken, staunch supporter of the specialized high school admissions test, which he claims is an objective standard to determine admittance.
The Astoria Post reported that Zang organized a rally called "Keep Safety Agents in Schools" in May with the New York School Safety Coalition in support of continued NYPD presence in New York's public schools in the face of Mayor de Blasio's plan to move school safety to the Department of Education.
Zang opposes the borough-based jail in Kew Gardens, calling the project fiscally irresponsible at a time when the city has been hit financially by the pandemic, he told QNS.
With rising violent crime, Zang told Gothamist that more police presence is needed, and instead of defunding the police, "we should refund them." Claiming a lack of knowledge of the Black Lives Matter movement, Zang said he wasn't sure enough to take a side, but said he is a believer that "all the lives matter."
On the Queens Boulevard revamp, Zang told Streetsblog that he supports "long-term investments in bike lanes," but sees too much community opposition to the redesign and wants a more comprehensive study of the project before he supports it.
Republican Nominee Awaits
The winner of the Demorcratic primary will go on to face Republican Michael Conigliaro in the fall general election. Conigliaro is a real estate attorney who told Patch that he is running his campaign on "common sense" policies that target rising crime, struggling small businesses and rapid overdevelopment.
***
by Carmen Vintro for Gotham Gazette
@GothamGazette